AMD Announces 32 Core / 64 Thread CPU "EPYC" and Graphics Card "Radeon Vega Frontier Edition"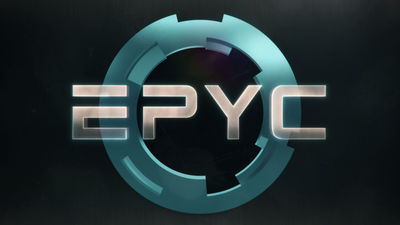 For the investor conference held by AMD "2017 Financial Analyst DayIn the same microarchitecture as Ryzen series "Zen"New model CPU for data center adopting"EPYC"(Epic) was announced.

AMD Unveils "EPYC" CPUs Featuring Up To 32 Cores & 64 Threads For The Datacenter
http://wccftech.com/amd-unveils-epyc-cpus-32-cores-64-threads-datacenter/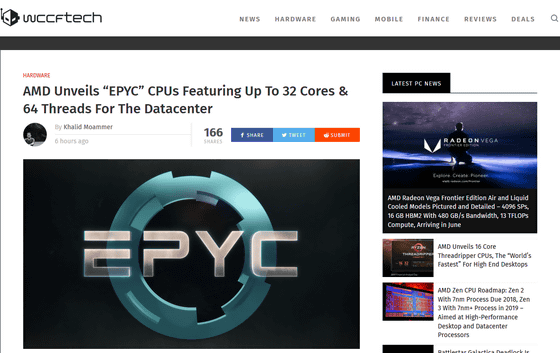 The EPYC announced by AMD is a CPU called a codename "Naples" designed to challenge Intel for servers. EPYC employs the Zen microarchitecture of the 14 nm FinFET process. Since EPYC has 32 cores at maximum and 64 threads, it has more than 45% cores, a memory bandwidth of over 122% and an I / O bandwidth of 60% compared with competitors' products. Combined with the astonishing power efficiency of Zen microarchitecture, when it comes to a very powerful server productWccftech.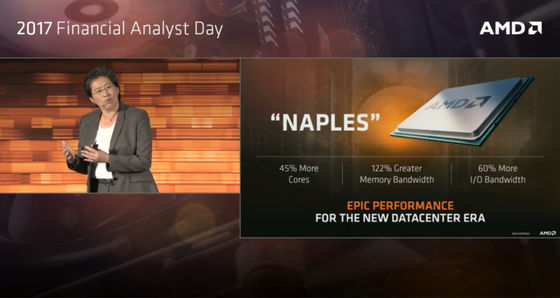 EPYC's specifications are as follows.
core:32
thread:64
L1 instruction cache:32 KB × 32
L1 data cache:64 KB × 32
L2 cache:512 KB × 32
L3 cache:TBA
Base clock:1.4 GHz
Turbo clock:2.8 GHz

Official movies of EPYC have also been released and you can see that it is a CPU developed for artificial intelligence and data center.

AMD EPYC ™ Processors - YouTube


In this investor conference, AMD also announced a new graphic card "Radeon Vega Frontier Edition" adopting the next-generation architecture "Vega".

AMD Announces Radeon Vega Frontier Edition
http://www.tomshardware.com/news/amd-vega-frontier-edition-gpu,34427.html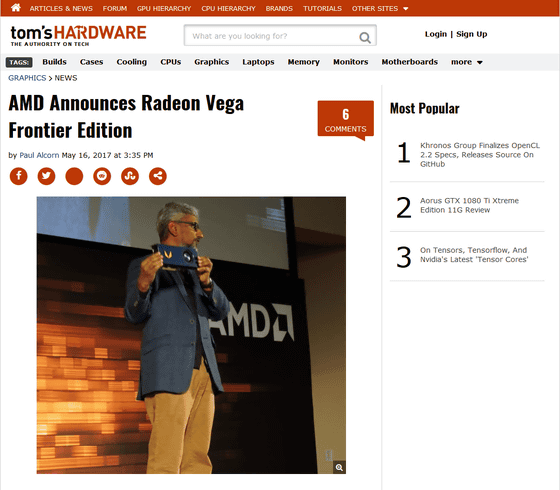 AMD Announces Radeon Vega Frontier Edition - Not for Gamers | techPowerUp
https://www.techpowerup.com/233388/amd-announces-radeon-vega-frontier-edition-not-for-gamers

The graphics card "Radeon Vega Frontier Edition" adopting the Vega architecture is a product for application development such as artificial intelligence (AI), which brings significant benefits in machine learning training flow over conventional graphic cards. Compute Unit (CU) number is "64", processor with single precision 12.5 TFPS,HBM2 adopted 16GB memory is carried, it corresponds also to 8K display, and furthermore it can access up to 256TB virtual memory. In addition, since Radeon Vega Frontier Edition adopts two PCI - Express 8 - pin power connectors, it seems that the power consumption will be 300 W or less.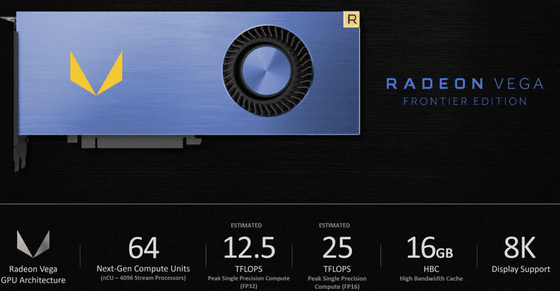 Compared to the graphic board "Fury X" with floating point computing performance and memory, it is about 1.5 times faster.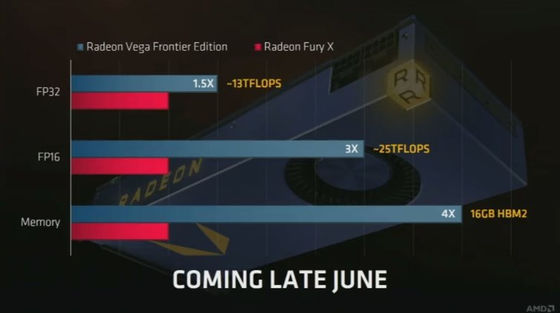 AMD is "ROCm open software platformAnd Radeon Vega Frontier Edition are intended to make it possible for developers to use the power of Vega in developing machine learning algorithms. Radeon Vega Frontier Edition will provide more than 50% better performance than the most powerful machine learning GPUs that currently exist. "Official blogI explain it in.

The Radeon Vega Frontier Edition seems to have a water-cooled version as well.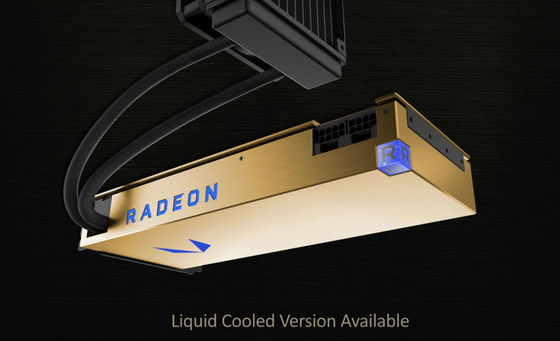 In the conference for investors, we also have other CPU roadmap available, and "Zen 2" scheduled to be the next-generation architecture of Zen microarchitecture will be adopting the 7 nm manufacturing processDiscovereddoing.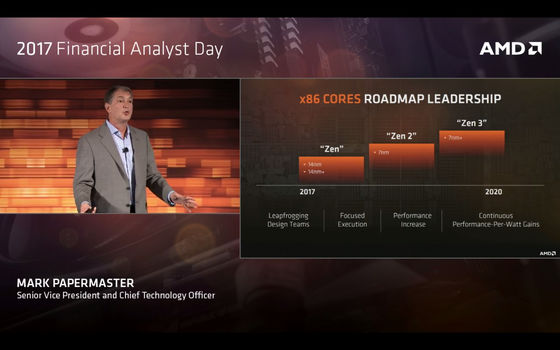 Likewise the roadmap for the GPU architecture is as follows. "Navi" which is scheduled to come after 14-nm Vega will also adopt the 7-nm manufacturing process.