A luxury bag of 240,000 yen exactly like IKEA's blue tote bag appeared, IKEA responded cool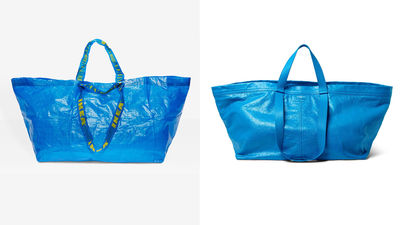 It is a French fashion brandBalenciagaBut, IKEA'sThat blue tote bagI announced a leather bag that seems to be mistaken as a mistake. The look is totally IKEA bag, but the price is $ 2145 (about 240,000 yen) because it is a luxury bag using real leather, and many reactions

Ikea Had a Great Reaction to Balenciaga Making a $ 2,145 Version of Its 99-Cent Blue Bag - Adweek
http://www.adweek.com/agencies/ikea-had-a-great-reaction-to-balenciaga-making-a-2145-version-of-its-iconic-99-cent-blue-bag/

Balenciaga's Arena to a is 2,145 version of the Ikea bag - TODAY.com
http://www.today.com/style/balenciaga-s-arena-tote-2-145-version-ikea-bag-t110397

Speaking of IKEA, it is famous for the blue tote bag "FRAKTA" that is placed everywhere in the store, allowing you to put items on top of it and take it as it is to the checkout. Some people say that they are using polypropylene, carrying large baggage and loading laundry as they are large capacity and strong, even after shopping at IKEA. Although it is a conspicuous coloring, it is FRAKTA that it will fall as soon as it is an IKEA user if you see it in the town, but one of the reasons for popularity is the price that you can purchase with just 99 yen per tax.

FRAKTA carry bag L - IKEA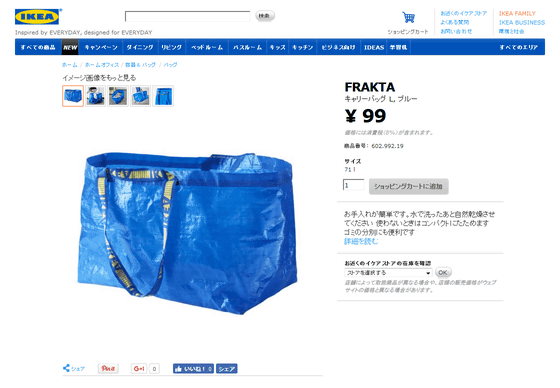 Balenciaga, which is a foreign overseas brand of Hollywood stars, also announced the two-tiered double tote bag of such IKEA FRAKTA. The official name is "Arena Extra-Large Shopper Tote Bag", which is a high-class department store in the United StatesBarneys / New YorkIt is sold on the official mail order site of the company, and the price is 2145 dollars (about 240,000 yen). In the item description column, "Balenciaga's Arena Extra-Large Shopper Tote Bag is made of glossy blue wrinkle leather" is written.

Balenciaga Arena Extra-Large Shopper Tote Bag | Barneys New York



Looks like this. As you can see in the explanation column, leather is shiny blue color, so it looks much like an IKEA tote bag.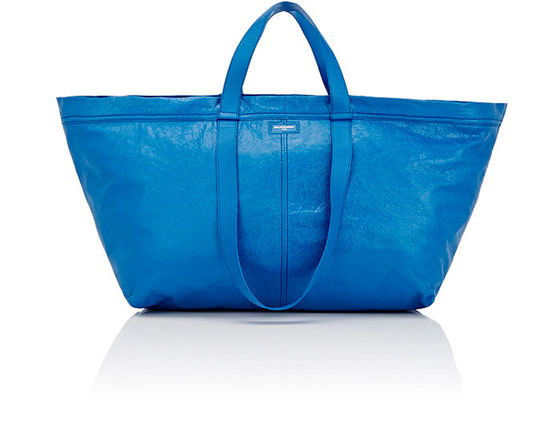 The inside looks like this. With zipper, black leather is used on the inside.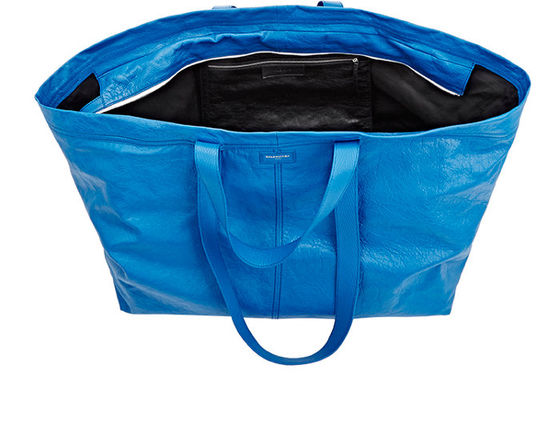 When actually lowering it from the shoulder like this. It seems that it seems to be completely mistaken as "Oh, Ikea?" When looking at the distance.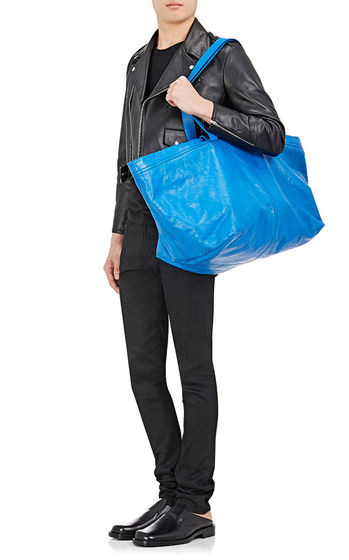 After Balenciaga's Arena Extra-Large Shopper Tote Bag was announced, Ikea created "Advertisement to tell the difference between Balenciaga's bag and Ikea bag" at the request of the advertising agency Acne. That ad is kore.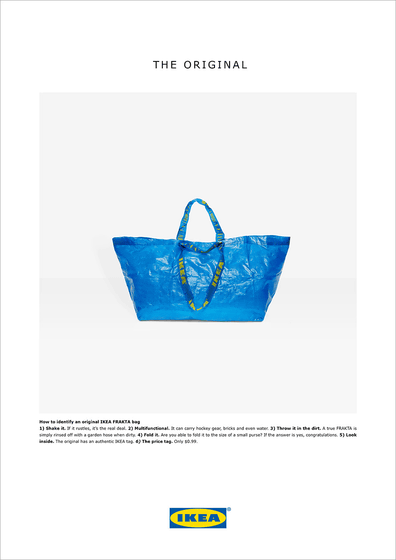 In the advertisement, "a method for discriminating the original IKEA FRAKTA" is written, and the method is as follows. Points of exquisite bait are mentioned without defeating Balenciaga 's bags or depriving IKEA' s bags themselves.

1:Please shake the bag. Shakashaka Noisy people are genuine.
2:It is multi-function. We can carry hockey equipment, bricks and water.
3:Please throw it into the mud. Even genuine FRAKTA can be rinsed off with a garden hose.
Four:Foldable. The real thing can be folded down to the size of a small wallet.
Five:Please look inside. The real FRAKTA has IKEA tags.
6:Please look at the price tag. It is only 99 cents.

Acne's creative director Johan Homglen asked Mr. Morten Care from Ikea Creative Hub because I wanted to quickly advertise, in response to an interview with the international news site Adweek. He liked this idea, the day after the Balenciaga bag was released, we have prepared this ad within two hours. " After that, Mr. Anders · Kilberg of the fashion photographer took a picture of IKEA 's tote bag in Balenciaga' s bag style and he said that he succeeded in advertising on the day when Balenciaga 's bag was released.

Balenciaga has not announced whether Arena Extra - Large Shopper Tote Bag tributed the IKEA bag or not, but "It is hard to think that IKEA made without consciously making it," Adweek said.

Also, it is a news program of NBC Broadcasting in the USATodayIn response to the interview, IKEA's PR wrote in an e-mail: "I am truly honored that Balenciaga 's tote bag looks like a sturdy blue 99 cent bag representing IKEA. There is nothing better than the diversity of large and blue bags I'm replying "Ne".
in Note, Posted by logu_ii