Akashiya Sanma & Jimmy Drama depicting the true story of Onishi "Jimmy ~ Story of Honma like Aho ~" Trailer release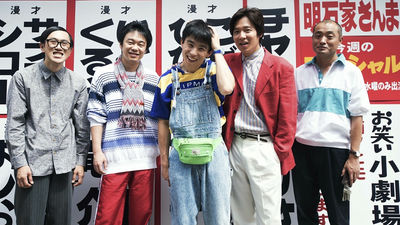 Original drama which Akashiya Sanma is in charge of planning and producingJimmy ~ A story about a stupid horrorThe trailer of "Hello! In the summer of 2017, the drama is composed of 9 episodes, Netflix is ​​planning simultaneous delivery of 190 countries worldwide. Keimu Koide plays Jimmy Onishi as Nakao Aki and Akashiya Sanma as the role.

The outline is as follows, "It is a true story drama of laughter and tears" depicting exchanges over 15 years since Jimmy Onishi and Akashiya Sanama encounter who was a runaway entertainer.

Osaka in the 1980s. Repeat a crazy behavior repeatedly, Hideaki Ohnishi who failed since childhood can not find a job anywhere after graduating from high school and entered "Namba Kagetsuki" as an apprentice to Yoshimoto Kogyo's stage progress.
One day, Ohnishi who failed greatly naked himself to show reflection and put a cinch in a stairway with a string and made a big fuss. A celebrity celebrity celebrity age Akashiya san came over there. The two played encounters of shocks in this way.
Sanama is interested in Onishi, allowing me to look after himself. After that Onishi will spend days laughing with laughter with Sanma and its entertainers' colleagues Murakami Shoji, Mr. Okule, Oka of Oka who is a care staff of Namba Kagetsuki.
On such a day, Onishi, who decided to stand on the stage of the new comedy, will make a big mistake on the stage. Sanwa rescues himself / herself to rescue Ohnishi who has become fired. And, when I received terrible bullying, I told Ohnishi that it blew away "Smile the past is laughing", and I decided to nurture a young man with this intense character as a popular artist.
After that, Onishi is named "Jimmy Onishi" by the pearl, led by the teacher, becoming a selling child performer enough to also attach full-time manager Takamiya Kyoko.
A few years later, Onishi had found his place of "comedy", but he also began to notice that it was only given from the pear. While worrying about the lack of power as an entertainer, while thinking about retirement, I will draw a picture by planning a TV program, knowing the talent of Onishi's unexpected picture ... ...
Speaking of Jimmy Onishi, "If you put it in the same body, I think that there is an early one, I will take an intravenous drip." "If I had been keeping the car in mind because it was a traffic jam, the previous car was a parked car stopped" It's known for real episodes like lies like hitting a criminal against police dogs and smells ", but these episodes also appear in the trailer.

Produced by Akashiya Sanama "Jimmy ~ A story of Honma like aho ~" Trailer release! - YouTube

© 2017 YD Creation

MISIA covers the theme song of the drama Miki's "Last Night Train" of the Kai Band that Akashiya Sanma "loves music that is also connected to entertainers" covers.

MISIA's comments are as follows.

This time, I first met the Kai Band's "last night train" through the subject of the theme song of the Netflix drama "Jimmy ~ Aho like aho ~". I think that it was a wonderful song and I got a really nice encounter.
Also, in this song, the destination where the night train goes directly is not sung, but it seems like a "night train heading for" Sanama viewed from San "or" Jimmy san see "Sanama Sanama" Tokyo I also felt it was easy to imagine how to finish the song, how to finish it.
Arrange asked Kuroda Takuya-kun in NY and I had Oke recorded in NY. I think that it was jazzy and finished in a warm and honest sound.
I watched the drama a while before everyone. Eighty to ninety percent of you are watching while laughing, but suddenly it comes to horror. Also, I thought that it is a drama that can tell you the philosophy of life from the philosophy of Sanma 's laughter.
It is being delivered simultaneously to 190 countries around the world with Netflix, and I really want many people to see it.

Delivery start is scheduled for July 7th (Friday).
in Video, Posted by logc_nt