I tried "Lotteria Slider" which reproduced cheese, shrimp and Teriyaki burger in hand palm size about 6 cm in diameter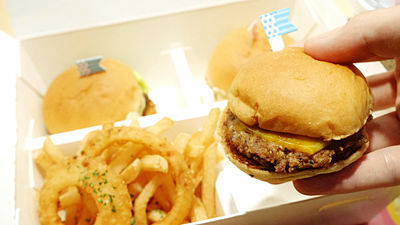 As a hamburger for the spring season when it came to an excursion season, palm-sized petit burger "Lotteria slider"Has appeared. Lotteria's popular classic menu "Shrimp burger"Superb cheeseburger"Teriyaki burgerAs it was a petit burger with a diameter of about 6 cm as it was, as it was a set of French fries and onion rings in a special case, we went to check the taste of a hamburger that actually became petit size It was.

~ New proposal of fast food industry, new appearance with cute palm size! It is! ~ Petit burger of about 6 cm in diameter "Lotteria slider" released nationwide on Thursday April 6, 2017! | Campaign | Lotteria
https://www.lotteria.jp/campaign/000149/

Arrived at Lotteria.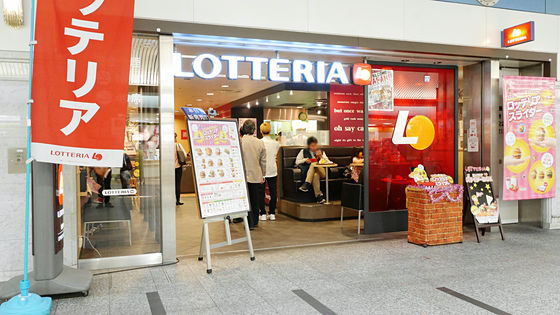 There was a sample that knew the size of the Lotteria slider in the shop front.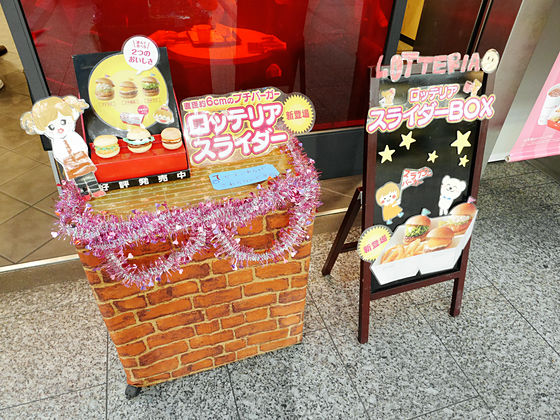 There are two kinds of Lotteria Sliders selected from three kinds of Petit Burger, Furry Potato, Drink M set as "Lotteria slider set"In addition to all three kinds of petit burger, French fries potato S and onion rings are packed together"Lotteria Slider BOX"there is. Since there is no single item of Burger sold, this time I ordered Lotteria Slider BOX with all the burgers. It was delivered to the table in about 5 minutes. Drink S can be ordered if you add 100 yen.



When I put the iPhone 5s on, it looks like this. There is atmosphere like present box, so it seems to be good to take it for the holiday.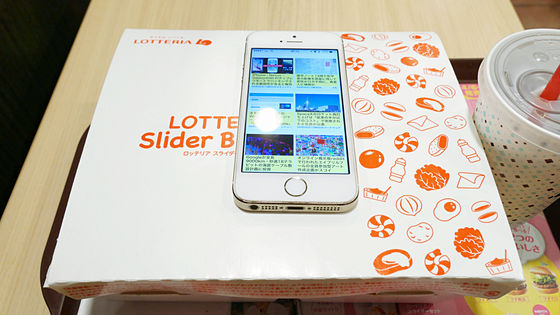 That's why I opened it. The inside is divided into 4, with a Terriyaki burger at the upper left, a shrimp burger at the upper right, a potato and onion rings at the lower left, and an exquisite cheese burger at the lower right.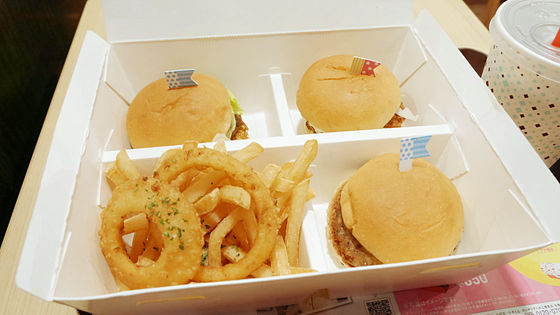 Taking a cheese burger in hands like this looks like this, it's really palm-sized.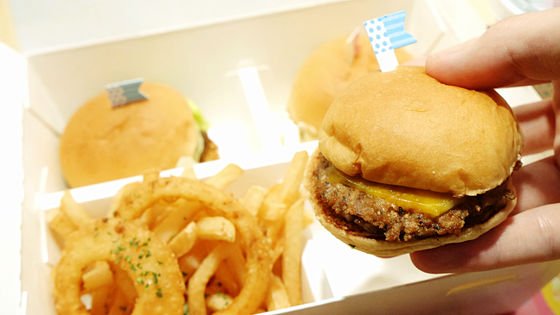 There is a mini size exquisite burger patty, with two layers of sliced ​​cheese on top.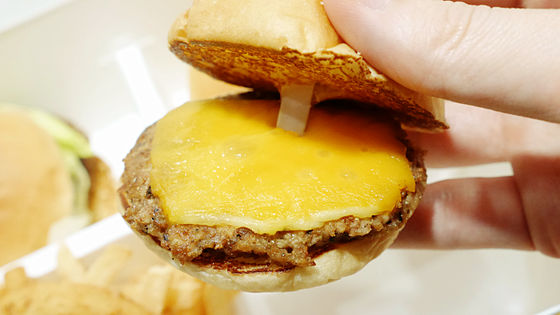 As if it looks like a toy, you can feel the taste of exquisite Cheeseburger with solid spice effect. As we finish eating from 2 to 3 mouths, it might be a snack just for picnics and so on.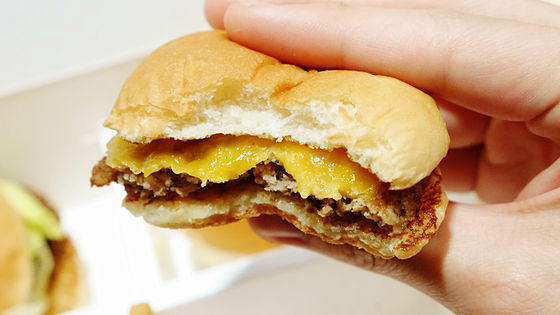 Next is an eburber burger, but you can see that the usual shrimp burger has been reproduced while looking like a miniature.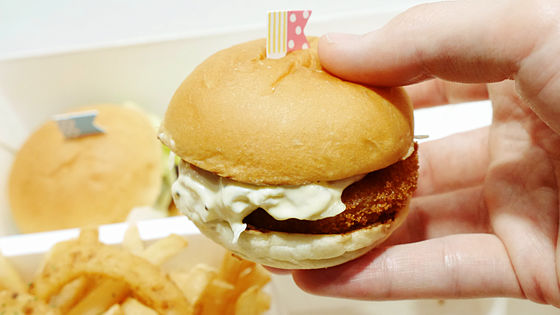 Some shrimp with tartar sauce and cabbage on shrimp patty. It can be felt that it takes time and effort.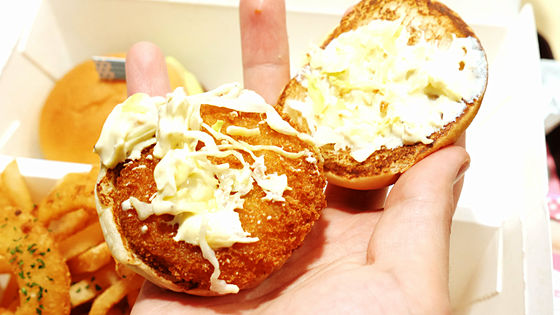 After all the taste is the usual shrimp burger. Just because clothing is crispy and small, there is absolutely no place like pulling out hands.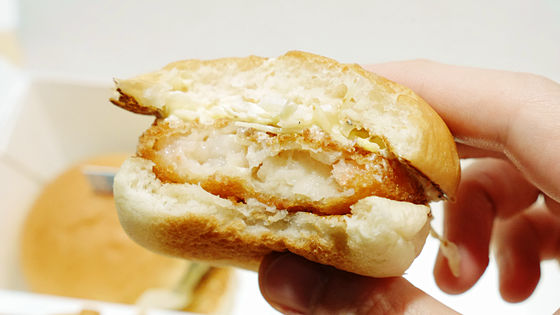 Lastly, Terriyaki Burger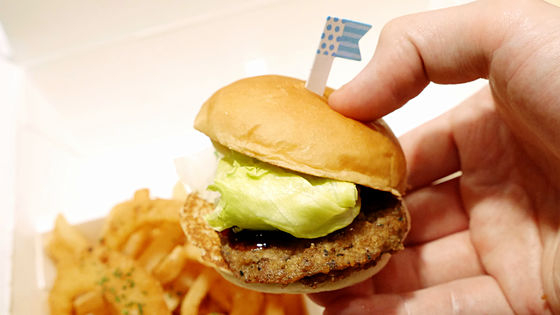 "On the contrary, it is more difficult to cut lettuce to this size ... ..." I think.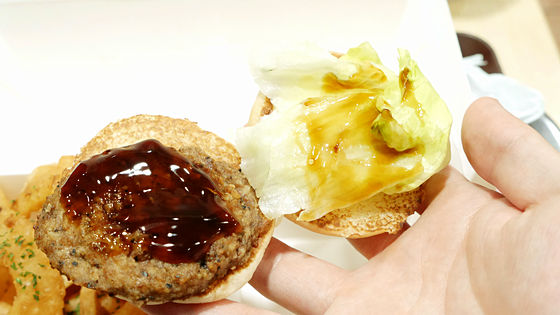 If you grab a Terriyaki Burger, you will soak out with sour taste mayonnaise in a sweet Teriyaki sauce. Lettuce 's shakijaki feeling is also alive, and it may be interesting to make comments on everyone when you eat for the first time.



French fries and onion rings are a bit weak, so it is better for those who got ketchup in advance. It is just right to eat everything alone, but if you divide it by multiple people, it will be difficult for me to divide the hamburgers, which are only one type each, not enough to fill my stomach.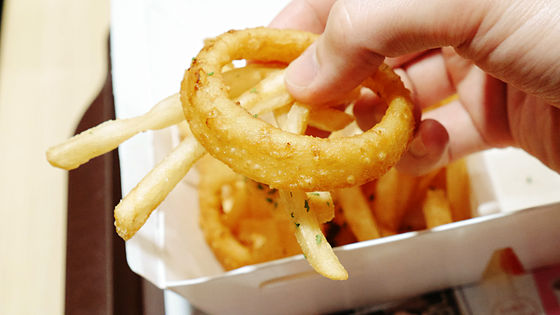 In addition, "Lotteria Slider Set" is 850 yen including tax, "Lotteria Slider Box" is 980 yen including tax.