"The number of downloads is doubled but the revenue is less than half" The strange relationship between Google Play and the App Store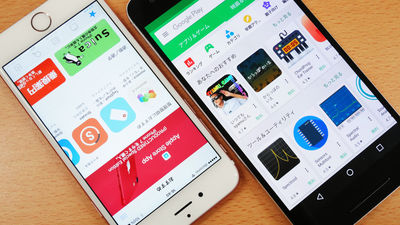 Speaking of Apple's "App Store" that distributes applications for iOS devices such as iPhones and iPads and Google's "Google Play" delivering applications for Android devices, it can be said to be the two biggest biggest app store for smartphones is. Data showing the strange relationship of such two application stores is released.

Forecast: Mobile App Store Revenue to Exceed $ 139 B in 2021 - App Annie
https://www.appannie.com/en/insights/market-data/app-annie-forecast-2017-mobile-app-store-revenue-exceed-139-billion-2021/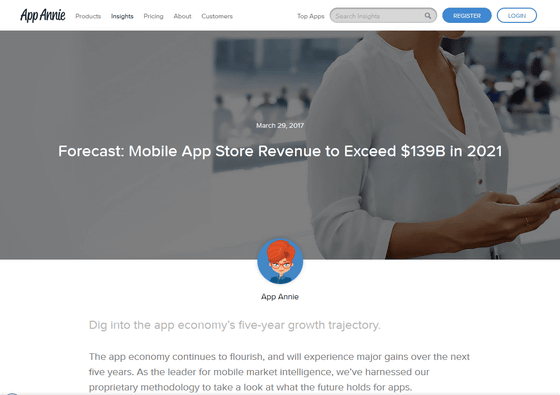 Apple makes 3 times as much as Google on apps, with less than half the downloads
http://mashable.com/2017/03/29/apple-app-store-revenue-google-play-china/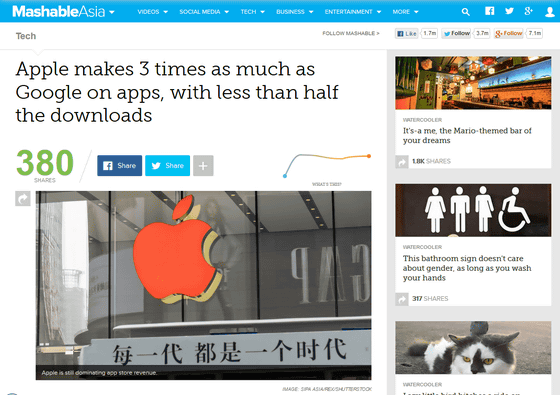 Android app industry expected to surpass iOS App Store in terms of revenue this year | 9to5Mac
https://9to5mac.com/2017/03/29/app-store-android-app-market-in-revenue/

Investigate the mobile application marketApp AnnieReleased revenue data of the app store for the mobile terminal in 2016 and revenue forecast data after 2017. App Annie's survey targets are the App store for iOS (App Store), Google Play, third party app stores for Android (Amazon Android App StoreYaSamsung Galaxy AppsEtc), other app store.

The graph below shows the prediction of the number of application downloads (vertical axis) for each application store in 2016 and the number of application downloads in 2017 and 2021. According to App Annie, the number of application downloads for each app store in 2016 is 29 billion times for the App Store, 63 million for Google Play, and 55 billion for Android App Store by third parties. Although the number of downloads on the App Store does not grow much with forecasts, the number of downloads of applications on Google Play and third party Android App Store is expected to double more than by 2021.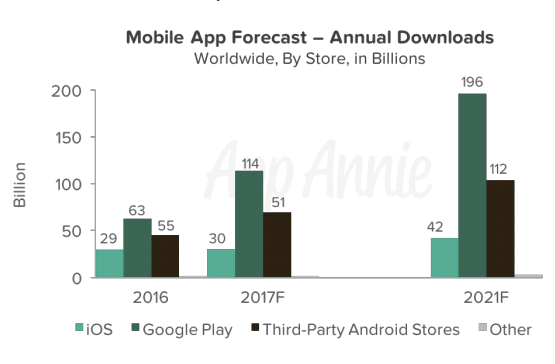 On the other hand, the graph below shows the annual revenue of each app store (data for 2017 and 2021 is forecast). App Store is much lower than the number of application downloads, but it is much larger than the annual revenue, which is $ 34 billion in 2016 (about 3.8 trillion yen), and in 2017 it is about 40 billion dollars 4 trillion 500 billion yen), and it is expected to reach 60 billion dollars (about 6.7 trillion yen) in 2021. Google Play's annual revenue for Google Play in 2016 will be $ 17 billion (about 1.9 trillion yen) exactly half of the App Store, $ 21 billion (about 2.3 trillion yen) in 2017, $ 42 billion in 2021 About 4.7 trillion yen).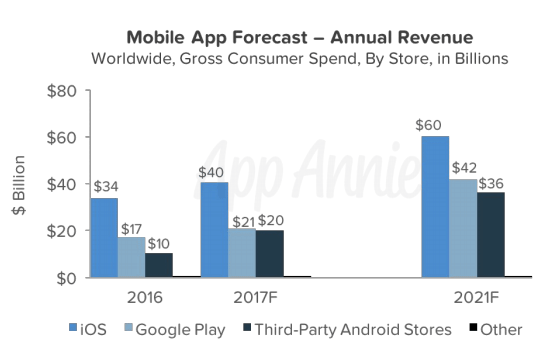 As you can see, the overwhelming Google Play is the number of downloads, but the annual revenue is less than half that of the App Store. This indicates that users using the Apple App Store are actively pursuing paid applications and in-app billing. In addition, "It is largely affecting that Google Play misses big income because it does not provide services in China." However, Google Play is increasing revenue faster than third party Android app stores, and Google has never been pessimistic as downloads are already above the App Store.

As for the mobile application market as a whole, it is predicted that the market size in 2016 will exceed 61.8 billion dollars (about 6.9 trillion yen) and in 2021 will exceed 139 billion dollars (about 15 trillion yen) It seems that the prospect of the application market is bright. The application market seems to be roughly divided into three markets of Asia Pacific, Europe and the United States. As of 2016, Asia-Pacific has become more than huge which accounts for more than 50% of the total, but in 2021 Each market is more mature and the difference is expected to be smaller.