A big response to a girl's response to "being unable to board without changing leggings", a situation in which the airline announces a statement "big leggings welcome"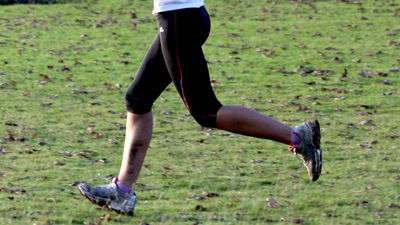 ByGareth Williams

The United States domestic flight from Denver to Minneapolis corresponded to a girl wearing leggings by a United Airlines staff member "We can not board without having to wear something on leggings", a gun control group "Moms Demand Action For Gun Sense in America "by Shannon Watts representative. Because the sender is Twitter, not public DM, rather than DM, this tweet is getting stuck in the eyes of a lot of people and calls for a big reaction, but the United Airlines argues that there was a reason to do so I will.

United Airlines defends gate decision to bar girls wearing leggings from flight | World news | The Guardian
https://www.theguardian.com/world/2017/mar/26/united-airlines-girls-leggings-shannon-watts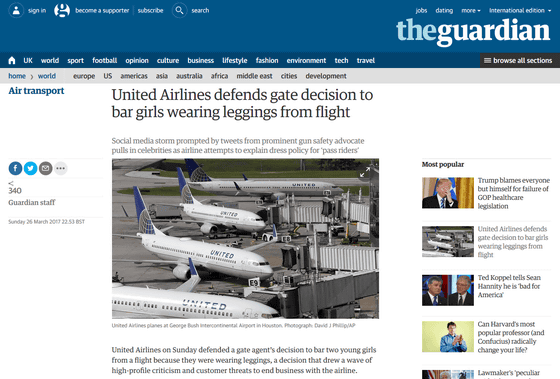 According to Mr. Watts, this is an event at the United Airlines 215 flight departing from Denver International Airport headed for Minneapolis at 7:55 and a gate staff attended a 10-year-old girl wearing gray leggings , They asked them to change clothes or to wear something on top of leggings, and if they do not do it, they said they could not board. Watts is asking for United Airlines' official Twitter account, "Are you monitoring women's clothing on United Airlines?"


1) A@unitedGate agent is not letting girls in leggings get on flight from Denver to Minneapolis because spandex is not allowed?

- Shannon Watts (@ shannon rwatts)March 26, 2017
2) She's forcing them to change or put dresses on over leggings or they can not board.@unitedPolice women's clothing?

- Shannon Watts (@ shannon rwatts)March 26, 2017
3) Gate agent for flt 215 at 7:55. Said she does not make the rule, just following them. I guess@unitedNot letting women wear athletic wear?

- Shannon Watts (@ shannon rwatts)March 26, 2017
.@unitedThey are boarded after being for this to change or put dresses on over the top of their clothing. Is this your policy?

- Shannon Watts (@ shannon rwatts)March 26, 2017
A 10 - year - old girl in gray leggings. She looked normal and appropriate. Apparently@unitedIs policing the clothing of women and girls.https://t.co/RKsIFoE8pq

- Shannon Watts (@ shannon rwatts)March 26, 2017

In contrast, United Airlines is a Twitter girl is a pass rider, or "Waiting for cancellation (Only available if there are vacant seats) For United Airlines employees or employees' dependentsIt was explained that it was necessary to follow your company's dress code as it was.


The passengers this morning were United pass riders who were not in compliance with our dress code policy for company benefit travel.

- United (@ united)March 26, 2017

The circumstances are explained again not only on Twitter but also on the official website, and this case is a case that it was a pass rider to the last, and it is said that "Reggae is a big welcome" if it is a general visitor.

Leggings welcome on United flights
https://hub.united.com/our-customers-leggings-are-welcome-2331263786.html