The stage of "Raiku's Touken Ranbu" is the 3rd Bakumatsu / Bunraku, Mitsuru Funai, Atsumi Kimura, Masayuki Kunihiro participate as a sword-animator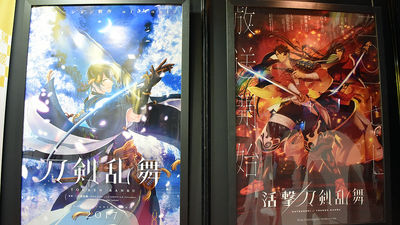 Regarding the animation "Lifetime Sword Ranbu" scheduled to start broadcasting from July 2017, the stage of the work which had not been revealed until now is the third year of Bunkyu, that is, the end of the Tokugawa shogunate, and the title "sword-animation animator" is placed That being said,AnimeJapan 2017It was announced in the stage event "Takenora Ranbu Special Stage" which was held in Tokyo.

TV anime "Momentum Touken Ranbu" Official Site
http://katsugeki-touken.com/

On the stage Izumi Mamoru cumulative roleRyohei KimuraMr. Michibu MutsukiHina BanMr. Hirokawa Horikawa's roleEnomi TunyaMs. At this place, the introduction was also released for the first time.

Contents look like this.

Fumihisa three years. The era when the Banbai school and the Saba school divided the world and the era of the sword told the end --- the end of the Tokugawa period. Horikawa Kunihiro who just appeared as a swordsman appears to run along the rainy mountain path with Kazuaki Izumi who was fighting under the same Lord.
The swordsmen detained the thought of staying in the sword and excavated the gods and made them manifest "attached mind". Their mission is to seek to change the history, to overthrow "time backward force" sent from the future, and to preserve the "correct history".
The second swing that got a new member called Mutsuo Mamoru Yoshiyuki, Kenken Fujiro, dragonfly, Tsurumaru Naganaga is a time of turbulence, and he will cast himself into a fight against time backward troops.
Is it light or shadow to reflect on the shake blade?
Swords man, when she comes out.

In addition, it was announced that Mamoru Saito and OP theme were handled by Kalafina 's ED theme.

As new staff information, Watanabe Yuzuta was instructed as a swordmaster and Mr. Tatsuya Yamamura was responsible for the era. Furthermore, as "sword-animation animator", Mr. Mitsuru Funai known as ufotable's "moving shop" animator, Mr. Akira Kimura, Masayuki Kunihiro was named. It is said that swordplay action like this can be seen by "sword animation animator".

"Rhythmic Touch Ranbu" sword fighting action introduction video - YouTube


Broadcasting starts in July at TOKYO MX, BS 11, Gunma TV, Tachibana TV, MBS.

Prior to this, it was also announced that the first episode of the preliminary screening will be held on May 1 (Monday) at Tokyo Metropolitan Theater and on May 6 (Saturday) at Tokushima · ufotable CINEMA. Mr. Kimura, Mr. Hama, Enoki on the first day, Mr. Kimura and Mr. Hama will be appearing as guests on the 6th.