Sweet fried pork has eaten the level MAX of ramen "meat juice noodlesu" which forms a mountain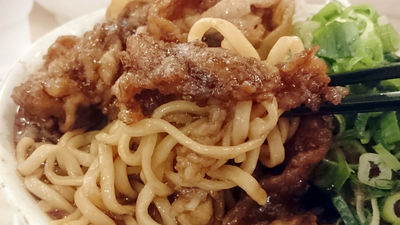 Akihabara's meat prime ramen shop "Meat Juice Noodle Susumu"The amount of meat to be served can be selected from four stages, and at level 1 it is 130 g, but at level MAX 800 g of meat will be served. I went to eat what kind of meat's destructive power it was packed to make soup invisible.

Meat Grilled Noodle Susumu - Pizza Ramen Restaurant from Akihabara
http://susumu.me/

The place is here. It is about 2 minutes on foot from Suehirocho Station Exit 3, Tokyo Metro Ginza Line. It is about 5 minutes on foot from Akihabara station.


The appearance of the shop looks like this.



"Delicious, fast, many ... meat is a man's man."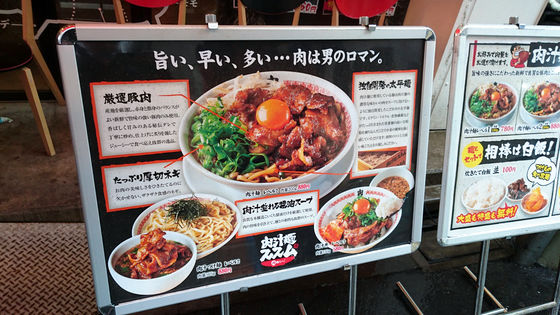 The menu is divided into "big meat juice noodles", "spicy meat juice noodles", "meat juice don" and "meat juice noodles". In the case of meat juice noodles, Level 1 is meat 130 g, Level 2 is meat 200 g, Level 3 is 270 g, and only the level MAX suddenly increases to 800 g meat. I tried ordering level 1 (780 yen including tax) and level MAX (1980 yen including tax) this time for how much difference there is.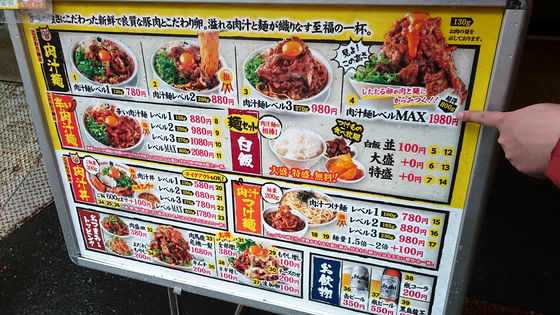 Since cooking begins after placing an order, during that time, "egg handbook" ... ...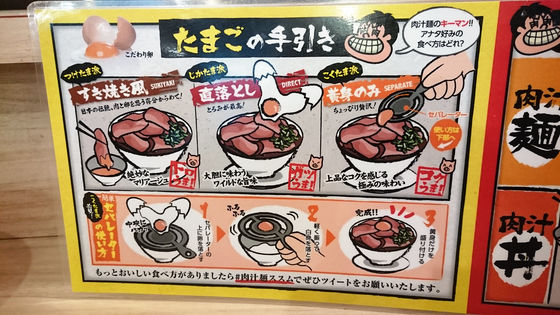 I will read "Susumu recommended way of eating" and wait.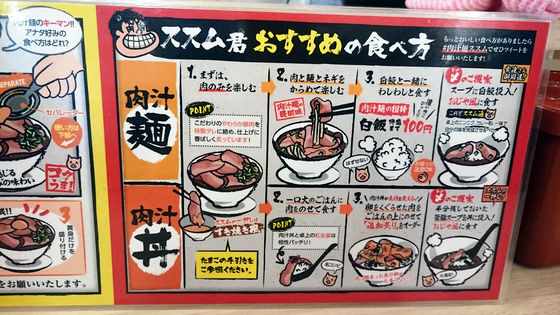 After waiting for about 5 minutes, meat juice noodles arrive. This is level 1, but the meat is filling half the vessel.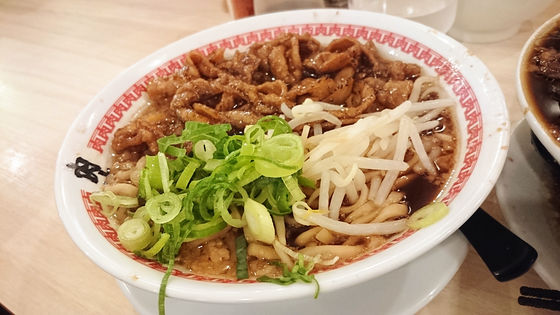 However, the level MAX had truly only 800 g of meat and "mountain of meat" was made. Soup is also overflowing.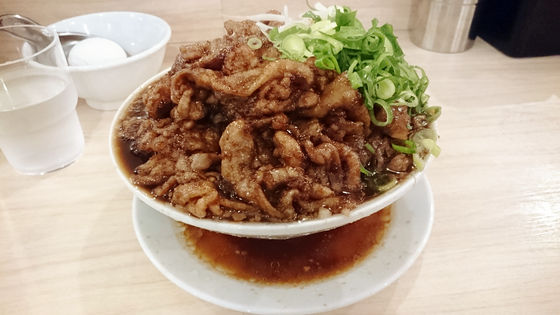 It is not merely "fried meat", but fried after being fried with clothes (powder).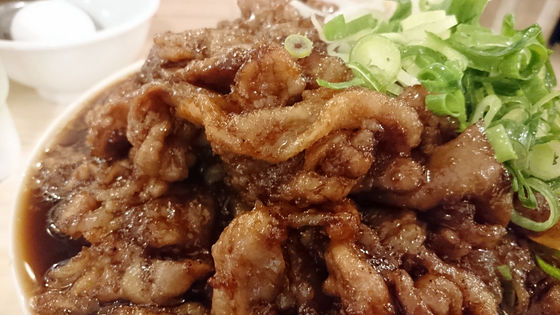 There is about this height difference of meat with Level 1. By the way, the vessel of level MAX seems to be using a different vessel because of its invisible pattern, but it is exactly the same vessel.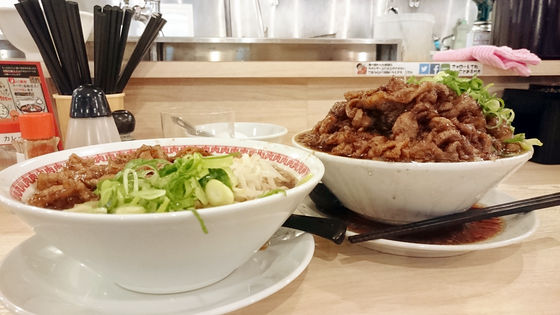 The noodles are somewhat thick and strong and strongly impoverished by the taste of the meat juice. At level 1 you can lift and rinse like ordinary ramen like this ... ...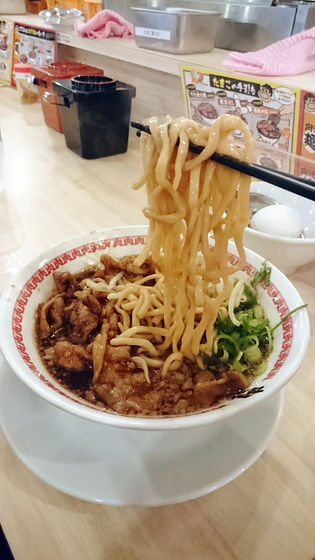 Level MAX does not come out noodles because the meat on top is heavy.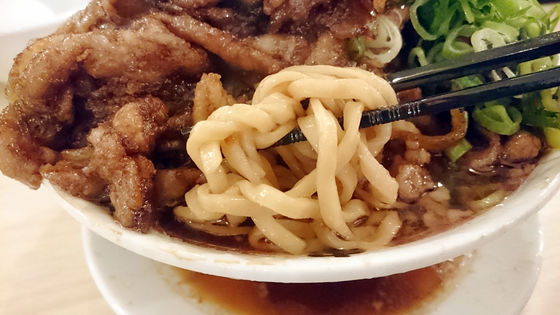 Somehow drag it out and try to eat it with meat. The meat is like "stir-fried pork", of course, it goes well with ramen, but it seems like white rice is more compatible.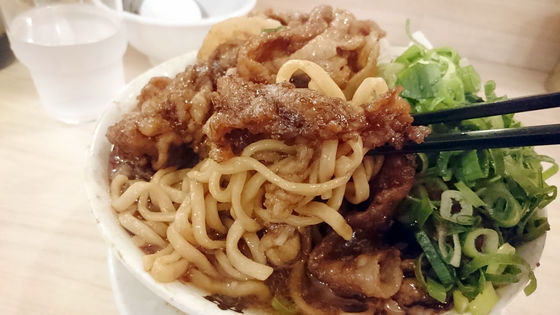 Even though you can put eggs directly in ramen, it is OK to eat it with sukiyaki style, cut meat juice appropriately, and eat meat with eggs.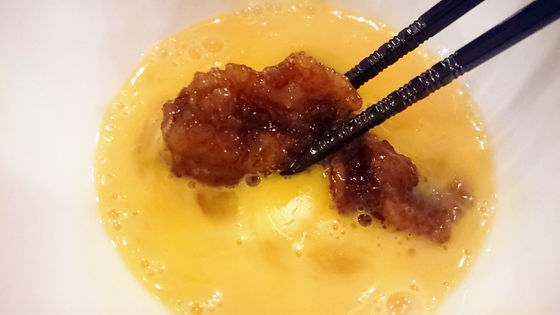 Curry powder and so on were prepared for changing the flavor. However, since the original meat juice noodles are rather heavy, the curry powder to which the heavier taste is added is not so much felt there. Dropping two drops of black vinegar is pretty ant in the sense that we can change our eyes.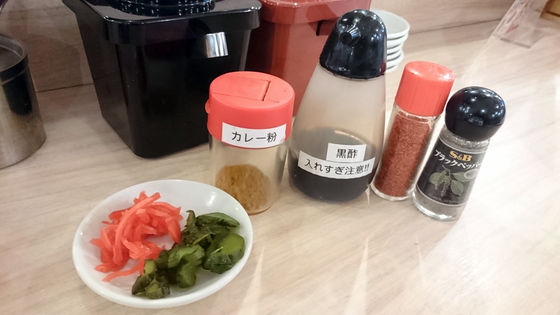 I managed to finish Level MAX. As a result of drinking and eating as the noodles did not spread out, the meat was considerably left over, and at the end it was only to eat the meat in the sukiyaki state. It is supposed to be full with level 2 or level 3 except when it is not enough to eat meat so much.