Microsoft unveiled policy that Windows 10 only supports Intel 7th generation "Kaby Lake" and AMD "Ryzen"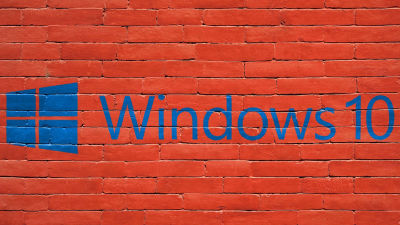 "Microsoft has the latest Intel CPU"Kaby Lake"Or AMD"Ryzen"We do not support Windows 7/8 / 8.1 update programs on PCs" was declared.

When scanning or downloading Windows updates, "Your computer is using a processor not supported by this version of Windows" error is displayed
https://support.microsoft.com/ja-jp/help/4012982/discusses-an-issue-in-which-you-receive-a-your-pc-uses-a-processor-tha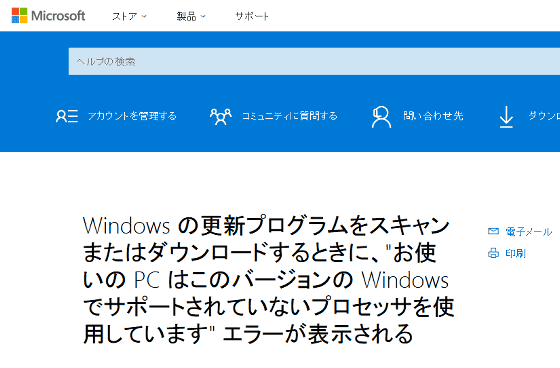 Microsoft has set up the above page on "Error in Windows Update" in the support forum. The content is that when using the Windows update, "The PC is using a processor that is not supported in this version of Windows", it says that the error is caused by an unsupported processor Since there. If you use a CPU that is not supported, it says that you can not use the update program.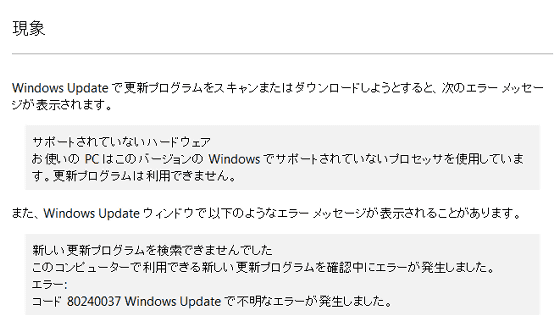 The specific scenes are as follows, "When a new processor generation requires support for the latest version of Windows", "Intel 7th generation processor" (Kaby Lake), "AMD" Bristol Ridge "", "Qualcomm" 8996 "" is supported only on Windows 10. Machines equipped with these CPUs / APUs say "there is a possibility that updates can not be scanned or downloaded via Windows Update or Microsoft Update on Windows 8.1 and Windows 7 devices".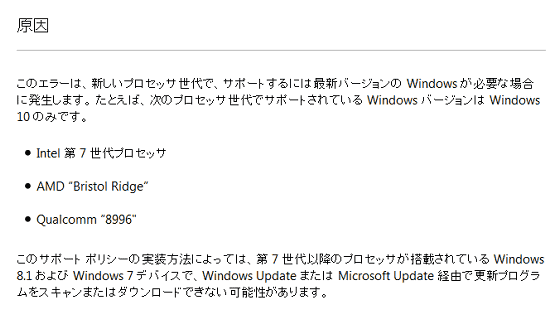 And, upgrading to Windows 10 was done in "Generation after the Intel 7th generation" Intel Core "processor" "generation after" AMD 7th generation ("Bristol Ridge") processor "" Qualcomm "8996" I am recommending it. Whether the update is not provided by Windows Update,Windows Server Update Services (WSUS)Whether you can not adapt the update even if you use it, the details are unknown.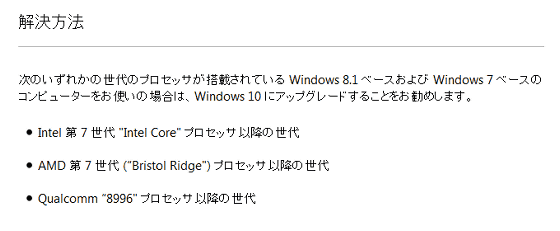 With Windows Update in March 2017, there was no error that updates are not available on PCs using Windows 7, Windows 8.1. However, MicrosoftReveal the policy that only Windows 10 supports the latest CPUSince this time, since we published the support forum page that specifies the specific error code "80240037", from the next Windows Update of April 2017, "As soon as we support Windows 10 Only "policy is likely to be adopted.

In addition, in August 2016, Microsoft,After announcing that the support deadline of Windows 7 / 8.1 of Intel 6th generation "Skylake" series will be shortened, it was withdrawn immediately because it received a big oppositionThere is a past saying. I am paying attention to the fact that the announcement that this time the Intel 7th generation processor and AMD 7th generation and later CPU including Ryzen (Summit Ridge) will not be supported will be executed as it is.