A story of data activists who continue to fight "Airbnb's negative impact"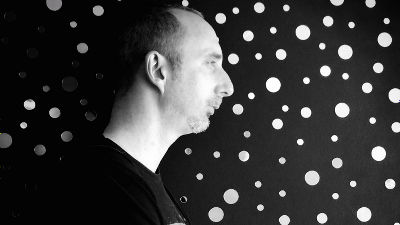 Of the travel platformAirbnbWhile it is a tool that allows traveling methods that have never been before, apartment shortages and rents are rising in urban areas due to the influence of people who operate apartments using Airbnb for commercial purposes, The problemIt has been reported. In connection with these problems, we noticed that "data published by Airbnb is inconsistent with the data collected by himself", and data activists accused that "Airbnb is hiding data" On how to change Airbnb and the surroundings surrounding it,BackchannelIt is summarized.

A Lone Data Whiz Is Fighting Airbnb - and Winning
https://backchannel.com/a-lone-data-whiz-is-fighting-airbnb-and-winning-7fd49513266e

In November 2015 Airbnb announced "Airbnb community data in New York". In this announcement "78% Airbnb host in New York has low, moderate, or moderate income from Airbnb" "72% Airbnb host in New York earned money earned Use it to share the room "" 36% Airbnb host in New York is written that Airbnb's income is not stable, many are freelance or part-time workers or students " I will. Judging from these published data, it seems, at first glance, many of the New York Airbnb hosts seem to have only one apartment.

Data on the Airbnb Community in NYC - New York City
https://new-york-city.airbnbcitizen.com/economic-impact-reports/data-on-the-airbnb-community-in-nyc/

Murray Cox of the activist who questioned this data. Mr. Cox is a photographer who takes documentary photos, but on the other hand, it collects Airbnb property information in each city of the world and displays it on an interactive map. The following is "Inside Airbnb" which maps property information of Airbnb managed by Cox.

Inside Airbnb. Adding Data to the Debate.
http://insideairbnb.com/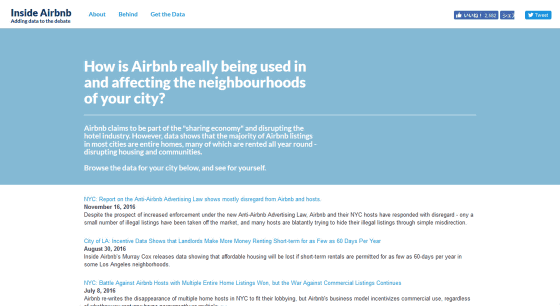 For example, the following is a map of Montreal, Canada. A red dot indicates "round full charter", a green point indicates "private room", and a blue dot indicates "shared room", "By using the Airbnb to operate a room like a hotel, It will be difficult to have it "is pointed out.

Inside Airbnb: Montréal. Adding Data to the Debate.
http://insideairbnb.com/montreal/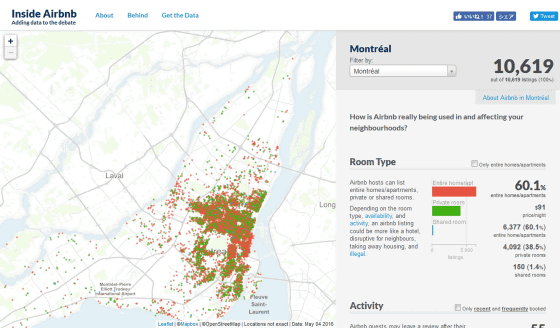 Periodically updating Inside Airbnb numbers and comparing their data with the data released by Airbnb, Cox saw Airbnb's announcement on New York in November 2015, and compared his data and I noticed that there was a discrepancy. Many properties had disappeared before and after Airbnb announced.

Also, Tom Slee who collected data on Airbnb and Uber from 2013 and published it on the website also noticed the same thing as Cox. So, when two people who had exchange with each other compared the information they had, thousands of properties appeared just before Airbnb released data on 36,000 properties in November 2015 It was revealed that it was erasing the thing. And soon it turns out that this "disappeared property" was a host to operate multiple apartments on Airbnb. In New York, in 2010, the law to prohibit the short-term renting of rooms in the absence of hosts in buildings where multiple households live, such as apartments, was enacted. Cox thought that Airbnb would have deleted and hidden the property that violated this law and performed image manipulation.

The law enforced in 2010 prohibits "lending rooms shortly in the absence of a host", but hosts possessing multiple properties can not stay in more than one property at a time. In other words, it is possible that the owner of several rooms was in violation of the law. Also, even if you have only one property, the host who had made the apartment "short circle" for a short time should have been in violation of the law for similar reasons. Thousands of properties disappeared shortly before and after the report was published in November 2015, but when Cox et al. Investigated, some of the properties other than those disappeared at that time were " It seems that I found a room in the apartment.

On February 10, 2016, Cox and Slee released an article called "How Airbnb hid the Facts in New York City" (How did Airbnb hide the facts of New York) in Inside Airbnb? Airbnb claimed that it deleted the property just before the report, making its business more favorable, affecting the media and public opinion.

How Airbnb hid the Facts in New York City - Inside Airbnb. Adding data to the debate.
http://insideairbnb.com/how-airbnb-hid-the-facts-in-nyc/

In response to the two reports, a major news site also reports that "Airbnb deleted the property to create a better portrait."

Airbnb Purged New York Listings to Create a Rosier Portrait, Report Says - The New York Times
https://www.nytimes.com/2016/02/12/business/airbnb-purged-new-york-listings-to-create-a-rosier-portrait-report-says.html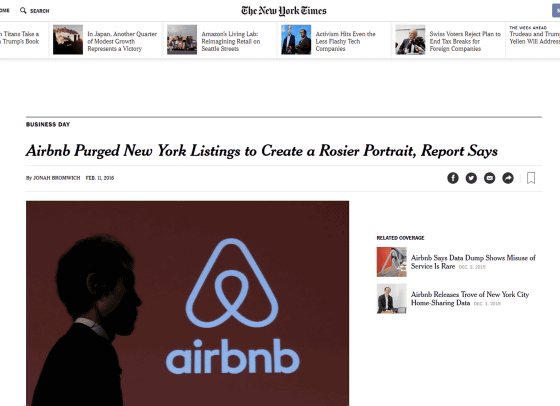 Airbnb purged more than 1,000 New York listings to rig survey - report | Technology | The Guardian
https://www.theguardian.com/technology/2016/feb/10/airbnb-new-york-city-listings-purge-multiple-apartment-listings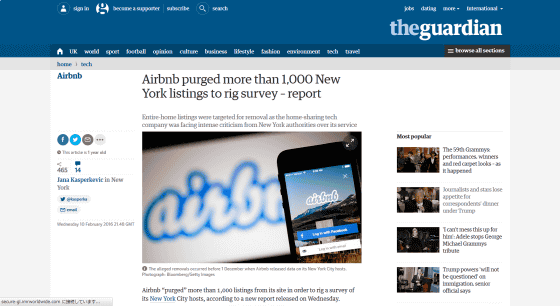 Airbnb initially explained to these reports that "Because of Halloween at the end of October, visitors to New York and Manhattan will increase, and the number of properties that can be accommodated will decrease." Slee's carefully analyzed the data on the publication of the article, but I was worried that it might have been overlooked by them.

However, a few weeks after Cox and Slee published the report, Airbnb admitted that the two would argue for New York State and the user(PDF file)AnnouncementWe did. Among them, Airbnb said, "We deleted about 1,500 properties in New York from the platform last November, which are operated for commercial purposes and did not reflect the vision of the Airbnb community." It is.

And a few months after Airbnb announcedThe ordinance that illegal making advertisement of short-term staying rental on Airbnb passed. after that,Airbnb sued the city as illegal laws that make room lending registeredIn December 2016, for illegal private residence broke, we agreed to impose a fine directly against the host who illegally manages private residence through Airbnb instead of Airbnb. Violators of this law will be fined up to $ 1000 (about 100,000 yen) for the first violation and up to $ 7,500 (about 780,000 yen) at the third time. In reporting on reports by Cox et al., A spokeswoman for New York State attorney general Eric Schneiderman said, "We faced the company2000 properties were deleted in 2014So, Airbnb seems to have manipulated the data again to hide illegal activities, "he said. The report also appears to have influenced the passage of the ordinance.

Currently, Airbnb raises a rule of "1 host 1 home", shows the intention to crack down hosts who are borrowing multiple houses, and also discloses information such as the number of items deleted each month. These directions are the result that Airbnb learned from the experience including reports published by Cox et al.BackchannelIt suggests.

Even though the power of an individual seems small as a unit,"# DeleteUber" urging Uber to delete accountAs time has influenced society, it brings great power at times. Regulation was born in New York, but in other cities Airbnb is often taken up as a problem. Cox is going to continue Inside Airbnb in the future and says, "I would like to stop activities when Airbnb is properly enforced."