An application "Arrived" that tells the information necessary for immigrating to America collectively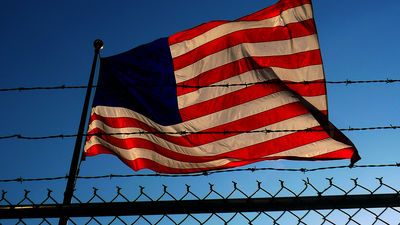 ByNick Pezzillo

As President Trump has set immigration restrictions on immigration, immigration to the United States will not be familiar as before, and it is expected that major changes will still occur due to rules of immigration by President Trump . About the immigrant application that tells the necessary information such as visa and green card information, housing and job search, etc. is taught "Arrived"Has appeared, and it is operated mainly by Google employees.

Arrived: Immigration to the United States - Android application on Google Play
https://play.google.com/store/apps/details?id=us.arrived.arrived

As for "Arrived", only the Android version has been released as of article creation. Open the above URL and tap "Install".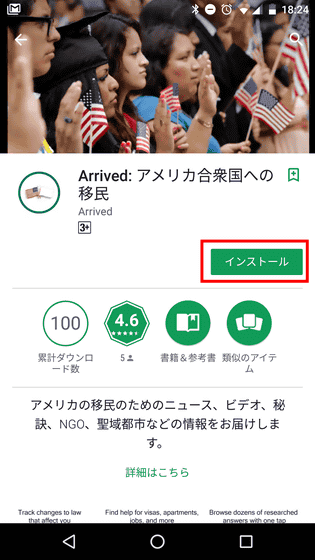 When installation is completed tap "Open".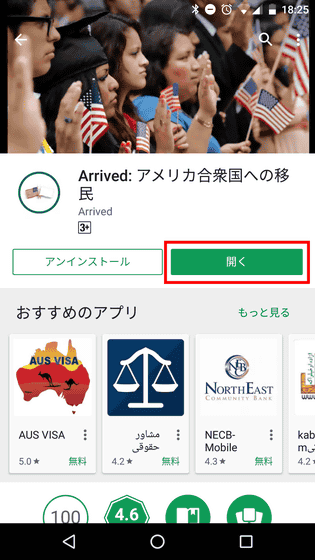 When launching the application for the first time, the terms of use are displayed, so tap "OK".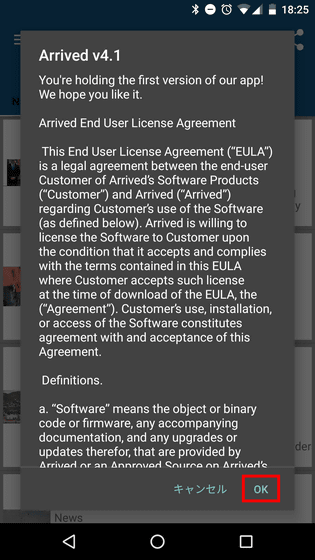 This is the home screen. On the screen, there are four menus "NEWSFEED", "LEARN", "SEE" and "WATCH". When launching the application, news related to immigrants delivered with "NEWSFEED" are displayed in chronological order. Tap the top news ... ...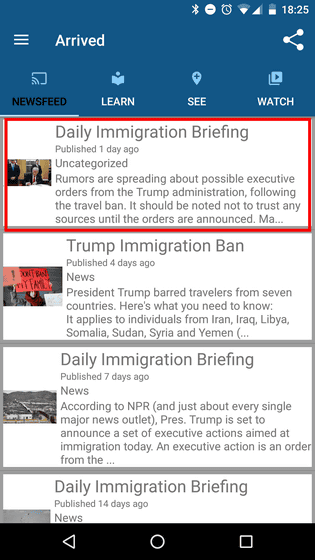 An article of "Arrived.us" which manages Arrived is displayed.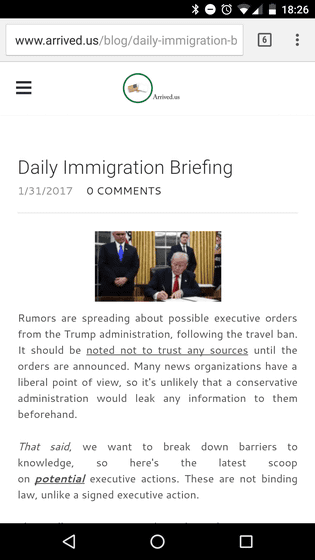 Next check "LEARN". When you tap "LEARN", a message asking permission to access the position information is displayed, so tap "permission".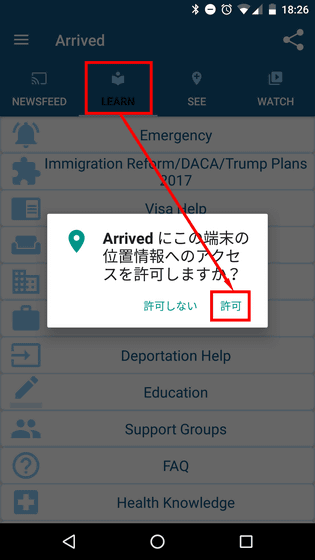 "LEARN" can confirm necessary information such as "emergency contact", "revision of immigration system" "Visa support" "residence" "work" Try tapping "Visa Help".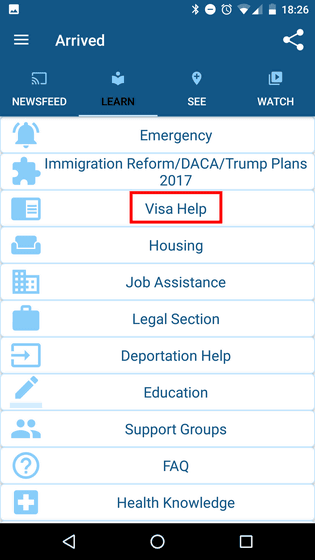 "Visa Help" lists "What is Visa?" "Person who needs Visa" "Penalty when visa expires," "How to receive green card", etc. are listed side by side. Try tapping "Do I need a visa?" (People who need Visa).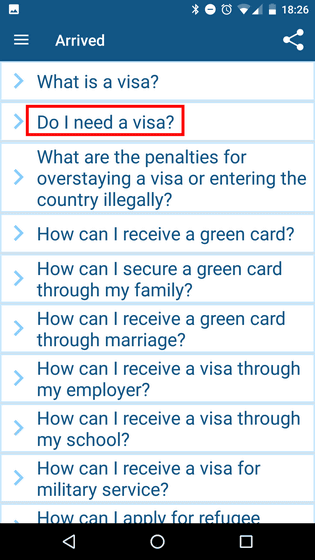 Then you must have the same rights as the American citizens if you do not have Visa, such as the fact that you need to submit documents to immigrate to the United States directly, you can not vote for elections or get a passport unless you own Visa There is nothing written. Also, even if you do not have Visa, it was written that it is unlikely to be found if you do not commit a crime.



Let's check "What are some common job-searching websites? (Website used for job search?)" From "Job assistance".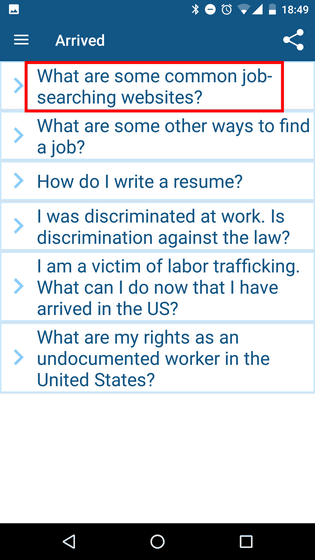 A web site that seems to be useful when looking for work on the Internet, such as "Search by entering the name of work and region by Google", "Leverage the site called Monster", "Use Craiglist and LinkedIn" was displayed. Not only Visa's support but also information required after entering America as a safe immigrant is summarized.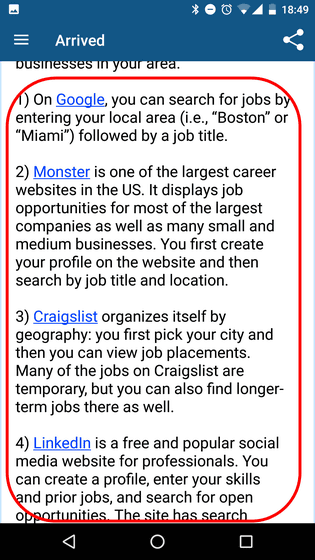 Next, when you tap "SEE", Google Maps is displayed.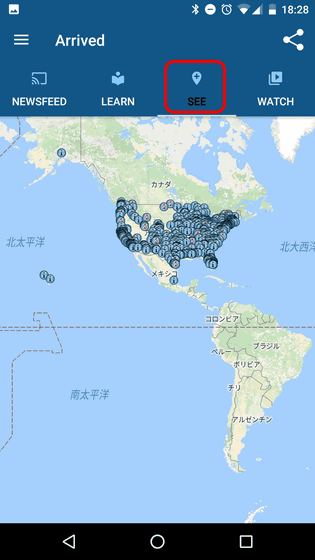 The map can be enlarged with double tap or pinch out. "I" and "tent" icons are displayed on the map, and "i" shows the location of non-profit organizations that support immigrants.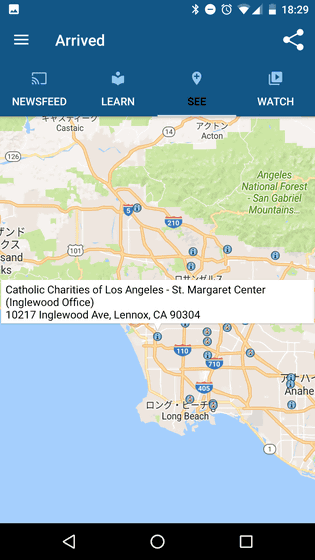 The "tent" icon indicates "sanctuary city" which is a region that is tolerant of illegal immigrants.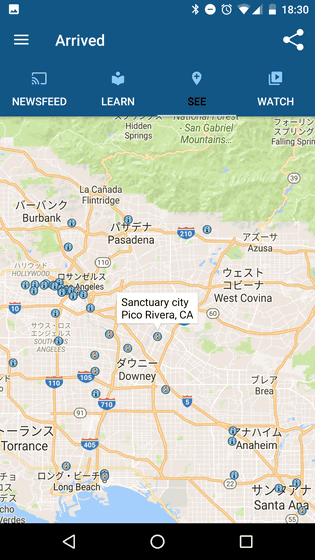 In the menu "WATCH" it was possible to watch a movie that can learn English necessary for immigration in the United States.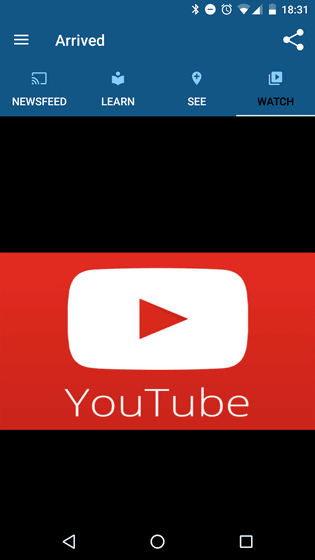 English movie materials seen in "WATCH" can also be checked from the movie below.

American English Idioms | Easy English Conversation Practice | ESL - YouTube


"Arrived" is an article creation Currently only in English version is being operated. In the future I would like to expect Japanese correspondence.