The Silicon Valley companies are anti-flag on President Trump 's immigration policy, summary of opinion of IT celebrities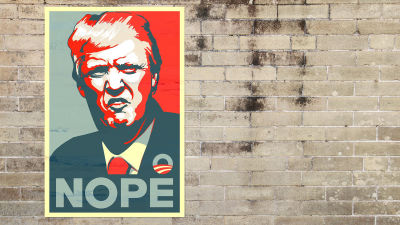 President of the American Trumps suspended the acceptance of Syrian refugees and signed the Presidential Decree to temporarily suspend entry from countries where Muslims such as Iraq, Iran and Somalia are the majority, as stated by the declaration before the president assumed office We began implementing immigration policies. However, from the top of Silicon Valley companies, the message that President Trump 's immigration policy is not supported continues.

Silicon Valley's responses to Trump's immigration executive orders, from strongest to weakest - The Verge
http://www.theverge.com/2017/1/28/14426550/silicon-valley-trump-immigration-response

Apple, Microsoft and Uber help staff stranded by Trump ban (update: Airbnb)
https://www.engadget.com/2017/01/28/apple-microsoft-and-uber-help-staff-stranded-by-trump-ban/

Apple, Uber, Netflix, Twitter join corporate rebuke of Trump immigration policy
http://mashable.com/2017/01/28/tim-cook-apple-uber-trump-immigration-ban/?utm_campaign=Mash-Prod-RSS-Feedburner-All-Partial&utm_cid=Mash-Prod-RSS-Feedburner-All-Partial#1AFdRp9hCqqI

Because there is a history that Silicon Valley has developed by accepting talented people from all over the world, there are not a few people who oppose President Trump 's exclusive immigration policy. And already, the top of the technology company has begun to clearly set out "counter against playing cards".

Aaron Levy, cloud storage service Box's CEO, said, "President Cardin immigration policy is wrong in all aspects such as moral, humanitarian, economic and logical, and it is contrary to the idea of ​​America perfectly" I am tweeting.

On every level - moral, humanitarian, economic, logical, etc. - this ban is wrong and is completely antithetical to the principles of America.

- Aaron Levie (@levie)January 28, 2017

Lyft's CEO Logan Green, dispatch service,ReCodeIn response to the interview, "Through our history we have worked hard to accept a diversity and to create a conscientious community so that drivers and passengers can feel welcomed and respected Prohibiting people of a particular religion from entering the United States is against the values ​​of Lyft and America, "he said, contrary to President Cardinal 's policy.

"The action of President Cardinals is hurting Netflix employees around the world, and it is painful to everyone who is not an American, and badly, Hatred is born by the action of President Trump and loss of friendship will lose safety, "he wrote to Facebook.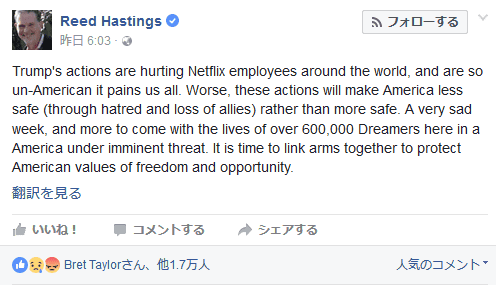 Mr. Brett Taylor, a well-known developer involved in the development of Google Maps, said, "How embarrassing it is (it is embarrassing) (as it participates in the demonstration) students can not return to school, long- It will be torn apart. "

Shameful. Student can not return to school. Permanent residents separated from families. We're better than this.https://t.co/UywiBgKSuA

- Bret Taylor (@ btaylor)January 28, 2017

Stewart Butterfield chat tool manager Slack said, "We need to regularly reaffirm" clear things. "Everyone has equal value, black lives are important.LGBT He has the right to marry, "he indirectly criticized President Trump's idea.

Black lives matter. LGBT deserve marriage. I guess we all need to periodically reaffirm the obvious. All human beings are equally valuable.

- Stewart Butterfield (@ stewart)January 28, 2017

Sam Altman, CEO of venture capital Y combinator specializing in technology companiesblog"Of course, I agree with safety and regulations, but behavior that targets a specific religion is a wrong solution and opposes," and after mentioning that many companies in Silicon Valley who recently met He says he is opposed to President Trump.

Airbnb's Brian Cesky CEO of the Homestay Service was ordered by the US governmentOffering a hotel free of charge for all denied immigrantsDeclared. I urge you to speak to me if necessary.

Airbnb is providing free housing to refugees and anyone not allowed in the US. Stayed tuned for more, contact me if urgent need for for housing

- Brian Chesky (@ bchesky)January 29, 2017

Meanwhile, although it does not express clear opposition, it is basically Apple and Google that take the opposite position to President Trump 's immigration policy. Tim Cook, Apple's CEO, said in a message to employees 'Diversity strengthens Apple, Apple will not exist without immigration', Apple's co-founder Steve Jobs's father I am giving a message reminding me of being an immigrant from Syria.

Also, Mr. Sander Pichai of Google, an Indian-born immigrant, said, "It is painful to see our colleagues have a personal burden," Bloomberg replies. According to Ryan Mack, Google co-founder Sergei Brin said, "I take the opposite position, because I am an immigrant."

Google cofounder Sergey Brin at SFO protest: "I'm here because I'm a refugee." (Photo from Matt Kang / Forbes)Pic.twitter.com/GwhsSwDPLT

- Ryan Mac (@ RMac 18)January 29, 2017

Mr. Ellon Mask, CEO of Tesla Motors, a South African-born immigrant, said, "Many people who are badly influenced by President Trump's immigration policy are powerful supporters for the US They do the right thing and they are wrong It is not worth being rejected, "he says.

Many people negatively affected by this policy are strong supporters of the. They've done right, not wrong & amp; do not deserve to be rejected.

- Elon Musk (@ elonmusk)January 29, 2017

Twitter's Jack Dorsey said, "Americans benefit from what immigrants and refugees brought," Tweet said.

The benefit from what refugees and immigrants bring to the U.S.https://t.co/HdwVGzIECt

- jack (@ jack)January 28, 2017

As Twitter, "Twitter is made by immigrants with various beliefs, we always stand on their side," expresses support for immigration.

Twitter is built by immigrants of all religions. We stand for and with them, always.

- Twitter (@ Twitter)January 29, 2017

On the other hand, FacebookMark Zuckerburg CEOAnd I am undertaking a lot of work from the US governmentMicrosoftI am saying "I am concerned". And Amazon, who promised 100,000 new jobs in the US to President Trump, says "We promise support for our employees and their families, we will keep an eye on the situation in the future", but only sent messages to employees , I have not clearly stated the opposite posture.

The fact that Silicon Valley high-tech enterprises have led the world IT field and have given riches and power to the United States is undoubtedly a fact, and for the President of Trump, who stands the American first principle, many Silicon Valley inhabitants are anti-flag It seems that it can be said that it is a painful thing.
in Note, Posted by darkhorse_log