What is the reason why "# DeleteUber" urging Uber to delete account became a trend?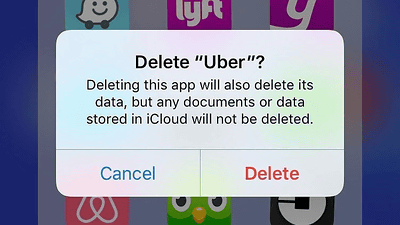 ByBit Boy

President Donald Trump entered seven countries in the Islamic region and issued a presidential order to stop accepting Syrian refugees, thousands of protestors packed John F. Kennedy International Airport in New York State, A demonstration on a new immigration policy was held. At that time Uber said that "Uber in the vicinity of John F. Kennedy International Airport is stopping the surcharge", he said, "It is trying to dissolve the opposite demonstration", and Uber It has evolved into a situation where accounts are deleted.

Why people are deleting Uber from their phones after Trump's executive order - Vox
http://www.vox.com/policy-and-politics/2017/1/29/14431246/uber-trump-muslim-ban

Celebrities Spread # DeleteUber After Lyft's Donates $ 1 M to ACLU | Hollywood Reporter
http://www.hollywoodreporter.com/news/celebrities-spread-deleteuber-lyfts-donates-1m-aclu-969670

After # DeleteUber, CEO pledges $ 3 million for drivers affected by immigration ban - The Verge
http://www.theverge.com/2017/1/29/14431898/uber-kalanick-trump-immigration-ban-drivers-delete

As the presidential decree aimed at countering terrorism was signed, people who are not allowed to enter the United States at airports in various places have continued and confusion is occurring. Along with this, thousands of protesters gathered at John F. Kennedy International Airport to strike against immigration policy, but the New York Taxi Labor Alliance (NYTWA) said, "NYTWA driver Please do not drive near John · F · Kennedy International Airport to support the demonstration for 1 hour from 18 o'clock to 19 o'clock "and expressed support for the demonstration.

BREAKING: NYTWA drivers call for one hour work stoppage @ JFK airport today 6 PM to 7 PM to protest# MuslimbanIt is!#nobannowall

- NY Taxi Workers (@ NYTWA)January 28, 2017

A few hours later, Uber NYC said, "We are temporarily stopping the premium rate system near John F. Kennedy International Airport and it is running, so please wait for the wait time, but please acknowledge it." Uber has introduced a system called "surge pricing" in which the fee fluctuates from area to area, but in the vicinity of John F. Kennedy International Airport, we announced guidelines for temporary driving at regular rates .

Surge pricing has been turned off at#JFKAirport. This may result in longer wait times. Please be patient.

- Uber NYC (@Uber_NYC)January 29, 2017

Uber's behavior was caught on the SNS "I am trying to dissolve the demo", "I am trying to gain profits by taking advantage of the demonstration." A hashtag "#DeleteUber" to urge Uber to delete account has appeared, and screenshots showing that Uber's account has been deleted have been posted one after another.

I never used it in NYC for a lot of reasons but they will not see a goddamned penny from me ever again#deleteuberPic.twitter.com/Wh1Yhe5aZa

- matt ◉ lubchansky (@ Lubchansky)January 29, 2017

In addition, Uber's rival Lyft announced that it will make a 1 million dollar (approximately 114 million yen) donation to the American Association for Free Human Rights as a protest against the presidential decree.Jesse Tyler Ferguson,Rob Cordy,Taraj P. HensonHollywood celebrities and others also said it was also a trend of Twitter by spreading the hashtag "# DeleteUber" while supporting Lyft.

Uber, apologizing comment, said, "It is not to disseminate the demo.The temporary suspension of the surcharge is a decision we made to prevent you from earning profits on the demand of protests, and as before in disasters We have paused the extra fee for the company. "

Uber's Travis Calarnic CEO on his Facebook will also support opposition to the Presidential Decree and support for potentially affected employees and a $ 3 million (approximately 340 million) He announced that he will establish a legal defense fund. Although it was posted before a series of riot, it seems that it is not stopping the diffusion of "# DeleteUber".

This afternoon I sent the email below to Uber employees and thought I would include here: Subject: Standing up for what ...

Travis KalanickPosted byJanuary 28, 2017