I tried getting Kumamon's towel at Tokyo Metro Tokyo × Kumamoto Stamp Rally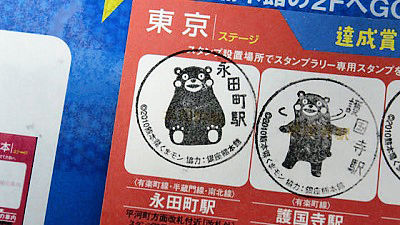 Kumamoto Faraway Kamamon became a loose character representing Japan. I do not know that his success will stay. Since Tokyo Metro was doing such a stamp rally of Kumamon, I have tried hard. There was also an antenna shop in Kumamoto prefecture in Ginza.

Hello, I am pursuing something terribleTakuya SAITO who did a round around the world by bicycle @ Charridermanis. That Moritaka Chisato sang the image song "Kumamon monon"The world of Kumamon is also deeply touched. Because I am addicted with such feeling, I have been following Kumamon this time as well.

◆ Tokyo Metro
In October 2016Report meeting on OkachimachiIt opened. Since I was blessed with opportunity without returning to the local there from that, I am staying in Tokyo. Although there was a purpose of publication, the talk flowed out of the range of assumption and it returns to the start. Even though manuscripts do not go forward, every day frustrating goes by.

However, I was determined to work as much as I could during the New Year's holiday. Looking for a short-term part-time job, I got a job called dish-washing and decided to commute by using Tokyo Metro. I was curious about the appearance of Kumamon seen there. It was holding a stamp rally as I investigated well.

Tokyo Metro × ANA × Kumamoto Electric Rail Ride! Flying! Enjoy it! Tokyo × Kumamoto Stamp Rally carried out
http://www.tokyometro.jp/news/2016/157401.html

A poster informing that the stamp rally is being held.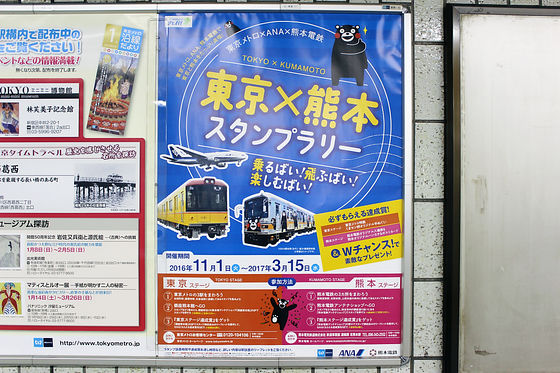 Although the introduction has become longer, I like Kumamon and there are also achievement awards that can surely be awarded. It was a unique occasion so I challenged the stamp rally.

There is a mount of the bear monstamp rally in the rack where pamphlets near the ticket gate are placed.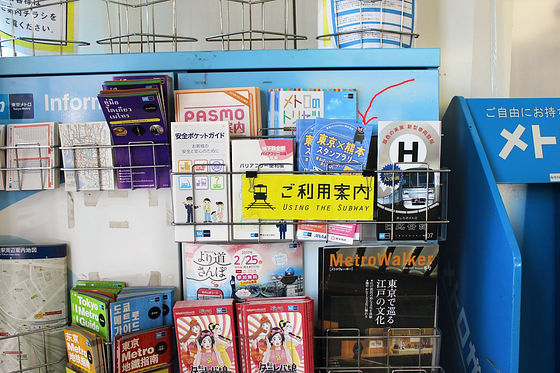 This is a brochure like this.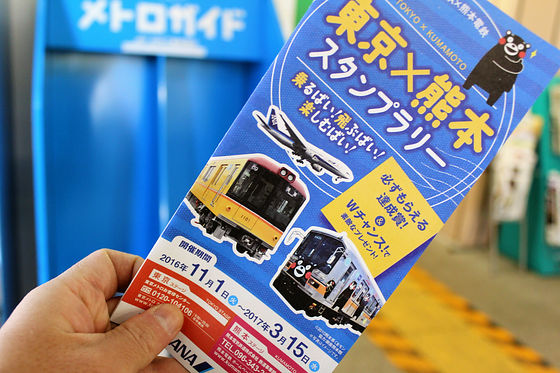 The Tokyo stage has to collect 4 stamps. I will turn "Ginza Kumamoto kan," the place to redeem the prize, last. We went around "Tokyo north entrance station", "Gokokuji station" and "Nagatacho station" in Tokyo Metro.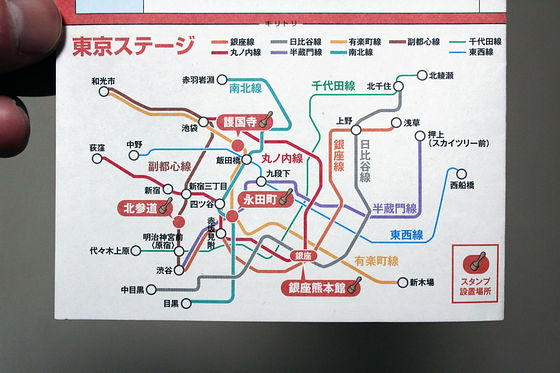 The place to press the stamp is here.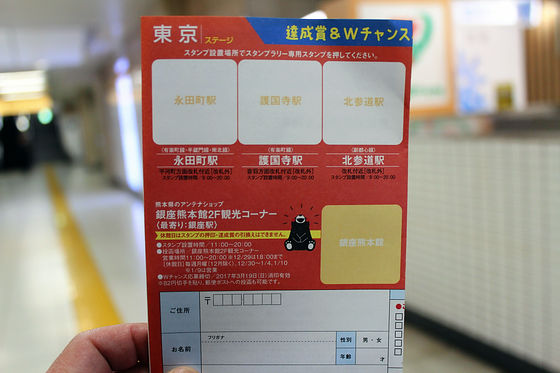 Since there is no stamp on hand when applying for a sweepstake, there is also a place to press a memorial stamp. I was conscious of pressing a stamp twice per place.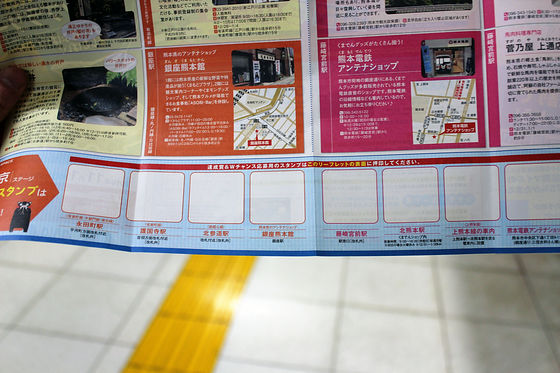 It is convenient for collecting stamps24-hour ticket by Tokyo Metrowas. As long as 24 hours from the start of use, a convenient ticket of all you can get on the entire line of Tokyo Metro is sold for 600 yen. By the way the stamp stand was all out of the ticket gate.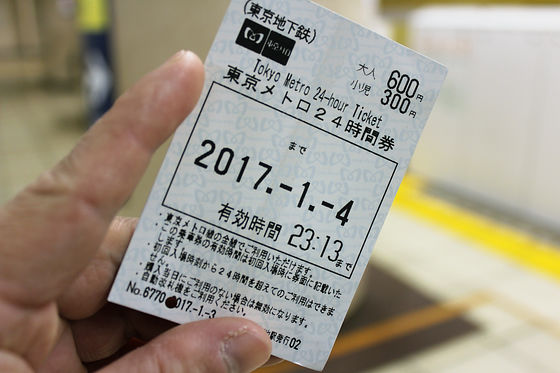 The first stamp is the north entrance of Fukutoshin Line.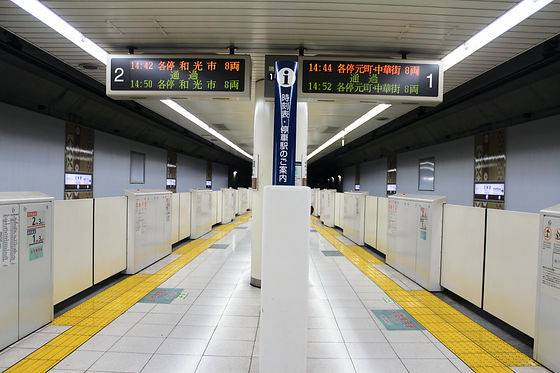 I will find a stamp table like this and stamp it.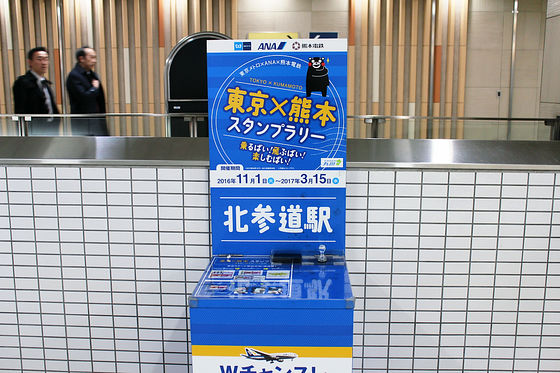 It was a stamp of Kumamon who is happy to raise both hands.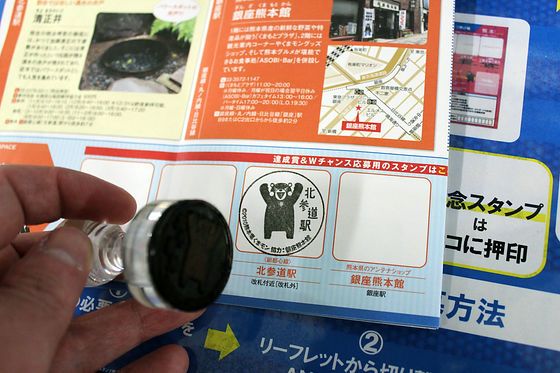 The second stamp is Gokokuji Temple of Yurakucho Line.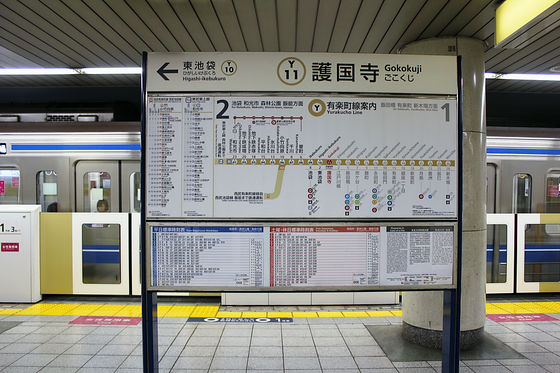 When you do not know the location of the stamp pad, let's follow the arrow of such a guide.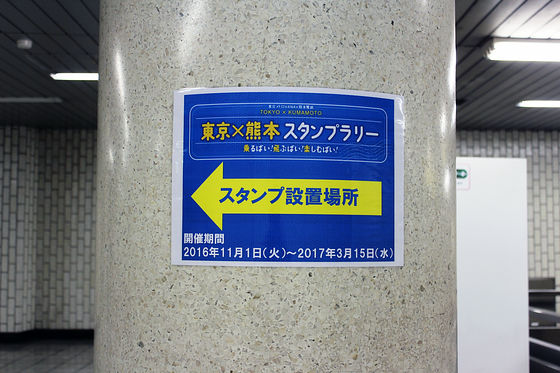 A stamp stand next to the vending machine.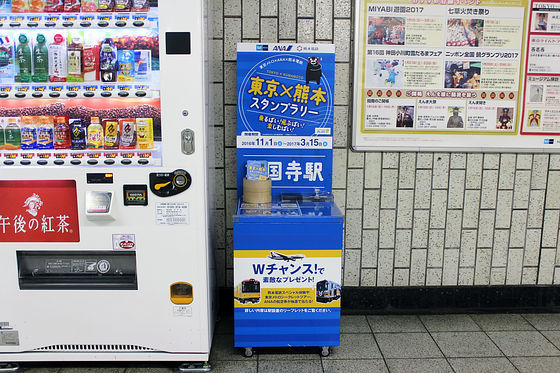 It was a stub of Kumamon looking around around Kyorochiro.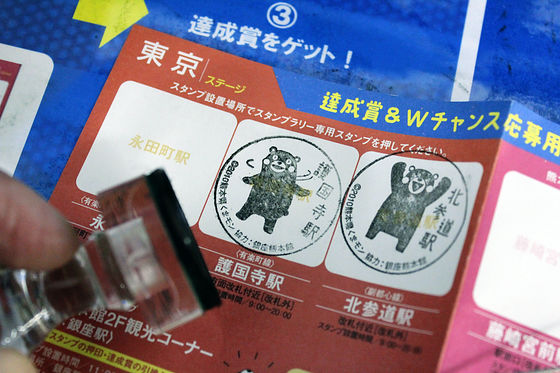 The third stamp is Yurakucho Line, Hanzomon Line, Nagatacho Station on Namboku Line.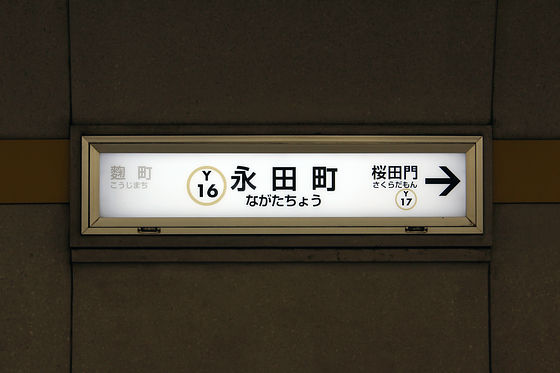 There was a stamp stand in a stormy place.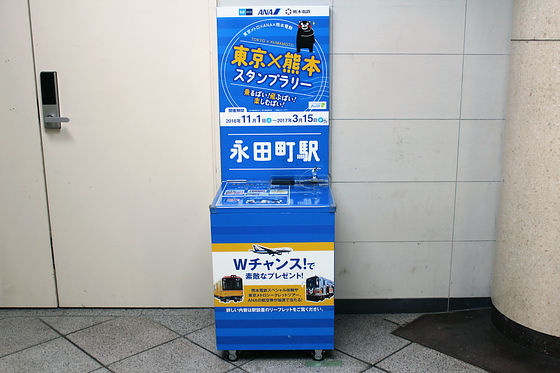 A stamp of Kumamon who sit well. I like the soles of the feet of this design.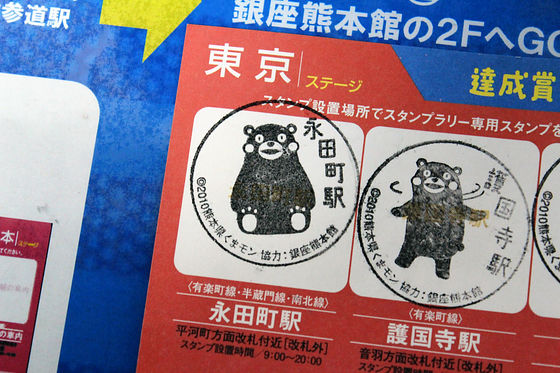 When I reviewed the pamphlet of the stamp rally, I refused to head himself "Why here?" At a tasty station other than Nagatacho, "Kimosumo well ) "" Kato Kiyomasa residence (Nagatacho station) "3 stations were both Kumamoto Yukari's place. It looks fun to go around with them as well.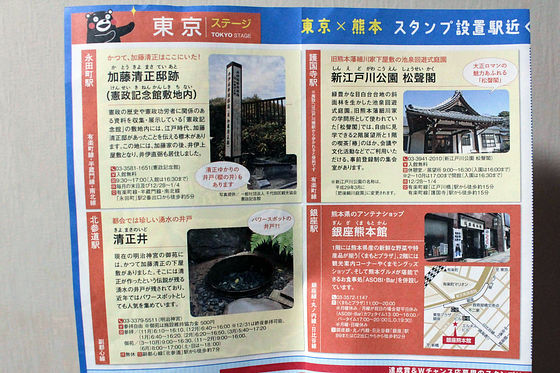 ◆ Ginza Kumamoto-kan
On the 4th of January of the new yearSony Building 'It's a Sony Exhibition'I was collecting stamps together, but the last Ginza Kumamoto pavilion was closed for the beginning of the year. I have pushed the last stamp after reappearing the date.

The location of Ginza Kumamoto-kan is located in Ginza 5-chome, Chuo-ku, Tokyo 3 - 16


Ginza Kumamoto kan
http://www.kumamotokan.or.jp/

Ginza Kumamoto Kan has an antenna shop that transmits charm of Kumamoto Prefecture and a Tokyo office in Kumamoto prefecture. It was a building next to Sony Building.

As I walked from Sony Building, I checked the sign called Kumamoto kan.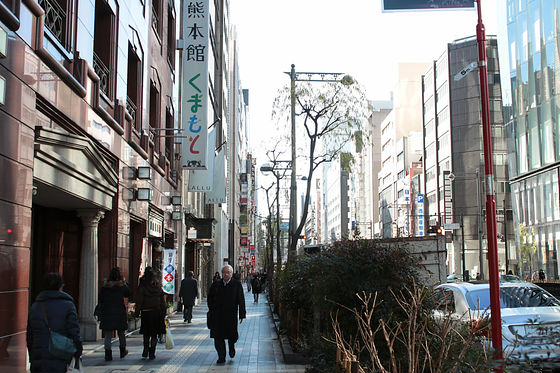 Front entrance where big show window gets a lot of looks.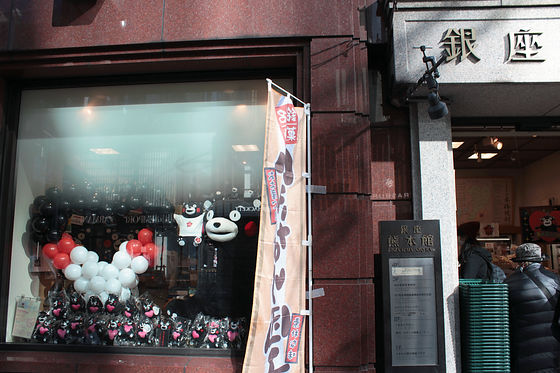 The stuffed animals of various sizes small and large peeping from the show window were seen like dads and children.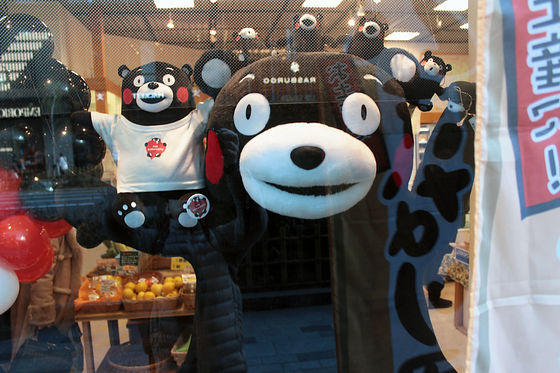 There is a stamp on the second floor that went up the stairs. The first floor was "Kumamoto Plaza" dealing with vegetables and special products from Kumamoto Prefecture.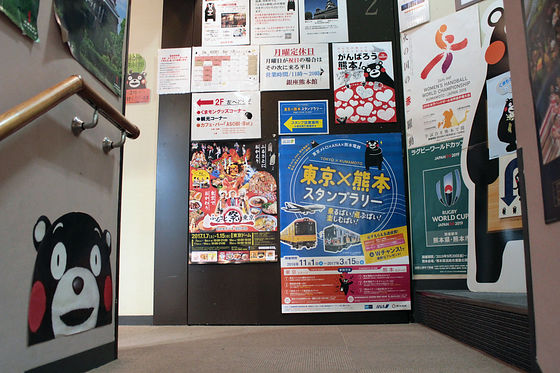 Three stamps collected at the subway station look like this.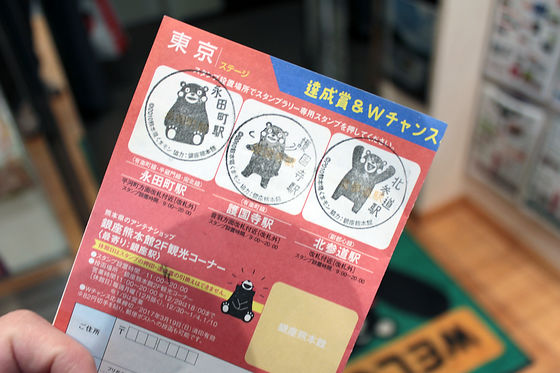 The last stamp was a clink that seemed to be heard even by the voice "Ufufufu" which hid his mouth with both hands.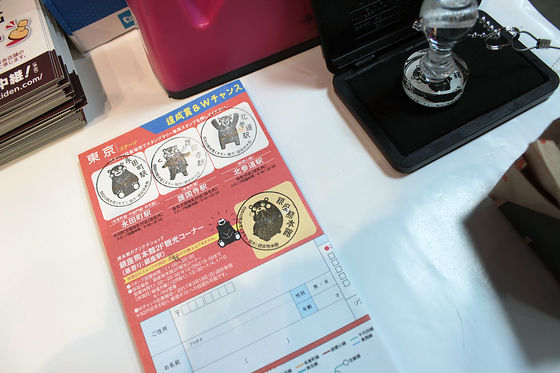 Redeem the prize at the place where the four stamps are complete. Passing the mount to the aunt who is in the back of the stamp table hands the towel which will be the prize for the achievement prize. It was a typical Japanese aunt who was bright and chewy.

I also had photographs taken. It was a design towel that treated the Kumamoto specialty.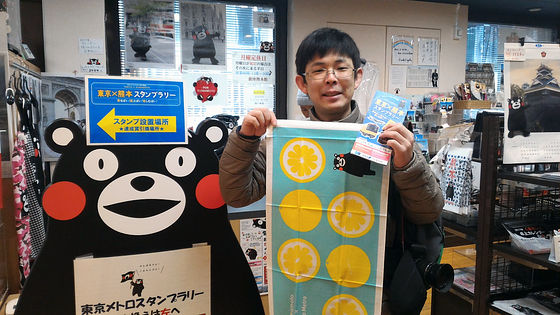 There is also a bear mon goods section on the second floor and you can also buy souvenirs.Kumamoto's journeyFollowing on to buy a variety of bear mon goods.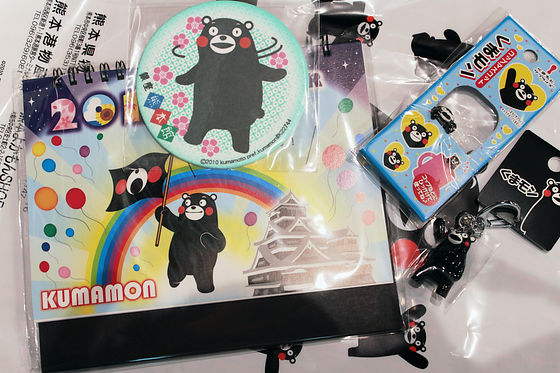 I got a cup of Kamimon with a cup of Futsiki and it smiled to its cute likeness.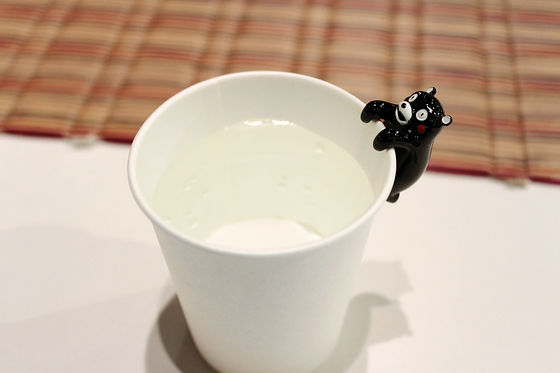 · ASOBI Bar
In the back of the Bear Mongdo's Corner, a restaurant called "ASOBI Bar", a cafe is open. It was full of dumplings in this shop, so I tried inside.

Guide of menu is work of Kumamon.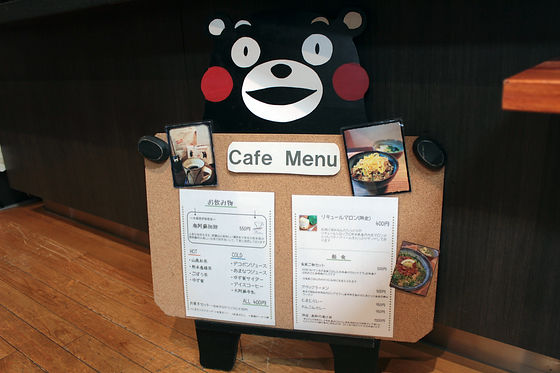 There are lots of figurines in Kumamon, not bears in the shop.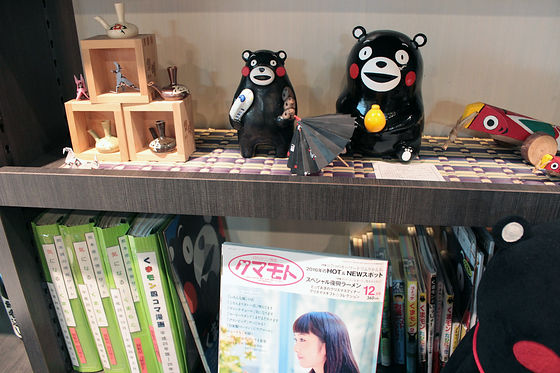 It is not a common "salmon sauce", but Kumamon who had a sea bream seemed to be good auspicions somehow.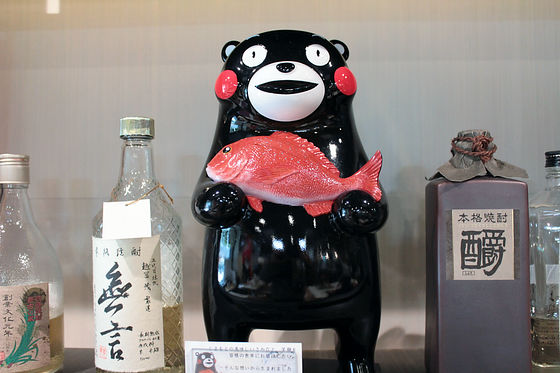 Muslims are drawn on the seat cushion.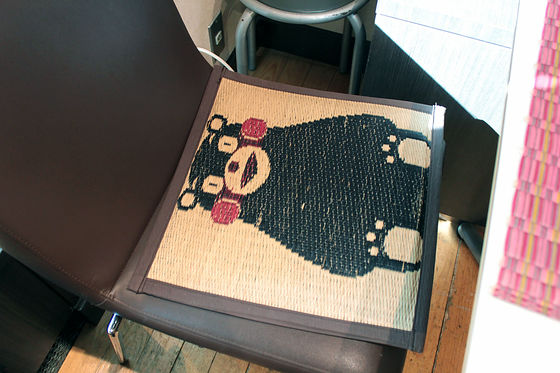 It was not a feeling like cluttering so we had snacks called Takashi rice and Miso soup.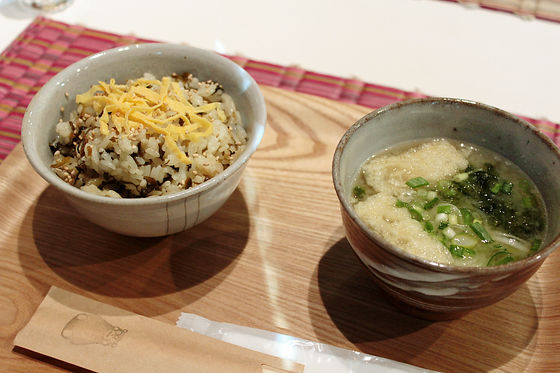 But I order ice cream for dessert after meal.



There was a graumammon at the bottom of the bowl after eating.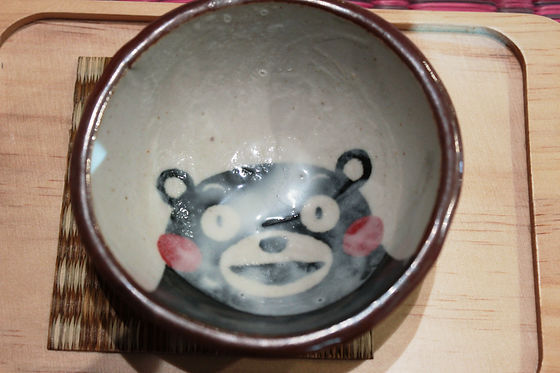 It was a Ginza Kumamoto kan that can be covered with Kumamon.

◆ Kumamoto Stage
Like Tokyo Metro, we also do stamp rallies at Kumamoto Electric Railway in Kumamoto. There is also a prize of achievement award which surely can get also here. In addition during the period, if you use ANA to move between Tokyo and Kyushu, you can participate in a lottery for W chance with a nice present.

Also worrisome about the Kumamoto stage ... ....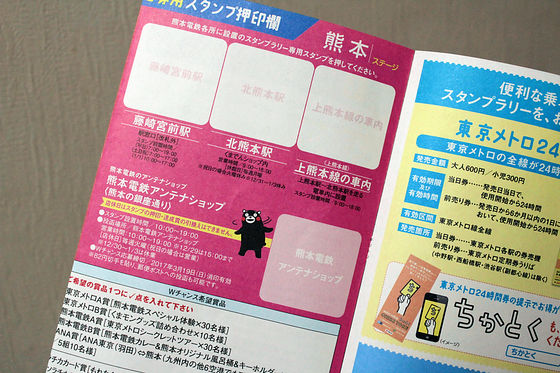 ◆ Wrapping train
For the purpose of supporting Kumamoto Reconstruction, Tokyo Metro operates vehicles wrapped with Kumamon on the Ginza Line for a limited time (January 1 - February 24). I also saw this with my eyes.

Ginza Line "Bear Mon Wrapping Train" Running for a limited time! | Tokyo Metro
http://www.kumamotokan.or.jp/

Because it is underground, it is inside the station where air tends to become heavy. A fancy car that makes me feel such a dark atmosphere is running.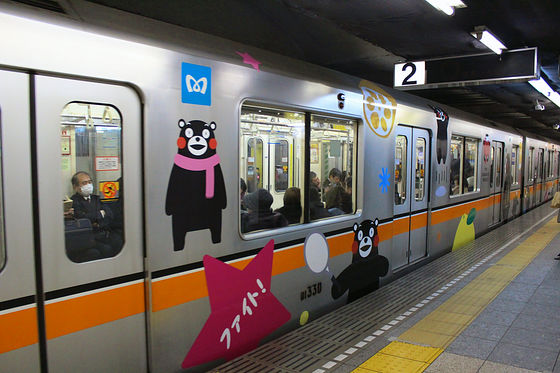 · How to find
There are 19 stations on the Ginza line on which the wrapping train runs and it was inefficient to leave it by chance. So, with smartphoneTokyo Metro Ginza Line Operation InformationI found a page called "We used this place.

Kuma Mon wrapping train is 01 series, so tap 29 or 31.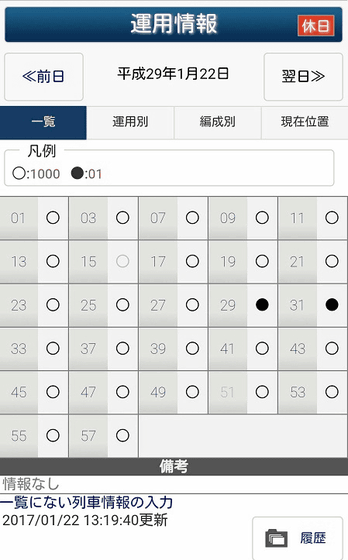 29 Tokugawa mon wrapping train. You can specify the current position of the wrapping train by using such timetable and Yahoo! route information. I was able to ambush.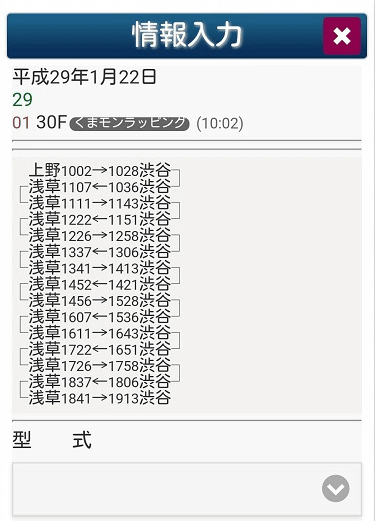 Stamp rally is March 15th, wrapping train service is until February 24th. Would you like to visit Kumamonfan?

(Sentence / photo: Takuya S. Narou Charriderman
Cycling around the world for a bicyclehttp://shuutak.com
Twitter@ Shuutak
Facebook Pagehttps://www.facebook.com/chariderman/
DMM lecture requesthttps://kouenirai.dmm.com/speaker/takuya-shuto/)