'HDMI 2.1' standard for 8K / 60Hz and dynamic HDR announced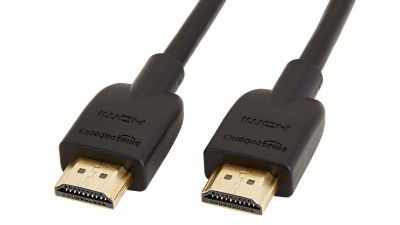 The HDMI Forum has announced a new standard ' HDMI 2.1 ' that supports 8K / 60Hz and 4K / 120Hz, and supports dynamic HDR and audio format eARC.

HDMI :: Press Release

http://www.hdmi.org/press/press_release.aspx?prid=145
HDMI 2.1 Announced: Supports 8Kp60, Dynamic HDR, New Color Spaces, New 48G Cable
http://www.anandtech.com/show/11003/hdmi-21-announced-8kp60-48gbps-cable
HDMI 2.1 greatly improves the bandwidth, which was 18 Gbps in the conventional HDMI 2.0, to 48 Gbps, which is about 2.6 times. This enables 8K (7680 x 4320) output with a refresh rate of 60Hz and 4K (4096 x 2160) output with 120Hz, which is higher for next-generation 8K / 4K broadcasting and VR content playback with 4K image quality. Image quality video output is possible. HDMI 2.1 will support up to 10K output according to the standard.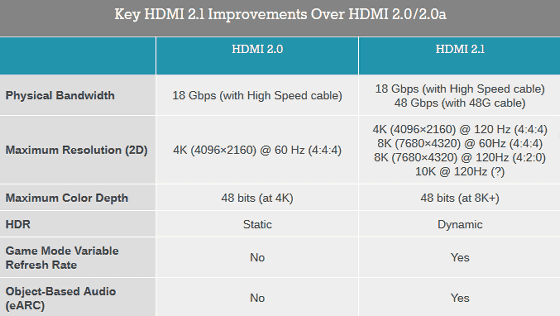 According to the HDMI Forum, bandwidth expansion will be achieved with a dedicated 48G cable that further reduces electromagnetic noise compared to conventional high-speed cables. The connector shape is the same as the conventional HDMI cable, and backward compatibility is maintained.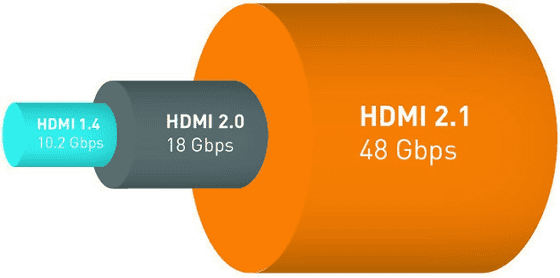 HDMI 2.1 now supports dynamic HDR. With traditional static HDR, you can't change the HDR grading depending on the scene, you can only do the same HDR processing in bright and dark scenes, but with dynamic HDR supported by HDMI 2.1, video metadata By utilizing, HDR processing for each scene is possible with optimized brightness, contrast, and color range for each frame.




In addition, the lag, stutter, and tearing of the rendered video can be reduced by supporting the game mode VRR that changes the refresh rate, and the image quality of the game video can be expected to improve. By supporting it, the most advanced audio formats will be supported.

The HDMI 2.1 specification will be available to all HDMI 2.0 licensees and will be announced in the second quarter of 2017 (April to June). HDMI 2.1 will be in practical use from late 2017 to 2018 and is expected to hit the market in 2018.