Apple plans to invest over 100 billion yen to SOFTBANK IT fund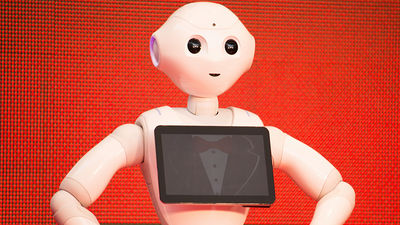 ByDick Thomas Johnson

An IT investment fund of 10 trillion yen, which SOFTBANK decided to establish in October 2016 "SOFTBANK VISION FUND"It was confirmed that Apple plans to invest a billion dollars (about 117.26 billion yen).

Apple Confirms $ 1 Billion Investment in SoftBank Vision Fund - WSJ
http://www.wsj.com/articles/apple-confirms-1-billion-investment-in-softbank-vision-fund-1483552846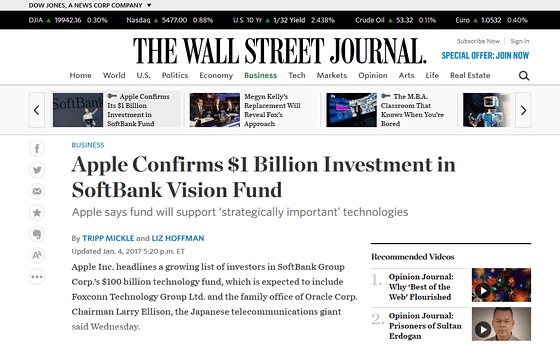 Apple confirms $ 1 billion investment in SoftBank tech fund | Reuters
http://uk.reuters.com/article/us-softbank-group-apple-idUKKBN14O1X9

Apple Confirms $ 1 B Investment in SoftBank's Vision Fund - Mac Rumors
http://www.macrumors.com/2017/01/04/apple-softbank-1billion-investment/

Regarding plans for Apple to invest in Softbank Vision Fund,It was whispered also in December 2016Although it was, Apple acknowledged that this plan is true, the Wall Street Journal reported.

Apple's spokesperson Josh Rosenstock commented, "I am convinced that the new fund will accelerate the development of Apple's strategically important technology." Softbank spokesperson Benjamin Spicehandler also admitted Apple's investment. He also says that there is the possibility of receiving a contribution from Qualcomm, Foxconn, Oracle's founder, Larry Ellison's family office, and others.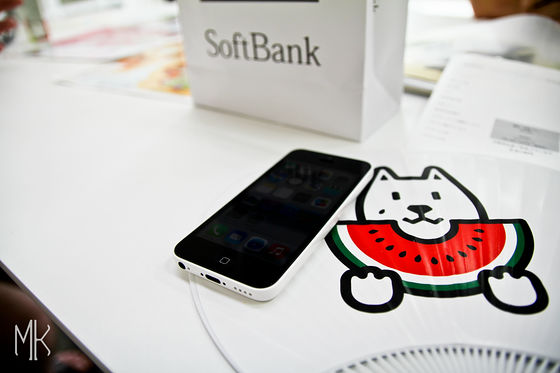 ByMukashi Mukashi Photography

SOFTBANK VISION Fund plans to invest a minimum of $ 25 billion (about 2.9 trillion yen) for SOFTBANK, and a maximum of $ 45 billion (about 5.2 trillion yen) for Saudi Arabian public investment fund (PIF) I am aiming for the establishment in 2018. Consultation is under way with several global investors, and it is announced that the total amount of the funds may be on the scale of 100 billion dollars (about 11 trillion 726 billion yen), Softbank's President Masayoshi Son is " The Fund will be one of the largest players in the technology field in the next decade. "
in Note, Posted by darkhorse_log