I saw a big monster like Godzilla at a tire park in Ota Ward, Tokyo (Nishikato park)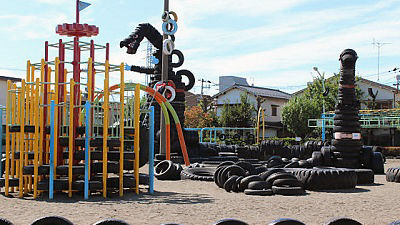 If there are young children, it will be a big jog. It was a park that I want to visit with children. We can worship robots and rockets using old tires, and huge monsters like Godzilla.

Hello,Takuya SAITO who did a round around the world by bicycle @ Charridermanis. Even a 33 - year - old man was excited at the tire park. I never thought that there was a unique park like this.

◆ Access
October 16, 2016Report meeting in TokyoTowards the end of October 6, I came out to Yokohama from Fukuoka. It was a fine weather day in autumn, so I got a bit of time, so I found out on the Internet that I was curiousTire park"I went to visit. It is a park in Ota Ward, Tokyo with playgrounds and objects using old tires. The official name is "Nishikaso Park(Nishiroku koen) ".

Ota Ward homepage: Nishi Rikugo park (tire park)
http://www.city.ota.tokyo.jp/shisetsu/park/nishirokugou.html

Here is a Google map. The nearest station is Tsukishi station of Keikyu Densetsu.


It was a day using a one day ticket, so it was JR Kamata station that got off. I will walk south along the track from the west entrance.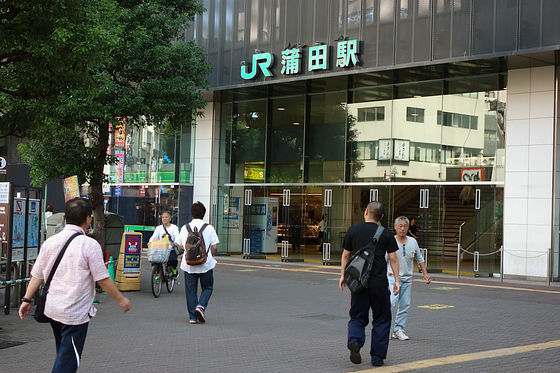 Pass through the elevated train of ...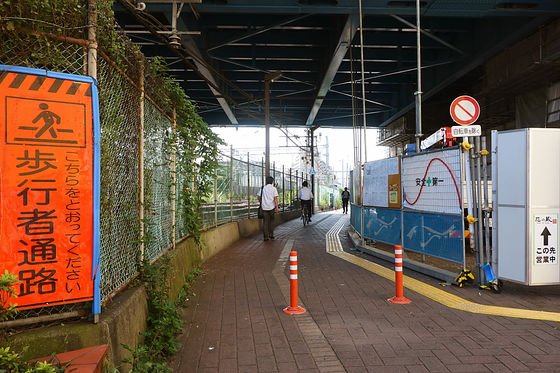 Cross the track. This is not a JR Tokaido main line, but a railway crossing of a railroad to the Kamata station.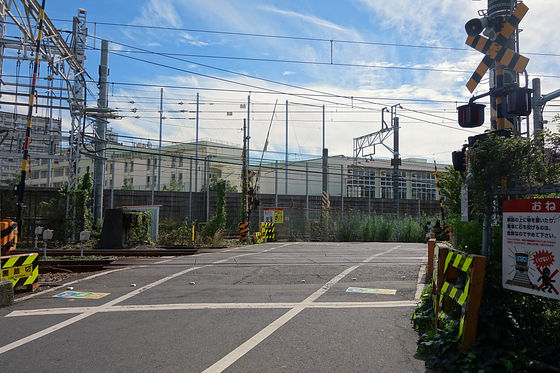 Another 400 meters sign. I will walk along the track.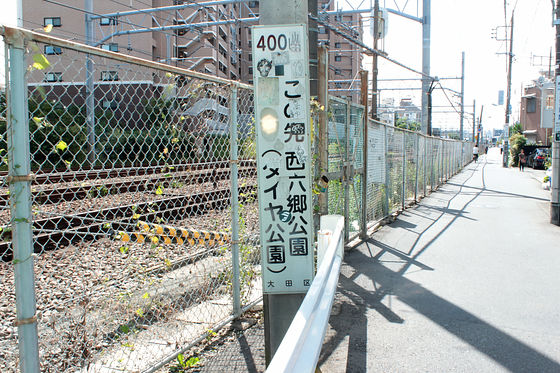 And arrived. There was a park of a different color that black is distinguished with overflowing tires.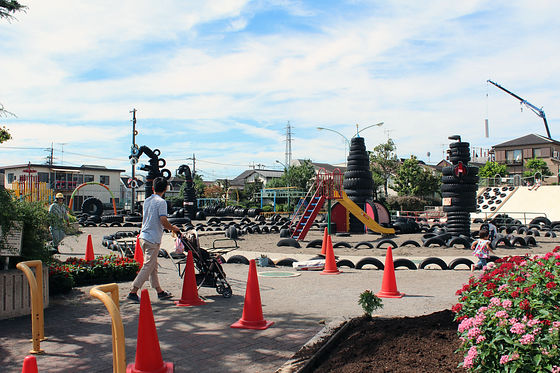 At the entrance facing the road there is also a sign called "tire park".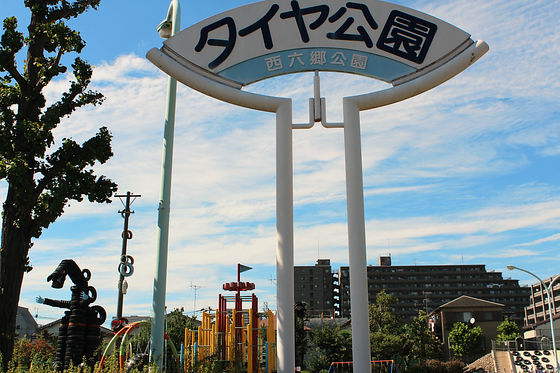 ◆ Tire Park
Dad mothers were pulling the hands of small children by having lunch on weekdays. I am disproportionate to such a park ... .... Although my shoulders were narrow, I told myself that it was an interview and wandered through the park.

Jungle gym with tires.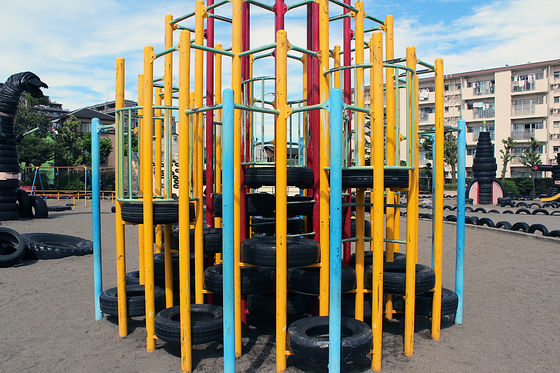 A huge tire that is as tall as an adult is hung. I was able to sit like a swing.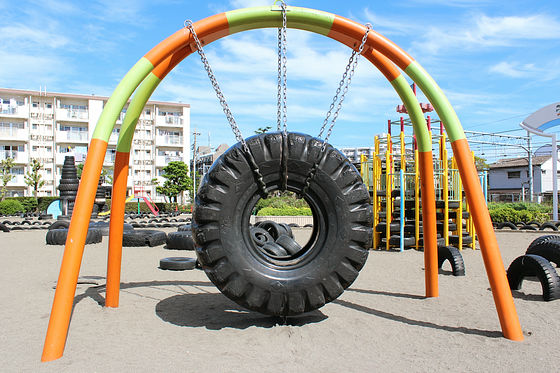 After death, a car feels like bone alone.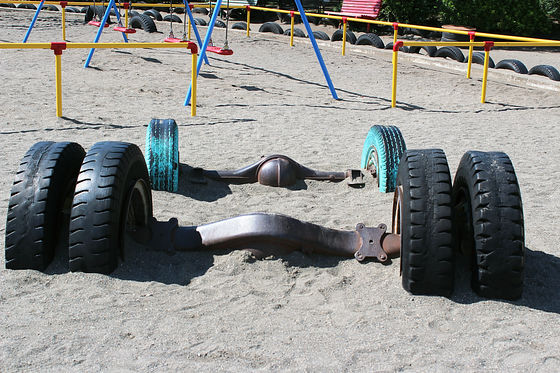 Athletic course like a little version of popular program "SASUKE".



I thought that it was just a play tool to spin all by hand without meaning. I do not like children. But like a room runnerWalking on topIs it the right way to play?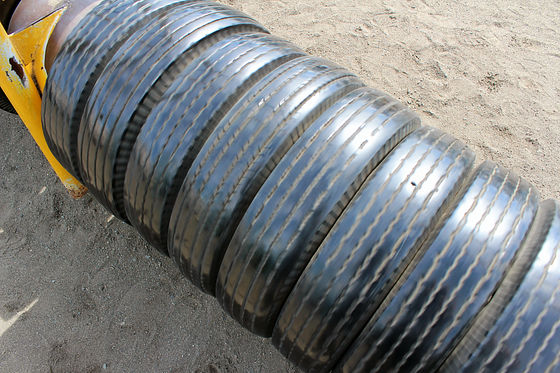 There was a "tire mountain" in the park.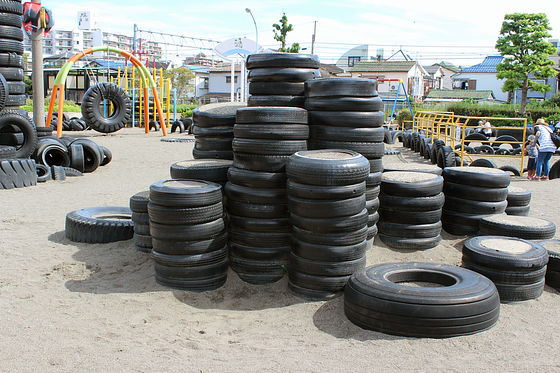 Climb. Concrete is contained in the center of the tire. It is scary to slip your feet so let's pay attention to small children.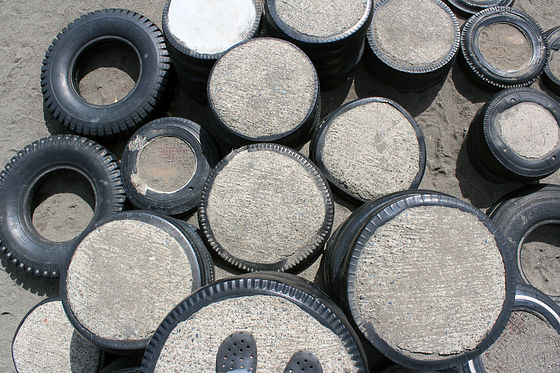 There is a small slide in the sandbox.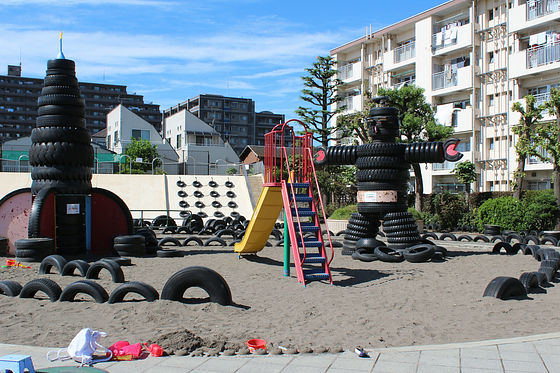 Tire rocket.



There was a robot who had funky eyes. It was a comprehensive arms that would accept everything.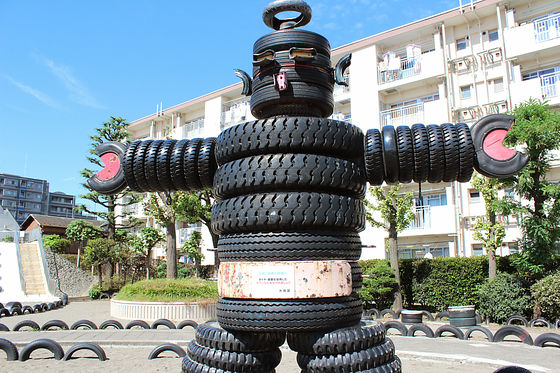 There was a big slide in the park. With a steep angle of hesitation, when you slide your butt fits.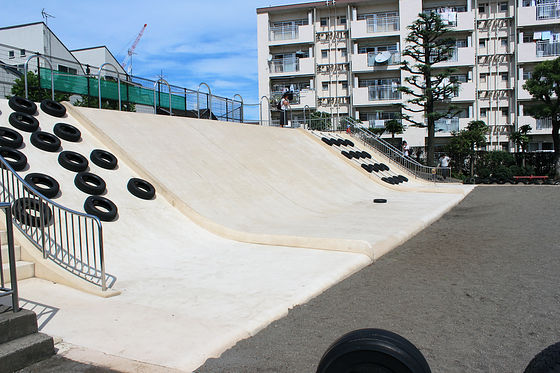 I found a rose tire under the slide. Do you slide on your ass?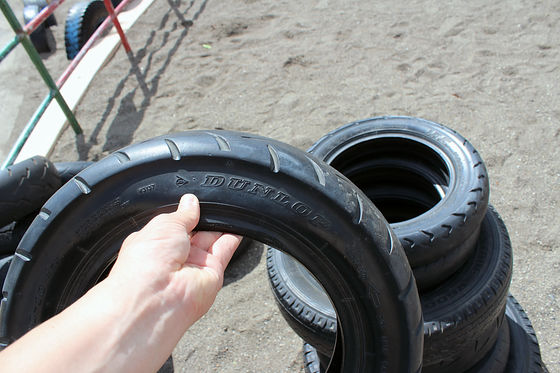 The slide can travel up the tire without climbing up the stairs.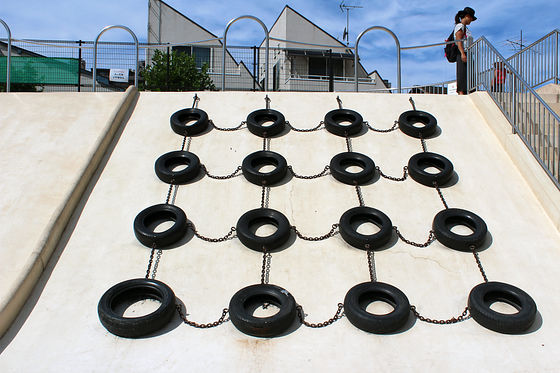 I looked over the park from the top of the big slide.

Sandbox with robot and rocket.



Oh, over there I see something like a monster. I have two.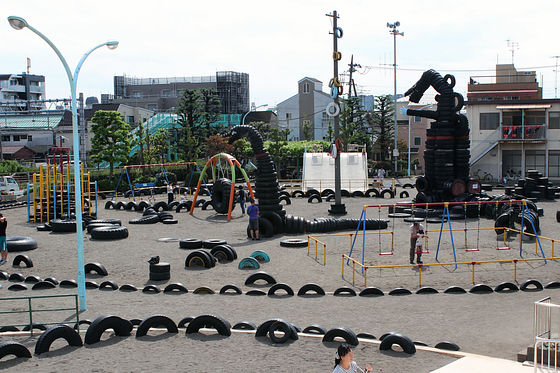 ◆ Large Monsters
Don! It can be said as a symbol of a tire park, it is a big monster of black tire. The height is 8 m, the total length from the head to the tail seems to be 20 m.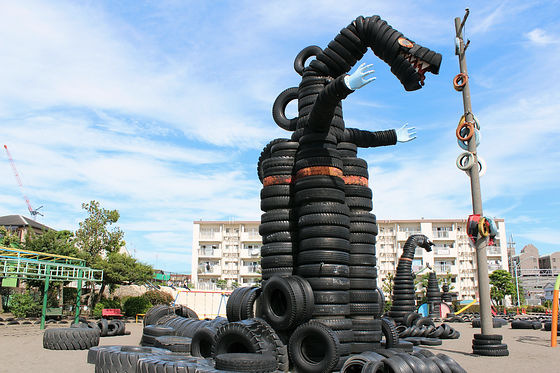 I tried side by side as much as possible to be compared. Powerful force.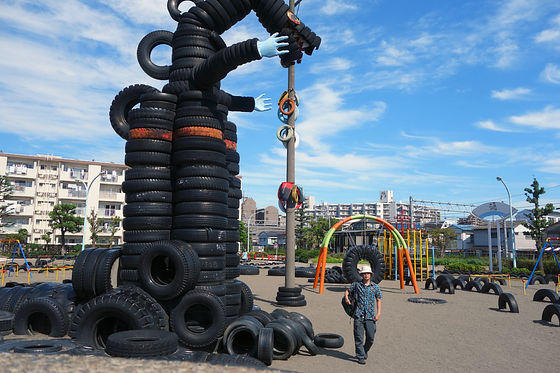 I was doing this profile. Even rusting eyes seemed to be blood running and doubled fear. In the crimson mouth I peered a sharp teeth of spirit.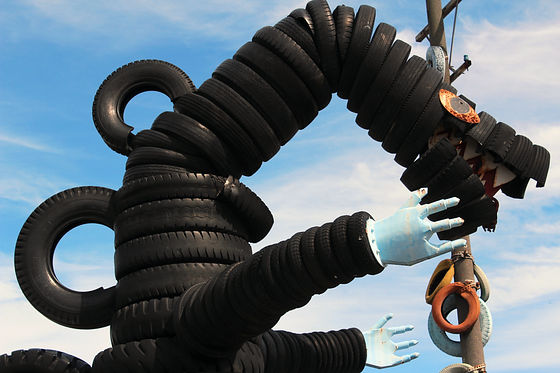 At this angle it seems to be the president who explains the magnificent business plan with a gesture gesture. "I started with breaking all up first ... ..."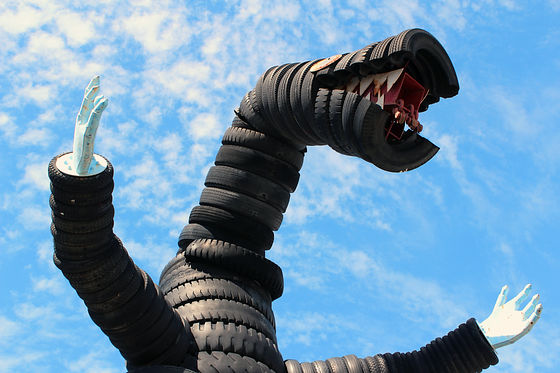 Together with Shin Godzilla, which became a hot topic this year. Ota ward with this park was also one of the film location location, so I was doing a collaborative project.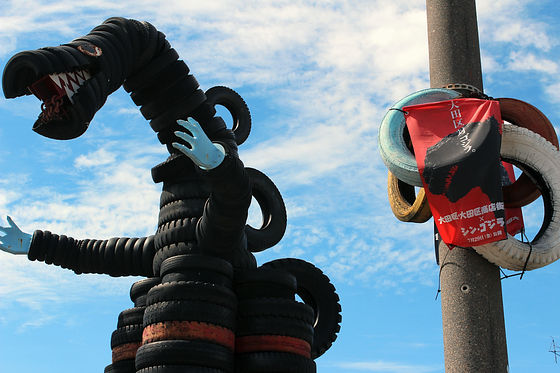 It turns like this when turning behind the big monster. The dorsal fin is also made of tires.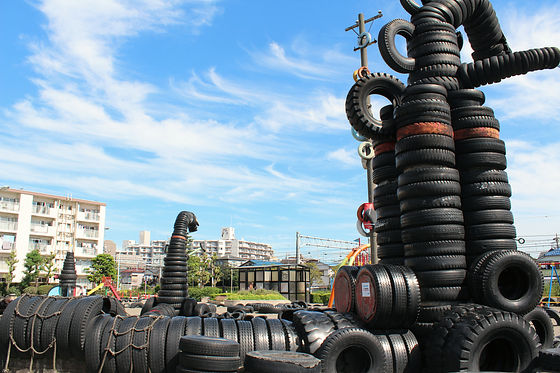 There was a way in the long long tail. A cacchia and a few children were rushing through the tunnel.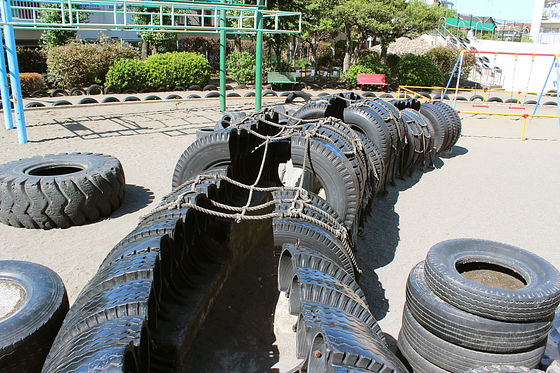 There was another small monster in the vicinity.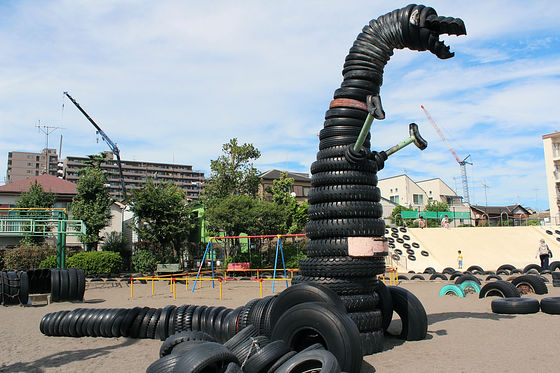 This monster is a pretty rough structure both face and hand.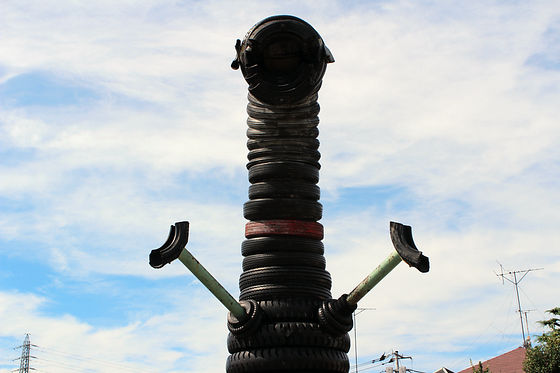 Is the tire monster Godzilla?
Ota Ward who once managed the parkParent and child GodzillaIt seems to have expressed it, but now it is called "monster". However, although it does not look like that, the person who came to play in the park from the elements such as blackening skin, dizzy dorsal fin, and waving tail is expressing as 'Godzilla' in blogs and SNS I saw that.

Two tire monsters that do not have "Godzilla" in existence in the park.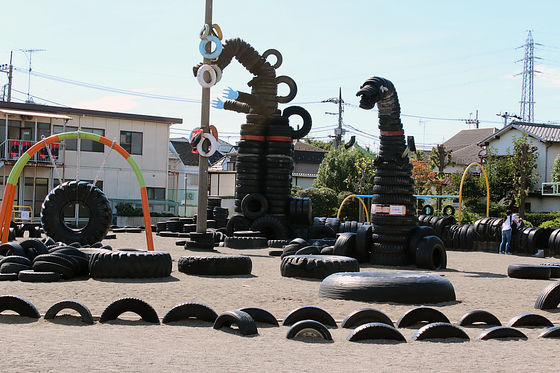 Shin Godzilla seems to have done the limit of destruction as usual, but the monster of the tire park watched the children warmly. It was like a guardian deity.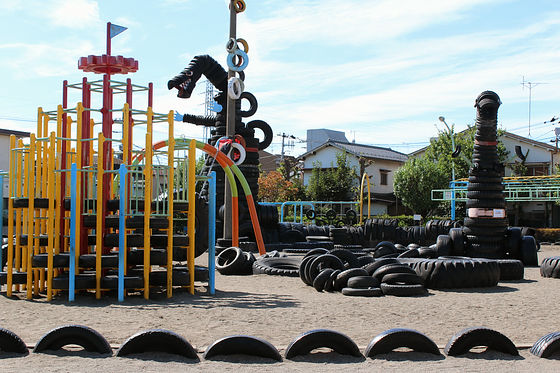 There was a toilet and a drinking place in the park.

Notes
Although it was a calm and relaxing park, there were a few things to note.

Pay attention to the withdrawal.



Please note that the tire will be hot in summer.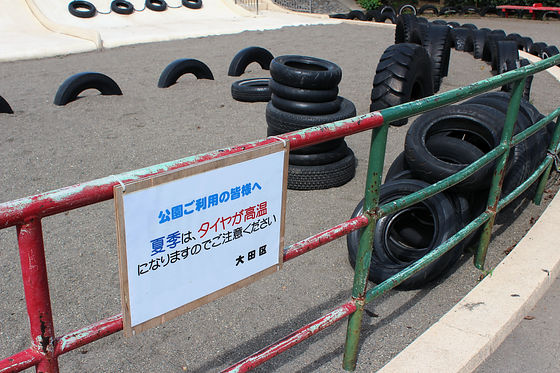 Be careful not to get stabbed by mosquitoes. There was also dengue.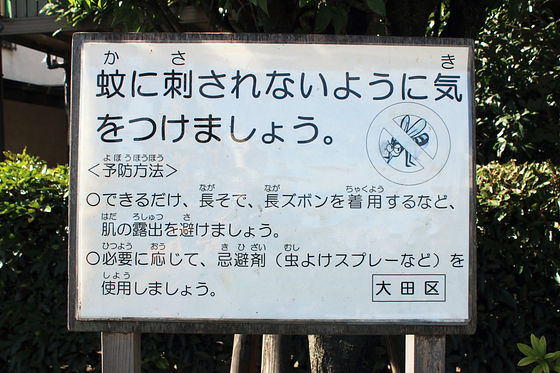 How about the tire park here if you are urgently asked to your father, mother, child who is encouraged to raise children, "Please take me anywhere!"

(Sentence / photo: Takuya S. Narou Charriderman
Cycling around the world for a bicyclehttp://shuutak.com
Twitter@ Shuutak)