What is "Uonata Aerial Yoga" moving in the air using a hammock? I asked digging root digging such as the story behind the studio establishment to Japanese first instructor Misato Taniguchi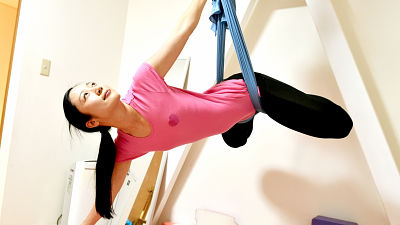 With a hammock floating in the airyogaI do"Aerial Yoga (Aerial Yoga)"In the days when no one is doing it yet in Japan, after studying across the United States alone, after having returned to Japan, the building company I searched for on the yellow page was asked to make equipment for hanging hammocks custom-made, action power Miri Taniguchi is the first Japanese aerial yoga instructor who is passionate. "What is aerial yoga? How does it differ from yoga playing on the floor?" As you actually showed how yoga is playing in the air, plenty of story behind the establishment of a yoga studio "Aerial Yoga · Japan" I asked.

"Aerial Yoga · Japan" official site
http://www.aerialyoga.jp/

This is Mr. Taniguchi's studio. It is said that three lessons at a time, pillars hanging hammocks were custom made.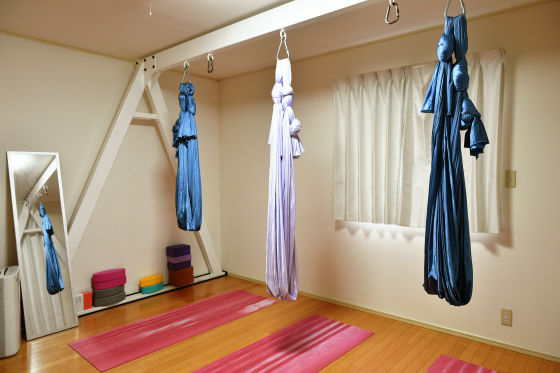 A woman hanging a hammock is Taniguchi of Aerial Yoga · Japan representative.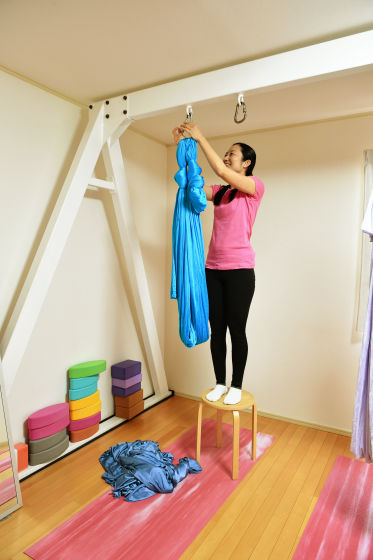 What kind of aerial yoga does it while floating in the air? Anyway, you see the movie in one shot.

"Ounata Aerial Yoga" while floating in the air is like this - YouTube


So, what is different from ordinary yoga with "Uonata Aerial Yoga" performed by Mr. Taniguchi? And I asked digging root digging, such as how Taniguchi who became the leading expert of Ounata Aerial Yoga in Japan made an instructor in the background.

GIGAZINE (hereinafter, G):
When I showed the demonstration, I saw it very acrobatic because speed was fast.

Misato Taniguchi (hereinafter Taniguchi):
This time we are doing only the movement "floating with a hammock", but in reality, it does not become upside down suddenly with a hammock, but starts with something like a preparatory movement. From the beginning you do not trust the whole weight to the hammock. Also, I will combine the movements on the floor. Because some people should not be upside down, we do what the students think is comfortable.

For example, "dog's pose" which stretches your back is a pose which is very heavy on your wrists and shoulders for those with a stiff body. So, depending on the person, it may not be felt that "your back is stretched and comfortable", but by using a hammock you can extend the "part that should originally grow at that pose" regardless of the hardness of your body It is.

This is a dog's pose.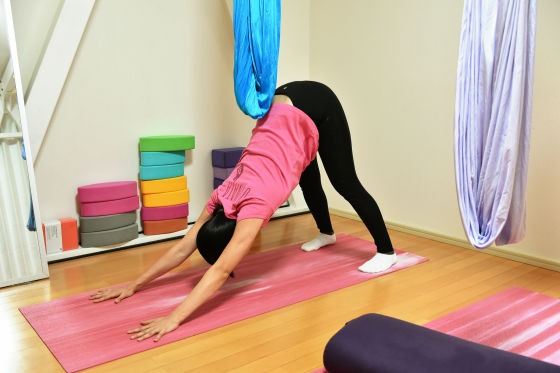 When you pose a dog with a hammock, it looks like the following.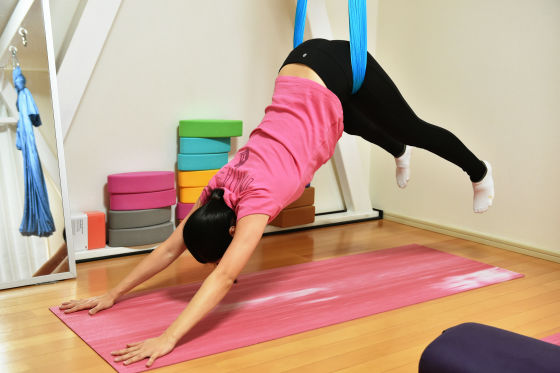 G:
Is that a substitute for a dog's pose?

Taniguchi:
When focusing on elongation of the backbone and position of internal organs, it will be in this form.

You can also do it by touching your wrist on a hammock. In this form, there are people who are less likely to stretch their backbone, but I will also work on the stretch behind the body, lower body.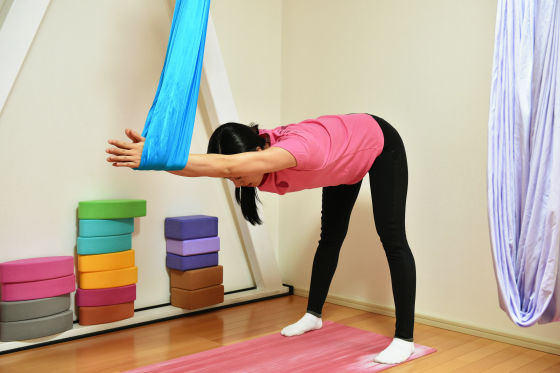 "Ounita Aerial Yoga" is, of course, "fun!", But the purpose of using a hammock is clear. Humans are always influenced by gravity, and their posture tends to be bad. It is the same when doing yoga. But when you use a hammock, not only "the force pulled from the bottom" of gravity but also "the force pulled upward" is added. By adjusting the attitude by the hammock, attaching gravity to your side, it is a feeling that ordinary yoga done on the floor will deepen further.

G:
Although I was told that Uonata Aerial Yoga has a clear purpose, the purpose is "to deepen your yoga".

Taniguchi:
I agree. If you do yoga with a hammock, you can get a feeling that "yoga master will be experiencing" more. "I feel such a feeling that this pose is" done "!" I was deeply moved by my hard body. When I got back to practicing yoga on the floor, I came to understand that "To use that feeling, I should use muscles like this!" By doing that, you do not do things like forcibly doing your best in the wrong way, "Do not get tense if you do your best any more".

G:
If you are a beginner you can not pose well, but when you use a hammock, the place to grow will grow.

Taniguchi:
Although it may look different from what you do on the floor, you can achieve the purpose of pose. There are also things that you have to relax because it is supported.

G:
What do I have to relax?

Taniguchi:
The part which can not be nervous comes out.

G:
Does that mean that the power of the unnecessary part does not enter?

Taniguchi:
For example, this pose is hanging with the shoulder blades. Although it tends to enter power on the waist when the legs are attached, it does not counteract gravity, but as you withdraw your power, the waist falls and the lumbar spine stretches. That will open my heart. When it is hanging it is difficult to get rid of it against gravity, so there are parts that must be relaxed.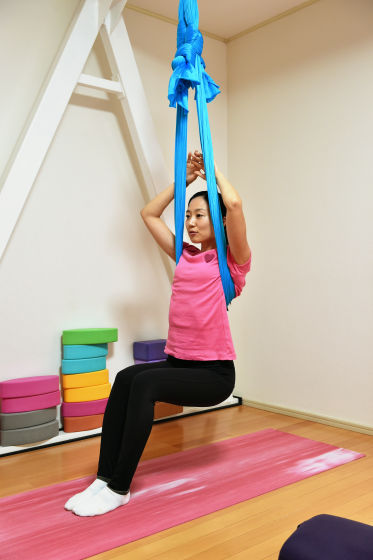 On the contrary, there is support for hammock, so you will have to use the core (trunk). If the core is not available, the hammock will ruffle. However, when the trunk is used firmly, the hammock stabilizes, so I can understand that the hammock is shaking "I am not using my body properly right now".

Also pose to stretch inner thigh ......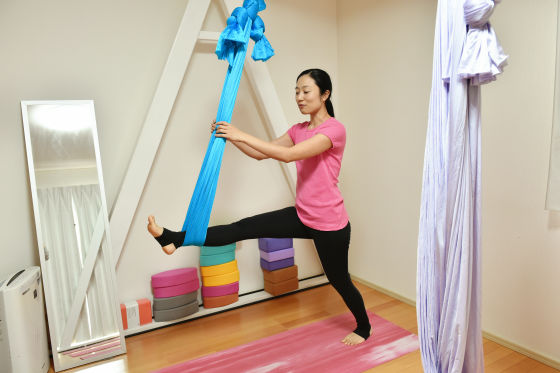 Because a person who can not use the trunk staggers as "... ...."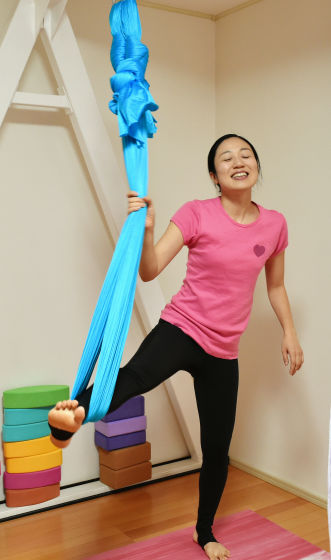 G:
That is, Ounata Aerial Yoga that seems to be very acrobatic, is it a feeling that even a beginner can go?

Taniguchi:
I agree.

In addition, in the case of yoga using a hammock, while relaxing, the part you are using is in the active state. And when you release the pose, the cloth 's pressure is removed and you can relax more. This kind of "compression of cloth" is a place not found in ordinary yoga.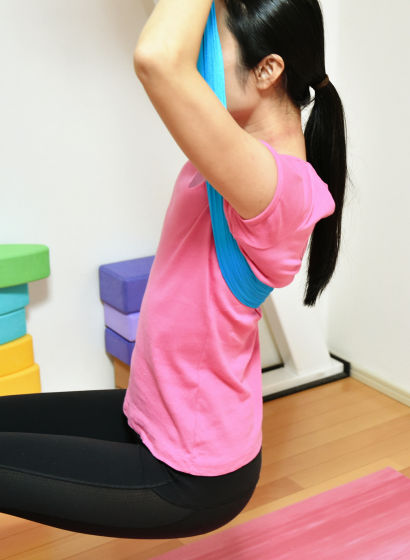 If it was the earlier pose, for example, it was a place where meat would tend to ride just above the bra with age, places like lymph flowers were irritated, and there were also massage effects.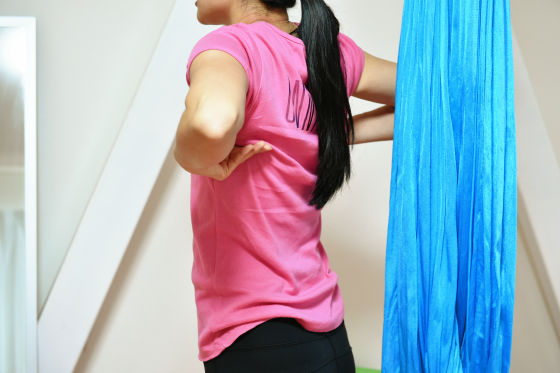 G:
Besides, is there any kind of effect different from normal yoga?

Taniguchi:
Although the action of pulling the hammock by hand is not in normal yoga, it helps the core conditioning and prevents the injury of the shoulder joint which is likely to do with yoga. Not limited to shoulder joints, yoga done on the floor, if the body is stiff and shrunk, there is also a dangerous pose that places a burden on joints and muscles. By using a hammock, you can stretch your spine first, relax and return to neutral state and then move properly, you can prevent injuries and train your body.

The pose which looks acrobatic can also be less burdensome than doing on the floor. The upside-down pose that you do with a hammock can create a space between the bones of the spine and the bones, but the force that applies pressure on the floor works.

Of course, I do not deny yoga on the floor. You have a wonderful effect if you use your muscles firmly in the right posture. But, it is not a training worker, and it is very difficult for you to do it correctly even with easy-to-do yoga movement in a body that has been working for a long time in front of a personal computer. There are also a lot of parts that are alleviated than the ones on the floor, as well as the poses that look like acrobatic.

For example, if this person is a hard person, the knee may be in this position ... ...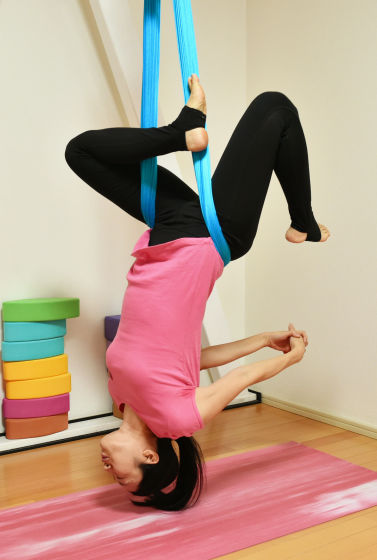 I am about this.



People with softer eyes may reach their feet. In this case, the spine will warp, but because of gravity the bone and bone space is kept. Pose which is difficult even for challenging on the floor will be in a state where effects can be obtained using hammocks.

Sometimes it is not possible to compare next door because there is a hammock. When it is on the floor "When we open legs and let us bend forward," the rigid body can see the most, and when the teacher says "Let's stretch out the body", the teacher's hand rests as close as possible to the floor If there were, the person who is concerned only with the position of the hand might bend the body forward. But then the body side does not grow at all.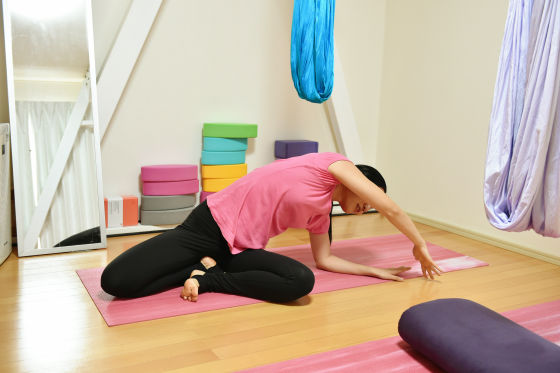 In fact, the shape is each and, for some people, the position where the hands are on the floor may be the best, and some people may not need to raise their arms. By entering the axis called the hammock, it is not influenced by the appearance, people can keep their shapes correctly, so in that sense I think there is a part "better not compare with people" than normal yoga .

G:
Then, do the students come from various levels?

Taniguchi:
I agree. In this studio there are only three students, so I did not divide the level. Since riding in a hammock itself is difficult at first, it may be better to have some level division.

G:
Before becoming an aerial yoga instructor, was it a yoga instructor to do on the floor?

Taniguchi:
Yes. However, the yoga studio that was working collapsed, and after that I took a referral and taught private lessons for the president and celebrities with business trip yoga, and with that connection, I did group lessons for residents of companies and condominiums It was. Even after starting aerial yoga, I continued a business trip instructor of floor yoga in such a form until 8 months pregnancy.

G:
Mr. Taniguchi is doing what is done in the air in "Aerial Yoga", which is a school called "Ounata", but what does the meaning of "Ohnata" of Ounata Aerial Yoga?

Taniguchi:
In Sanskrit, it means "evolution, development".

G:
That Mr. Michel Doutignac who Mr. Taniguchi is under study is that I started "Uonata Aerial Yoga".

Taniguchi:
"Aerial" means "in the air" in English, but when Professor Doutignac began Ounata Aerial Yoga, in the United States, taking a trademark in common words "in the air" and "yoga" It is said that the trademark was taken by "U-na" person.

G:
Apart from Mr. Doutignac, is there another teacher of school in Aerial Yoga?

Taniguchi:
Although I do not know anything else, since yoga does not have a national qualification, even if it is named "yoga", in reality other than the leaders of yoga may teach aerial yoga courses I asked. However, Aerial Yoga can be a mere performance tool, not a "deepening yoga" without knowledge of the base yoga.

G:
What time is it when you think that you were good at studying with Mr. Doutignac?

Taniguchi:
For example, I am continuing my studies in yoga and learning a lot, such as yoga on the floor, not on the hammock, and bodywork not related to yoga, but at that time "This is difficult for my body now However, if you practice with hammocks you can do it well. " I learned the meaning of using a hammock rather than learning a pose from my teacher, so I can apply it.

G:
You mean that you can think of "hammock for deepening yoga". Is there any difference between Ohnata Aerial Yoga and other aerial yoga?

Taniguchi:
I do not understand other things, so I can not say it is a difference feeling ... .... Since the aid called a hammock is so powerful it can greatly destroy the body's posture with one standing position.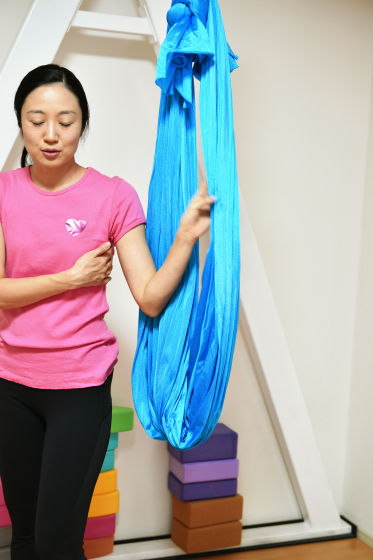 When you look at pictures published on YouTube videos and on the net, you may think that you are not thinking about "attitude" or "standing position" too much. You can not judge with just one photo or movie ... ....

While studying under Mr. Doutignac, "This does not mean that I prepared the body at all, but conversely if stacking it, it causes injuries and weakly presses between bones and bones It is one of the things that I think is that it was good to learn under the teacher that it became understood that "will become".

G:
I see. Is Mr. Taniguchi long since I started Ounata Aerial Yoga?

Taniguchi:
The teacher began Ounata Aerial Yoga in New York in 2006, and in 2009 it began teacher training. I got my first training in 2009 and it started to organize myself in Japan as a trick.

G:
Why was it decided to take Dr. Doutignac's training?

Taniguchi:
In 2006, I took the qualification of a yoga teacher, first I learned Shivananda Yoga at the "Shivananda Ashram" facility in India. In that facility, "It is said that inverting three hours a day is the source of longevity", but you can not do such a thing absolutely. I think now, "I do not think the cervical vertebrae will get overwhelmed if it does such a thing," I thought, "I wish I could do it" purely at that time. At such a time, after I came back to Japan, I was walking around the city, I saw that beds that can be turned upside down are introduced with "handstand health law" in mind.

I thought "This is for me!" I tried searching on the Internet, but the result of the search did not come out quite well. While studying in English thought that it might be a thing of import, it came across aerial yoga.

G:
It was a coincidence encounter.

Taniguchi:
Looking at the aerial yoga website and becoming relieved. I thought that the whole body would be opened by supporting hundreds of places with a hammock instead of fixing the waist and ankle at only one place and upside down. I have pain in my lower back and shoulders since I was a child, not at the level of surgery at a hospital,Lateral hypotonyI was told that it was, so I think that it may be better to improve its spine and posture. That is 2007.

In 2008, yoga using hammocks also increased overseas, so I went to New York and learned that I definitely felt it was right for me. So, in 2009 Dr. Dortignac 's training began and I took it. At that time there was little aerial yoga's teacher training itself, so it was not particularly received because "this teacher is good!"



G:
Is that so.

Taniguchi:
However, as I was doing it was really training "deepening yoga", I think that I was glad that it was not elsewhere.

G:
When I went to New York alone in 2009, how did I apply for training? Do you feel like going to the site and applying with jumping in?

Taniguchi:
No, I checked Mr. Doutignac 's activities for a long time and I thought that "If this teacher does the teacher training, I definitely will accept", so I am sending a mail in advance ....

G:
I was already in touch with you before training started.

Taniguchi:
Yes. I was asked if I planned to do the training in the future and it was "There is", so I told you earlier. At that time, I had only 5 students training at my teacher's home.

G:
To the instructor who is doing the aerial yoga in Japan, I heard that there are people who wanted to go to learn Dr. Dortignac, but refused because I could not speak English. Originally, was it possible to have conversation in English without problems?

Taniguchi:
I liked traveling abroad, I was doing something like backpacker, and before I did a yoga instructor, I had a concierge where plenty of foreigners would come, so I was able to speak English in daily conversation degree. I do not mean "I can speak English very well".

G:
There was no linguistic problem.

Taniguchi:
Also, since I learn what I know, "yoga", it was easy to understand.

G:
The profile published on the websiteAs you see, I seemed to have received various training abroad for footwork.

Taniguchi:
Yoga does not have national qualifications and it is only a private qualification, but now even the association named "the US Yoga Alliance" famous in Japan was still not popular at the time. I decided to take the qualification thought that "Japanese are weak in qualification", but at the time I learned abroad because the curriculum was also substantial that there were many teachers overseas than domestically. After that, I also thought that if I learned abroad, I could become a teacher who can teach me in English, even in English ... .... When I say something like this, I feel hungry, but (lol) I felt that the training and teachers I wanted to learn were more overseas than in Japan.

G:
Were there many teachers in foreign countries?

Taniguchi:
I think so. The form of "to do yoga as a student" is popular, there are not many schools that qualify as yoga instructors like now, or yoga studios that are inviting teachers from overseas. The teacher I was learning was a style like "take disciple." There was one thing I thought was nice, but it seemed like it took months to become an instructor with only weekend training.

I had limited time and decided to go overseas because I wanted to learn yoga as soon as I decided to do it. But I think that I was glad to do it.

G:
Is that it was the idea of ​​"in order to get the maximum gain in this situation?"

Taniguchi:
Even now I do not have to go abroad to go abroad, famous teachers are coming to Japan. Of course, there are teachers who do not come, so I think that I want to go abroad and want to learn, but in Japan too many teachers say "I do not want to learn from this teacher". I do not think that "I do not want to go abroad!" I do not think so. I am still in training in Japan.

G:
The situation in Japan has changed.

Taniguchi:
That's right. In the past, I had a bag like a backpacker and I was able to go and I was going with a plan like "future prospect" to my husband even if I just got married ... ....

G:
Proposal document! "Do you mean you can do something like this if you are training overseas now?"

Taniguchi:
"When you receive this, it will be like this in the future!" ... Looks like. Now I have children, so it is difficult to leave my child for over night. Last year I went to Canada with three men and a child and received training.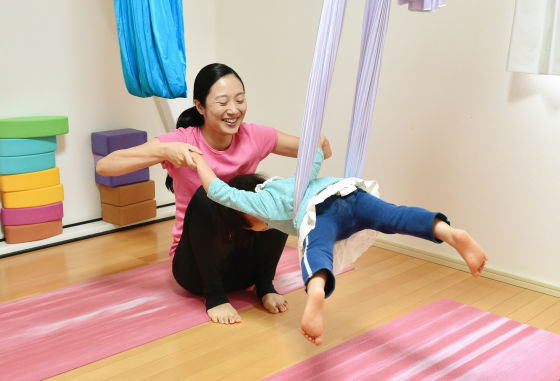 G:
Still it was going to go.

Taniguchi:
That's right. But I think that I should refrain from it (lol)

G:
What kind of training is received now?

Taniguchi:
Now, it is a group of midwives ... ... Do you know "Toco chan belt"?

G:
"Toco chan belt"?

Taniguchi:
I have never used it until pregnancy, but it is a belt that prevents back pain, etc. by supporting the pelvis during pregnancy. When I got pregnant and tried buying it as "once", it was very useful when the pubic bones hurt during the last week of the month.

Because I am doing yoga, I thought "I want to be my muscles to support the pelvis", and at first it was negative. Position I tried as a child There are also memories that the rubber belts and corsets were not good. For example, corset etc may be good when doing, but if you take off, there is nothing to support and there is a possibility of weakening your trunk unnecessarily. However, in fact it was saved by using Toco chan belt and I thought, "It is better to use it when you should use it."

Today it is a group of midwife who handles Toco chan belt and I am learning gym. There was not a company that made profit only with merchandising, but midwifes teachers taught gymnastics etc. for pregnant women, mothers, babies, in addition to medical support, I was very impressed.

G:
The profile includes "US Yoga AllianceAlthough it is called "certified school completion (RYT 200)", 200 hours of training, not RYT 500 which receives 500 hours of trainingRYT 200Why was it chosen?

Taniguchi:
The US Yoga Alliance is an association established in the United States in the 1990s by several yoga teachers. To take RYT 500, you need to take 300 at the school that took RYT 200, or you need to declare 300 hours of training at a school that is a member of the Yoga Alliance. From 2010 we have also been able to apply online.

I think the yoga alliance is wonderful. But I do not believe that Indian yoga ashram, or yoga studio around the world should join the Yoga Alliance. I became an instructor for the first few years paying renewal fee and becoming "Yoga Alliance Certified Leader", but leaving a seat there was not deepening learning, as long as I am in Japan I feel that there is not much merit, I am not captive by "RYT", I am learning and continuing practicing.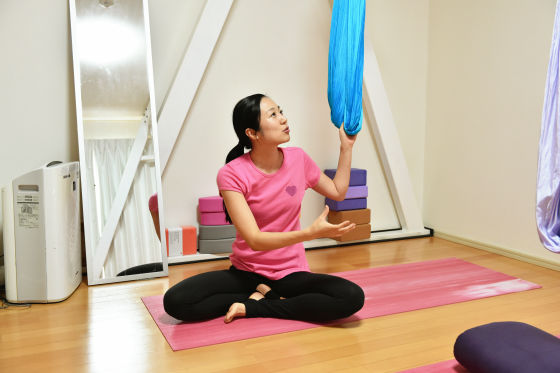 G:
Although it was said that "the backbone was bent when I was a child," among students, is there someone whose purpose is to "straighten the bent spine"?

Taniguchi:
I also have yoga therapy for scoliosis, so there are also such students. I do not hear such a story in regular aerial yoga lessons. Please think that aerial yoga is different from Yoga therapy of side hilaria. My spine has also improved to a large extent, but it is still bent. It's a lifetime relationship, but it is a great harvest that there has been no ups and downs.

G:
It seems that the students of normal aerial yoga are doing as fun, and there are people doing for health as well.

Taniguchi:
I agree.

G:
Aerial Yoga · Japan has not been a trial lesson. I thought it was rare as a yoga classroom, but is there any meaning?

Taniguchi:
I think that the aerial yoga is prevalent for about the last 3 years, but when I search on the net, my place comes out first, so every time I am broadcast on television or on a magazine, the number of inquiries will increase quite a lot . Then you can not respond each time ... ....

Although existing students want to pass regularly, even if many reservations of people say "I should try it for the time being" for the time being, many existing students will not be able to come ... It is a very bad way of saying I am getting into it. I did not think that I wanted to think about "I want you to come and came in cheap for the first time." In the first lesson I got a lesson of an hour and a half and I got a lesson with aerial yoga I would like to see compatibility.

Because Aerial Yoga · Japan has not received admission fee / annual membership fee, although you can of course want to experience once, you can not do things like a trial lesson campaign.

G:
I think that "being a yoga teacher" and "running a yoga studio" is a different thing, but where was the difficult part in establishing and operating Aerial Yoga · Japan?

Taniguchi:
I wonder what he was struggling with ... ....?

G:
(Lol)

Taniguchi:
Anyway there was no place so it was really difficult.

G:
Equipment is special.

Taniguchi:
Yes, I have to install a hammock. I was worried because there was no place to borrow, but I was worried about my mother saying, "If you fail, you only have to stop at once, if you borrow a studio you just lose your savings, do not you think that's about that?" Triggered by " I acted as soon as I thought, "I could move back to my usual self and crispy. Just at the time I did not understand the business, so I think there was a way to do better.

G:
By the way, where did you make the pillars to hang the hammock?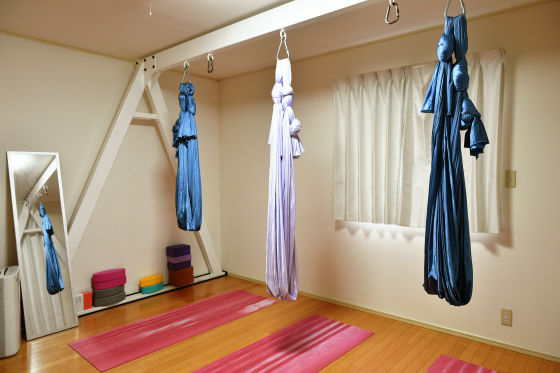 Taniguchi:
I looked for it in the yellow page.

G:
Where you make it! Is it? Do you mean that you called one case per case?

Taniguchi:
Telephone and the net. It is told that "It can not respond to individual customers" when it is too big. Some people made various estimates or designed different designs, but this was the simplest.

Since I thought that "I want Uoonata to spread more", I decided to do teacher training for a while after teaching of aerial yoga, but finding this studio and making equipment was even more difficult . I needed a large place where a larger number of people can enter.

G:
Were the students coming along shortly after studying the studio?

Taniguchi:
Before making a homepage, if you are somewhat outgoing on the blog, the yoga magazine's "Yogini"Dealt with what the editor seems to have experienced, and thenYoga JournalAlso interviewed. After that there was also an interview with fashion magazines and health magazines, so with that power.

G:
It seemed like news got coming in succession.

Taniguchi:
After Yogini's interview, I thought that "I have to publish my homepage anymore" and started up right away. Then, I did not spend advertising expenses, but I got an application for an interview to go on.

G:
At that time there was no other aerial yoga practitioner, or there was no competitor.

Taniguchi:
I did not have it.

G:
I thought that preparedness is already different from the situation where there are no students, so that we will make such facilities.

Taniguchi:
There is a more nice studio now and Aerial Yoga · Japan may not be fine as a studio, but as it is "first done" there is an advertising effect and it got noticed Because of that, I still do interviews in this way. Thankfully, I'm not making much effort in promoting it.

G:
For what I thought as "what is this!", For example, even for aerial yoga, as for Dr. Dodinyak's decision to go on training nevertheless it was about intuition and intuition The power of action is amazing.

Taniguchi:
There is a place in the fitness gym where banning movement "turning the neck" is prohibited in both yoga and aerobics. People thought that "Is not a major Japanese studio going to do something like this (yoga using a hammock?)" And "I wonder if I have to do it" I thought.

G:
Major is hard to challenge, so it seems to be able to do it.

Taniguchi:
I thought that nobody would do as long as I did not do it myself. But as I thought, as I thought "This is absolutely good for my spine!", A lot of people with scoliosis also came and a lot of people said, "As I thought, I think that it is "I think. So, I was trained in Yoga Therapy with side effects, "I want to become a person with more proper knowledge." It is my original to use a hammock.

In addition,Usain · BoltAlthough it was easy to fall with scoliosis, I saw that it was overcoming it with muscle training, and I was convinced that "I can improve myself as I expected".

The orthopedic teacher sees only the result of X-ray, but since it is myself who lives and carries its backbone, since it is only himself who understands the difficulty of life and the pain, it will be cured by yourself Will also be a spiritual strength. Therefore, I thought that it might be useful for people by using hammocks.

G:
From such ideas it came to think that "I want to spread to Japan." Is there a final goal for now, or what would you like to do in the future?

Taniguchi:
It is fun to do teacher training now and ordinary lessons are fun, so I'd like to continue it forever.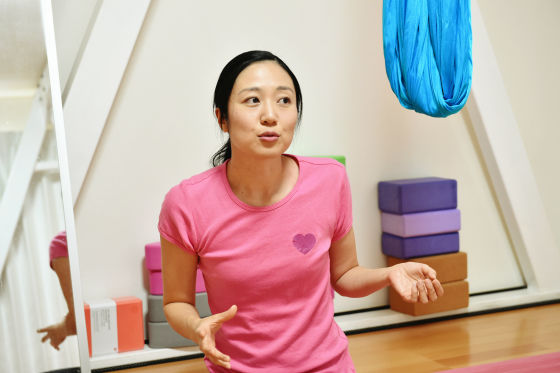 Among the students of the lesson usually, "Although I had never missed a medicine because of severe menstrual pain for the past 20 years, I did not have to take medicine since I started aerial yoga," said the third time There were students who told us in the lesson. I often hear that you are taking a lesson here that the body has changed with that kind of wind.

This studio can tell you only three people at a time. I think that there are things that can be taught politely because it is an environment of a small number of people. I think that I would like to continue the lessons in this form in the future, and if my child grows up, perhaps I may have my own big studio. There are various problems, such as how far I want to take risks, but I think that it is not limited to either. I feel that there is a lot of passion in both.

G:
Finally, it is a fundamental question, what kind of yoga is for Mr. Taniguchi?

Taniguchi:
It is part of life. Since I was a child, I felt somewhat painful with my usual constitution, so if I had not done yoga it would probably have become a more disappointing person. I am currently raising children, so I may be carrying stiff shoulders, but it is thanks to yoga to be able to spend so much comfort. Especially, I felt yoga was a part of my life when I spent my "life without yoga" since my child was born.

G:
Thank you for today.