A report showing that "PS 4 Pro" is inferior in performance in some titles than in conventional PS 4 is released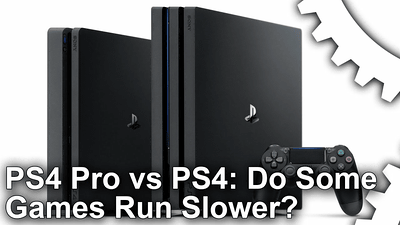 It appeared as a high-end model of PlayStation 4PlayStation 4 Pro (PS4 Pro)"Can output graphics of a game with a high image quality of 4K (2160p) & HDR at the maximum. PS4 Pro does not require a 4K display, and even when connected to an HD (1080p) display, it can display images with higher image quality, more stable or improved frame rate, as well as in-game environment and character We can further refine the modeling, improve the overall visual quality, and enhance other visual effectsDescriptionAlthough it is being done, in fact there is a comparison report showing that PS4 has better performance than PS4 Pro with some titles.

Why are some PS4 Pro titles running slower than base hardware? • Eurogamer.net
http://www.eurogamer.net/articles/digitalfoundry-2016-why-are-some-ps4-pro-titles-running-slower-than-base-hardware

Some games run slower on PS Pro than PS 4, says report | Ars Technica
http://arstechnica.com/gaming/2016/11/ps4-pro-performance-problems-1080p/

By playing the corresponding title on 4K / HDR display, PS4 Pro can receive the maximum benefit of "4K (2160p) & HDR" which becomes the highest picture quality. Even if it is a PS4 Pro unsupported title,Super samplingIt is said that PS4 Pro can benefit from any game because it can upscale it to 4K / HDR display and output 4K compatible title optimized to 1080p on HD display.




Digital Foundry, which reviews the game system, compared the performances of PS4 Pro and PS4 just released. As a result, with some titles such as "Watch Dogs 2", "Skyrim", "The Last of Us", the PS4 player played a better performance such as frame rate (fps) and PS4 Pro When connecting to the HD display instead of the 4K display, the image quality was downsampled and output, so it seems that there was a case where it was not possible to play very smoothly.

For example, when Watch Dogs 2 is played on PS4 Pro, it works with 1800p (3200 × 1800) resolution by upscaling, but image quality disorder and frame rate reduction which did not occur with conventional PS 4 were seen. Skyrim which is PS4 Pro compatible title can output with 4K native picture quality, but it seems that it was smoother to play with PS4 which outputs with downsampled picture quality. Also, if you play The Last of Us on PS4 Pro, you can play with "4K native picture quality (30fps)" or "1800p (60fps)" and it is a good title that you can experience the power of PS4 Pro including HDR mode, The frame rate tended to decrease frequently.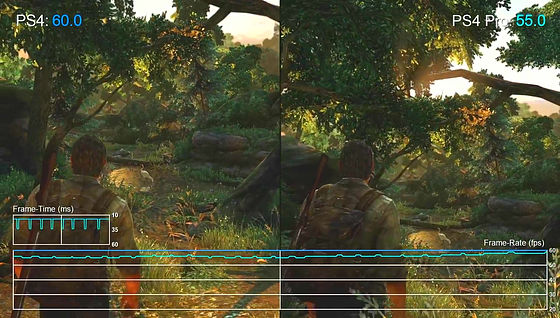 A movie that actually compares PS 4 Pro and PS 4 can be seen from the following.

Why Are Some PS4 Pro Titles Slower Than Standard PS 4? - YouTube


Since PS4 Pro automatically optimizes image quality, setting items such as outputting with the specified image quality to maintain the frame rate are not prepared. Performance problems such as frame rate are problems of game developers who do not meet the technical requirement of PS4 Pro, so it is expected that they will be fixed in the future by software update etc.

Also, not all titles are problematic with PS4 Pro, for example Digital Foundry is "PS4 Pro can gain advantage with multiplayer player of Battlefield 1It also demonstrates that it is.