How Can I Get "Permanent Resident" or "Citizenship" in Canada?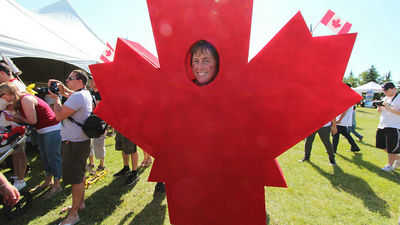 ByThank you for visiting my page

The presidential election in the United States was held on 8 November 2016 local time,Mr. Donald Trump, a businessman, wins and decides on the next president of the United States of AmericaDid.Protest action shouting "Do not accept President Trump" or "Fuck Donald Trump"In the midst of the occurrence of Mr. Trump 's dominance, it is the concentration of access to the Canadian immigration office site. So, if you really think about immigration to Canada, what will become necessary?

Immigrate to Canada
http://www.cic.gc.ca/english/immigrate/index.asp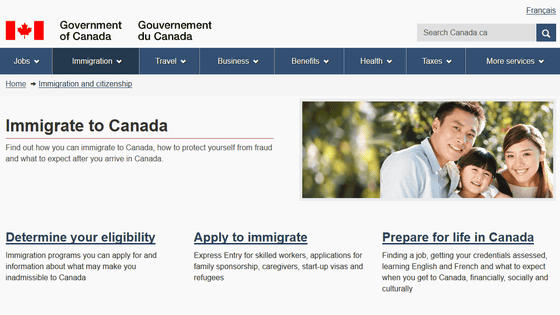 How to move to Canada and become a Canadian citizen - Business Insider
http://www.businessinsider.com/how-to-move-canada-2016-11/

First of all, as we consider moving to Canada, we assume that the person does not have permanent residency and citizenship in Canada. Also, for minors' immigration applications, you need a parent or a legal guardian with permanent residence in Canada, so please do so, preferably if you are an adult.

◆In order to gain permanent residency
In Canada, which is said to be "a country of immigrants" and adopts aggressive policies to accept more than 200,000 immigrants every year, in addition to the migration program by the Canadian Federal Government, programs by state governments are also available.

As a particularly advantageous one, there is "Express entry", a priority approval review system for experts. this isFederal Skilled Worker Program·Federal Skilled Trade (Professional) Program·Canadian experience classIf it meets either of the conditions, it is put into "candidate pool", technologies etc are digitized, and the top people have invitation to immigration application.

Canada's "Permanent Residence" includes the right to receive social welfare, employment and academic rights, and the right to move through Canada. The difference from "citizenship" of the people is that "voting", "candidacy for public elections", "job search for jobs requiring high security" are restricted.

"Permanent residence" is the right "You can live forever", but in Canada it is necessary to renew every 5 years and you need to live in Canada for at least 2 years out of 5 years. If you can not meet this condition, you will lose your permanent residence. It seems that public servants called "Crown Servant" or their families can maintain permanent residence without living in Canada.

◆In order to gain citizenship
"If you are going to work based in Canada while maintaining your original nationality" you may be a permanent residence right, but if you are to become a "Canadian" perfectly, you will be aiming for "citizenship" I will.

Immigrant is a Canadian with a liberal image, but due to unfair permanent residence acquisition and acquisition of citizenship in camouflaged marriage etc., the law revision was carried out on June 11, 2015, citizenship The requirement for acquisition has become much stricter.

Regarding the residency requirement, it was a condition that "Being actually residing in Canada for 3 years (1095 days out of the past 4 years before application for citizenship)" before, but after the revision, it is "before the citizenship application in the past six years "I actually live in Canada for 4 years (1460 days)" "I actually reside in Canada for 18 years (6 months each year) for 4 years," half of the year surely will be in Canada I have to stay in. Also, I need to show my willingness to live in Canada.

In addition, income tax return · (tax return in Japan) for 4 years which was not conventionally necessary became necessary.

It is necessary to clear the paper test, but this is because "Discover CanadaI understand that it's okay if you grasp the contents of ".

For words, either the official language English or French, either one can speak. I do not need to be fluent, it seems OK if I have enough vocabulary skills to hold a basic conversation and explanation, and describe myself.
in Note, Posted by logc_nt