One fans who support the professional sports team alone, the scene that gives a thankful greeting to the fans at full strength is a global topic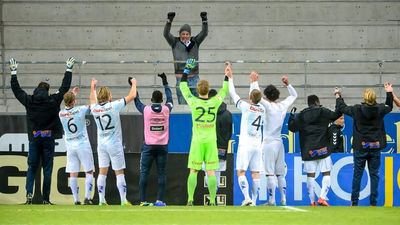 The presence of fans who support themselves for athletes is what makes themselves the power of being alone. However, it is the Swedish professional football first division leagueAl Svenskan(J1 league as it is called in Japan)Geffre IFWhen I went to the fight of away, the number of supporters who came to support the team was said to be "one person".

Gefle take just ONE supporter to Kalmar as Swedish strugglers secure 1-0 league win in 700 in mile round trip | Daily Mail Online
http://www.dailymail.co.uk/sport/football/article-3882910/Gefle-just-ONE-supporter-Kalmar-Swedish-strugglers-secure-1-0-league-win-700-mile-round-trip.html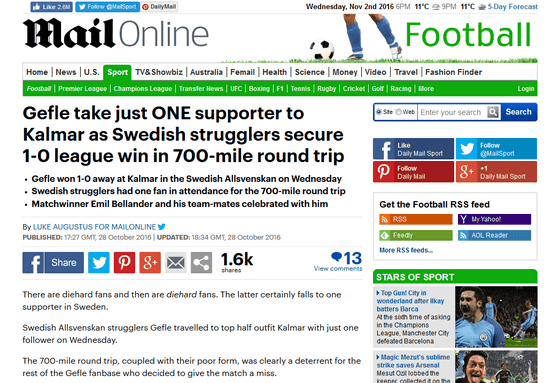 Swedish strugglers Gefle IF travel with ONE fan but still beat top six contenders Kalmar FC
https://www.thesun.co.uk/sport/football/2065284/just-one-diehard-fan-follows-swedish-strugglers-gelfe-if-on-700-mile-round-trip-to-take-on-rivals-kalmar/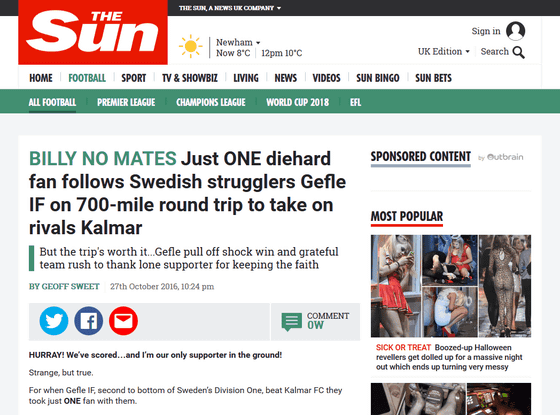 Swedish Soccer Team Salutes Only Fan To Attend Away Game
http://www.sportsgrid.com/real-sports/soccer/lone-fan-saluted-by-swedish-football-team-for-making-700-mile-round-trip-away-game/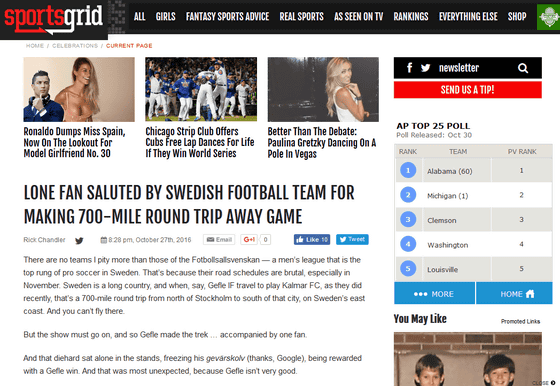 The game was held on Wednesday, October 27, with Kalmar FF located in the upper group called Al Svenskan in the sixth place among the 16 teams and Geffre IF in the desperation crisis in 15th place. The game was a home game of Kalmar FF, but the number of supporters who cheered Geffrei IF among spectators who came to watching was only one. The reason is that the match was held on Wednesday and the distance between Göfle IF's home base Gavleborg Gavle and Kalmar district Kalmar, home of Kalmar FF, was 700 mile (about 1130 km) roundtrip .


Until this game, Gefure IF had only three wins by fighting 27 games in the season, so home Kalmar FF was seen as advantageous. However, the game was in Geffre IF in 87 minutesEmil BellanderThe players decided the goal and gave a victory indeed a victory of 0 to 1.

After the match, the players of Geffre IF greeted the supporters who came to the cheer from Gavle who botherly spent more than 500 kilometers, and the movies that contained that moment are the following. It has been played about 200,000 times in a week from the release, and this scene is a topic all over the world.

Brilliant Swedish side Gefle IF celebrate a 1-0 win at Kalmar FF with their supporters - YouTube


Geffrey IF players gathered aside by the pitch.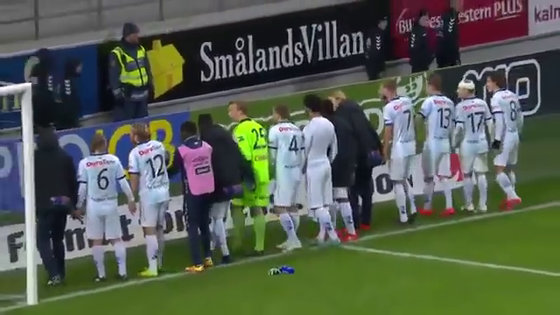 Behind the line of sight is the appearance of a man standing in a wide stand. Looking at the way of shaking hands with the players and rejoicing victory, it seems that long distance travel of more than 1100 km roundtrips has been rewarded as well.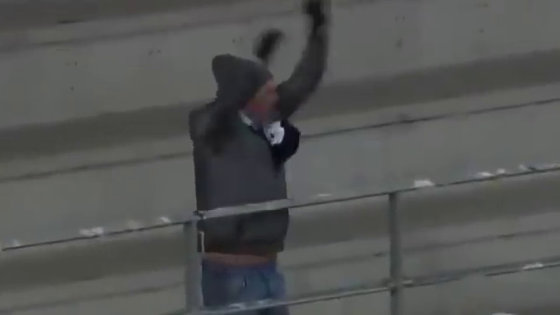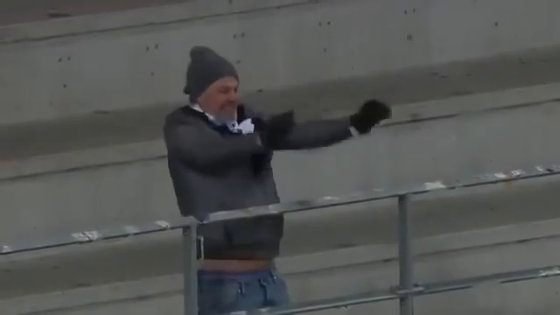 The moments of jubilation by players and supporters are diffused even on Twitter.

Brilliant this ... Gefle IF celebrating a 1-0 win at Kalmar FF last night with their only away supporter (700 mile 'round trip in Sweden).Pic.twitter.com/fOe0VkWQDl

- Football Away Days (@ Away Days _)October 27, 2016

In the world of sports, fans' support may not bear fruit, and sometimes the relationship between players and supporters does not work well, but the relationship between supporters and athletes of Geffre IF may be said to be an ideal form for sports clubs Hmm.