I have heard thoroughly how to make "GANTZ: O" for digital frontier Part 2 · Background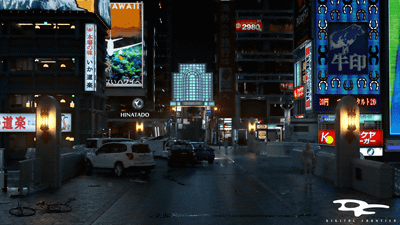 I made a movie "GANTZ: O" released on October 14, 2016Digital FrontierInterview plan to the staff of each division of "Part 1 · Character edition"Followed by"Part 2 · Background"I've been talking to Ryota Gen, the background artist. By the way, this top image is also one of the backgrounds that comes out in the works.

GIGAZINE (hereinafter, G):
It is true that we are familiar with the fact that our editing department is in Osaka as it is said that we are talking about "the difficulty of making a city in Osaka while watching the location map and 3D bird's eye view of Osaka" I was watching while thinking "It's a very good degree of reproduction ...".

CG Production Headquarters CG Department Background Artist Ryota Saugen (hereinafter, source):
As the background of the background production, as the script went up, reading the manga was to "go to a place similar to the original work", it washes out what the coming out and actually went to the location hall It started with watching. So I made a map for the location and actually went to the location hypothesis, assuming that "this range is within the scope of 3D creation". Lockehan was taken two days and two nights, day and night. I shoot the texture that I actually paste in 3D during the day, and then took the details of the details in the main and it is all night in the work, so I took a picture of the atmosphere in night shooting. When I shot with darkening the exposure, I know the color temperature of the actual brightness, so I changed the exposure and took 3 photos.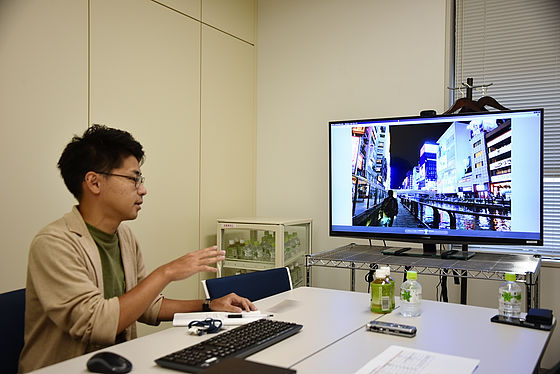 G:
Although it was said that the area of ​​only this two nights was overnight, how many people went to filming this?

Production manager Toshi Funahashi (hereinafter Funabashi):
Roquehan himself went twice and went to the location hall first two days in May of 2014 in order to make a background, at that time it is Mr. Genji and seven other people.

source:
Three from the background team.

G:
What kind of things are you watching while shooting, what kind of things are you shooting while doing it?

Funabashi:
To put it briefly, Mr. Kawamura and Mr. Takahashi who are able to grasp the general atmosphere like Mr. Genji is doing now, are taking pictures of what they would look like artistically in the landscape. After that, I will shoot all the wall every few steps.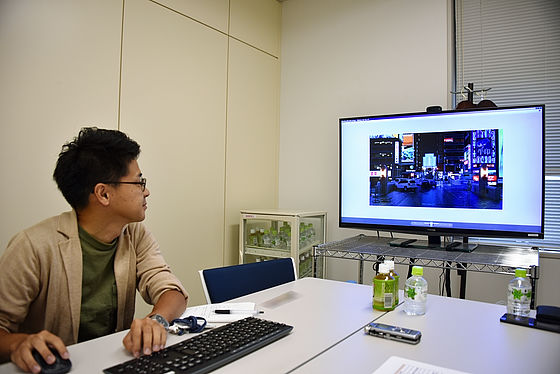 source:
I agree.

G:
Taking pictures of walls every few steps! Is it? It looks like Google Street View.

source:
As a material to actually paste in 3D, for example, take a picture of this part of Ebisu.

Funabashi:
Naturally, when taking a side, I took the bottom, took the other side, take the top and do all the things like.

G:
Rather than "taking a picture" it's taking a picture like "taking material".

source:
That's right. It was mostly daytime when I did it.

G:
That's what it is like to shoot during the day. Have you ever been to Osaka several times?

source:
It was the second time this time, so there was absolutely no land intuition. At first, before going, I saw it once in the view of Google map, I was grasping "This is how it feels", but since I had staff from Osaka, I took that person as well.

Funabashi:
After that, we asked the local coordinator for information and asked the person to tell information that "There is an area that should not be taken absolutely, there is better not to go there, people who are scared will come out" "You better not take this building." When raising it to the background actually, since there is the right of the shape of the building itself, ask them to check whether it is OK or not. If you are told that this building will not be reproduced, ask "I change somewhere" There was also a thing called.

G:
I see.

source:
After all it was a lot like a signboard in Osaka after all.

G:
There are many three-dimensional signs.

source:
Because I can not make such a thing as it is, I made it with the feeling of changing makeup while catching the features.

Funabashi:
For example, dumplings are selling out.

G:
Haha (haha) Looking at the signboard, there are certainly differences. I do not notice it when I see it at a distance.

source:
I left "original savory drama" as the original work.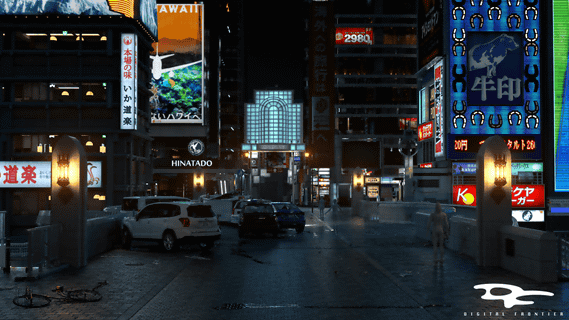 The rest is here, but it is Don Quixote. So, this is Midosuji, this is Kushikatsuya in the new world. Even when it was a location hike, I actually put it in the shop, and also photographed the place I am frying.

G:
it's amazing…….

One piece that wants Dotonbori from around Midosuji / Dotonbori Bridge over the sky. Ebisu bridge is in the middle, and the characteristic Ferris wheel is on the far left side of the river.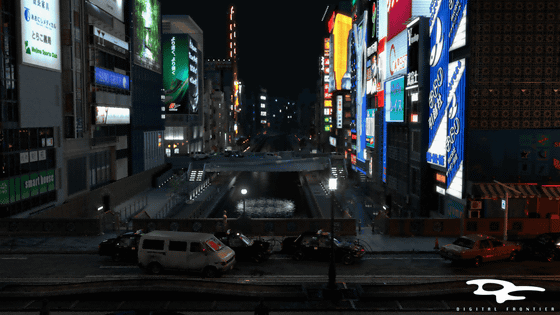 Funabashi:
All signs and leaflets have been renewed for the time being, so they can not be seen by pulling, but the note notes in the betting ticket office are properly drawn.

source:
The total number of graphic images used for this signboard etc. created this time is about 1300 sheets.

G:
It is totally realistic to reproduce one city. You can make a photo album just by this.

source:
Not all of this is made from 1, but if you make it from 1, it costs a lot, so first you create a building, a small item, a signboard and so on as a generic use, and then Based on the camera actually attached by the team of animation, I make it with the flow to brush up the reflection to the better one.

G:
This is a masterpiece. Since it is focused on this (character) at all times in the theater, there are not many opportunities to see the background, but this is awesome because the background is perfectly in focus. It is already a landscape picture.

source:
I'm really happy to say so far. Thank you very much.

G:
I did not think that it was so raw and genuine, so this making is amazing.

source:
There is a corpse next to it.

G:
There is it (laugh)

Dead bodies are located at the lower right, where there is a digital frontier logo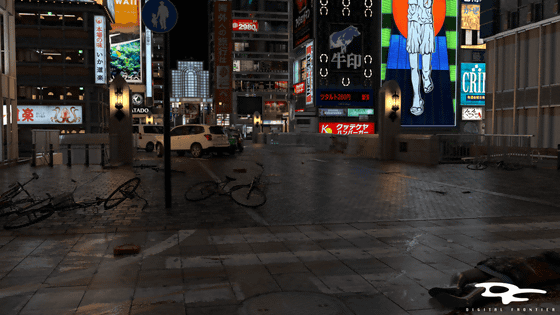 source:
This is actually arranged by the character team, positively attached to the corpse.

G:
If I upload this screenshot to Twitter or something like that, it is going to make a big noise as "Dotonbori is now in trouble!"

source:
And there are such insistence, to make it damp to the ground to increase the amount of information.

Funabashi:
Originally ordered from the director, it was a situation called "midnight after rain".

Director Yasushi Kawamura (Kawamura):
Because spreading water increases appearance.

G:
This neighborhood is also amazing.

source:
This time there were quite a few places that appeared many times, and as the story progressed it had to be destroyed steadily, so I had a lot of trouble because I had to make such a variation.

G:
Every variation is necessary, as the time goes on and on and on and on, it breaks rapidly.

source:
This is Ebashi which was destroyed.

G:
It is more amazing to see it in a still picture ...... It was such a thing.

Funabashi:
In the process, fire is actually added here with effects.

G:
Looking at it, I do not feel like this is part of the cause of that strange air feeling.

Kawamura:
I think that is, it is very built in.

G:
The air feeling is strange What kind of detail is up with this?

source:
Is it the density of a picture, is it physical quantity?

G:
When making, upload what parts as quantity and add details?

source:
For example, it seems to be a building or a bicycle, but is it such a representation of blood, or a place like that with garbage or blood pond falling on the ground afterwards?

Kawamura:
I think that the effect of garbage is quite large.

source:
Well, at the beginning, there was no garbage, but since the amount of information was absolutely insufficient by all means, so when we created generic things and laid out each asset, we added that detail .

G:
I see……. This picture (background picture of coin parking where Kato and Yamasaki had talked) is incredible! Where is it?

Funabashi:
This is actually such a place, and public phones were not this place though.

source:
I actually have such a parking lot.

Kawamura:
It is on the roadside side of the arcade opposite the Shinsaibashi arcade. When I saw the manga this was "I thought it was here!" You thought?

source:
In a place that is also drawn in cartoons, if you search through the map on Google Maps, think "Oh, here."

Funabashi:
Did you look for it on Google Maps?

G:
The expression of walking on Google Maps is amazing.

Funabashi:
There is a ZT map displayed by Mr. Genki, but by that I have located the location and was investigating where the fight is being done.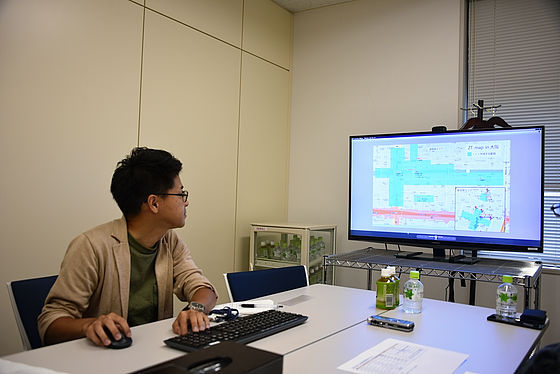 G:
Why is the map name "ZT"?

Funabashi:
Oh, the project name of GANTZ is "ZT".

G:
Oh, that's right! So "ZT map". I see. I made this light blue part.

source:
That's right.

G:
I think that it is the amount of data that it can be sold only by this large area.

source:
Actually, I made all of this, but if you put it all in one scene, it takes a lot of time to open the scene, so in fact it is finely broken down into assets and only the range visible from the camera is taken as data I took the technique of reading.

Asset overhead view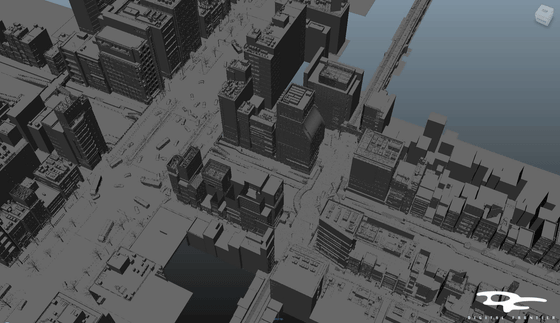 This range is about this. When you look at this, you can see that the part facing Midosuji (the road penetrating the north and south of the left side) and the inbrethor (the north-south direction road on the right side of Midosuji), Dotonbori (the river passing through the center in the center) .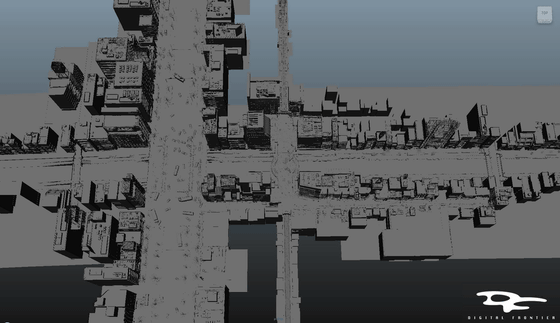 G:
Looking at the screenshot just before, it is all terrible quality, but actually making it, which scene is that this was serious?

source:
Everything was hard, but the first thing is the background from Ebisu. Ebisu Bashi also had many variations of destruction after all, there were eight or so to speak. After this is transferred and after youkai went rampant all the way.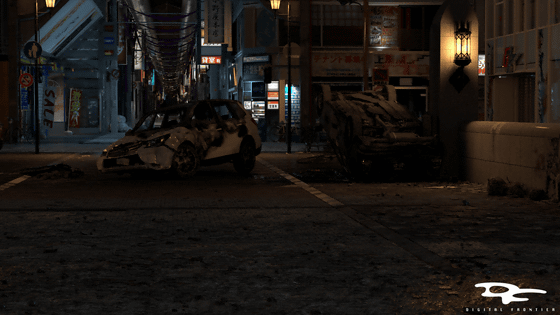 Funabashi:
Vinyl umbrella and so on.

source:
Well, there is a vinyl umbrella or something.

G:
Is true.

source:
Can you be a cup of tea?

Kawamura:
Sometimes I set the can of tea too much and it made me feel strange (lol)

source:
There was also such a retake.

G:
Conversely, it was a judgment that it would be better when you put it.

Also pay attention to bicycles and vinyl umbrellas that have been neglected.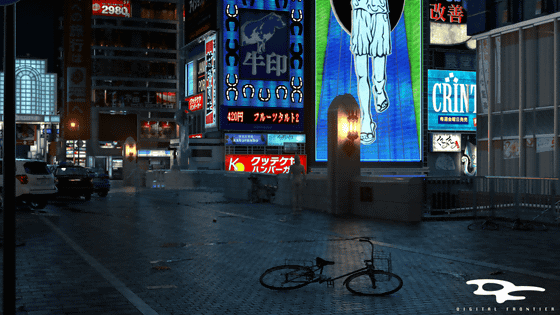 Kawamura:
If you do not put it there is no such thing as life feeling.

source:
Then, after having been attacked with weapons called Z guns, holes of these round shapes will open. And this is even after youkai rampage.

G:
Wow, I'm dying a lot.

source:
It is certainly grotesque.

G:
Looking at this way is awesome. It really seems to be able to make GANTZ photo album separately.

Kawamura:
It looks like buyers buy it.

source:
This is a hole with more holes open, here is the blood pond created by the effect team is in the composite.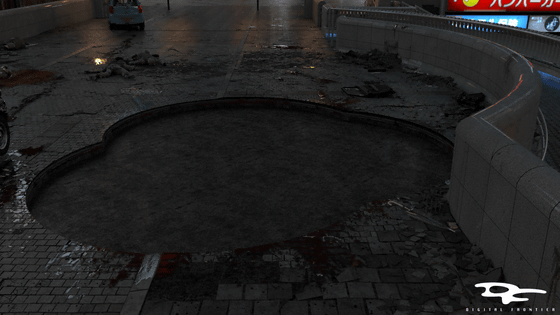 G:
This real feeling is stinky.

source:
This is the one with the blood pond.



G:
Ooo, it is becoming a pond of blood. It is modeled on the real landscape, so it is unlikely that CG of quality so far will be. Usually there is no incentive to make such a thing.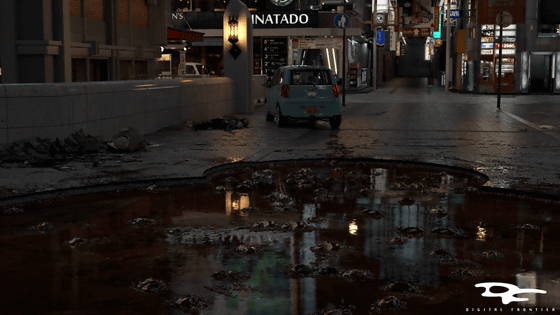 Funabashi:
It also takes time and effort.

G:
It is amazing ... It really is to the point that it is hard to tell what is working on what. What was the hardest thing to do in this case when I thought about putting out realism?

source:
It is that air feeling that I felt that the real feeling actually went to the location hall.

G:
Certainly when I saw the movie, I thought "it is somewhat like that", but why is that "that feeling" appearing?

source:
Because it is making the actual color of the picture and the actual street lamp this time, since it is actually writing with light added by 3D on it from there, after all making 3D also like reality is real, more real I think whether the background could be made.

G:
Was it superfluous that it was a bad idea that I wanted to make it with such quality, or was it a bad idea that I wanted to add more? Or perhaps it seems that OK gave OK for the background smoothly.

source:
I was really feeling like "doing this" while watching the photos of the location.

Kawamura:
Since this time is a real world, I think as a professional "CG it" by comparing it by all means. So, as far as the background is concerned, it was a way to raise the quality finely and finely.

G:
It really can only be said to be amazing background. Everything so far was amazing, but the background is still important to the air feeling.

Kawamura:
Another thing is that people feel real by such things as increasing the reality or having a transparent plastic umbrella because there is a car.

source:
In reality there is no car on the bridge.

G:
That's right, I can not put it, but somehow it feels like "there is something". Also, it seems to me that the whole is destroyed though it is not destroyed, but this is also the point that the car is a point ......

source:
I agree.

G:
The power of the background is amazing this time, I feel real because I make the background real. When I saw a movie, it seemed to be real as a whole or it looked realistic overall, but when I look at it like this now the realness of the background has a considerable influence.

Kawamura:
Yes, it is important.

G:
Thank you for your detailed story.

· Continued
It has heard thoroughly how to make "GANTZ: O" for digital frontier Part 3 · Motion Capture edition - GIGAZINE