A summary of what was announced at Oculus Connect 3, such as a standalone "New Oculus", a controller that adds hand movements to VR "Oculus Touch"


At the local time for 3 days from 5th to 7th October 2016, at Oculus VR's developer conference in San Jose, California, USA "Oculus Connect 3"Is held. In the conference, unlike Oculus VR's VR headset Rift, a new VR headset that can operate without PC "Santa Cruz"And the long-awaited VR controller"Oculus Touch"The release date of Oculus Rift was announced, as well as the minimum operating environment of Oculus Rift was reduced, attention information seems to have been incredibly announced.

OC3 Reveals: Touch Launch, Santa Cruz Prototype, Min Spec, 400+ Mobile VR Apps, and More | Oculus
https://www.oculus.com/blog/oc3-reveals/

Oculus lowers minimum Rift specs using "asynchronous spacewarp" tech | Ars Technica
http://arstechnica.com/gaming/2016/10/oculus-lowers-minimum-rift-specs-using-asynchronous-spacewarp-tech/

◆ Change minimum operating environment of Rift
By adopting the new technology API "Asynchronous Spacewarp", the minimum operating environment of Rift will be lowered. By adopting "Asynchronous Spacewarp", the display can be complemented to 90 fps even with the operation of 45 fps, which is lower than the recommendation, so the GPU is NVIDIA GeForce GTX 970 and the CPU is Core i 5-6400 as the minimum operating environment so far In the future GPU will be NVIDIA GeForce GTX 960, CPU will be Core i 3 - 6100.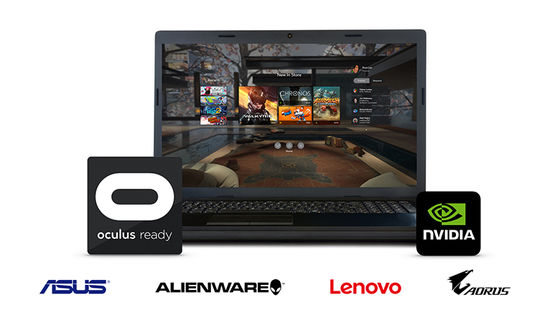 ◆ VR headset that can operate independently without a PC "Santa Cruz"
A prototype of a new VR headset "Santa Cruz" capable of standalone operation has also been released. The VR headset aimed at the middle of "high-end VR headset like Rift which connects wired with high-performance PC" and "VR headset for mobile of entry model like Gear VR in cooperation with smartphone" , "It will be a VR headset capable of wireless play without PC and capable of high quality VR experience".

A movie that actually performs the VR experience with prototype Santa Cruz has also been released.

Introducing the Santa Cruz Prototype - YouTube


It is Santa Cruz that men have in their hands. Although it looks like Rift, there are units in the part located in the back of the head when wearing it.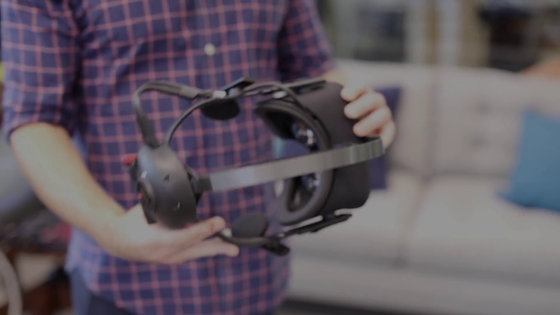 Looking at the wearing state like this.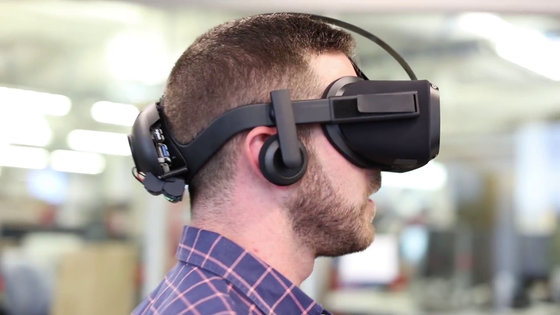 VR experience at Santa Cruz started. From the main body cable etc. are not stretched, you can see that it is operating by itself.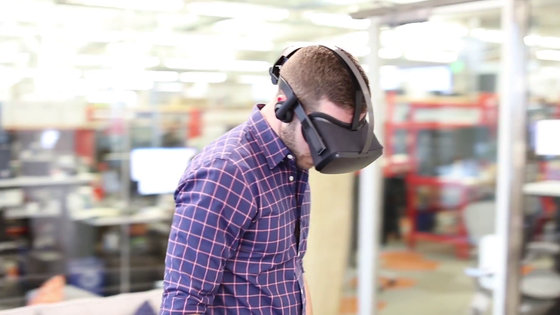 The VR image you are experiencing is displayed on the right side of the screen. It seems that you are looking down on the outside from the top of the building.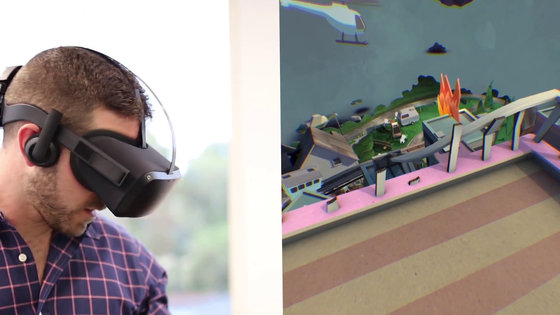 When the wearer walks as it is, the viewpoint of the VR image also moves. Santa Cruz is able to track the movement of users without the need for a dedicated external sensor or the like. This is made possible by recognizing the surrounding environment using the camera on the VR headset side.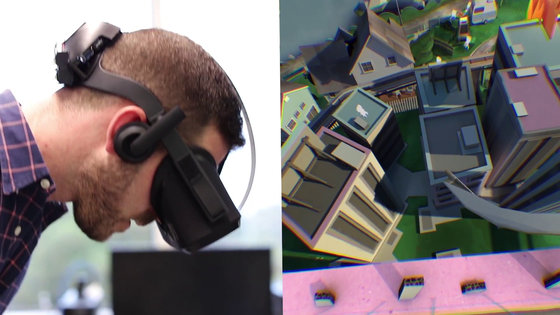 ◆ Oculus Touch
First of all, it was revealed that the reservation start date of the dedicated controller "Oculus Touch" that was waiting for at Rift will be October 10th. The selling price is 199 dollars (about 20,000 yen), it seems that shipping starts from December 6. Oculus Touch has "VR Sports Challenge"When"The UnspokenVR games called "VR game" are included and it is now possible to enjoy VR games without purchasing new content.

Also,Oculus.comFor users who booked or purchased Rift at Oculus Touch, it seems that the reservation of Oculus Touch will be done automatically. If you want to get Oculus Touch as it is, you will need to process with local Oculus account by 11:59 on October 27th.

The number of contents corresponding to Oculus Touch at the time of release seems to exceed 35 titles, and it seems that it will become possible to experience the immersive VR experience more than ever before. You can see that Oculus Touch is a new controller that allows you to enjoy games with a more free and intuitive operation with the following movie.

Oculus Touch - New Controls For New Experiences - YouTube


The controller which can operate at the same interval as the actual hand in the VR game greatly enhances the immersive feeling of "being in virtual reality". HTC Vive comes with a hand controller, so you can operate the PlayStation VR, which will soon appear, with the hand controller. Oculus will also line up with conflicting VR headsets.

You can also see how you actually use hand controllers by watching movies in the following articles.

"EVEREST VR" play review that allows you to experience the harsh Everest climb that is beautiful at home at home - GIGAZINE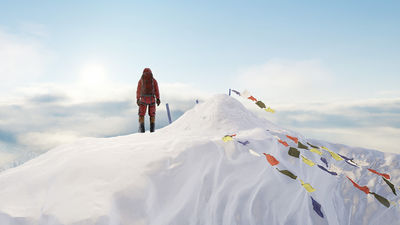 ◆ Expansion of mobile ecosystem
With Gear VR and VR headset for mobile, more than 400 applications are currently available. In order to further extend this, Oculus VR also announced that it added a new addition that will make it easier to create more specialized applications to "Mobile SDK", which the company provides to mobile developers. As a new addition, it is possible to broadcast Facebook Live from the Gear VR application by using the universal menu.

◆ Oculus Avatars
A new platform "Oculus Avatars" with high affinity with VR was also announced. It is possible to create another person in the digital world by making use of avatars of various textures, and the release time is said to be in early 2017.

The Verge of overseas media is experiencing what "Oculus Avatars" is, and if you look at the following movie, you can feel the goodness of the response.

Oculus Avatars: first look - YouTube


◆ Oculus Parties and Oculus Rooms
"Oculus Parties" which allows you to experience VR experience while talking with up to 8 people on a voice chat and "Oculus Rooms" where you can watch a movie in a VR room with friends and launch the same application. Two new services will be released soon for Gear VR, but those for Rift are expected to be released in early 2017.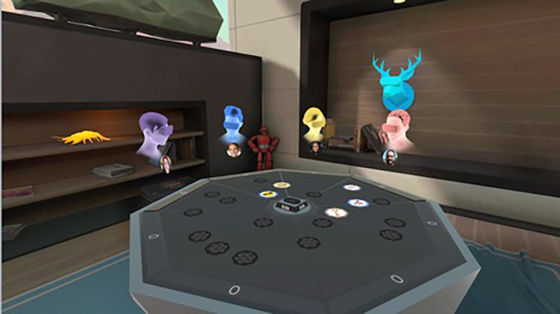 ◆ Oculus Earphones for Rift
A new earphone for Rift "Oculus Earphones" was also announced. The reservation reception is October 10, the price is 49 dollars (about 5100 yen). Shipping will be from December 6.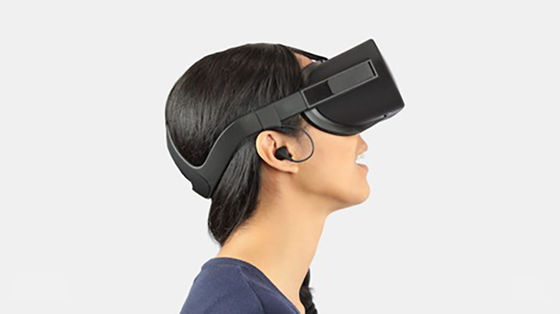 ◆ SingSpace
"SingSpace" which you can enjoy karaoke in VR as much as you want will appear in April of 2017.

Karaoke in VR: SingSpace from Harmonix - YouTube