The benchmark test reveals how much the iPhone 7/7 Plus evolves compared to the old iPhone series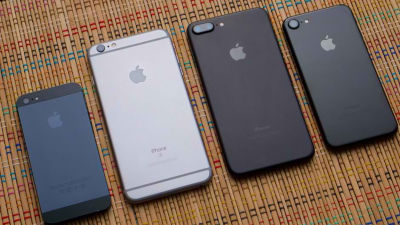 Prior to the launch of Friday, September 16, 2016, a review article on iPhone 7/7 Plus was lifted.Ars TechnicaPerformance comparison test is carried out to examine how much evolution from the old generation iPhone by various benchmark software, how it compares with rival Android terminal etc etc.

IPhone 7 and 7 Plus review: Great annual upgrades with one major catch | Ars Technica
http://arstechnica.com/apple/2016/09/iphone-7-and-7-plus-review-great-annual-upgrades-with-one-major-catch/5/

"A10 Fusion" installed in the iPhone 7 is a quad-core SoC that combines dual core with higher performance and dual core with lower power consumption. This is ARMBig.LITTLEIt is seen that it is the same design philosophy, the high-speed dual core moves at a maximum of 2.34 GHz, and the number of clocks rose significantly compared to the iPhone 6s "A9" processor which was 1.84 GHz. This increase in the number of clocks is thought to contribute greatly to Apple's "40% improvement in performance".

That's why Ars Technica is conducting benchmark tests on iPhone 7/7 Plus in order to compare performance with models equipped with older generation processors called iPhone 6s, iPhone 6, and iPhone 5s.

GeekbenchCompared to the single core performance in the iPhone 7/7 Plus, the iPhone 7/7 Plus overwhelmingly surpasses the old model, and it is surely improving the performance by about 40% compared with the iPhone 6s.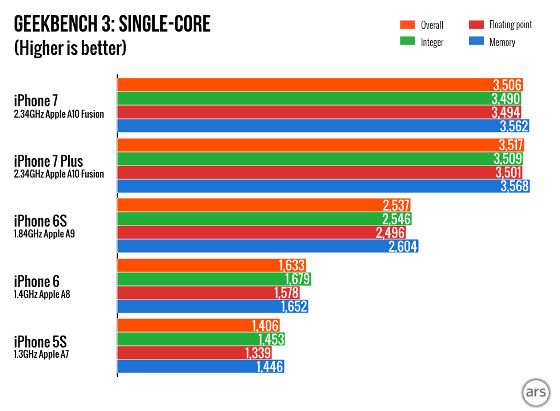 The performance difference shrinks slightly with multicore, but there is no doubt that the iPhone 7/7 Plus has achieved significant performance improvement.



Comparing single core performance with Galaxy Note 7, HTC 10, and Nexus 6P, which is a rival machine equipped with Android, it looks like this. However, because the OS platform is different, you can not simply compare performance with just the absolute value.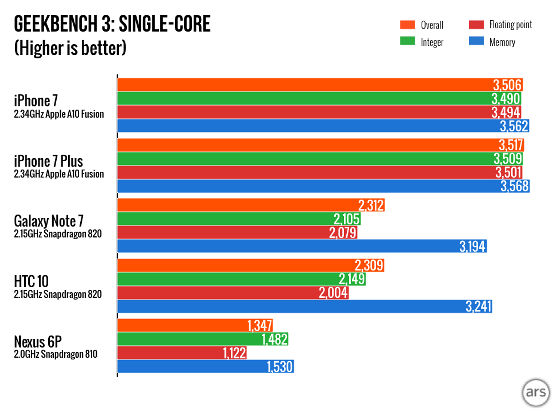 Multicore Performance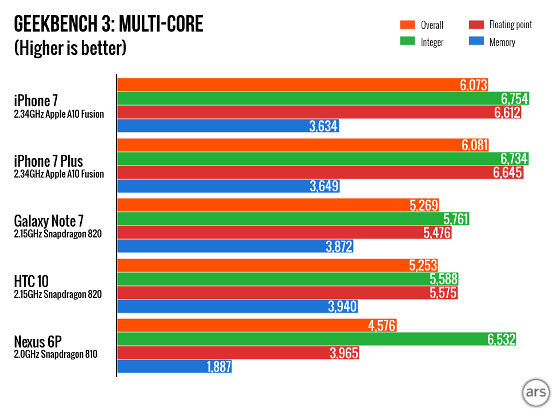 Other,KRAKEN 1.1Ya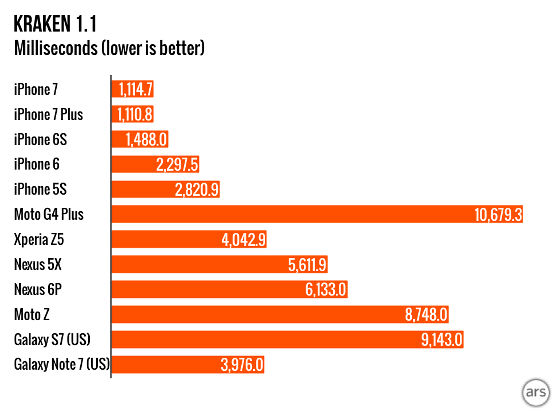 Google OCTANE V2Even with benchmark tests such as iPhone 7/7 Plus, it shows good performance.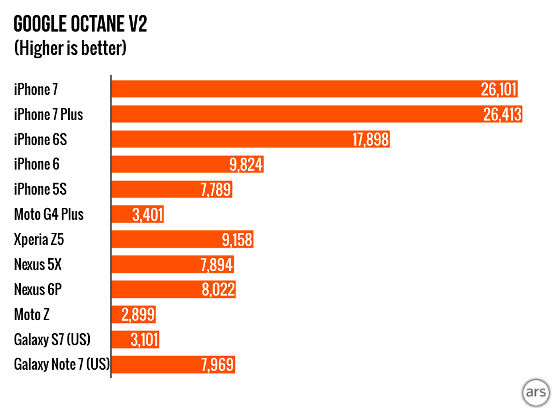 GFXBenchComparison of ON screen and graphic performance using. Somehow the score is depressed on the iPhone 7 Plus which adopts the same graphic as iPhone 7. ,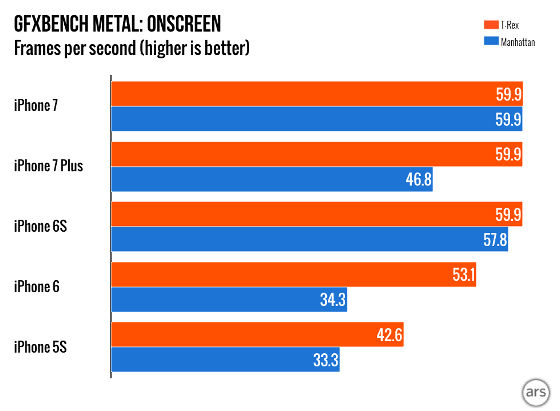 On the OFF screen, the improvement in the low level graphic API "METAL" is reflected, which is a very legitimate result.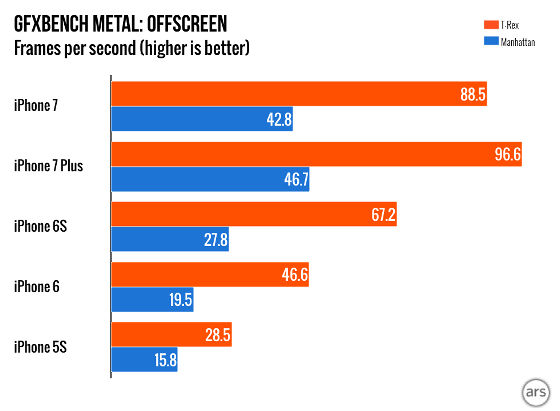 Tests are also carried out on holding batteries. The score at the time of net browsing on Wi-Fi, the iPhone 7 Plus is top with holding down the Galaxy S 7. AlreadyPart leak, It turns out that the battery capacity of iPhone 7 is 1960 mAh and the iPhone 7 Plus is 2900 mAh, but it is the result that you can see the goodness of iOS battery management compared with Android adopted machine.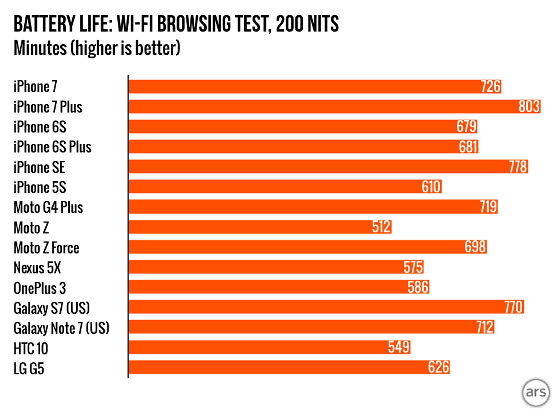 Although Apple does not disclose information about storage, Ars Technica has investigated the relative performance difference by measuring startup time, iPhone 7 has higher storage performance than previous model iPhone 6s It is confirmed that there is.