We have completed Kumamon drawn on a cycling road near Taipei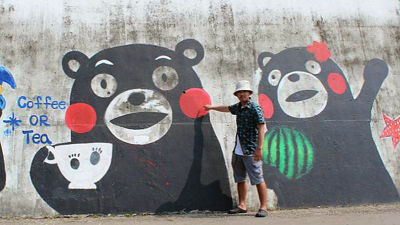 "Kumamoto bear" even if reading from above, "Kumamoto bear" even if reading from below. This is Kumamon in Chinese. People in Taiwan love Kuma characters like elephants in Thailand and Shisa in Okinawa. For that reason Kumamoto's local character "Kumamon" was also popular.

Hello,Takuya Sudo @ circle around the world bicycle @ Charridermanis. Because it was the second time in Taiwan, I have been revenging. There is a place where Kumamon is drawn in the levee of the cycling road near Taipei. This time it has completed.

◆ Cycling Road
I went round Taiwan with a folding bike at the end of 2015. On the day I left Taipei, I faced a variety of faces when I was running a cycling road along the riverEmbankment where Kumamon is drawnDiscovered. Because I was in a hurry, I did photograph only easily, but the expression of adorable Kumamon was burned to my eyes.

In July 2016 I visited Taiwan again. It was a backpacker, but I got a bicycle locally, so I will try to extend my leg to the bear bike area again for revenge.

Taipei City is located in a basin surrounded by a river. The riverbed of the freshwater river, Keelung river which is the city boundary was equipped with such a cycling road.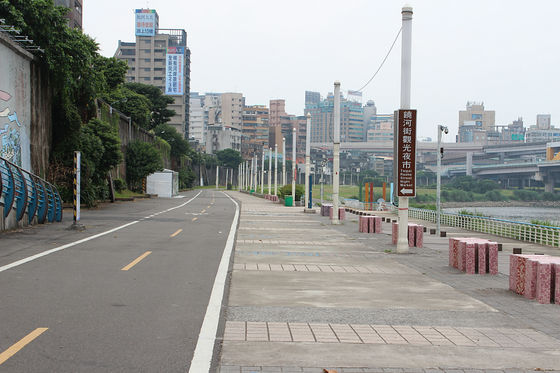 I will aim at Kumamon with a 6-inch folding bike named "CARRY ME".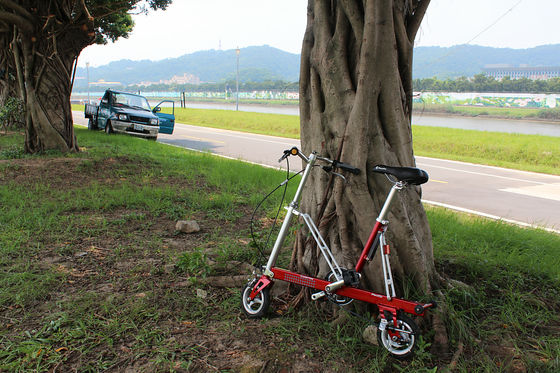 Sports facilities such as parks, basketball courts and tennis courts are enriched in river beds.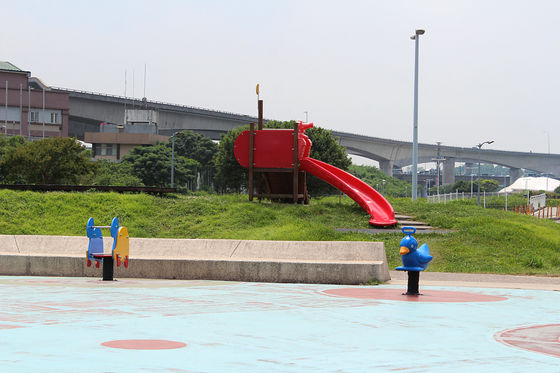 Public toilet.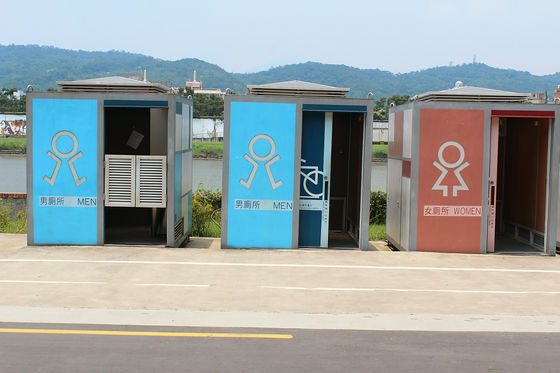 Bridges crossing the river are easy to move because bicycle exclusive roads are also built.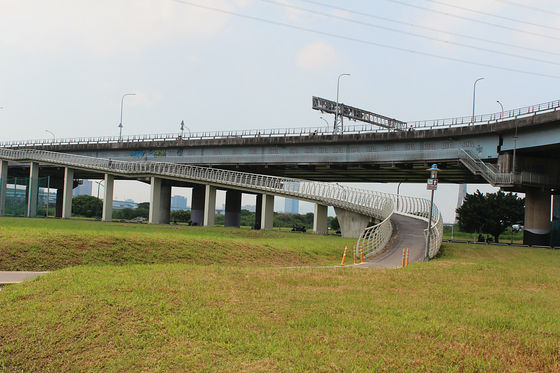 ◆ Full of Kumamon
July in Taiwan where white clouds clearly float in the blue blue sky as in summer in Japan. Humid heavy air clinging to the body will become a jittery sweat and wet the shirt of the fabric. Hats and water are essential. I was pedaling while becoming herohero with such a hot weather. It got sweaty and reached a place of nostalgia.

I think that it is not 100 meters, but this kind of giant monkey is drawn in the embankment.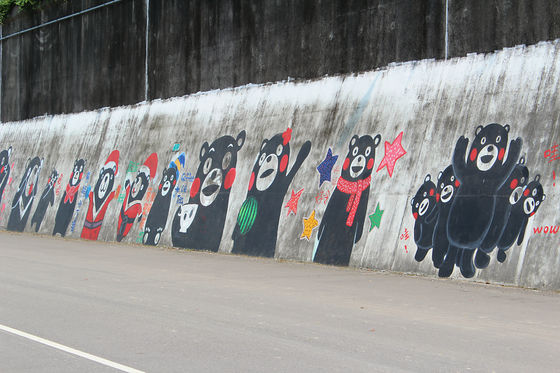 This time I have included all of the Dammon in the photograph from the end to the end.

Bus stop and umbrella. This is possibly Totoro !!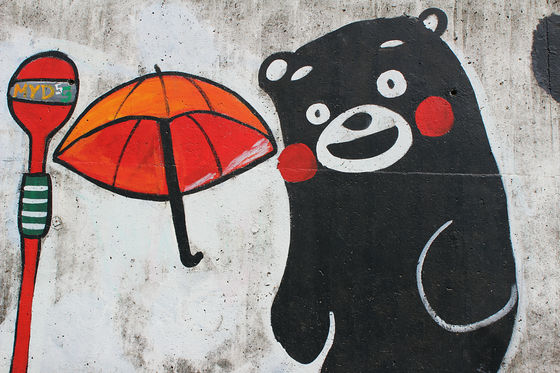 Mr. conductor.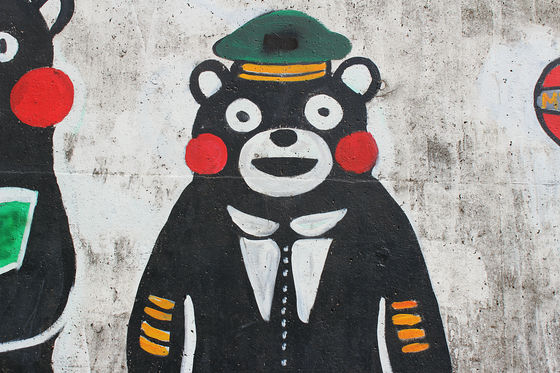 I am reading.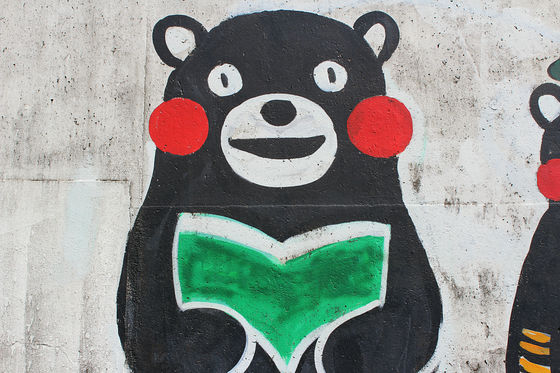 This is not unique to Taiwan, not KumamonTaiwan Asian black bearis. It is a wildlife representative of Taiwan, characterized by a V-shaped white spot on the front of the chest. It lives in the central mountain range of Taiwan, but since the number of individuals is decreasing, active protection activities are proceeding. For this reason Kuma characters are popular in Taiwan.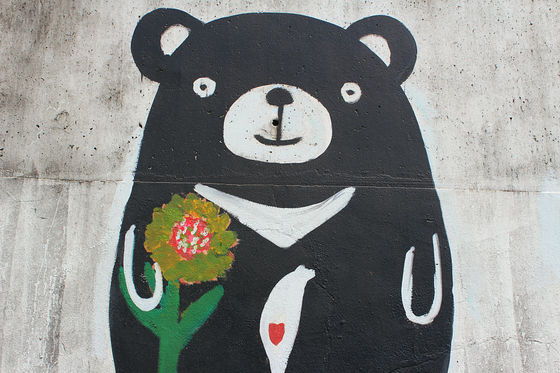 I also pinch intelligent pandas.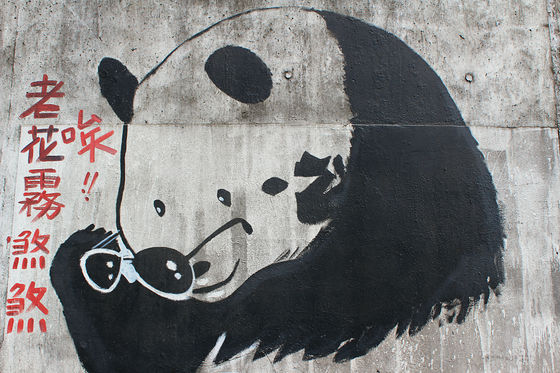 Kuma monworld full of love with "I love you". The number 520 means "I love you" in Chinese. Slang that the pronunciations of "520 (wu er ling)" and "my love 你 (wo ai ni)" are similar.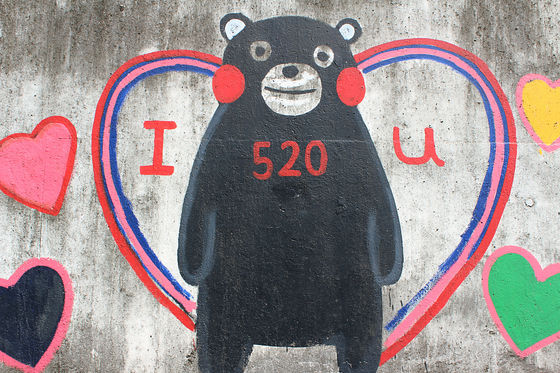 Hanshin fans.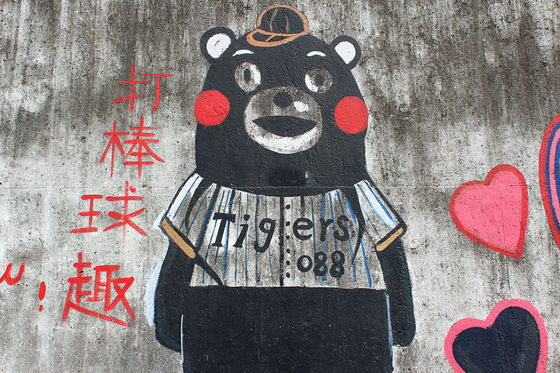 Pose of Momoiro Clover Z.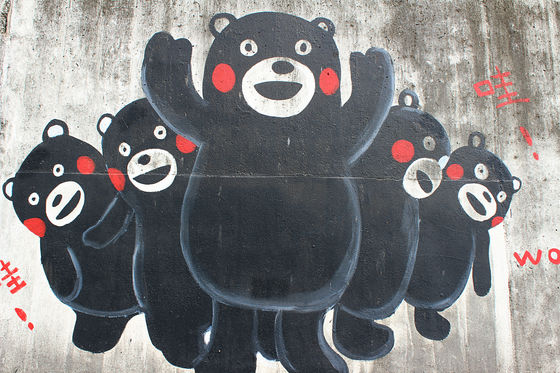 "Call cold cool (Ah, very cold)" and a muffler.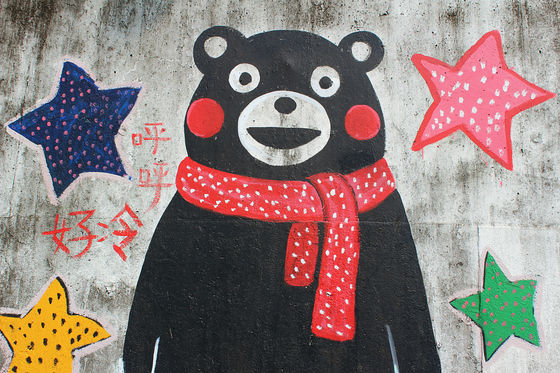 Flower hair ornaments and watermelon.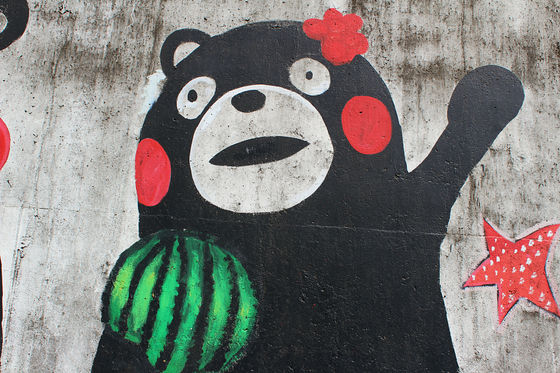 Why do not you join me for tea and Kamamon?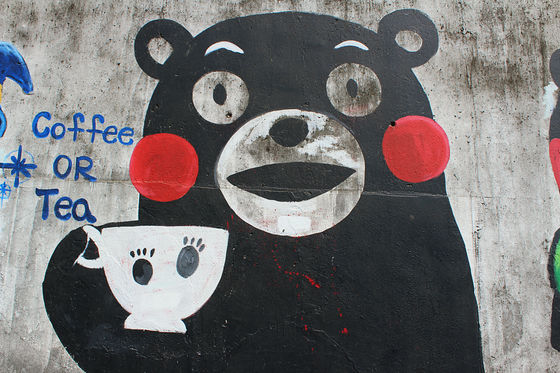 Witch.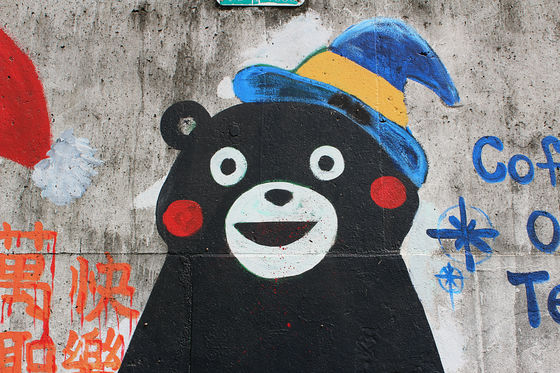 Celebration of "Merry Christmas" is V Beare (威 熊) rather than Kumamon. It is LCC of TaiwanV Air (Warrior)Mascot character. The heart shaped nose and V-shaped white spots on the chest are trademarks.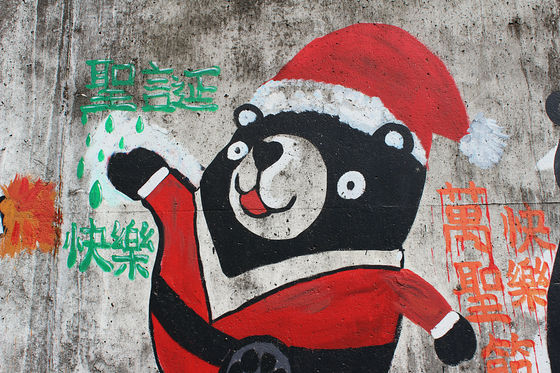 With cheerleader's pom pom in both hands.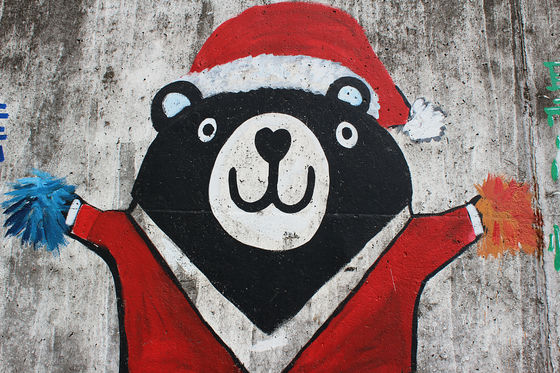 Kumamon in the form of a scarf that showed a smile with plenty of room.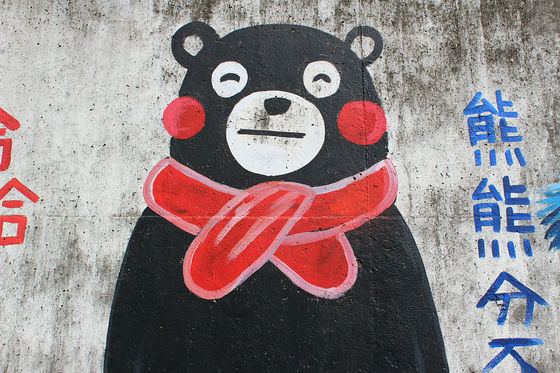 Laugh with "Ha ha".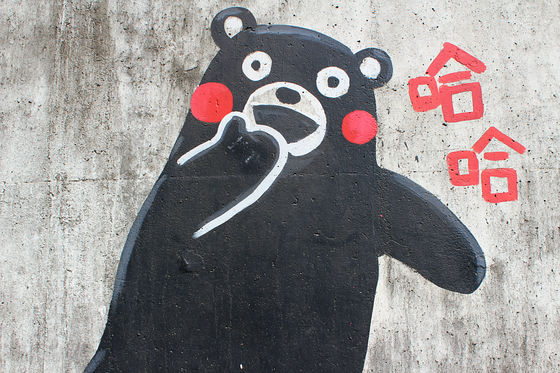 Still V Bear, Akanbe.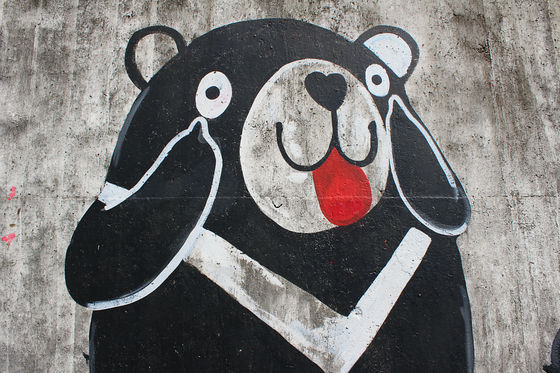 A cute pose of exceptionality.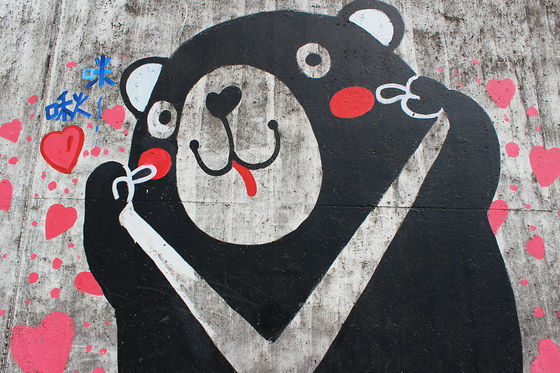 Return to Kumamon, banzai.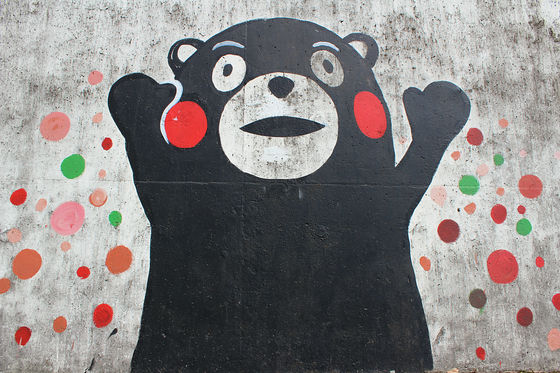 Uhufu.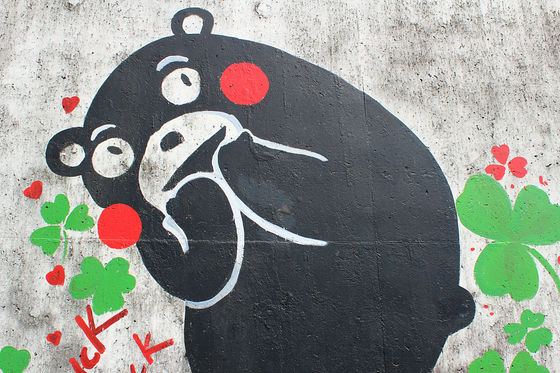 Good sign with "First stick (Ichiban)".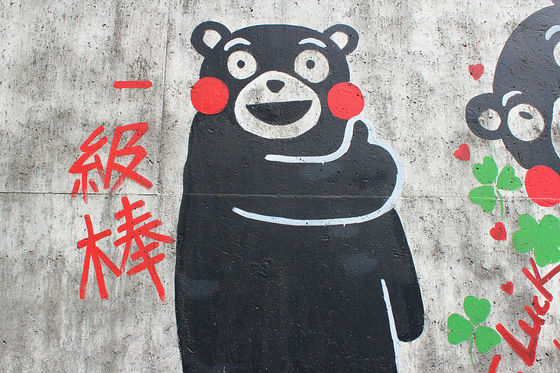 The back of the foot where I sat down.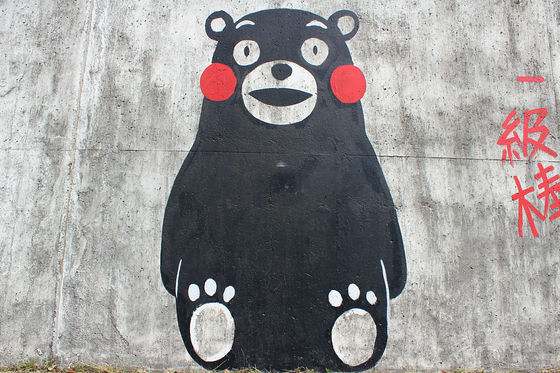 Kuma mon rider.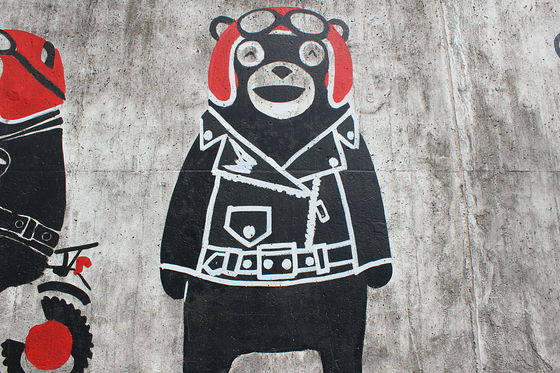 I also ride a bike.



I will pinch a penguin here for a moment.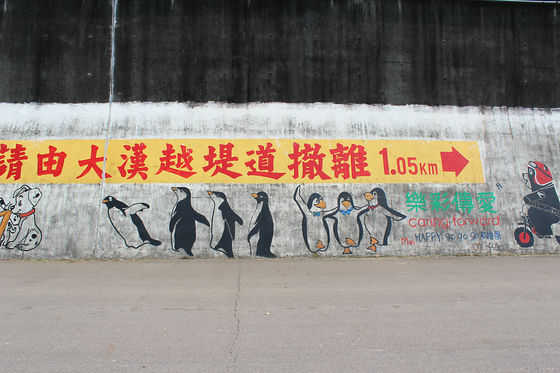 Next is Dalmatian (dog), zebra, panda. Unification feeling that all black and white patterns ... ....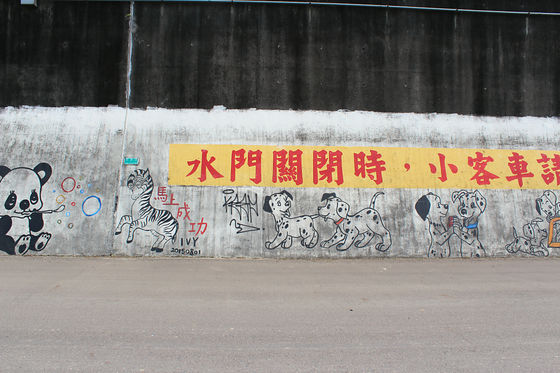 Yes, panda panda.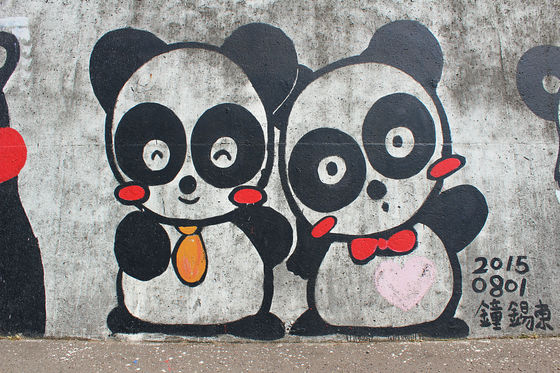 Women's power is high Kumamon.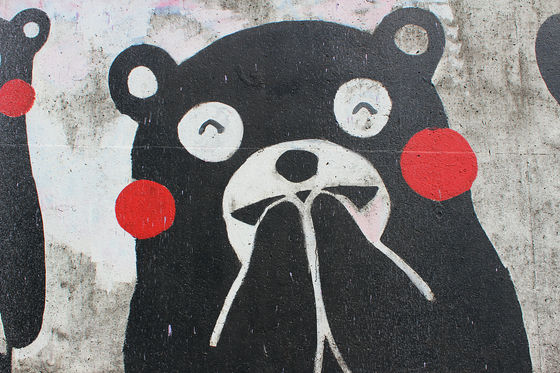 Candidacy.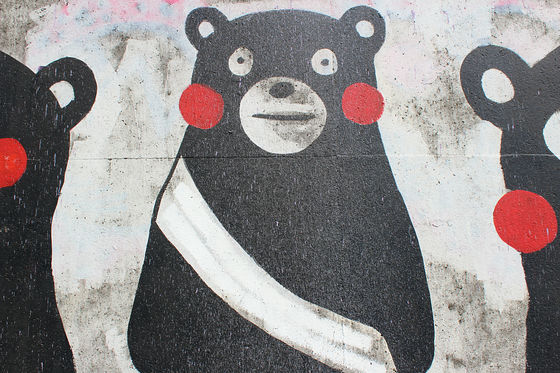 Large yawn.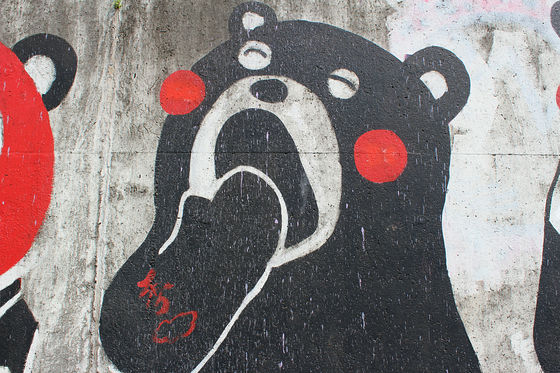 A smile.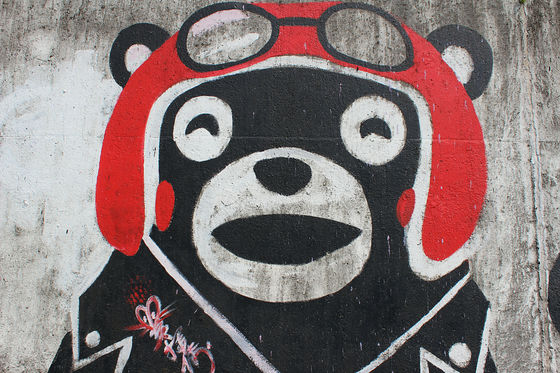 love.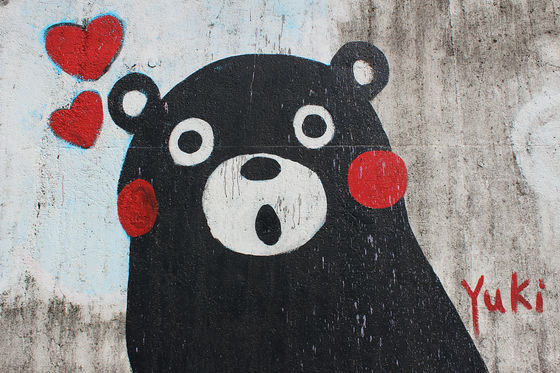 I love you.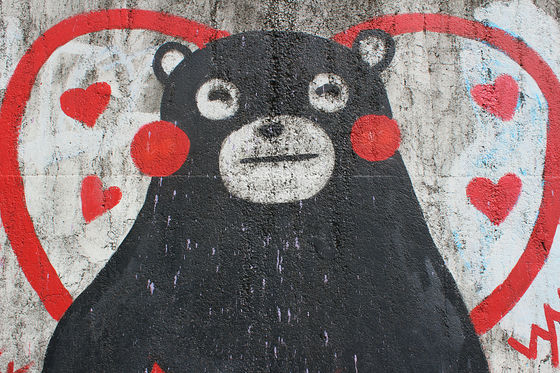 Trinity.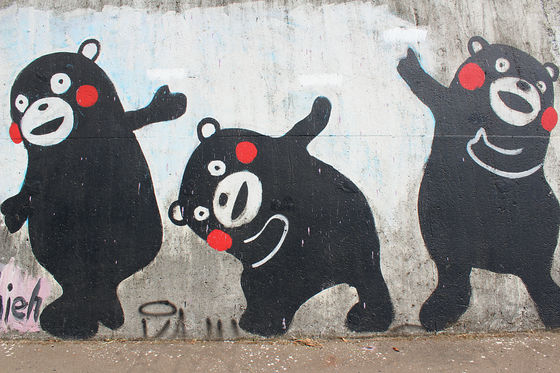 Choreography of "Choo Choo TRAIN".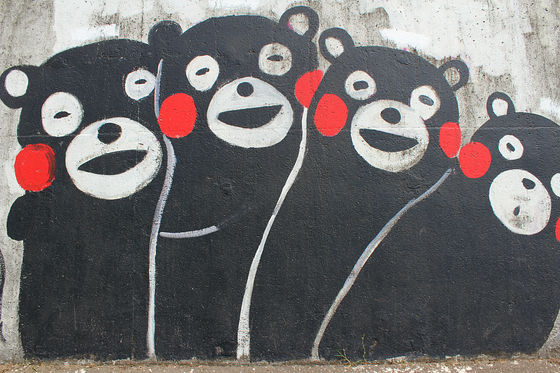 I am sorry for having a pleasant panda here.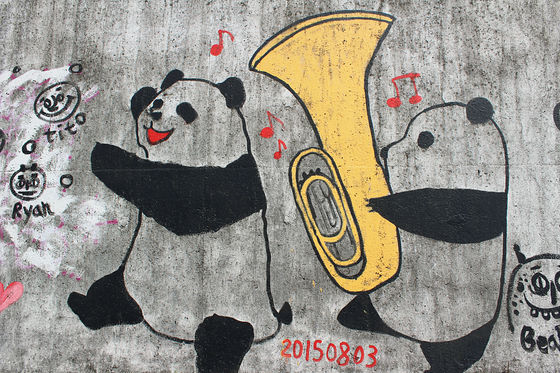 Panda got married. Be happy.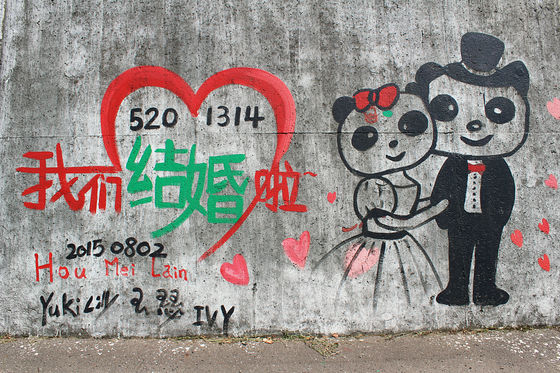 Black cat zone that is fucking.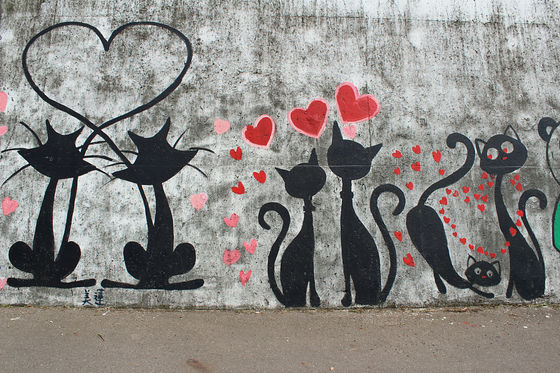 And Kumamon is also in romance.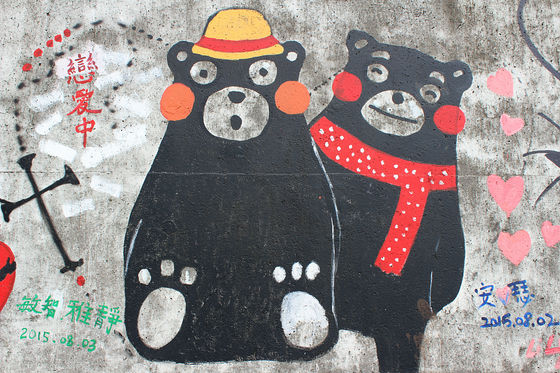 I am concerned about 'I'm reducing weight fertilizer (I have to go on a diet)' and weight.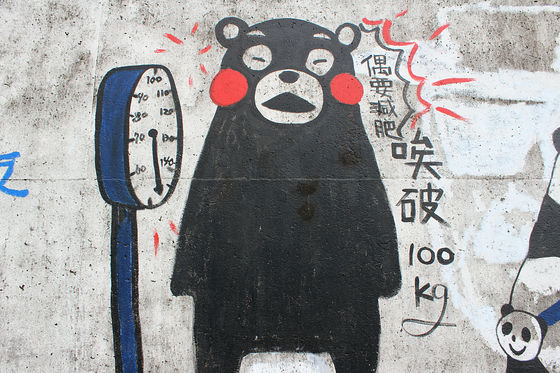 "Rice bean (rice)" and Mr. Cook.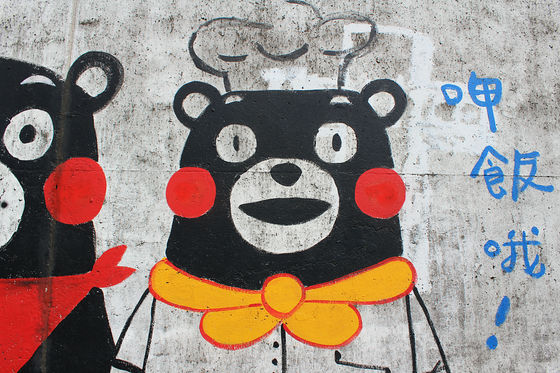 Kumamon put a napkin around the neck around the pair.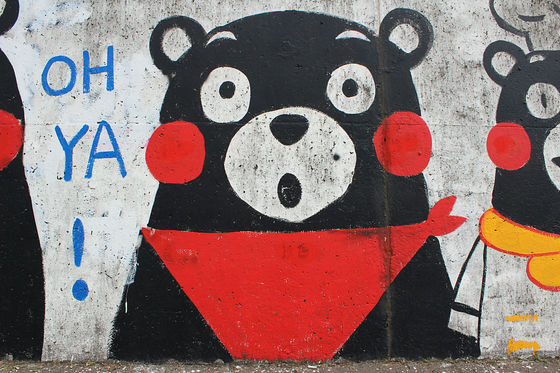 Appearance with Ufufu.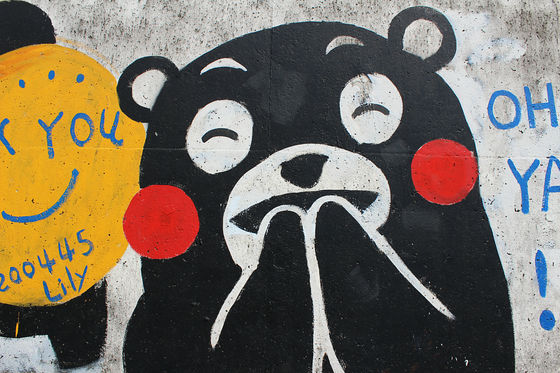 Is "For You" present?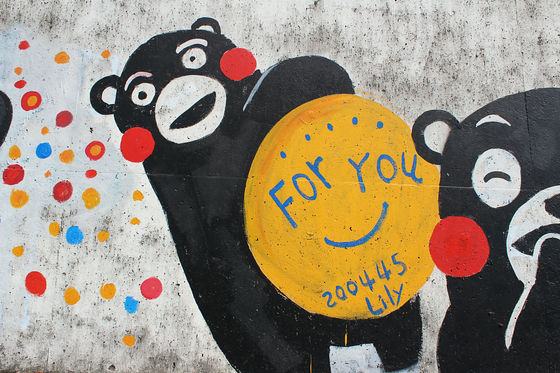 With Christmas cake with one hand.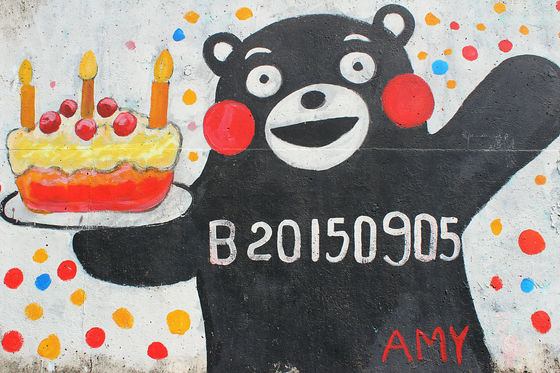 And this far.

Kumamon and Kuma characters were lined up like this.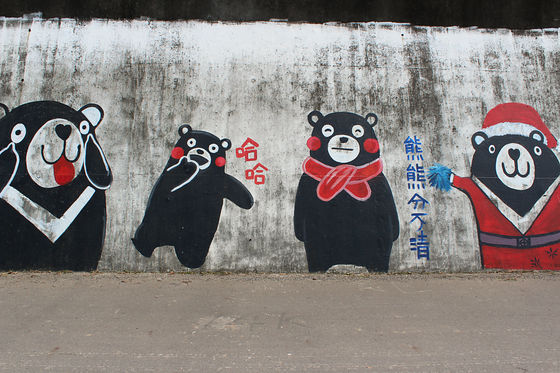 Pet a cheek as it's a big deal.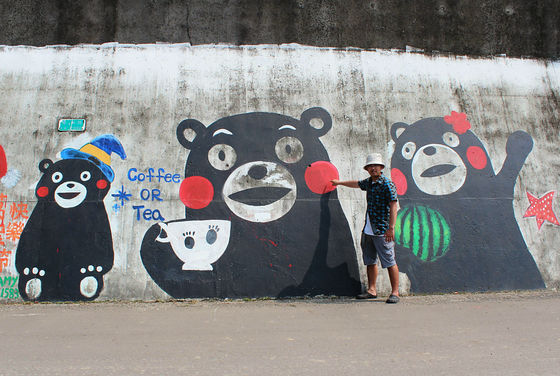 Try connecting hands.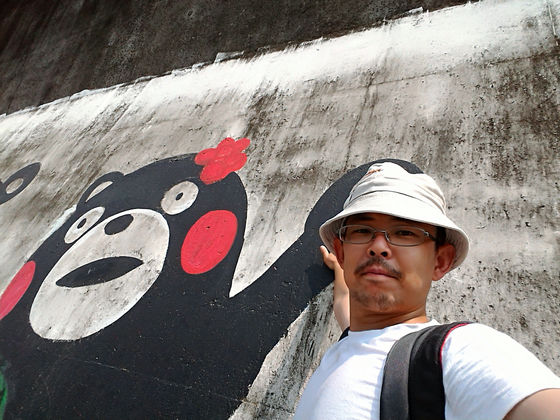 ◆ Hua Jiudai Gate
Cycling roads with lots of giant monsters will be near the place called "Hua 橫橫」 ". Damned cranes were lined up right in the east (right after passing through this gate from the side of the road). This place is not Taipei City but Ninbuki City of the town.


Hua 橫 橫 transition gate seen from the river side.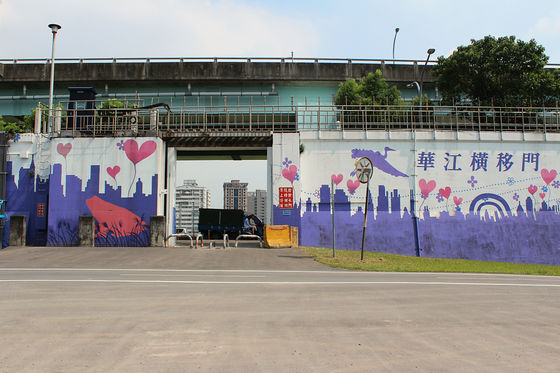 There is a gate near the grass behind the embankment where Kumamon is drawn.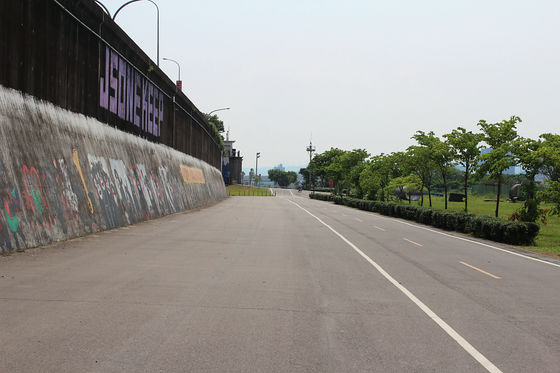 There was also a facebook page.

Hua Xiaodae gate
https://www.facebook.com/pages/%E8%8F%AF%E6%B1%9F%E6%A9%AB%E7%A7%BB%E9%96%80/738841819500343

◆ It is damaged
Although it was a satisfactorily cycling road Kumamon, it was somewhat damaged as compared to the previous year. The background of the previous year was white, but this year it was washed away and the surface of the concrete is floating up in mottles.

November 2015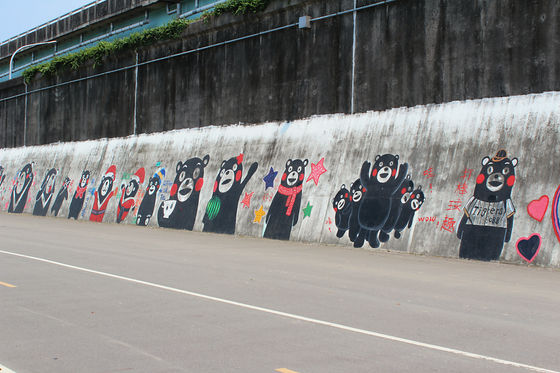 July 2016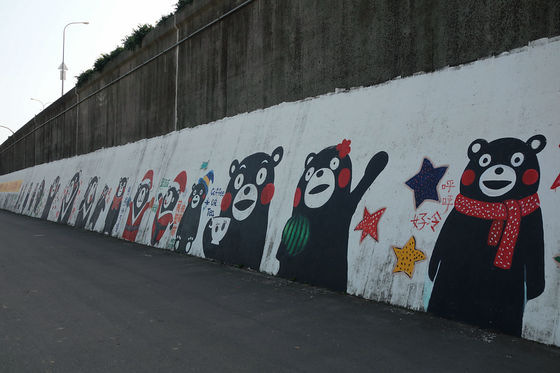 White of a beautifully painted background.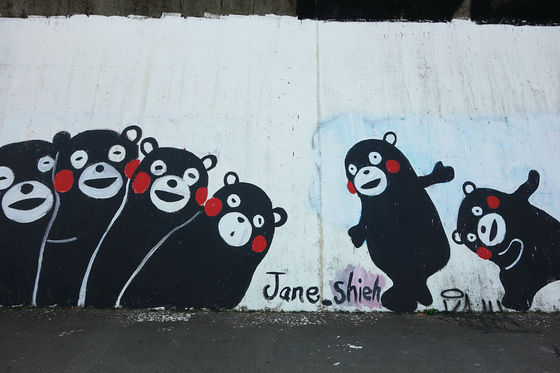 Would you like to have tea with Kamamon in November 2015?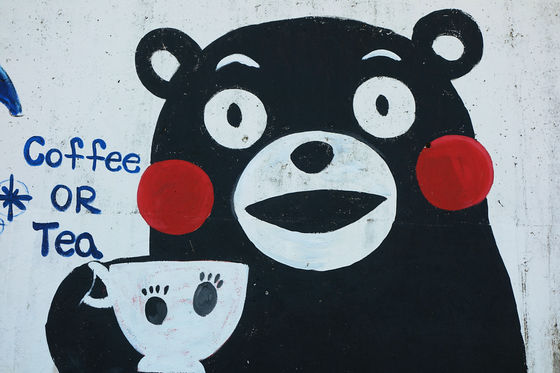 It may be useless because it is hot and humid, but I worry how long it will keep shape.

◆ Kumamon Cafe
I came across Taipei City on the way back from enjoying cycling dumpling, I found a monster cafe by chance. Nakayama station of the subway is the nearest station. It is located on the south side of Nanjing East Road.

Dampen that looks like a waitress.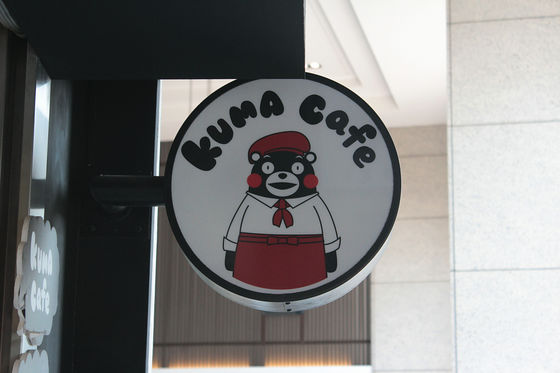 It is hard for the sticker on the window.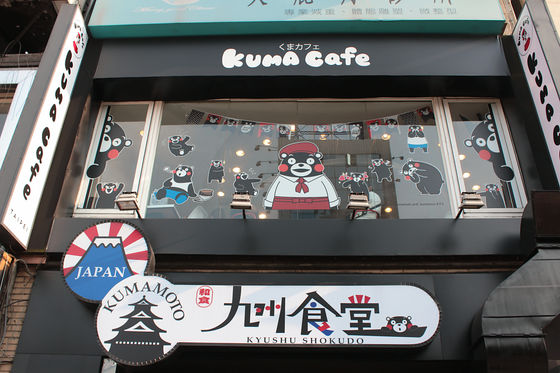 It was a figure reminiscent of the naked general as "Konamon wants to eat rice balls" that was put at the shop front.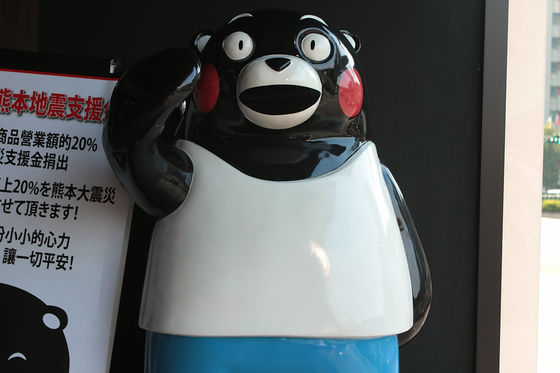 I am taking a picture with my right hand smartphone.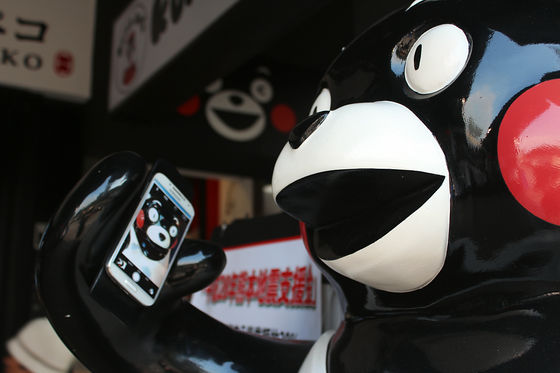 It was a passing thing this time, but next time I would like to have tea in the shop next time. Even in Taiwan, Kumamon is really popular, as it is a pattern of a passerby's T-shirt.

In TaipeiPublic bicycle called YouBikeBecause there is a system, it is okay without your own bicycle. If you made time in Taiwan, you can also recommend a day by bike to go see a cycling road Kumamon.

There was a spot in Taiwan that is not so much a major hole ...... or so.

(Sentence / photo: Takuya S. Narou Charriderman
Cycling around the world for a bicyclehttp://shuutak.com
Twitter@ Shuutak)