With the development of 3D printer technology EU applies "copyright" to furniture design, the protection period extended to nearly 100 years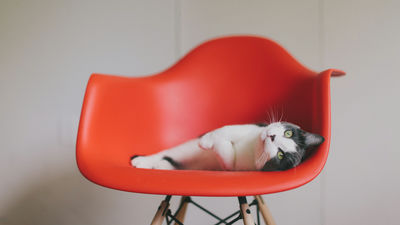 ByGabriel Li

Furniture design is protected by "design rights", in the UK 25 years the protection period by design rights is over and will transition to the public domain. UK and EU decided to expand the protection scope of "copyright" to the design of furniture, so even if the design right expired, it will be protected by copyright for 70 years after designer's death, close to 100 years Duplication of furniture was prohibited throughout.

Buy your design classic now - it's about to rocket in price | Money | The Guardian
https://www.theguardian.com/money/2016/jul/29/buy-design-classic-now-about-to-rocket-in-price-copyright-law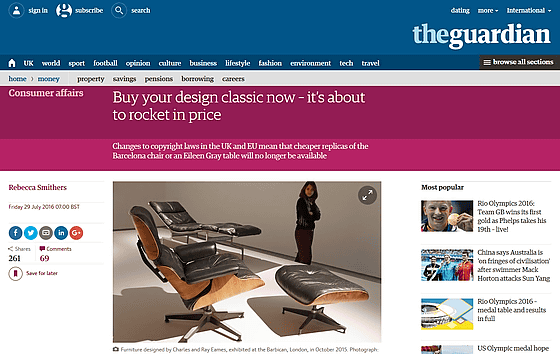 As 3D printers break through, EU expands copyright to furniture and extension term by a century | Privacy Online News
https://www.privateinternetaccess.com/blog/2016/08/3d-printers-break-eu-expands-copyright-furniture/

Since the furniture whose design right has expired is transferred to the public domain, anyone can manufacture furniture of the same design. Design chairs with design rights such as Barcelona chair and Eames chair have been sold, replica items are sold from many manufacturers, and they can be purchased at a lower price than original goods. On the other hand, since the British government enacted the law that applies the copyright, not the design right, to the furniture design on July 28, 2016, even if the period of protection of the design right is over 25 years, copyright "Protection period of 70 years after creation" to be applied will be applied.

As the designer of the Eames chair died in 1978, the design right has already expired. Under the new law, copyright protection will last until 2048, so replica production will be impossible. Regarding what the Eames couple jointly designed, since the Mrs. Eames died in 1988, the copyright protection period will last until 2058. Replicas are often sold at a lower price than the original, but from now on "The original design will be forced to cost expensive," The Guardian says.

The difference between the original and the replica is detailed in the following page.

Eames chair Original and replica thorough comparison
http://vanilla-kagu.com/fs/design/c/about-eameschair

As the EU follows this UK decision, the handling of design rights and copyright will be changed throughout Europe. This change is prohibited not only by replicas but also by 3D printers, and it is considered to consider the development of 3D printer technology. A legal replica may be sold from a design furniture whose design right has already expired, but a transition period of six months is available before the law is applied. Since the transition period ends on the last day of January 2017, manufacturers selling replicas are forced to take measures such as discontinuing sales.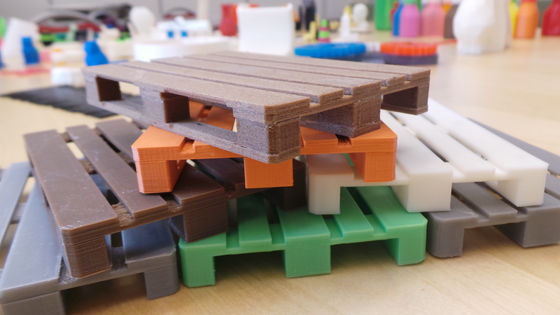 ByCreative Tools
in Design, Posted by darkhorse_log