"GANTZ: O NIGHT" the director talked about the movie "GANTZ: O" that the first person who knew "GANTZ" can enjoy, Oku Hiroya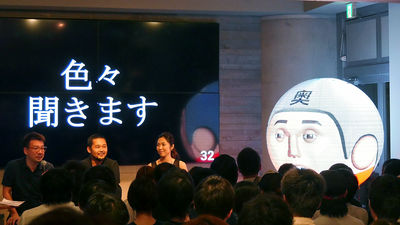 A movie released on 14th October 2016GANTZ: O"As part of the event, in Shibuya's FabCafe Tokyo a fan event"GANTZ: O NIGHT ~ @ hiroya _oku SHIBUYA Mission ~"Was held. To this event, the original creator, Hiroya Oku, who did not show up so much, was "transferred" by Ganz and participated.

GANTZ: O | Gantz: Official Website
http://gantzo.jp/

GANTZ: O | Ganz: Official Official (@ GANTZ_O_movie) | Twitter
https://twitter.com/gantz_o_movie

The state of the event was relayed by NicoNico Live Broadcasting.

GANTZ: O NIGHT ~ @ hiroya _oku SHIBUYA Mission ~ - 2016/08/03 19: 00 start - NicoNico Live broadcast
http://live.nicovideo.jp/watch/lv269693311

In "GANTZ: O NIGHT", a black spherical body "Ganz" symbolizing the work is set up in the corner of the hall, and the directive "GANTZ: X" which is the official site of the "GANTZ" project, the popular vote of door painting gravure The story about the project "GANTZ: H", and the movie "GANTZ: O" was developed.

GANTZ: X | Ganz Official Site
http://gantzx.jp/

GANTZ: H | Gantz official website
http://gantzx.jp/h/

Directed by Yasushi Kawamura in part related to "GANTZ: O", Sami Katsura, a motion capture performer of role playing Yu Saki, appeared. In addition,Hiroya OkuWas "transferred" to the venue as "Tanaka Hoshi (Oku sensei version)" and participated.

Although the special feature video has already been released, in this event the first appearance of Gengeno struggling in Shibuya as the beginning part of the movie was announced for the first time.

As for the image, it is a work that is praised as "amazing" from many directions, but Katsura and Matsuyoshi are motion capture performers who support that. The voice is played by the voice actor and the movement is played by the motion capture performer, but the capture is to capture up to one blink and one movement of mouth corner, taking from 360 degrees all directions during shooting It is being done.

The fact that Katsura was in the venue also showed the appearance scene of Kyou, but his move was also cute to acclaim the wife "touched my moe" unintentionally. Actually, Mr. Katsura originally planned to receive the audition with the role of Reika, but since Kyou had some similarities such as "Kansai" and "Child", he embraced a sense of affinity and challenged the role of Kyō It is. As it is said that it is imagining and playing between coma and coma that is not drawn in manga, it may be that the synchro with the role appears in the image.

"O (O)" which is a movie title means "Osaka edition" of the original, but it is also a very late episode in the original. Regarding that point, it seems that the director also pointed to "Osaka's edition?", But because the movie made is something that GANTZ can enjoy for the first time and how to make the screenplay can be cleared It seems he was able to make a picture in this way.

This time, my wife who likes 3DCG animation likewise because it becomes 3DCG animation, in fact, there were a lot of dissatisfactions with the CG movie of the world. However, looking at "GANTZ: O" that was produced, it seemed satisfying, making ideal things without saying anything.

As for 3DCG animation, Director Kawamura said that it was uneasy whether a semi-armed thing would be accepted, not a deformed one like Disney Pixar. Although we developed a more real version, there were lots of voices that it was better to deform, and as for itself, I felt that communication was not going well unless moderately deformed, I made a fine balance adjustment That's right. As for this picture, his wife also liked it very much, "It resembles an original picture, yet it resembles ordinary people, it is made of a picture like a mid-point and it is a great honor." .

Also, about the character, in fact the small neta that "Mob is more real". This is because director Kawamura, who is reading GANTZ, felt that "there is a real mob", he gathered the in-house staff and has selected himself as "model you like GANTZ" And that. And, there is something the same person as the main character plays "inside man" of this mob, for example, Mr. Katsura plays apart from apricots, a dentistry black bed and the like. According to Ms. Katsura, Kyou is thinking "let's do this", but since Mobu was able to do it freely, he seems to be "released." In this way, the same actor may play a totally different role, it may be unique to the motion capture performer who is "middle man".

Besides the special bulletin, the film's movie was published in April and May of 2016 entitled "Mr. Oku sensei's misuses tweet", and his wife released the movie with the official Twitter account. This content is "my favorite cut" chosen by his wife, and the tweets were played 555 7989 only during the GW. At this time, director Kawamura was entering the finishing work, but thanks to the very good reputation of the tweet, he seems to have recovered his power and worked.

Please make sure to see it again twice according to the event.


GANTZ: O NIGHT Thank you for watching! Tisuyuki video again! It is a finished version with sound. Please tap and listen! Part 1# GANTZ_OPic.twitter.com/IfALpg8SQx

- Hiroya Oku (@ hiroya_oku)August 3, 2016
Completed edition with video image sound 2# GANTZ_O@ Hiroya_okuPic.twitter.com/3 Ytuqjf3SB

- Hiroya Oku (@ hiroya_oku)August 3, 2016
Completed edition with tirow movie sound part 3# GANTZ_O@ Hiroya_okuPic.twitter.com/74 BkmjD 80 P

- Hiroya Oku (@ hiroya_oku)August 3, 2016
Completed edition with tirow movie sound part 4@ Hiroya_okuPic.twitter.com/IOWLSaIruR

- Hiroya Oku (@ hiroya_oku)August 3, 2016
Completed edition with tirow movie sound part 5# GANTZ_O@ Hiroya_okuPic.twitter.com/LnVoTKTOmD

- Hiroya Oku (@ hiroya_oku)August 3, 2016
Completed edition with tirow movie sound part 6# GANTZ_O@ Hiroya_okuPic.twitter.com/PuLE81wH80

- Hiroya Oku (@ hiroya_oku)August 3, 2016
This is the last one. Completion version with animated sound movie version 7 "GANTZ: O" Movie release is Friday, October 14th this year!# GANTZ_O@ Hiroya_okuPic.twitter.com/YU3Kb6zJEe

- Hiroya Oku (@ hiroya_oku)August 3, 2016

Also at the venue it was announced that the theme song of the movie was "dancing coz" human video. Shiori Ryohei, who likes GANTZ himself, said that he wanted to show off to the official announcement when he told me about the theme song. Regarding the song "I made songs that are not ashamed of GANTZ as fans" "I thought that when I saw it in the preview" I felt confident. As phrases quoted from the original are also used in lyrics, it is said that those who know it is more enjoyable.

The animated version of the music video released at the venue can also be seen by his wife on Twitter.


"MAN VIDEO" MV of Dress Causs who decided on "GANTZ: O" theme song! There is a feeling of running, catchy, I think that it is perfect for this movie of action main!# GANTZ_OPic.twitter.com/TZIjOL9wpC

- Hiroya Oku (@ hiroya_oku)August 3, 2016

To the person who sees the work from now on, the director says, "I think that GANTZ fans have become highly satisfied, and if you do not know strangers, I think you can enjoy 90 minutes in the blink of an eye Comment.

Mr. Katsura said, "Since the character moves vividly on the screen vividly, the image beauty sticking to detail, blinking and mouth movements, if you can see it in the movie theater," he said.

The original author's wife also says "I think that it will be more than that, even if I expect it," this work is praising as it is, October 14th.

By the way, the question and answer was done at the last hour of the event, but the wife asked "from which Niko student" Do you like breasts and buttocks? "Asked," Which one do you like better? Is it people? "I answered. Speaking of GANTZ, there are actions, but your sex appeal is also an important point, so it's also noteworthy.

A new special report "Survival edition" published in conjunction with the end of the event is like this.

"GANTZ: O" Special News "Survival" Hen - YouTube


◆ Staff
Original: Hiroya Oku
Overall Director: Sato Keiichi
Director: Yasushi Kawamura
Screenplay: Tsutomu Kuroiwa
Music: Ikehiro Ike
Production: Digital Frontier
Distribution: Toho Imaging Department
Production: "GANTZ: O" Production Committee

◆ Cast
Masaru Kato: Daisuke Ono
Kyou Yamasaki: M · A · O
Nishiichirou: Tomohiro Guo
Reika: Saori Hayami
Ryoichi Suzuki: Shuichi Ikeda
Nurarihyotan: Tsugayama Odori
Kimura Susumu: Onosaka Masaya
Heiji Tsuda: Kenjiro Tsuda
Hara: Teruaki Ogawa
Announcer: Yoshida Naotoh
Geno total: Hiroki Kaji