I ate sushi "eel butter" etc. with butter melted with eel on "eel" with "jin"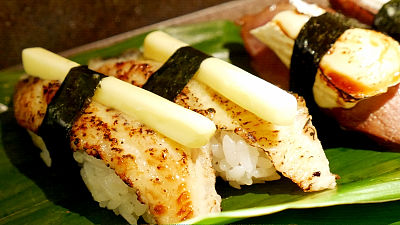 Offering unique sushi which can not be eaten by others, such as sushi combined with camembert cheese and duck, and sushi which melts butter from Toro to rice on eel "Sun"is. I could not imagine what it would taste like, so I went to the shop to actually eat it.

Fresh live fish sushi
http://jinen.org/

Although Jinzen is deployed mainly in Osaka, there are 4 stores in the Umeda Initial Tenjin Store, Eriya Nantori Store, Shimizu Town Store, Shimizu Hokko Store, but this time I went to the Umeda Initial Tenjin store this time. The address is "Osaka City Kita-ku Sonezaki 2-5-24 Central Building 1st Floor", about 216 m walking from Higashi Umeda station.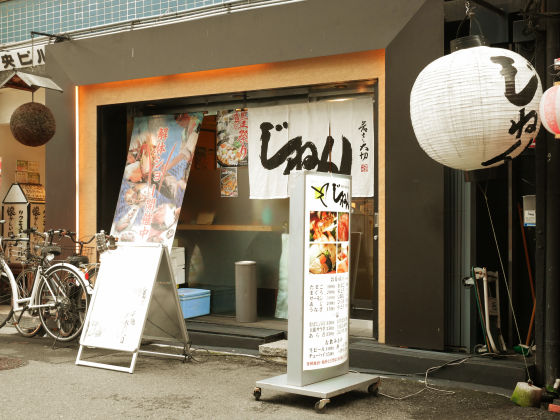 I headed for the store at 17 o'clock and it was the most customer. However, the day we visited was full of reservations despite weekdays, and since the visitor who came third went down to refuse entry, it seems to be good to make a reservation the day before.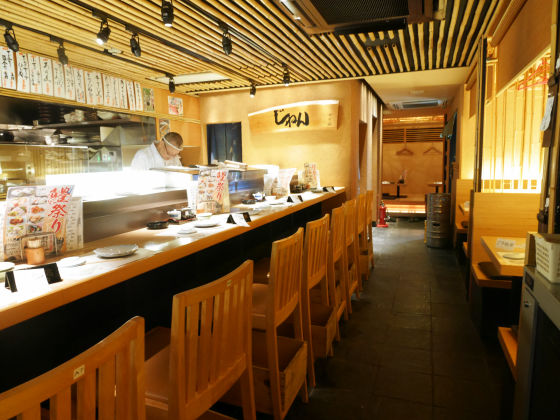 There was a table seat, a zashiki seat, a counter seat, but this time it was introduced to the counter seat.



There is a classic menu on the table ......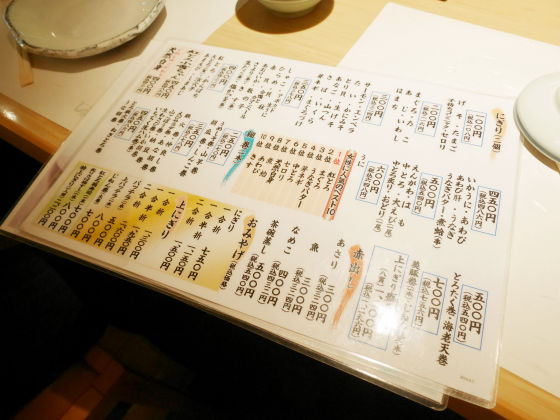 Today's recommended menu was put.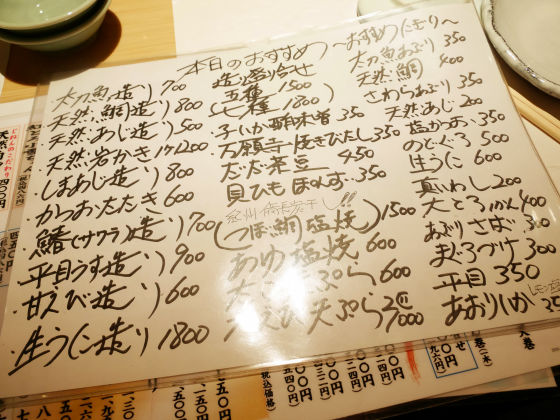 So, if you wait for a while after placing an order ......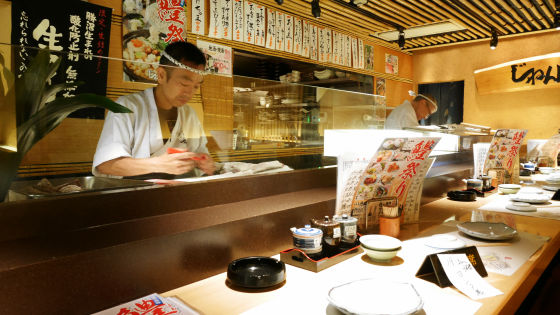 With such a feeling, the tusks are arranged in front of you.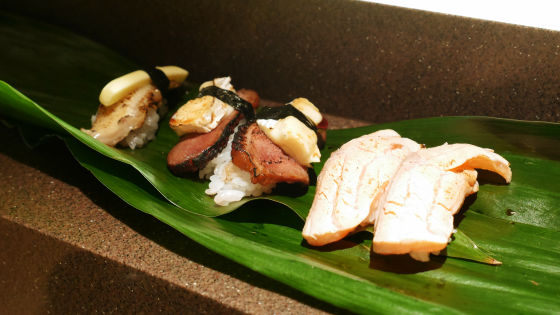 So I will eat from "eel butter (486 yen including tax)" aiming at once.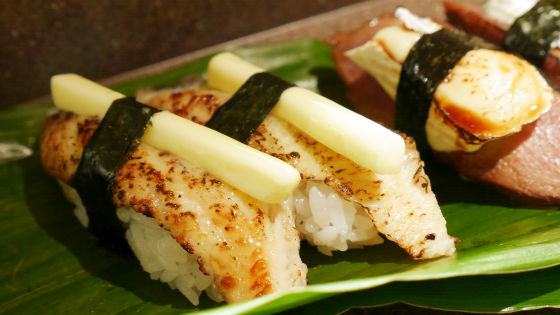 The eel with butter is wrapped in pastry on the sharp eel and butter are sticky. Butter is an unsalted butter, melting and melting on a warm eel. When eating in the mouth, the eel with greasy butter felt more creamy and mild, it was a combination that I had never tried, but it fits very well. In addition, mellow butter complements the sweetness of Shari, it was a product that felt quite thick as a whole.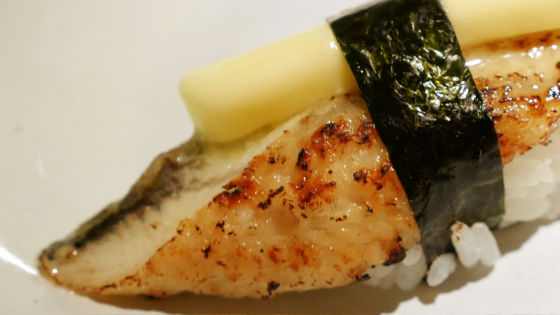 On the other hand, I will try to eat lots of things because there are other strange stories. In the middle is "duck and camembert (378 yen including tax)"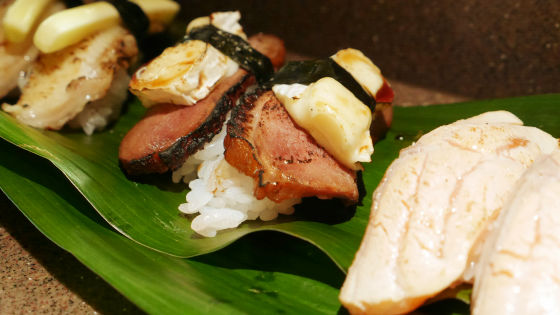 Duck is boiled with soy sauce and liquor, and the umami spreads in the mouth gradually for each bite degree. Moreover, it was said that it was bleeding firmly, and there was no peculiar smell of duck and it was comparatively easy. The compatibility with creamy, moderately salty and sour Camanberu · Shari is the best, a dish that sumi and ocean fused perfectly.



Subsequently, it is said that it is the most popular among women "Red magenta (432 yen including tax)"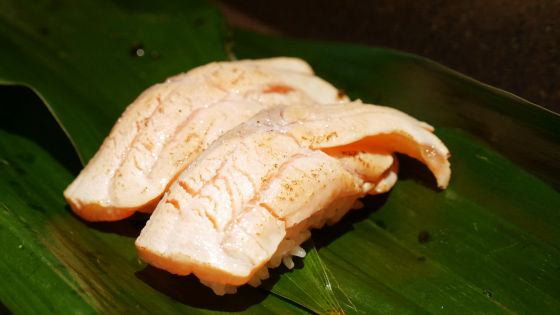 It is wrapped only on the surface of greasy salmon salmon, and the inside is rare. The fragrance of the surface and the softness like melting on the tongue do not collect. On the other hand, there are of course not only sushi of different kinds but also sushi of fish neta.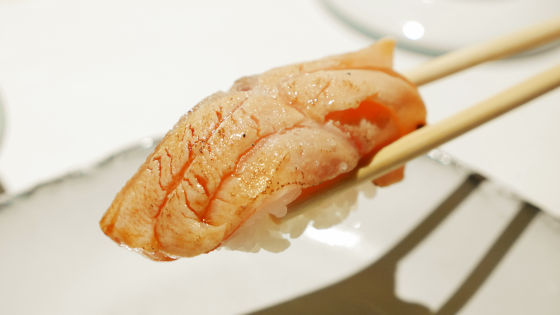 This is "raw avocado (378 yen including tax)"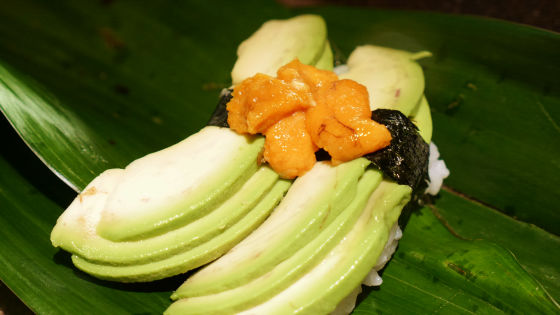 It was a combination that I had never thought about, but both were very creamy textures and both of them were compatible with soy sauce, so the taste did not fall apart and integrated well. It is a taste that looks like a habit.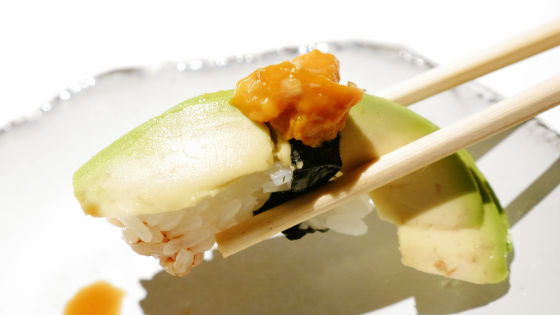 "Konnyokonachi (108 yen including tax)" in which fish eggs have entered into konnyaku is a delicious item with a sharp texture of konnyaku and bite-puffy fish eggs. Even if you eat as it is without soy sauce it was slightly fish egg's saltiness was good and it was good.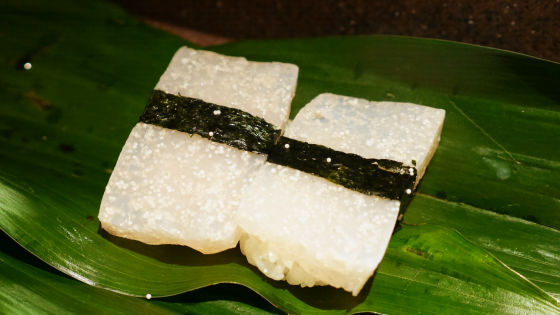 In addition, I found a mysterious character "Celery (108 yen tax included)" in the menu, so I ordered it, really celery came.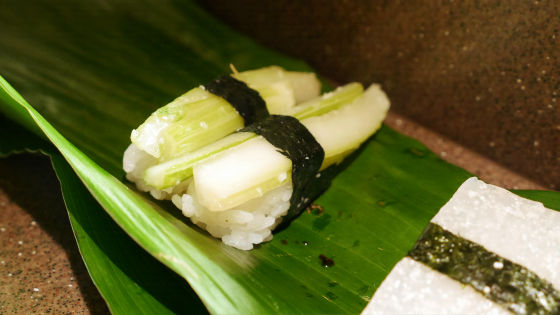 When I ate "raw celery ... ...?" While eating while chewy, celery was like a pickle and had no peculiar smell and was very easy to eat. An editorial staff member who is not very good at celery comments "I can do this!", And finishes that I want to repeat with a price of 108 yen.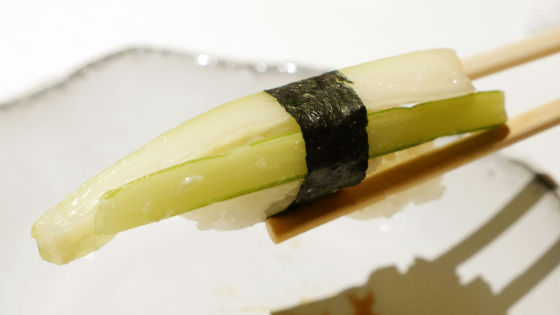 Abalone liver is a warship wrapped with large leaves, Momiji grated · Legend and is a style to eat as it is without soy sauce. It was a taste that seemed to match liquor so that I could not regret drinking because I had work left.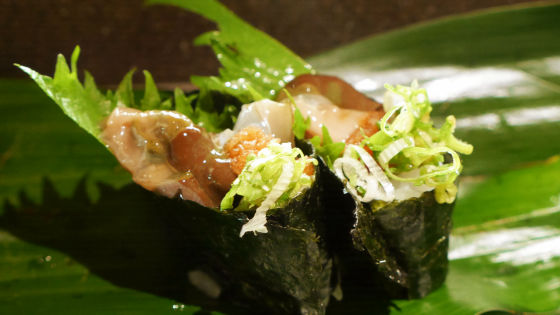 In addition, I tried to order because I found a character that is interesting such as "Ichigaku Ham Volume (Season) (378 yen including tax)", but this time it was out of stock. Next is definitely the place I want to try.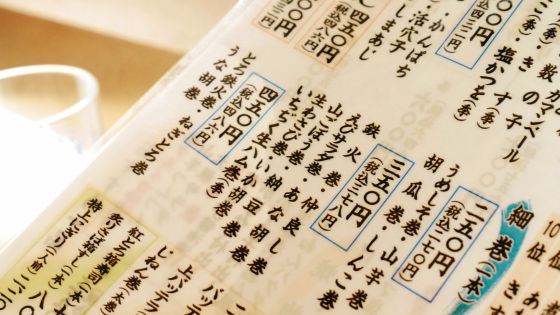 Of course, menus other than bugs also exist. "Deep fried from eggs" is fried as it is with small fish headed.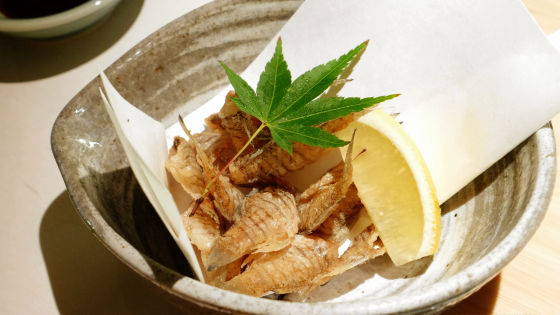 Small fish is fried crisply, so you can eat together the smoked white and polyporized bone so it's perfect for me. It is also ideal for snacks of beer, as well as saltiness.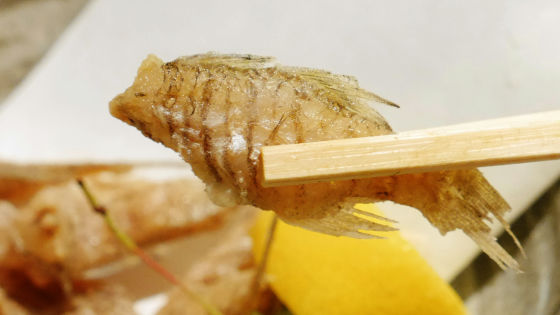 I found an interesting naming that is "hot" (324 yen including tax) ", so something like a squid of squid came out as I ordered it.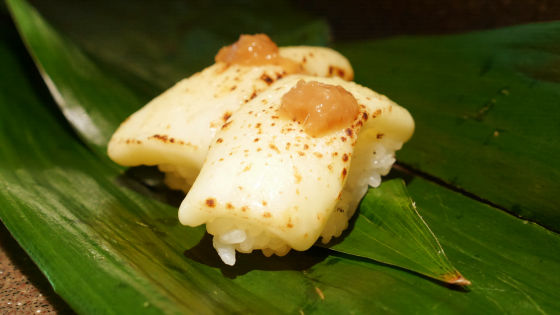 However, when you grabbed the story it grew steadily and turned out to be genuine cheese. Soy sauce was topped, saltiness and umami, fancy sweetness was felt.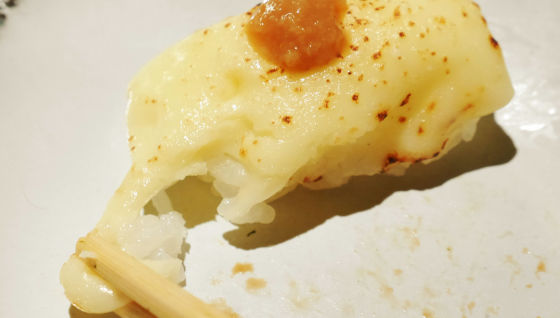 Today 's recommendation was "Noodle (540 yen tax included)", so when ordering it, it was so fluffy that it was not necessary to chew and it was firmly greasy. It is also a point that the surface is smoky and sweet, so you can enjoy not only the staggering neta but also the standard sushi material without complaint.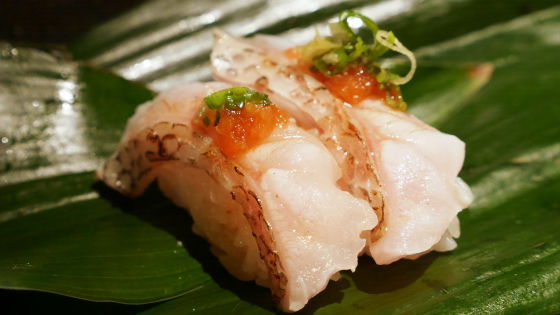 The seasonal bonito is not soy sauce or ponzu but ordered type to eat with salt.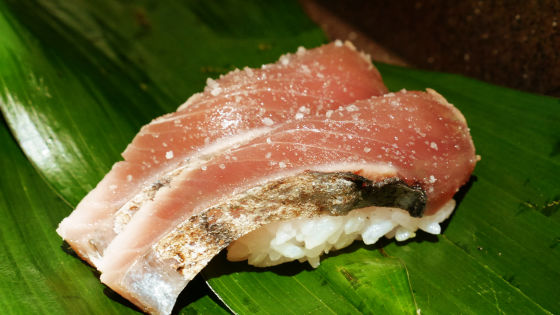 "Bud free onion (tax included, 324 yen)" that it is popular among women. The taste is the same as regular onion, but it is a very delicate texture. Plum meat sauce is applied and it is convincing that it is popular with women because it is crisp. It might be good when you want vegetable elements.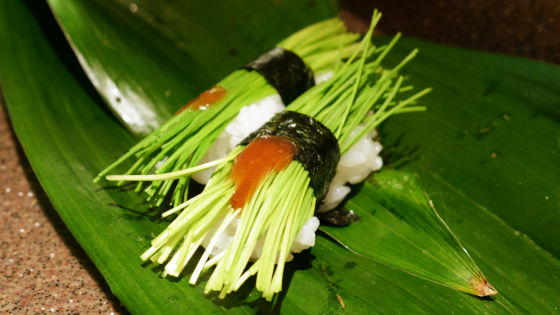 The editorial staff who liked the red mackerel which I ate earlier had also ordered "Red Crimson Koyuki chan (486 yen including tax)" with salt shades on the red moss.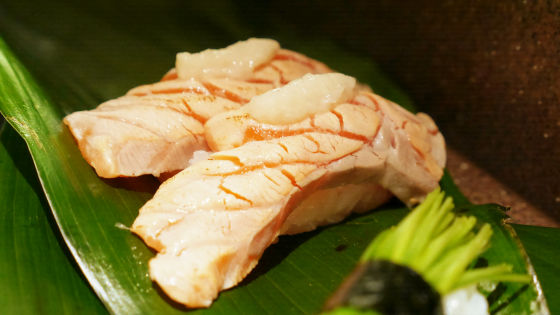 And at the end is live wasabi roll (378 yen tax included) with sharks.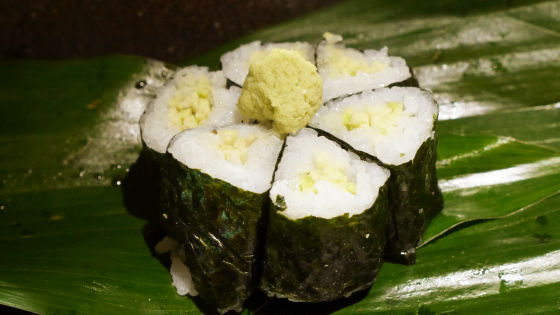 Fresh wasabi with shakijaki made a little tender at the moment of putting it in the mouth, but little bit of spicy, only the fragrance of wasabi spread out and it cleared the mouth.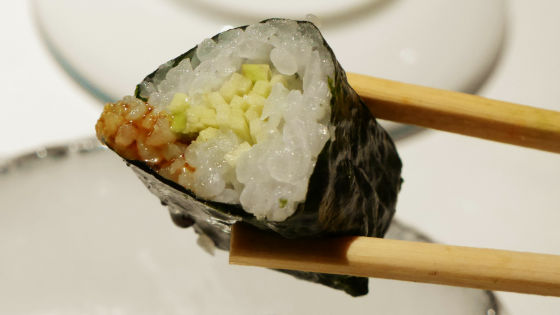 The Umeda initial Tenjin store is open from 17 o'clock to 4 a.m., but the shops in Narita, Shinsaibashi, are open from 11 am to 4 am the next day, so the business hours are different depending on the store Ali is choosing a shop according to the time zone you want to go.