I have been eating the fragrant "creme de la corn" with soft cream growing from corn at Dominic Ansel bakery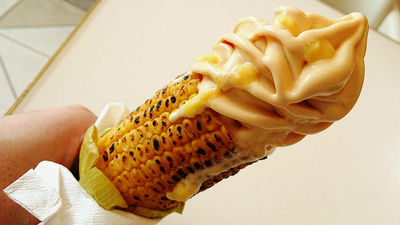 Shops that are called "Next Generation Bakery Shop" by arranging popular desserts in France and New YorkDominic Ansel BakerySo, as a new product in the summer of 2016, "Creme de la corne (Claim de la corne)" which integrated sweet corn and soft cream appeared, I went to eat.

DOMINIQUE ANSEL BAKERY JAPAN
http://dominiqueanseljapan.com/

New soft serve "Creme de la corne" will appear! | DOMINIQUE ANSEL BAKERY JAPAN
http://dominiqueanseljapan.com/news/381

The place here is 7-14 Jingumae 5 - chome Shibuya - ku, Tokyo. The nearest station is Omotesando station of Tokyo Metro. Also it is within 15 minutes walking from Meiji Jingumae (Harajuku) station of Tokyo Metro and JR Harajuku Station.


This time I walked from Tokyo Metro Omotesando station. Exit "A1 Exit", head north east (Omotesando intersection), turn left at the 3rd corner. The front is Burberry, the back is the corner of Tokyo Union Church.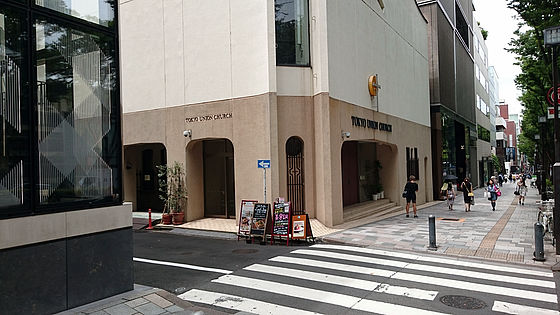 Go ahead and there is coin parking on the left hand side, so turn right before that.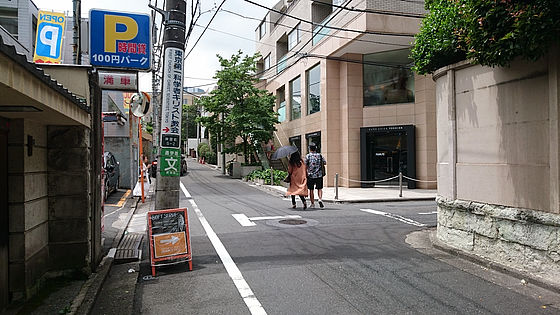 Then, what is on the right side is ...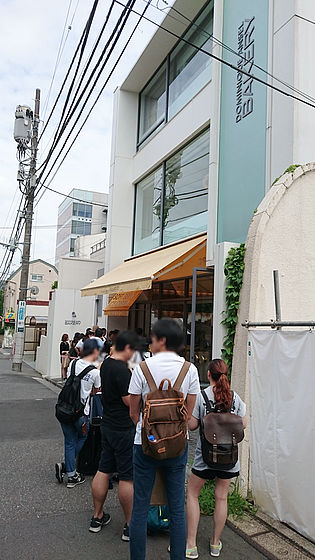 This is the Omotesando branch of Dominic Ansel Bakery.



Opening time is from 10 o'clock but as early as 2 o'clock you can have a queue. When I was lined up, there was an ice tea placement.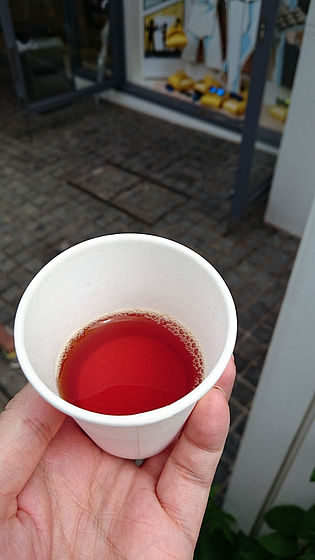 The name of the shop comes from Mr. Dominic Ansel who is the owning chef. In the middle of the illustration in front of the shop, Ms. Ansel is wearing sunglasses.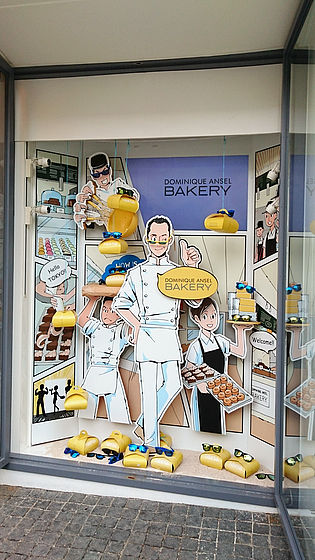 A tightly packed matrix.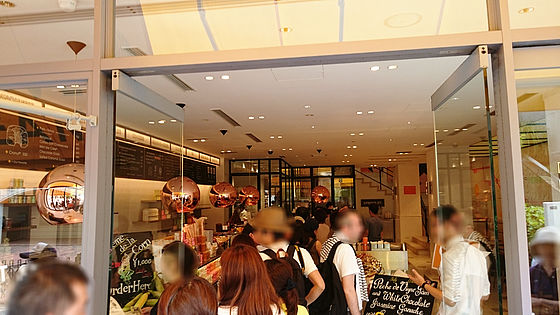 Announcement that "Cookie shot will be on sale from 3 o'clock" that was out there. "Cookie shot" is a popular item of Dominic Ansel bakery so I saw a scene where customers from overseas who came by sightseeing asked the clerk several times "15 o'clock, 15 o'clock ??"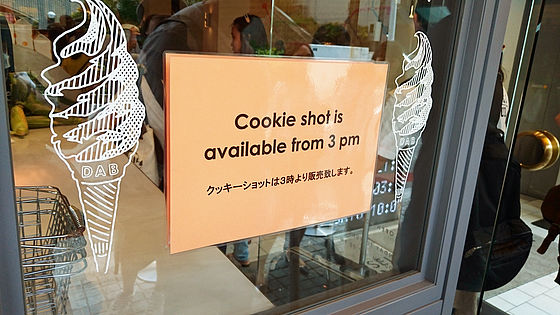 Blackboard notifying sales of "Claim du la corn".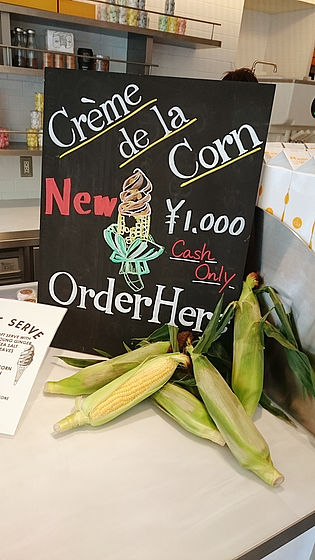 The sweet corn was baked.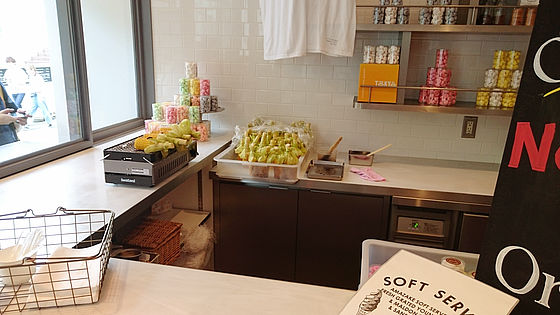 Depending on the timing, the seats on the first floor may be buried with gussets.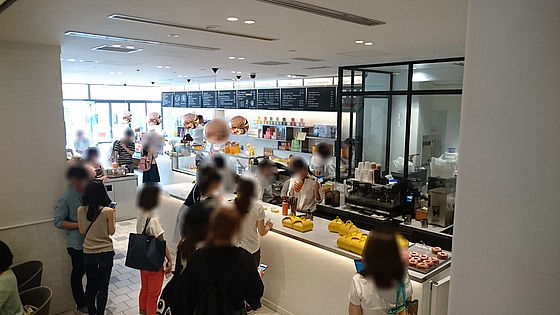 In such a case, it is also one hand to go upstairs if it is free. There is a 10% service charge + 1 drink, but there is space more spacious than the 1st floor, all the menus that can be ordered on the 1st floor can be ordered on the 2nd floor.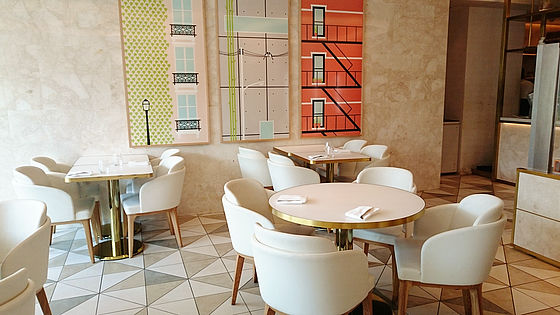 This is a drink menu. One hot cup of coffee, such as hot in the original blended coffee, can be handled. However, since even one cup of iced coffee is quite large size, there is not much difference in quantity.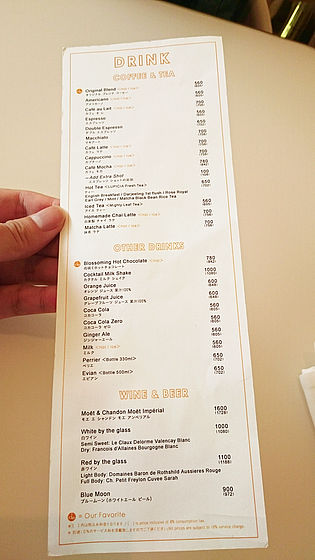 Food menu with fashionable envelope.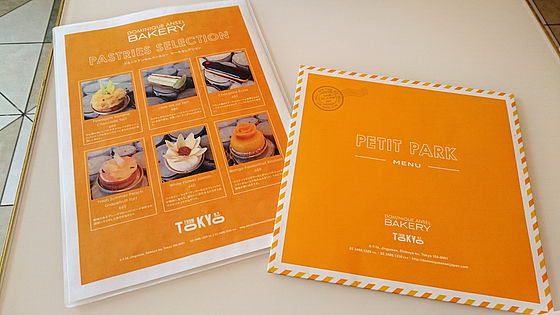 A meal menu for lunch and dinner and a dessert menu are included.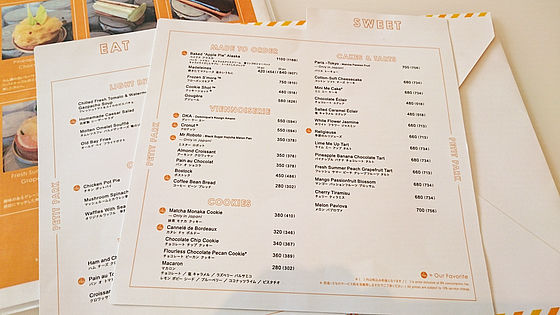 Firstly, I ordered original blended coffee (hot / tax 560 yen) and wait for a while.



After waiting for about 10 minutes, "Claim du la coron" (1000 yen tax) came. A figure that can only be said that the soft cream and baked corn are united.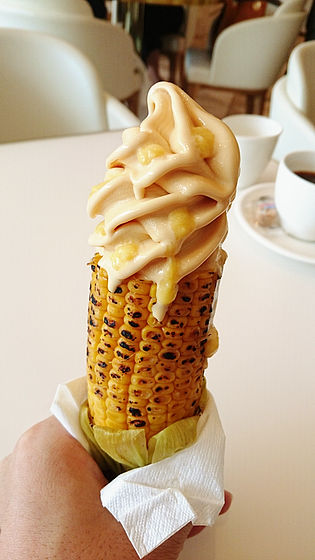 This is not a "corn type corn", but it really cuts the top of corn baked on the first floor. However, it is chilled rather than freshly brewed. Soft cream is caramel-like, but because it is imaged grilled corn, salty flavor with a little soy sauce flavor and interesting taste. Since the lower corn can also be eaten, it became a magical dish which can taste corn and soft cream at the same time.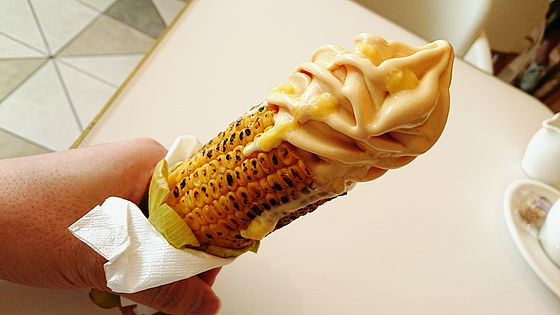 In addition, since the chocolate board is stuck in the corn and the soft cream is served on it, there should not be slipping down slippery. Still, it is easy to melt, so be careful when you eat.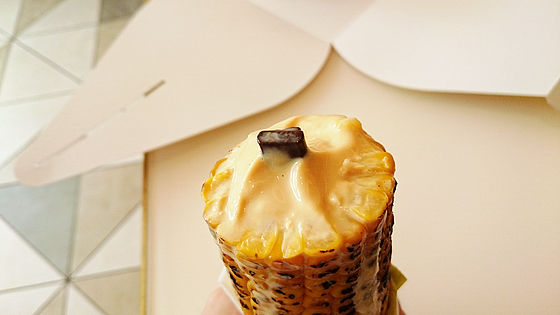 Because this is a bit lonely, I ordered "Kronats" (550 yen tax) and "DKA" (550 yen tax) from the main menu.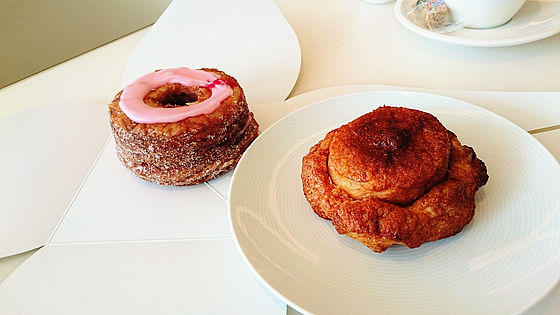 Cronuts is a sweetened croissant and donut sweet, invented by an owner chef by Al Dominic Ansel.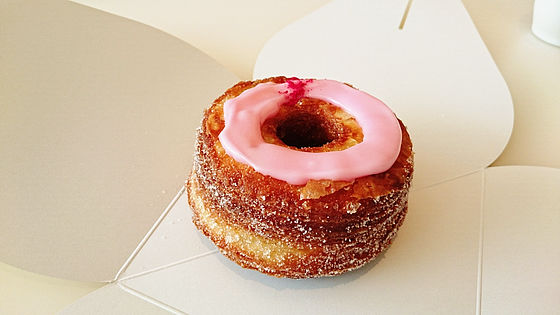 Cover the fried dough with sugar, fill the cream, finally coat the glaze and complete it. Cream and glaze are on a monthly basis.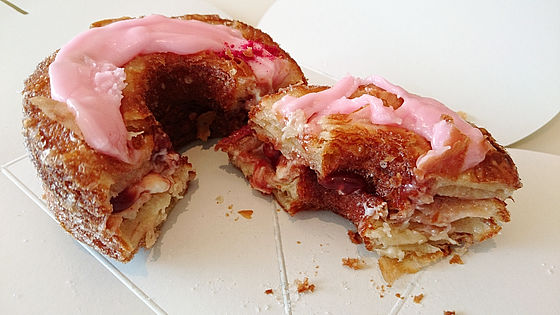 Fabric that there is a comfortable feeling that teeth break up the layers of crunchy and croissants, but also has durable elasticity. A sour taste glaze and cream complemented sweetness.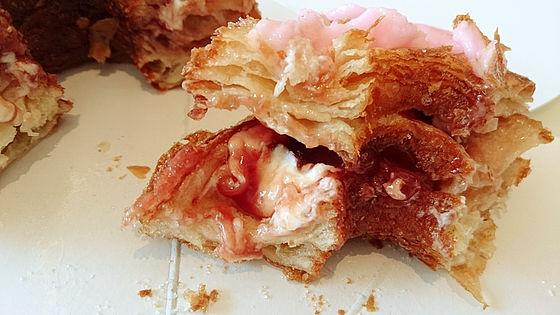 By the way, because it is such a pretty box, it is ant to take it home.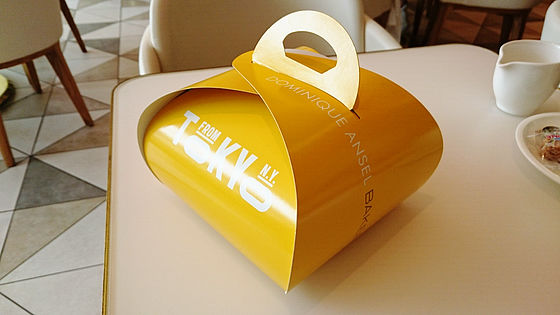 DKA is "Dominique's Kouign Amann (Dominic'sQuinnie Amman) "Thing. Dominic Ansel arranged arrange Quinnie amman, traditional confectionery in the Brittany region of France.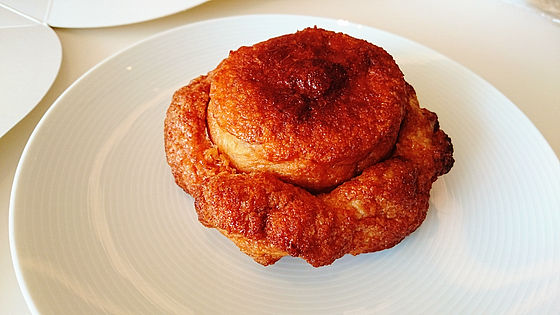 Crispy on the outside, but sticky with chewing, the butter and sugar flavors come in with a blister. I would definitely like this taste slowly with hot tea.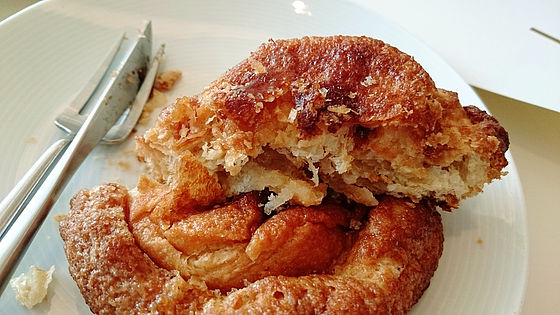 However, if you go to Dominic Ansel bakery with plenty of time, I want to taste cookie shots. So I went to a shop before 15 o'clock and decided to order a cookie shot just at 15 o'clock.

Since it was before 15 o'clock, first we ordered "Frozen Smear" (750 yen tax) as an item for taking coolness.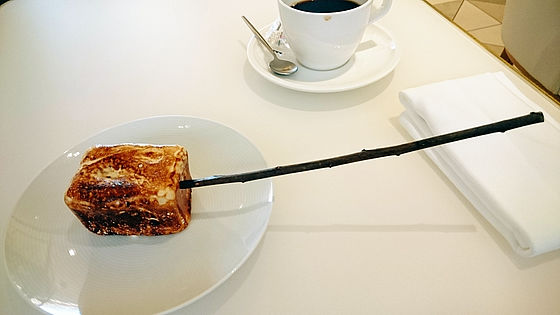 A lump of about a handful fist is stuck at the tip of the stick.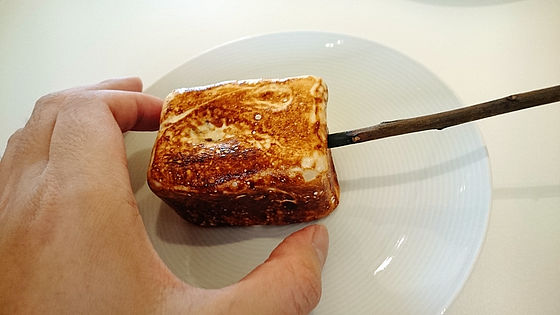 It is a sweet sandwiching marshmallows with chocolate and cookies when saying smear, but this chunk ......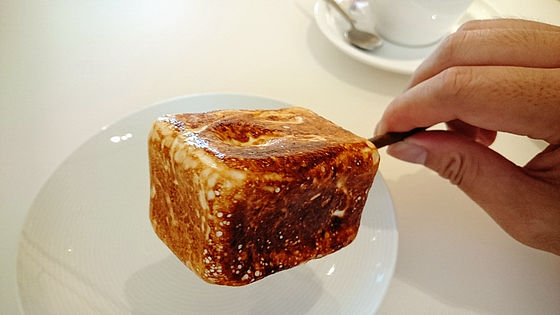 Ice cream is wrapped in baked marshmallows.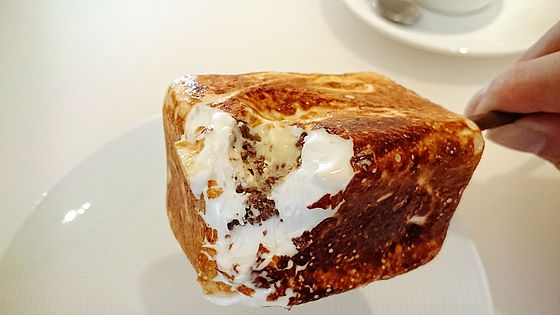 I had a lot of texture like "crispy outside, dusty inside" from the previous time, but the frozen smear is stuffy because the outside is marshmallowed and it feels like it's because it contains chocolate-coated ice on the inside.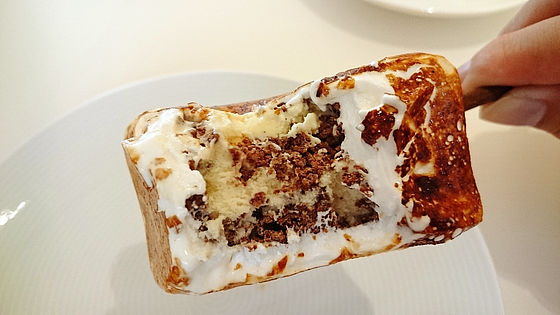 When I start eating, the marshmallows, chocolate and sweetness of ice mix together, and my hands will not stop. The name "smore" seems to originate from saying "One More (one more)" after eating, but it is exactly what you want to eat one more.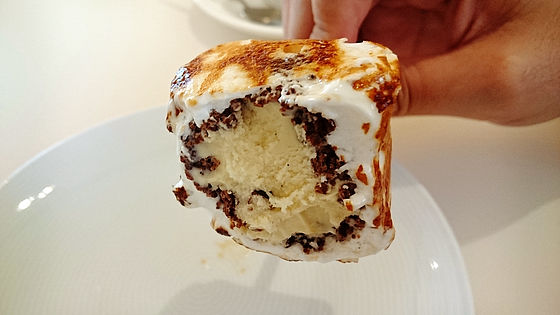 And, it is "cookie shot" (480 yen tax excluded) that can be ordered after 15 o'clock.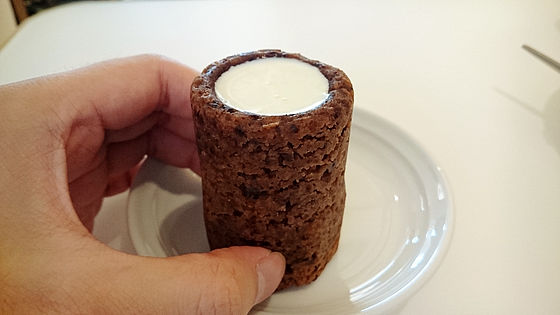 The moment I saw it at once was a feeling like "What is this?", But milk is poured into chocolate cookie which became a glass shape.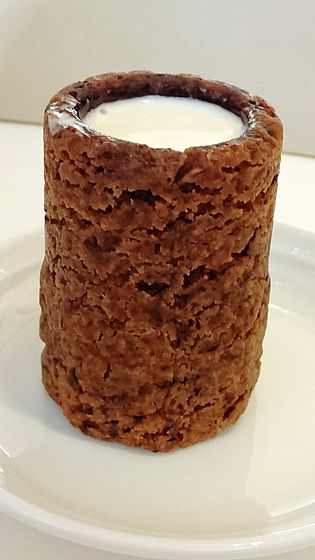 Because the inside of the chocolate cookie is chocolate-coated, it becomes chocolate milk while chick and milk is drinking. Also you can eat containers at the same time.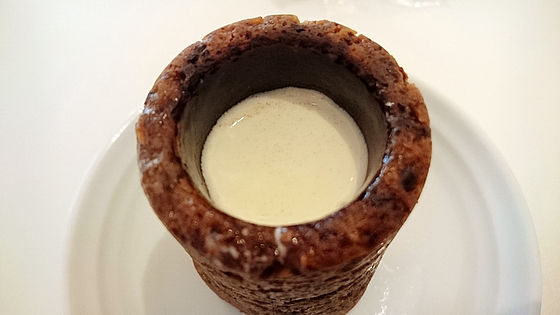 Since the bottom is quite thick, there is no fear of milk oozing out. A rather rich chocolate flavor was mixed with milk in the mouth, and it was convincing that it was a popular menu with items that would be exquisite taste.