Household book application "Dr. Wallet" who handles receipt input charges fee input for product name / unit price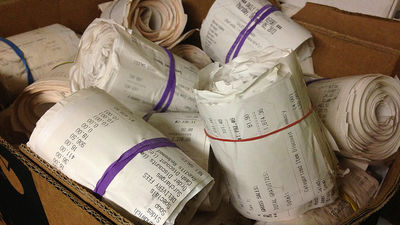 BySteven Depolo

When taking a receipt with a camera of a smartphone, since the operator visually confirms & manually inputs the contents, the household account book application which is highly evaluated as "high reading accuracy"Dr. Wallet"We announced that it is necessary to subscribe to a pay plan in order to stop data conversion of product name / product unit price among receipt contents & continue inputting.

Popular Free Receipt Household Account Application Dr.Wallet | Easier than Excel
https://www.drwallet.jp/

This was announced to the address for user registration at the time of user registration, due to the increase in the number of receipts, it took time to convert the data and it became difficult to maintain the quality of the service It is said to be a measure. According to the information from the user, it seems that the timing of sending the notification mail and canceling the unit price input seemed to be close timing, and the service contents had been changed before noticing the mail.


Speak DrWallet DrWallet DrWalletPic.twitter.com/SAF1FuSpOC

- Eee (@ eai 04191)July 14, 2016

Household account book Dr. Wallet: Easy free household account book popular in receipt shooting on the App Store
https://itunes.apple.com/jp/app/jia-ji-budr.wallet-reshito/id686568005

Household account book Dr. Wallet receipt reading accuracy No.1! - Android application on Google Play
https://play.google.com/store/apps/details?id=com.beartail.dr.wallet

In the iOS version, if you subscribe to "Monthly Premium" for 600 yen per month, you will enter the product name and product unit price just like you did before. Also, Android version will also be added plans similar to iOS version soon.

The reaction of the user is like this. Many voices acknowledge the high convenience ... ...


No, I do not know. Dr. Wallet free input substitution service termination.
Scanning the receipt with the ScanSnap and skipping it to the cloud was a service that was more convenient than a goat as the details of the item etc were entered into the household account book neatly the next day.Pic.twitter.com/KnlFA7nlJh

- Momochiko (@ mofu_neko_)July 14, 2016

Some also point out that they specifically wanted to upgrade the data acceleration speed plan (480 yen) that exists in the iOS version.


Mail from Dr. wallet. Well, even if it is 600 yen, it probably is worthwhile. I would have liked to upgrade the 30-day speedup plan of 480 yen as it is.Pic.twitter.com/A8scYgzJ36

- Kurihara Jing (@ kuriharakageri)July 14, 2016

According to this user, recently there were many receipts that did not contain the amount and store name.


Dr. wallet Too rapid evil.
For the time being, I thought that it was a crap with a lot of receipts that neither amounts nor store names were included. In the direction of cancellation. I wonder if there is any good application.Pic.twitter.com/WDcFDYziw 2

- Editor-in-chief editor of Koga Yuko Toda (@ kogastyle _ CE _)July 14, 2016

Yuichi Miyawaki is on Google PlayReview pointed out similar pointsI am writing. According to the review, it was said that only total amount was displayed as of May 18th.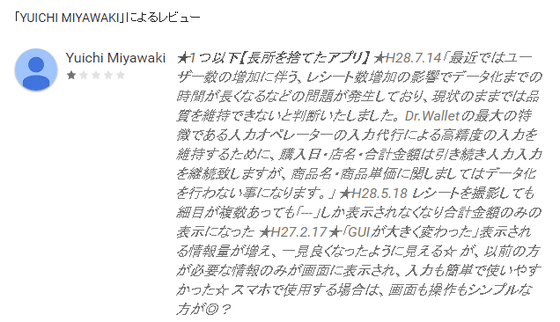 As for the Android version, even though the billing plan has not been prepared yet, the cancellation of input of product name / product unit price has already been applied, so even users who show complaints.


The criticism of GooglePlay's review of Dr. Wallet is already .... I understand why paying, but I do not want to stop the service without notice, it is not contrary to the clause, but it is the cause of falling reputation. I'm explaining excuses for "iOS version", but do not press the results on the iOS version against the Android version

- zephyrberry @ Team Death Nana (@ zephyr_berry)July 14, 2016
Dr. Wallet, paying fee is another option, but Android will not have a sudden function cutoff even though there is no paid plan yet.

- Sorry (@ zohias)July 15, 2016

Some people think about stopping use this time, but since Dr. Wallet does not have data export function, transition seems to be hard.


Since Dr. Wallet does not have data export function,https://t.co/1pIBVqHAMvJust like dropping the JSON file with a feeling like it (login to the web version and access).

- Mitsuo Yoshida, Ph.D .; bot (@ saekz)July 14, 2016