I've eaten such as the biggest volume of Lotteria history and a satisfying hamburger "Lotteria DX"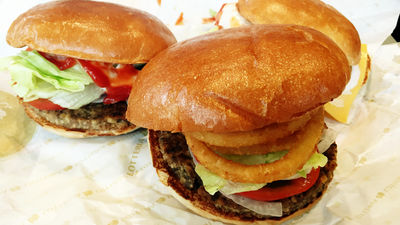 On July 14 (Thursday), Lotteria boasts the volume of "the largest in Lotteria history"Lotteria DXWe launched a large number of new products such as. This Lotteria DX is an item sandwiched between about 110 g patty, which is 1.5 times larger than normal size, with wide buns about 11.5 cm in diameter. In addition, we sandered gelato for the summer "Danish Gelato sandwich, Summer Burgers'Avocado tartar shrimp burger"When"Salt of lemon Libsand porkI went to eat at a stretch etc etc.

~ The biggest DX (Deluxe) Burger is newly added to Lotteria's regular menu! ~ "Lotteria DX", "Lotteria DX (Cheese)", "Lotteria DX (Onion Fly)" July 14, 2016 ... | News Release | Lotteria
https://www.lotteria.jp/news/000032/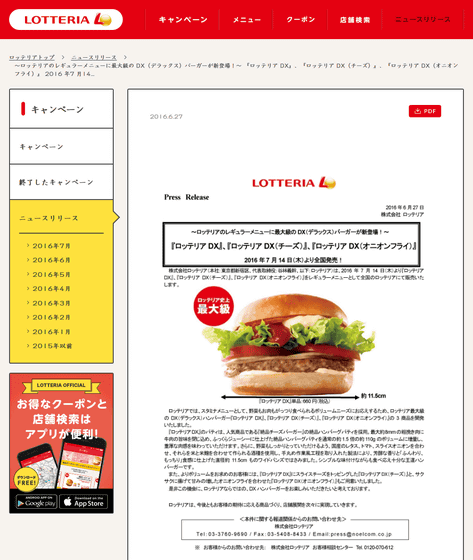 Arrive at Lotteria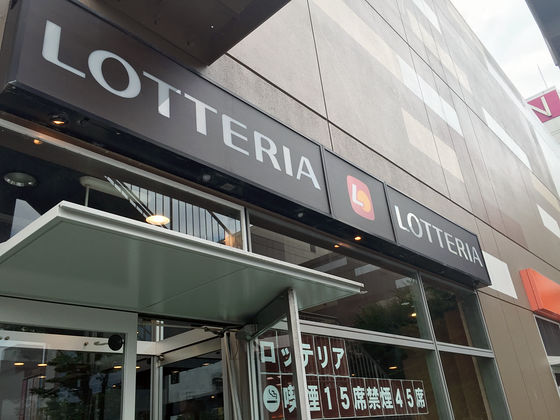 There are three kinds of "Lotteria DX Burger".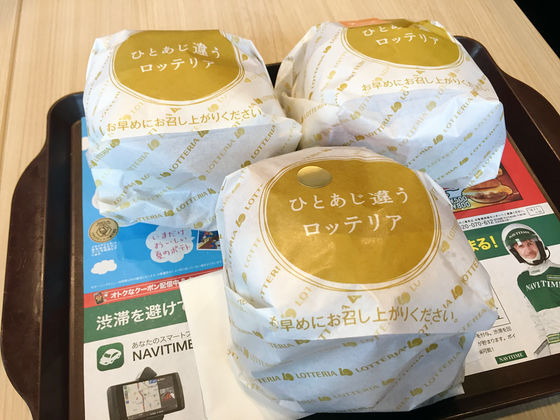 The left back is "Lotteria DX Burger" (660 yen including tax), the right back is "Lotteria DX Burger (Cheese)" (720 yen including tax), the front is "Lotteria DX Burger (Onion Fly)" (780 yen including tax).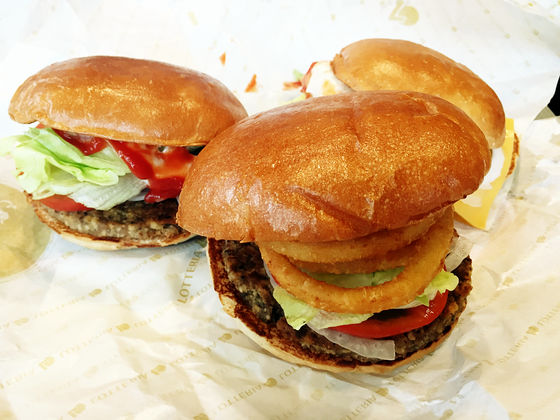 Lettuce, tomatoes, sliced ​​onion, patty sandwiched in buns. The ingredients are very orthodox.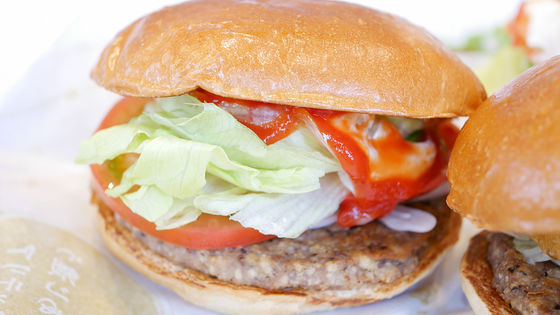 Will cheese join there ...?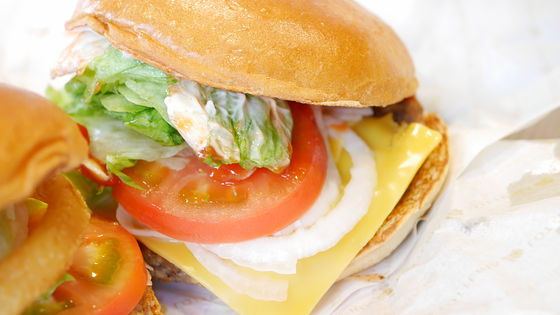 It is the difference that onion flies join.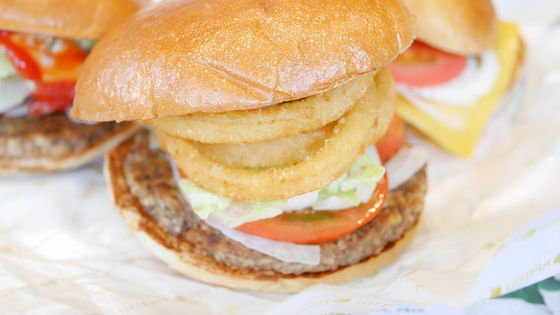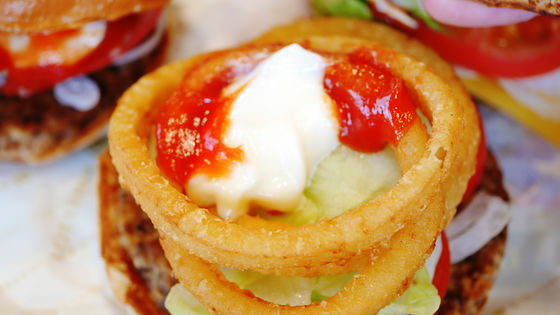 The main is placed in the "volume up" part, but the patty being used is the exquisite hamburger pattie used in "exquisite cheeseburger", coarse ground black pepper is working, slightly sweetly I feel perfectly compatible with the buns that I feel. Special ingredients are not used, but by combining everything, a satisfactory burger filled with contents is completed perfectly. For a price of 660 yen, you can order a set if it is a low price burger, but even if you do not have drinks or side menus, I think that this burger will try again.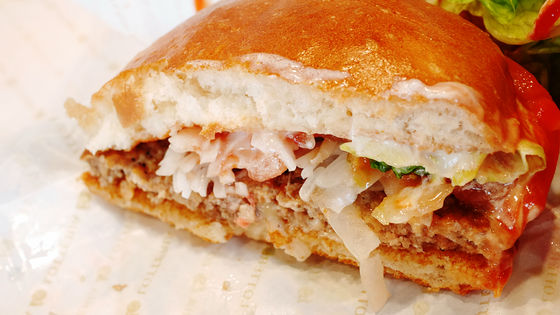 In that respect already, "Lotteria DX" has already been completed so much, I felt that there was no big impact even if there was no cheese. If you do not mean that you like cheese and hamburgers do not necessarily need cheese, you should be satisfied with "Lotteria DX" satisfactorily.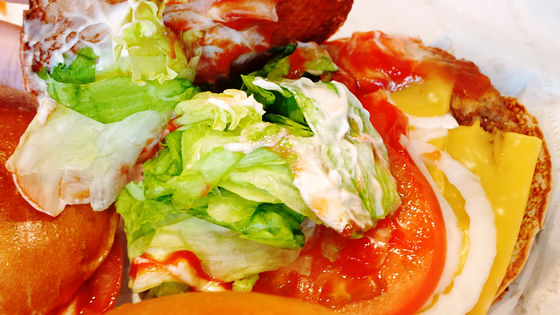 However, dare dancing onion is quite interesting. The crispy texture of onion flies' clothing and the sweetness of the onion which has increased due to frying adds even more taste to Lotteria DX. The price will rise to 780 yen, but this combination is ant.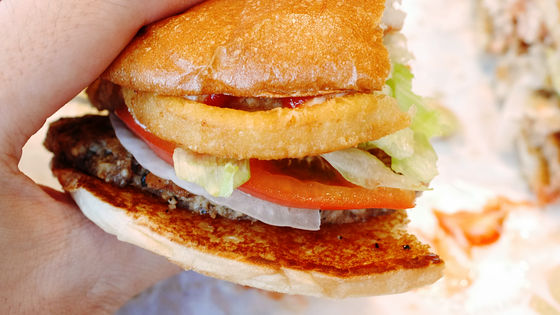 Subsequently, it appeared as a cold original sweet "Danish Gelato sandwichOne tax included 350 yen.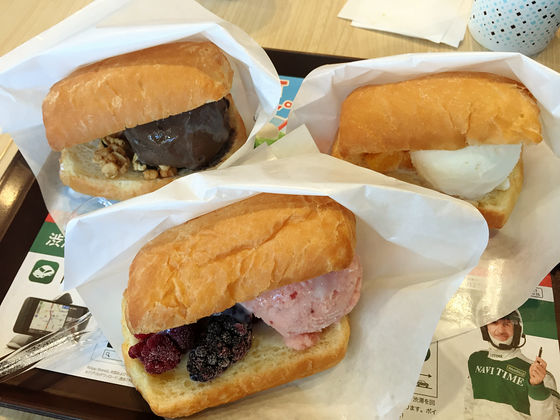 There are 4 types of gelato and 5 kinds of topping, you can choose one each.

This is "Strawberry & Frozen Mix Berry" also published in the menu.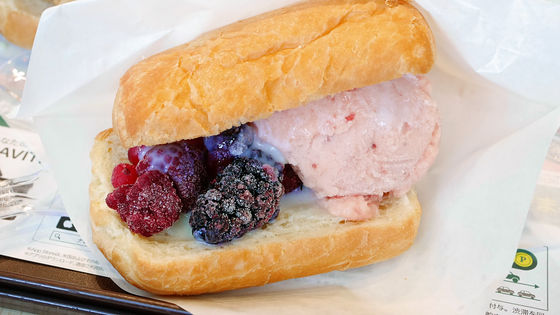 Berry is a combination of iron plates in this sweets. Danish buns with a soft soft texture, with condensed milk, sweetness increased, and as a new sweetness it is highly completed.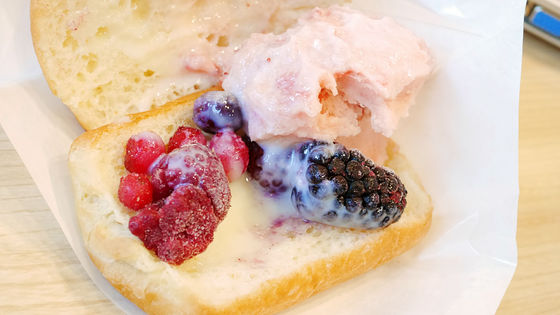 "Belgian chocolate & granola". Belgian chocolate ice is a bitter ice cream with less sweetness, so sweetness is added by condensed milk to an exquisite balance.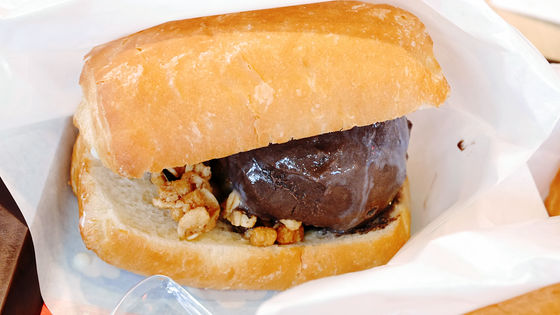 "Hokkaido milk & frozen mango", Hokkaido milk ice was originally sweet, the sweetness of the condensed milk seemed a bit bruised.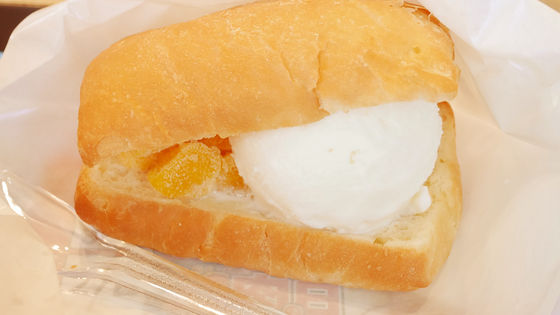 I did not know how to eat is the right answer, so I gradually ate the ice and fruit on the buns that were cut and this one was quite ants. I definitely want it in addition to the regular summer of the future.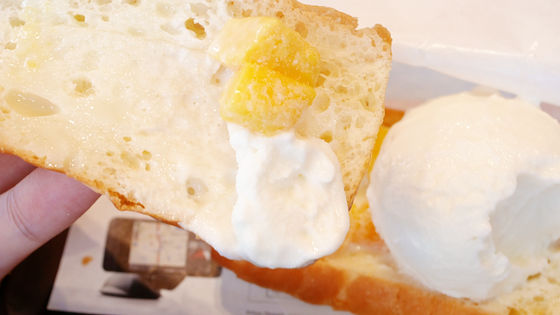 Following that, a summer new hamburger "Avocado tartar shrimp burger"(420 yen including tax).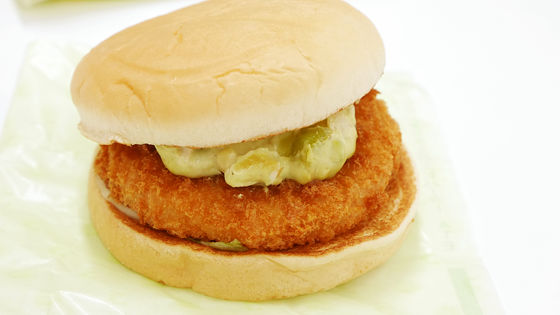 We are sandwiching a rich sauce that combines avocado dice cut into the original tartar sauce to shrimp burger.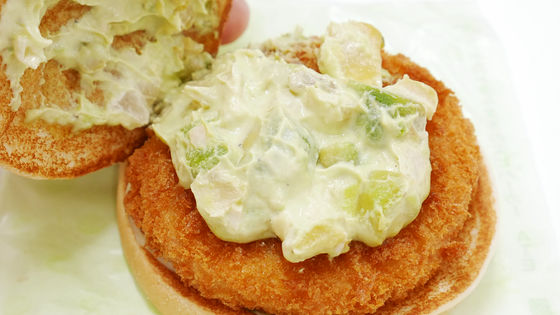 A creamy and mellow flavor of avocado totally dominated tartar sauce, and it was an irresistible item for avocado lovers.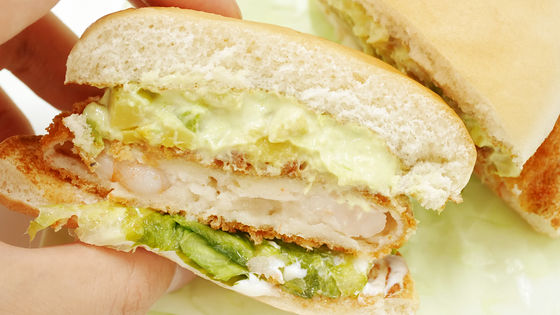 Also a summer new rib "Salt of lemon Libsand pork"(450 yen including tax).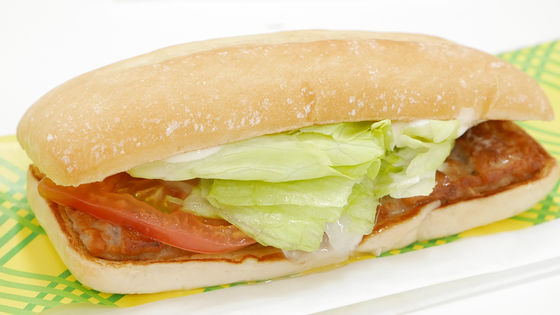 Salt using Setouchi lemon It is an item that can be eaten like a salad like tomato which is very refreshing, with onion marinade with lemon sauce and onion combined.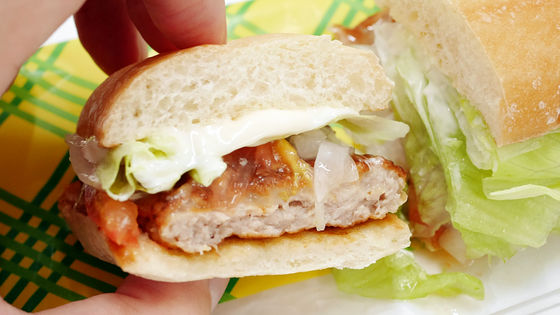 Furthermore, the development of collaboration menu with movie "Shin Godzilla" has also begun in Lotteria. This is a "Shin · Godzilla Set" (790 yen including tax) that you can receive original goods. "Lotteria Cheese Burger (Umi Meat)" + Drink S + Potato S comes with 1 original goods. This time I purchased 3 sets.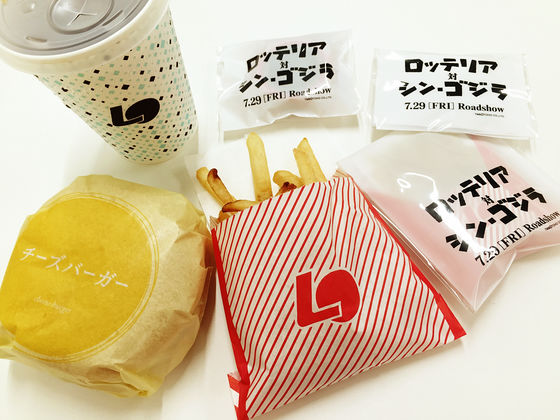 These three types of goods.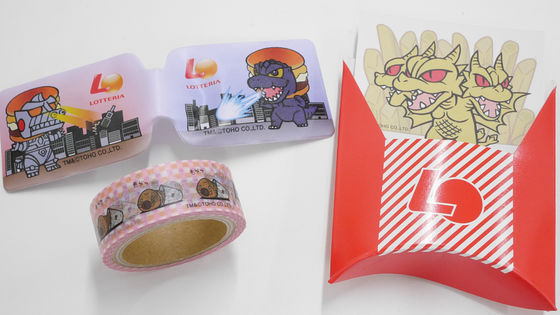 "Magnet Godzilla Clip" where Mechagodzilla and Godzilla pinch documents etc.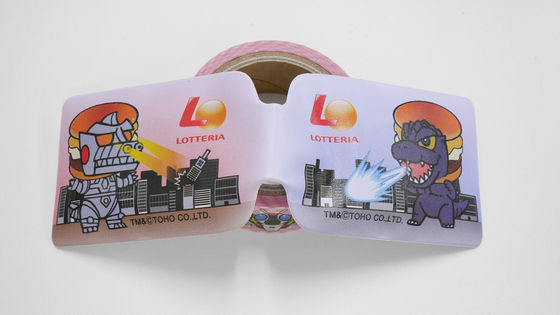 "Mothra masking tape" in which bags and adults fly off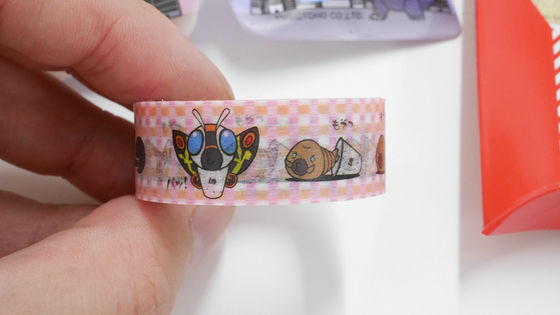 "King giddla notepad" that contains potato or king gidra and thought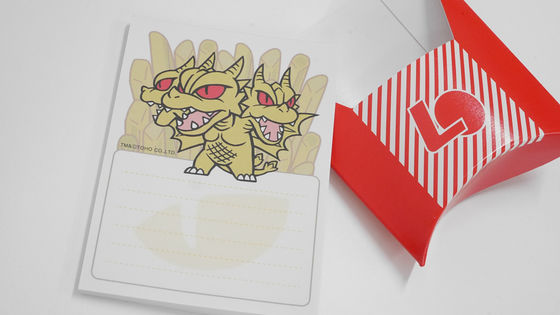 In addition, "bucket potato" "bucket chicken rush" and "bucket gelato" will be offered as special specifications. This is "Shin · Godzilla bucket gelato" using Godzilla specification package limited by collaboration (500 yen including tax). Originally four gelatoes are contained in one bucket, but since it was taken home, it is divided into two.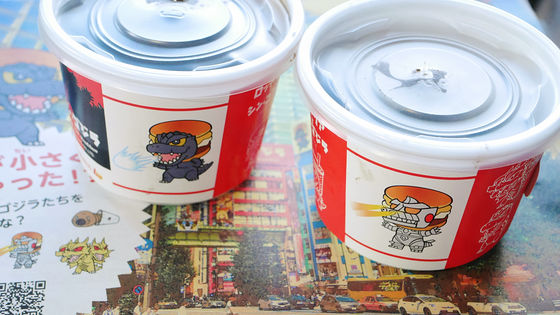 "Shin · Godzilla bucket potato" (600 yen including tax) contains 5 French fries potatoes S, and the package is a "Godzilla time slip muscle" specification in which successive Godzilla movie posters are lined up.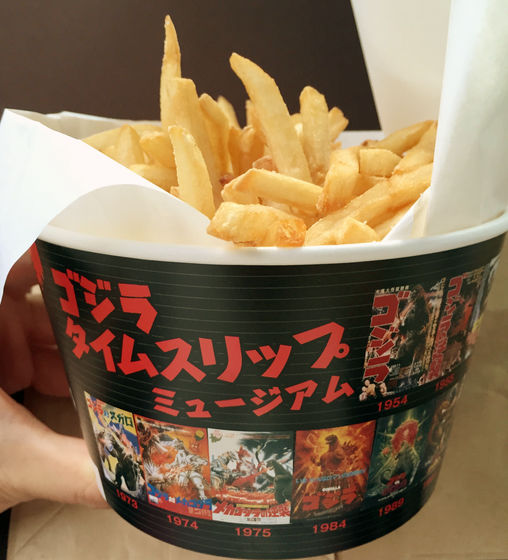 From the first generation to FINAL WARS, there is a spectacular view.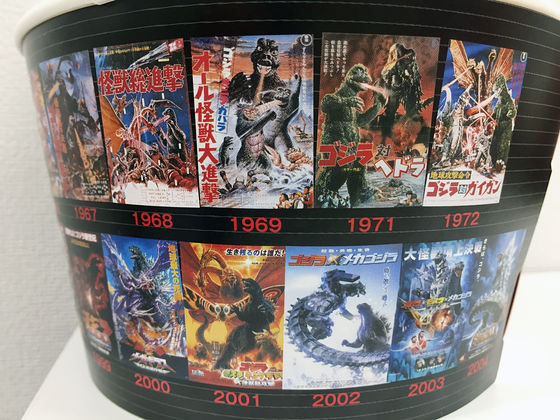 "Lotteria DX" will join the regular menu, but since everything else is limited for a limited time, please purchase the person you care about early.