Reason why the acquisition of Yahoo does not progress quite well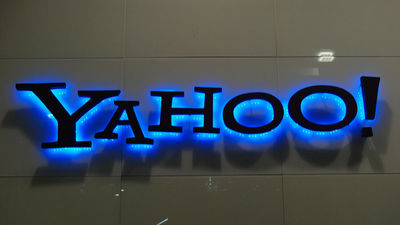 ByAbhisawa

From the deterioration of business performance for a long timeSale of net businessIt is American Yahoo that is rumored, but why the negotiation is not readily available can be explained in the technology news siteRecodeIt reports.

Under Mayer deal, Mozilla could walk away and still get more than $ 1 billion if it does not like Yahoo's buyer - Recode
http://www.recode.net/2016/7/7/12116296/marissa-mayer-deal-mozilla-yahoo-payment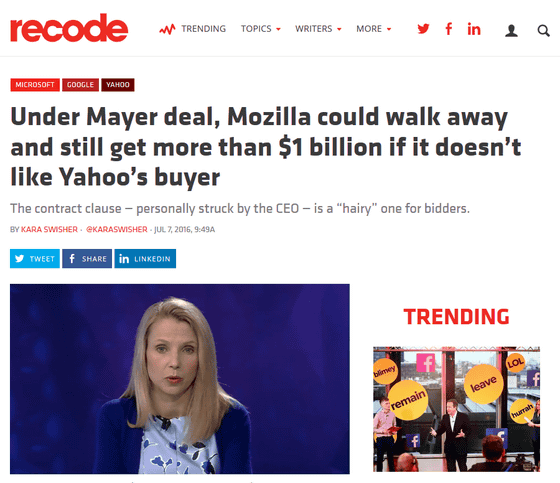 Toward organization reorganization in February 2016Reduce staffing by 15%In June of the same year, due to poor performance, patents related to web search / net advertisementAbout 3000 items sold at auctionI started to do Yahoo. That Yahoo is beginning to move towards the sale of major Internet business, Verizon and Quicken Loans etc. are interested in the acquisition. Verizon is regarded as a promising candidate for the sale, and to acquire Yahoo's core businessPresented $ 3 billion (about 300 billion yen)There is also a report that it did.

However, the negotiations are not yet collected as of July 2016, and the reason is that the cost required for acquisitions other than acquisition is too large, Record reports.

In December 2014, Firefox, a web browser developed by Mozilla, changed the default search engine from Google to "Yahoo!", "Yandex", "Baidu", etc. in some areas. Firefox seems to have set "Google" as the default search engine of Firefox which is provided in all countries and regions for about 10 years since 2004, and it became a big topic that the contract finally collapsed .

Firefox's default search engine from "Google" to "Yahoo!" - GIGAZINE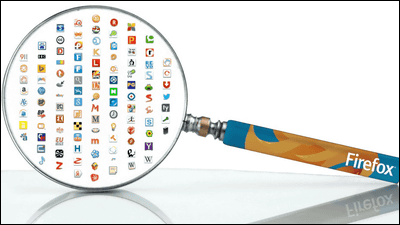 According to Recode, American Yahoo's Marissa Mayor CEO took Yahoo! as the default search engine of Firefox and made $ 375 million a year (about 38 billion yen) annually for Mozilla, the developer It seems that we have signed a contract to pay and this contract will last until 2019, so when you buy Yahoo you need to continue paying this contract.

It is clear that Maier CEO signed a huge deal with Mozilla in order to stop the decline in the market share of search engine "Yahoo!". Originally, Mayer's CEO was pulled out of Google by Yahoo in order to stop Yahoo's sharp decline in market value. However, at the present time it is hard to say that the original Yahoo's expectations are carrying, and if you want to dismiss the Mayer CEO who signed the contract, you need a retirement allowance of $ 55 million (about 5.6 billion yen) It is revealed that this fact is also one of the factors that deter Yahoo acquisition.

In addition, as a reason why Yahoo's acquisition is difficult, the person who provided information to Recode said, "Yahoo buyers can estimate up to 1 billion as estimated funds to keep employees holding stocks and to retain talented talent We may need as much as dollars (about 100 billion yen). "
in Note, Posted by logu_ii