Automatic home delivery robot running on the sidewalk starts trial operation in 5 European cities, the science fiction world where robots move around the city reality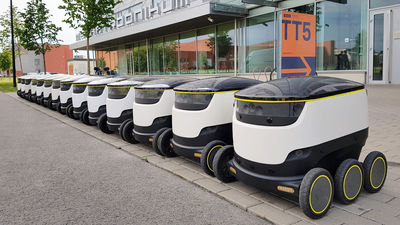 Skype co-founder Ahti Heinla and Janus Friis 'startup' Starship Technologies 'partnered with major European delivery companies and supermarkets in Europe to deliver pizza and other small delivery robot'Starship"It was announced that the test program to deliver the goods was started.

Starship Technologies launches testing program for self-driving delivery robots with major industry partners - Starship Technologies
https://www.starship.xyz/starship-technologies-launches-testing-program-self-driving-delivery-robots-major-industry-partners/

Adorable self-driving robots will start making deliveries in Europe this month - Quartz
http://qz.com/723627/adorable-self-driving-robots-will-start-making-deliveries-in-europe-this-month/

"Starship" is an unmanned small delivery robot that can carry baggage as much as one backpack, and you can deliver items using sidewalks rather than roadways. You can see the details of Starship and how it is moving by reading the following article.

A small delivery robot "Starship" to automatically deliver pizza automatically unveils - GIGAZINE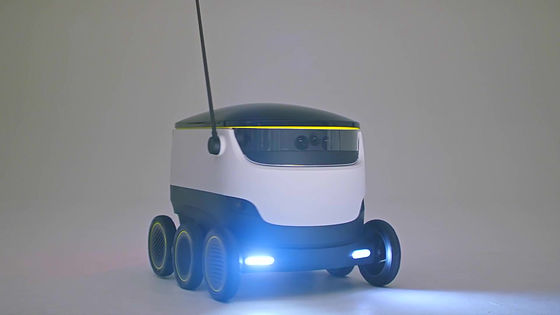 Starship Technologies is one of the largest food shipping companies in EuropeJust-Eat.com, A courier company in GermanyHermes, Supermarket chain in GermanyMETRO GROUP, Food delivery startup in LondonProntoWe will start a test program for automatic delivery using Starship in five European cities such as the UK, Germany and Switzerland.

"Starship Technologies has test-run the Starship in 12 cities for nine months and has developed know-how to actually deliver goods with robots," said Ahti Heinla, CEO and CTO of Starship Technologies. Starship's robot can automatically deliver parcels and groceries to destinations within a 3-mile radius while being monitored by human operators from the control center. The test run has reached 5000 miles (about 8046 km) and I succeeded in delivering my luggage to more than 400,000 people, but I am surprised that I have never had an accident.

The last section of the shipper and consumer is in the logistics industry "Last One MileAlthough it is called, Starship Technologies aims to reduce time and cost in the last one mile. According to Starship Technologies, it is estimated that the delivery cost in recent years in central London will cost up to 12 pounds per delivery, but if you use a robot with an electric motor and an automatic driving function , Delivery cost can be reduced to 1 pound (about 130 yen) per one time.

Although details on how much the Starship will be provided to partners, etc. are not clarified, employees of Starship Technologies will be dispatched to each partner and guidance such as delivery area setting and operation etc. will be carried out Thing. Once Starship records the road in the delivery area with nine cameras, you can automatically deliver the package, and the map constructed by one Starship can be shared with other aircraft.

James Roy Polter, Co-Founder of Food Delivery Startup in London - "We are hoping to introduce thousands of Starship next year," said Mr. James Roy Polter, who is motivated to deliver automated, We will announce that delivery will start. At first we expect confusion of the customer side to receive, Starship has built-in microphone and speaker, human operator can cope remotely. Although it is said that one operator can manage up to 100 robots, operation by remote control of the operator is recommended instead of automatic operation at the beginning.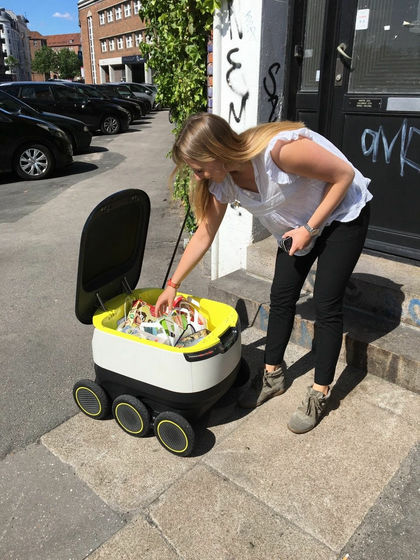 With partnerships with major shipping companies in Europe, a movie-like world where robots will run around the streets will soon be realized. There are times when you have to wait at home for hours to receive a parcel because delivery by human beings will be lengthened by time, so you can easily receive online orders by robot delivery in the future Maybe it will become like. In addition, the robot delivery by Starship has been started in July in Europe and will be deployed in the near future in the United States.