I tried "Cup Noodle Pu Papon Curry Big" which is sweet Thai curry as noodle with crab and egg flavor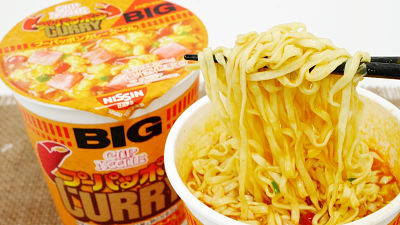 The Nissin Foods familiar with cup noodles, from Thursday 20th June 2016 (Monday) a new Thai curry flavored noodle "Cup Noodle Phuk Patpong Curry BigWe will release. Known as seafood curry mainly using crabPhu Pepong CurryI tried eating at once to see what kind of taste the cup noodle that reproduced.

"Cup Noodle Pu Papon Curry Big" (released on 20th June) | Nissin Food Group
https://www.nissin.com/jp/news/5239

(PDF)2016 Ethnic dish of No.1 attention appeared from the cup noodle series New release of "Cup Noodle Pu Papon Curry Big" on 20th June 2016 (Monday) - 20160606-01.pdf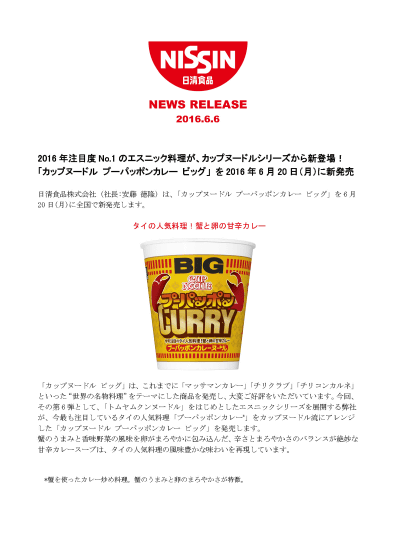 "Cup Noodle Pu Papon Curry Big" bought at a supermarket in the neighborhood is sold only for BIG size cup noodle. By the way, at the supermarket, it was sold at a tax included price of 192 yen.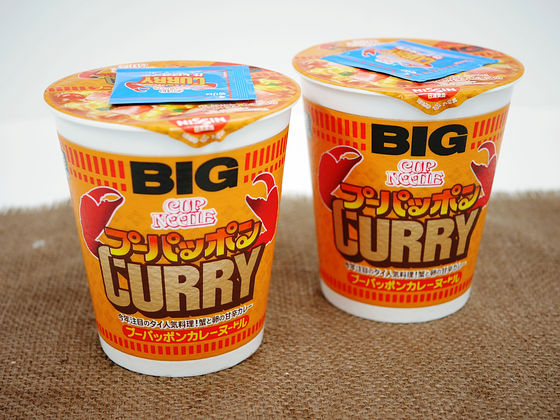 Package contains "Popular Thai food of attention this year! Crab and egg's sweet curry"A catch copy called" crab claw "is drawn.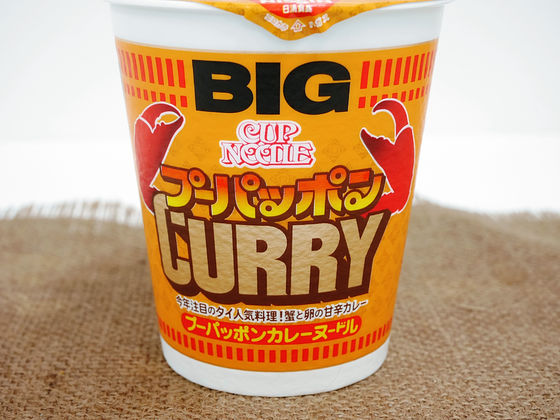 Finished oil on the lid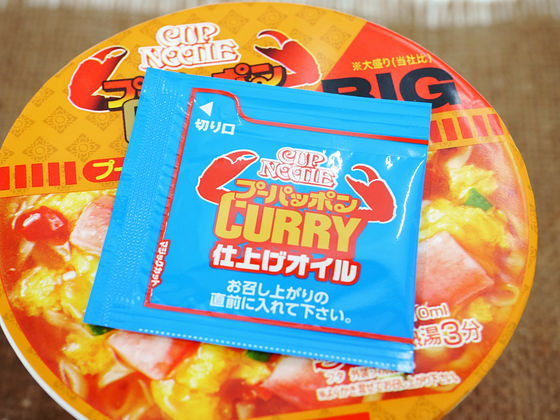 When oil is taken, image of the surimi and crushed eggs prepared using crabs are printed.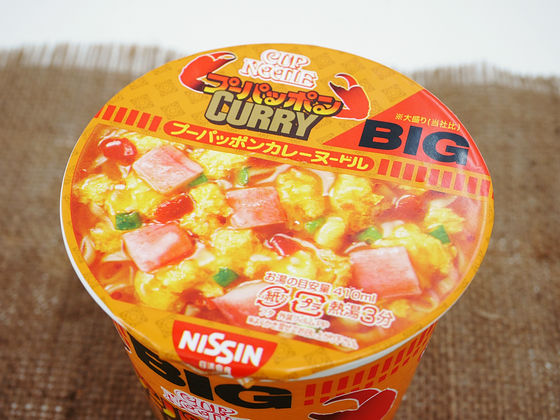 This noodle is a cup noodle arranged arrangement of Phu Papong curry which is widely eaten in Thailand and it is finished to a mellow flavor than ordinary curry. Looking at the raw materials, it seems that ingredients such as flavor oil, fish sauce, shrimp, coconut milk, crab extract are used for soup.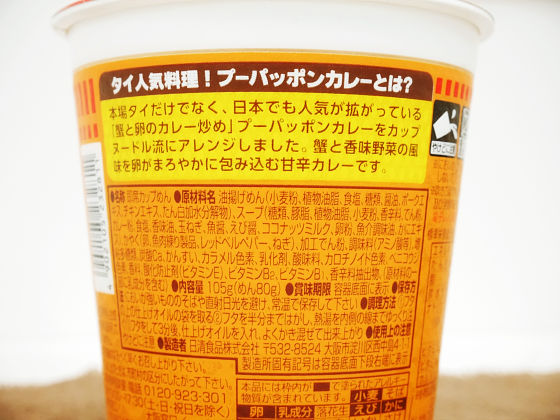 By the way, the energy per meal was 491 kcal, and when salt soup was comparable with the salt equivalent amount it was 6.1 grams.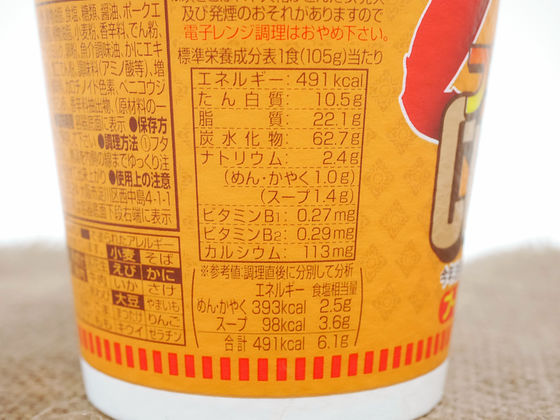 At first, the fish paste that simulates the crab, the fried egg of freeze-dried, red balper pepper, etc. are used, but unfortunately (?) So-called "Mystery meat"Is not in the state.



Compared to normal cup noodle curry, you can see that the eyelids are quite different.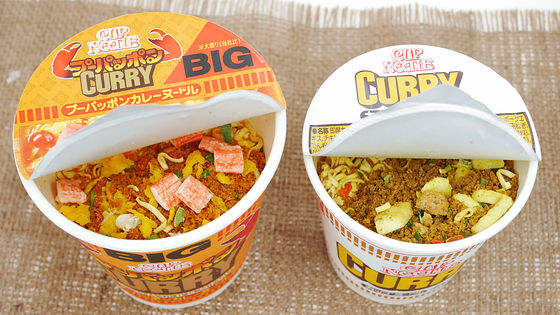 As usual cup noodle, put hot water and wait for 3 minutes.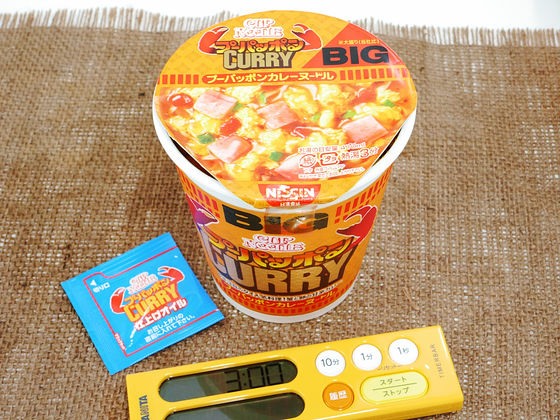 When opening the lid, the melting egg and the crab - duck swelled in a good feeling, and it had a delicious atmosphere. As "sweet curry", a faint sweetness drifts from the fragrance.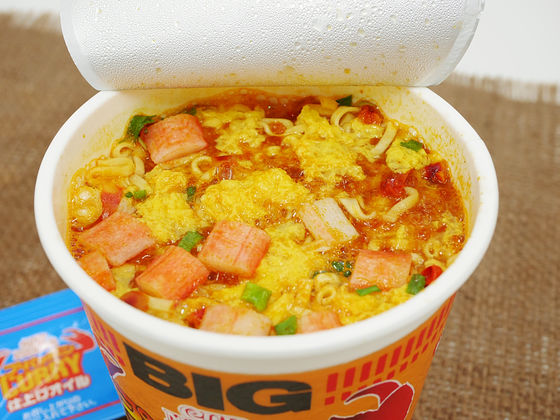 Fill finishing oil before eating.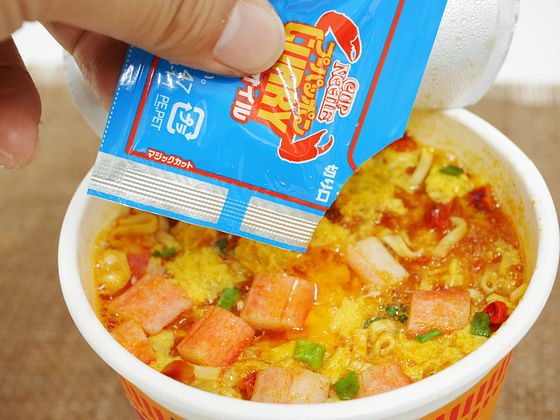 It was slightly reddish, clear and tortuous oil.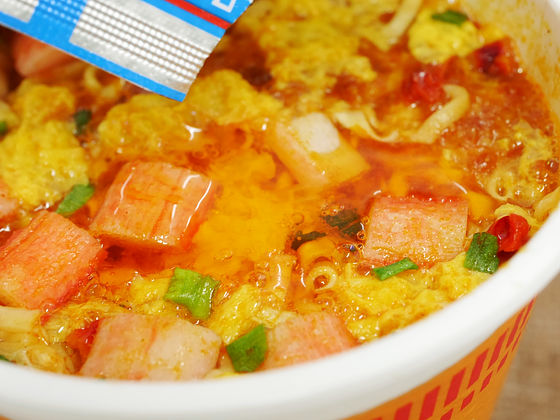 The taste was also thought with the spicy thing like "Thai curry", but I felt mild and sweet as expected, a little thick soup often entangled with noodles and full of volume. Ethnic flavor was not too strong, even people who do not like the unique flavor had a finish that could taste Thai flavor.