New animation list starting in the summer of 2016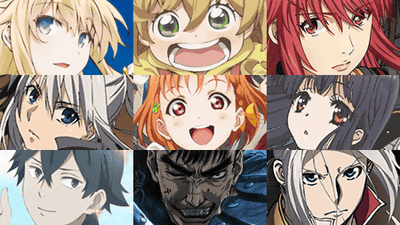 There are four times in a year, familiar program reorganization period. Also this summer, about 50 new animations such as the original and original series of the original novel and the second phase of the popular series are supposed to start again. We have also created a list that will help us to check if there is enough free space for the recorder to make sure that there are no programs that are suffering from broadcasting time.

Below, the list is arranged in descending order of broadcasting time.


---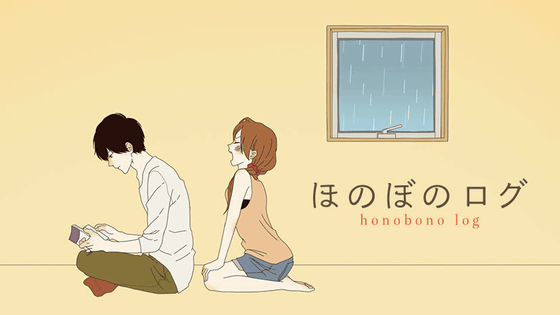 · Broadcast information
NHK synthesis: 6/7 (Tue) 24: 08 ~ (Monday - Friday, another program in Kinki district)
1 talk 2 minutes · 10 story total

·Overview
Animated one picture painted by Popular Illustrator · Fukamachi Naka. A short story of 2 minutes which cut out "happy moment" that can catch a glimpse in daily life.

·staff
Original: Fukamachi Naka
Music: rain parade "morning"
Storyboard / Direction: Rareko
Animation Director: Kumi Matsui
Sound effect: Kohei Yanagihara
Animation Production: Fanworks
Production / work: NHK
Copyright notation: © Nakamachi Naka · Ichinza / NHK

·cast
Morning Seto, Asami Seto


---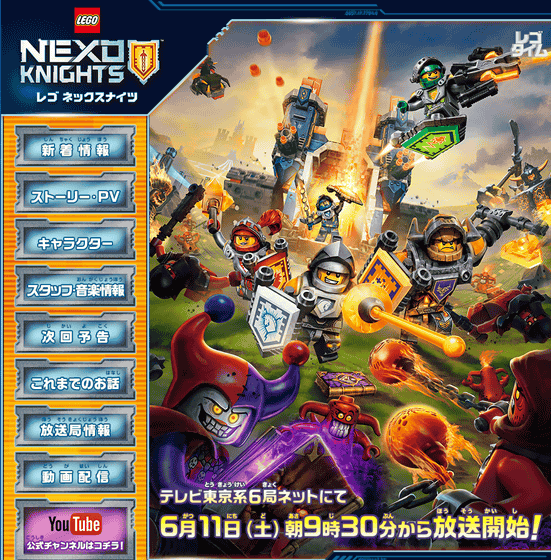 · Broadcast information
TV Tokyo series: 6/11 (Sat) 9: 30 ~

·Overview
In the world where the medieval and the digital coexist, in the Kingdom of Night, the clown clown, Jestro, was tempted by the book of monsters and fell to the way of evil. The young five young Nex Nights who just graduated from Nex Academy will fight using Nex Power while looking for guidance from the masquerading digital magician · Marlock 2.0 in order to protect the kingdom from Jestro.

·staff
Screenplay: Mark · Houmaiah
Approach · Director · Acoustic Director: Ryo Tanaka
Translation: Yasumoto Yasumoto
Recording adjustment: Junpei Fujiwara
Recording Assistant: Shota Kumagai
Recording studio: Prosen Studio
Acoustic production: Dachs Productions
Editorial Studio: M-jay Studio, Tatsuya Nakao
Copyright notation: LEGO, the LEGO logo, NEXO KNIGHTS and the Minifigure are trademarks of the LEGO Group. © 2016 The LEGO Group.

OP: D-51 "STAND UP"
ED: D-51 "Now it's power charge!"

·cast
Clay: Yusuke Ota
Macy: Fumiko Uchimura
Reims: Kikutoshi Kikuchi
Aaron: Takayuki Hanakura
Axel: Takiyuki
Marlock: Koichi Soma
Ava: Hino Mari
Robin: Minami Shinoda
Jestro: Nomura Daichi
Book of Monsters: Shinya Takahashi


---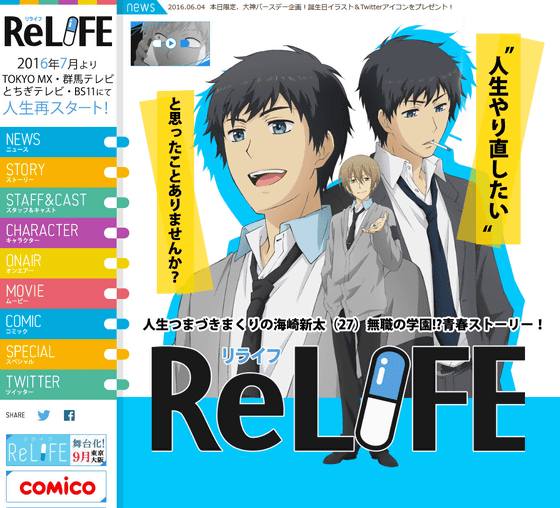 · Broadcast information
ComicoReLIFE channel: June 24 (Friday)
TOKYO MX: 7/1 (Friday) 24: 00 ~
Gumma TV: July 1 (Friday) 24: 00 ~
Tochigi Television: 7/1 (Friday) 24: 00 ~
BS 11: 7/1 (Friday) 24: 00 ~
AT-X: 7/2 (Sat) 24: 00 ~ other

·Overview
"Have you ever thought that you wanted to" restart your life? "
Shinta Haishizaki (27) who got a job with a college 2 Nami + hospital graduate retired from a company that entered with a new graduate in three months. Later hiring goes wrong, and parents are urged to return to the country. A mysterious person, Mr. Yokomisa, appeared before such a marine squirrel, and he joined the social reintegration program "RELAFF" which rejuvenates only the appearance and goes back to high school for one year and redoes life. Haizaki decides to participate in this program.

Like "Detective Conan like a child, brains are adults", the contents are as it is Just a rejuvenating social occupant who just rejoined goes back to the 3rd grade in high school and the life of the application "comico" series of cartoon of youth is also Original work. Prior to television broadcasting, full story delivery of this story is done on the ReLIFE channel.

·staff
Original: night evening (comico)
Director: Kosaka Ko
Series composition: Michiko Yokote, Kazuyoshi Hyodo
Character design · total drawing director: Junko Yamanaka
Color design: Isogai deep snow
Art Director: Kentaro Akiyama
Art setting: Tomoko Zama
Director of Photography: Nozomi Shitara
Edit: Kumiko Sakamoto
Music: Masami Tsubokuchi
Acoustic director: Hashi daichi
Acoustic production: HALF H · P STUDIO
Animation Production: Toms Entertainment
Production: Relief Institute
Copyright notation: © night evening / comico / relief laboratory

Twitter:@ ReLIFE_anime

OP: PENGUIN RESEARCH

·cast
Shinta Haizaki: Kenji Ono
Niki Chizuru: Ai Kinano
Yao Mirai: Ryohei Kimura
Haruka Reona: Haruka Tomatsu
Osami Kazushi: Uchida Yuma
Koyo Onoya: Ren Ueda
Tamago Honoka: Akaneya Sun Ocean
Akatsuki Inukai: Noriaki Sugiyama
Nobunaga Asaka: Daisuke Namikawa
Tianjin Heart: Miyuki Sawashiro
Hiroshi Usa: Wataru Hatano
Inukami violet: Shiraishi Ryoko

"ReLIFE" Anime PV2 - YouTube



---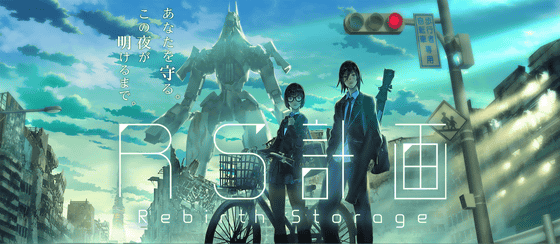 · Broadcast information
Fuji Television: 6/25 (Sat) 26: 20 ~

·Overview
In the year 2025 AD, the unknown threat suddenly emerged "masculinity" developed attacks on human beings, many cities were destroyed without any fault. Human beings struggled, research based on craftsmanship weapons will be promoted based on the "Tokyo Instrumentation Research Institute" established on the occasion of the discovery of crafty remnants in Japan. That strategy that craftsmansly compete with poison to control poison was the only hope left by humanity.
And nine years later. The introduction of the main battle "Mutsu" developed based on the discovered debris as a clue was approaching. "Mutsu" Boys selected as candidates for Boarding Pilots · Rin Sagami and Girls · Maido string boldly face up to the tasks imposed, with the hope of human being's future too big. However, it was too demanding fate that was waiting for the two -

Fuji TV × DeNA × Ebresta planned "Make Mechanical Anime which we want to see Production Committee", The project which was ranked number one in the promotion video playback number was made into TV animation.

·staff
Draft: Roll
Mechanical design: Shoichiro Sato
Director: Ake Osamu Kamei
Screenplay: Miyuki Kishimoto
Character design: Political tail wing (DeNA)
Producer: Taku Matsuo (Fuji TV), Yuichiro Nogami (DeNA)
Copyright light notation: © R.S. Project

·cast
Sagami Rin: Uchiyama Shigeki
Midori Kinring: Sumire Uesaka
Six-car conquest: Hino Satoshi
Yuichiro Sawatari: Takahisa Hoshino
Mishima snow: Mai Nakahara
Kaori Shimizu: Ayane Sakura

"RS plan - Rebirth Storage-" 60 seconds preliminary video - YouTube



---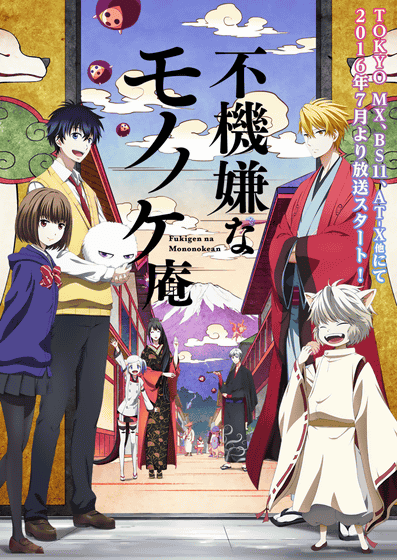 · Broadcast information
AT-X: 6/28 (Tuesday) 23: 30 ~ other
TOKYO MX: 7/3 (Sunday) 22: 00 ~
Yomiuri Television: July 4 (Monday) MANPA frame
Chukyo Television: July 4 (Mon) 26: 42 ~
BS 11: 7/5 (Tue) 27: 00 ~

·Overview
High school student Ashiya Hanaka who is possessed by a youkai visits "Monster An" which exorcises youkai. There is a sorry lord, Abe Haruya, in Nantean, and Ashiya is to work as a part time job in Nantean in order to pay the expenses.

·staff
Original: Wasawakiri (Square Enix 'Gangan ONLINE')
Director: Akira Iwanaga
Series composition: Taka Yoshioka
Character design: Atsuko Kageyama
Art director: Tomohiro Ono
Color design: Miyuki Abe
Acoustic director: Morishita Hiroto
Music: Koji Takanashi (Team-Max)
Yokai others 3DCG: Dandelion animation studio
Animation Production: Piero Plus
Copyright light notation: © Wausawakiri / SQUARE ENIX - "Mad Mononokean" Production Committee

Twitter:@mononokean_tv

OP: The Super Ball "Tomodachi meter"
ED: Ashiya Hanaoka (CV: Hiroaki Kaji), Haruya Abe (CV: Tomoaki Maeno) "Beyond the Door"

·cast
Ashiya Hanaoka: Hiroki Kaji
Haruya Abe: Tomoaki Maeno
Fujiwara Zenko: Takagaki Ayayo
Yahiko: Yukie Otani
Cowra: Yoko Higasaki
Shizuku: Hashimoto Chimami
Legislation: Junichi Suwabe
Gigigi's boss: Fumihiko Tachiki
Mitschichira: Ichijo Kazuya
Manzillow: Terasama Masaki
Joumatsu: Kisho Taniyama
Ami Hime: Saori Ohnishi
Novo: Nobuhito Tobita
Okina: Minami Nishimura
Tomori: Kotono Mitsuishi

TV anime "Unlucky Mononokean" Official PV 3rd - YouTube



---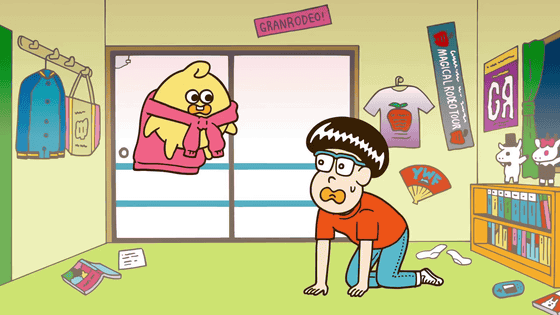 · Broadcast information
TOKYO MX: 7/1 (Friday) 21: 55 ~

·Overview
When I graduated from high school, my husband did not go to college, did not find a job, straight forward to the way of music! Together with the new regular members, husband aims for debut!

It is an animation with the music unit "GRANRODEO" as a motif, the second period following the series which was broadcasted from October 2014 to December 2015.

·staff
Director · Screenplay: Shinkai Gakuto
Illustration: JUN OSON
Production: Lantis, Pie in the sky
Copyright notation: © lantis / pits

Twitter:@ Grap_rodeo

·cast
Tadao: Taniyama Kisho
Olla P: Konno Hiroyoshi
Black of Darkness Black: Hiroshi Shimono
Uoo: I am Noda (Onigashima)

"Dora P &roid Husband" second Season broadcast decision! - YouTube



---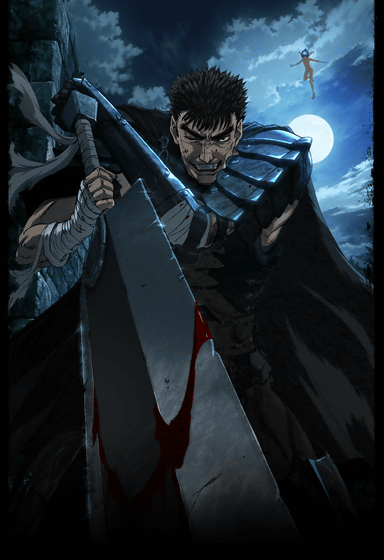 · Broadcast information
WOWOW: July 1 (Fri) 22: 30 ~ other
TBS: 7/8 (Friday) 26: 25 ~
MBS: 7/8 (Friday) 26: 40 ~
CBC: 7/8 (Friday) 27: 16 ~
BS - TBS: 7/9 (Sat) 24: 30 ~

·Overview
"Put the iron blocks in,"
Before the guts, a black swordsman with a huge sword "Dragon Koshiro" that is also equal to an iron bowl, not only an outlaw but also evil spirits and unknown things stand out. What will wait ahead of the Guts who keeps traveling while cutting down their lives?

The original is Kentaro Miura's fantasy comic. From the year 1997 to the year 1998, after being converted into a TV animation as "Sword Wind Tearless Berserk" (25 episodes), the "Berserk Golden Age Hen" by theatrical version animated three-part work was produced from 2012 to 2013. Both are set in the original volume 3 volumes to 14 volumes, set in the "golden age story" where Guts belongs to the mercenary group "Hawk Group" and spends glorious days with Griffiths and Caska of the group.

The cast of this work is generally taking over the movie version, but the staff has been renewed. The content seems to be animated for the first time after "Golden Age" drawn after the Golden Age.

·staff
Original · Total supervision: Kentaro Miura (Studio I picture) (Hakusensha "Young Animal" series)
Director: Shi Itagaki
Series composition: Fukami true
Series configuration cooperation: Takashi Yamashita
Main Character Design: Henry Abe
Main CG modeling: Mamio Kamada (Bondica)
Art director: Hiroshi Itoh (Kusanagi)
Art setting: Naomi Ogura (Kusanagi)
Acoustic director: Miwa Iwami
Acoustic effect: Kayama Oyama
Sound Production: Glow Vision
Music: Shiro Sagishi
Animation Production: GEMBA / Milpansee
Production: LIDENFILMS
Production: Berserk Production Committee
Copyright notation: © Kentaro Miura (studio painting) · Hakusensha / Berserk Production Committee

Twitter:@berserk_anime
Hashtag: #berserk

OP: 9 mm Parabellum Bullet "Inferno"
ED: Yanagi Nagi
Theater song: Hirasawa Susumu "Ash"

·cast
Guts: Hiroaki Iwanaga
Pack: Kaoru Mizuhara
Farnese: Yoko Higakasa
Serpico: Kazuyuki Okitsu
Isidro: Shimono Hiroshi
Azan: Hiroaki Yasumoto
CASCA: Ryousei
Griffith: Takahiro Sakurai
Skull Knight: Atsuo Otsuka

Anime "Berserk" Official Tissue PV / Berserk Animation Official Teaser PV - YouTube



---


· Broadcast information
TOKYO MX: 7/1 (Fri) 23: 00 ~
BS 11: 7/1 (Fri) 23: 30 ~
AT-X: 7/1 (Friday) 24: 00 ~
# 1 week beforehand special number & first episode partial advance broadcast

·Overview
In the warfare of the Makai army and the human world fought, "Shin Kamiki" which is a weapon that was forged by humans and demonstrated the power of the Musou. After the war, a number of God Shakugo machines have long been protected by the guards, but among them the strongest weapon protected by the guardian's "Dance" "Danya" brother and sister " He was trying to fall into the hands of evil led by "contemptant bull" right now. On escape from the pursuit of the contravaganza, Danyang accidentally encountered both of the names of "Snow Crow" and "Immorality" and to gain their help. Three people led by the oddities will hold each thought with newly added individuals with a rich individuality, aiming at the seven sin tower where there is a contrailed body.

Joint company video planning · Martial arts fantasy puppet theater by 霹靂 company, nitroplus, Good Smile company. Fumihabara Genki known as "Magical Girl Madoka ☆ Magica" "Fate / Zero" serves as a draft, screenplay and general supervision.

·staff
Original: Thunderbolt Fantasy Project
Original plan / screenwriter / general supervision: Kabusei Gen (Nitroplus)
Operation / photography: 霹靂 International Multimedia Body Co., Ltd.
Character design: Nitroplus (Sanyu Shinobu, Genju, Ni

, Central east exit)
Weapon Design: 霹靂 International Multimedia Body Co., Ltd., Ishiwadari Makoto (Nitroplus)
Modeling Advisor: Good Smile Company
Production: Thunderbolt Fantasy Project
Copyright notation: © Thunderbolt Fantasy Project

Twitter:@ TBF_PR
Hashtag: #TBF_P

Theme Song: T.M. Revolution

·cast
Snow Raven (Linse Tsua): Kosuke Toriumi
Shoufukan: Junichi Suwabe
Tanya: Mai Nakahara
Hunting cloud (Shunsho): Koyama Koyama
Kotannaun: Kenichi Suzumura
Senja Ogahara (Kei Kai)
Unnecessary life (Setsumsho): Noyoyuki Hiyama
Danbury (Tangkou): Daisuke Hirakawa
Radian (Renki): Kazuhiro Yamane
Sorrowful Body (Betutengai): Seki Tomokazu
Damn (Zanko): Yasuaki Yasumoto
Haruki (Ryoumi): Haruka Tomatsu
Willow (Chowmei): Ohkawa Toru
Narration: Atsuko Tanaka

Thunderbolt Fantasy Eastern swordspeople PV 2nd bullet - YouTube



---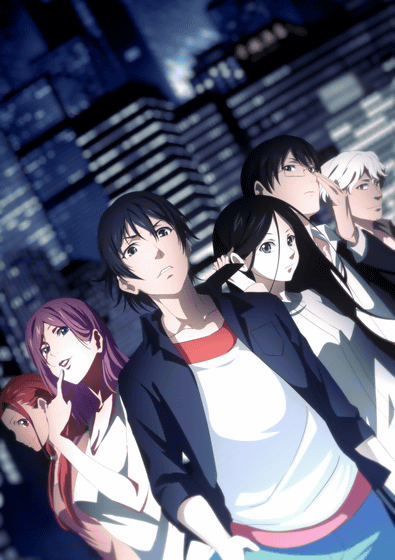 · Broadcast information
TOKYO MX: 7/2 (Sat) 21: 00 ~
# Week 1 broadcast special number immediately before broadcast

·Overview
One day the university student Zhang Chu storm is suddenly attacked by zombies in the graveyard. Even though girls escape the difficulties by being saved, the girls leave the word "confront themselves to their own difficulties" and leave. The next day, as the girl appeared again before Chichi who went to school, Chichi 's fate will shake greatly.

In animation brand "HAOLINERS" the first entry in Japan. The original is webmanga developed by Tencent, one of Asia's largest IT companies "Under one personIt is a work of over 300 million PV.

·staff
Original: Tencent
Director: Wang Yu
Assistant Director: Kazuhiro Toda, Mitsuo Mori
Total drawing director · Character design: Kiriponta
Color: Arisa Komatsu
Art setting · Board: Senju Studio, Watanabe gentian
Shooting: YORIU, Asirogimuto
Director of Photography: Hideo Sumitomo
Overall project: 邹 正 宇
Project: Lee Dae-ryong
Total Executive Producer: Li Xin
Executive Producer: Cedar Fish Rice Rice
Producer: Syu star
Desk: Yanagisawa (NAMU Animation)
Production: Miyabe Masaki, Song Kanon
Section chief: Tatsutoshi Tateishi
Production: Panda Nium × NAMU Animation
Copyright light notation: © TENCENT

Twitter:@ Hitorinoshita
Hashtag: #hitorinoshita

·cast
Zhang Qing Storm: Atsushi Tamaru
Zhang Qin storm (early childhood): Tomoko Iida
Heng Hao: Hayami Saori
Xu Xi: Nojima Kenji
Xu 4: Tachibana Shinnosuke
Monkey: Kampei Yamaguchi
Yuen Wan: Aka Asai
Zhang Tinlin: Tadashi Miyazawa
Zhang Taotian: Kanpei Yamamoto
Natsuke: Yoko Higakasa
Lily: Mariya Miyake
Kaza Yan: Yumemi Hara
Zhang Xiaoyuan: Kosuke Toriumi

TV anime 'One person down' the outcast 'PV Hitori No Shita The Outcast - YouTube



---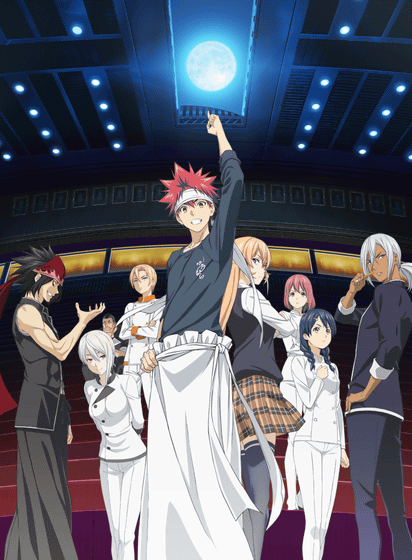 · Broadcast information
TOKYO MX: 7/2 (Sat) 22: 00 ~
MBS: 7/2 (Saturday) 26: 58 ~ (From the second episode onwards, from 26: 28 ~)
BS 11: 7/3 (Sunday) 25: 30 ~
Animax: 7/12 (Tue) 22: 00 ~ other

·Overview
Kohei Namimi who entered in one of the best cuisine schools in Japan "Sengoku tea cottage school" will overcome various challenges in the harsh environment where the graduation reaching rate is 10% or less, and will refine the skill of cooking. Autumn of the first grader, the creator got the right to participate in the tradition of the tradition of the distant month "selection of fall", confrontation with the winning candidate Hayama Akira in the qualifying. Although defeated by one point difference, we decide to enter the main battle. In addition to Mr. Hayama, Mr. Masayoshi Takumi Aldini, Shin-Nihonkaku Sako, Naginagari Alice, Ryo Kuroki Plot, Mikaku Subaru, a total of eight people decided to participate in the main battle. Who do the founder next fight, and who stands at the top of these eight people?

A sequel to "Shokuge no Soma" broadcasted from April to September 2015. The first period is drawn up to the point where eight tournament contestants of 'Selection of Autumn' are chosen, and it seems that this second period will depict the main competition in the fall and the rest.

·staff
Original: Yuto Tsukida, Shun Saeki (Shueisha 'Weekly Shonen Jump' series)
Cooperation: Yuki Morisaki
Director: Yoshitomo Yoshitomo
Series composition: Yaskawa Shopping
Character design: Tomoyuki Shimotani
Acoustic director: Kawahito Meida
Music: Tatsuya Kato
Animation production: J.C.STAFF
Copyright light notation: © Yuto Tsudeda / Shun Saeki / Shueisha · Society of Motor Studies of the Moon Moon 2

Twitter:@ Shokugeki_anime
Hashtag: #shokugeki_anime

OP: SCREEN mode "ROUGH DIAMONDS"
ED: nano.RIPE

·cast
Kohei Inori: Matsuoka Sadyojo
Nori Eri Nori: Risa Toda
Megumi Taburi: Masami Takahashi
Hayama Akira: Junichi Suwabe
Kuroki Plot Ryo: Okamoto Nobuhiko
Takumi-Aldini: Nagi Hanoe
Shinko Shinko: Saori Ohnishi
Nagiri Alice: Akasaki Chinatsu
Mimako Subaru: Hiroaki Yasumoto

TV Animation "Shoko no Soma 2no Plate" Destination CM - YouTube



---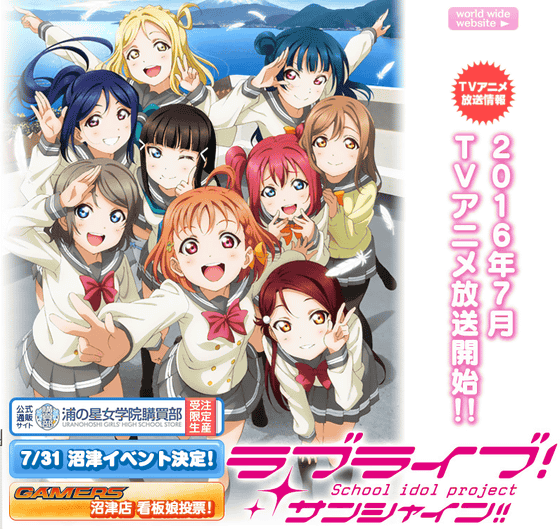 · Broadcast information
TOKYO MX: 7/2 (Sat) 22: 30 ~
Sun TV: 7/2 (Sat) 22: 30 ~
KBS Kyoto: 7/22 (Sat) 22: 30 ~
BS 11: 7/2 (Sat) 23: 00 ~
TV Aichi: 7/2 (Sat) 25: 50 ~
Shizuoka Broadcasting: July 4 (Mon) 25: 58 ~
TV Hokkaido: 7/5 (Tue) 26: 05 ~
TVQ: 7/5 (Tue) 26: 05 ~

·Overview
"Seiyuura's star girls school" located in the seaside town of Uchiura in Numazu City, Shizuoka prefecture. Nine girls, centered on the 2nd year Takae Chika, formed "Aquors" (Aqua), aiming for "sparkling" school idol ".

The original work is based on the media mix project which began with "Dengeki G's magazine" from 2010. This is the main character of the school idol group "μ's", it is converted to TV animation twice from January to March 2013 - April 2014 in June 2014, and the movie "Love The last live was held in Live School Idol Movie. The voice actor who plays "μ's" character actually performed live as an idol and played in the red and white singing fight of 2015.

Planning as "Sunshine" started in 2015. In the time series also "Love Live! Sunshine !!" comes after "Love Live! School idol project", and the hero, Takami Chika has longed for μ's and formed a school idol "Aquors".

·staff
Original: Hajime Yae
Draft: Sakurako Kono
Director: Kazuo Sakai
Series composition: Zenki Hanada
Character design: Yuhei Murota
Design Works: Hana Hana
Set design: Takehiro Takahashi
Art director: Higashi Junichi
Color design: Sayako Yokoyama
CG Director: Kurosaki
Director of Photography: Daisuki Sugiyama
Edit: Daisuke Imai
Acoustic director: Nagasaki Jun Man
Music: Tatsuya Kato
Music production: Lantis
Animation production: Sunrise
Copyright notation: © 2016 Project Love Live! Sunshine !!

Twitter:@LoveLive_staff
Hashtag: #lovelive

·cast
Takao Chika: Aniki Inami
Riko Sakurauchi: Rikako Akita
Minekura Matsuura: Naka Suwa
Kurosawa Diamond: Aki Komiya
Watanabe Days: Saito Zhu Xia
Tsushima Yoshiko: Aika Kobayashi
Kunikida Hanaru: Takatsuki Kanako
Masaru Ohara: Ara Suzuki
Kurosawa Ruby: Love Divine

【Bonus PV】 TV anime "Love Live! Sunshine !!" Division PV - YouTube



---


· Broadcast information
AT-X: 7/2 (Sat) 23: 00 ~ other
TOKYO MX: 7/2 25: 00 ~
KBS Kyoto: July 3 (Sun) 23: 30 ~
Sun TV: July 4 (Monday) 24: 00 ~
BS 11: 7/8 (Friday) 23: 00 ~

·Overview
A terrible negative negotiable younger lady / summer walk is loved at first sight, being aided by a 173 cm tall man who is about to be run over by a car. Actually, however, that handsome was a fifth grader in the growing season.

In addition to the performance of "Ikemen looks good, mental age is small 5 or less" (CV: Takahiro Sakurai), there are Yankee small 5 (CV: Shotaro Morikubo) etc on fight etc., transformation system small communicating with the universe 5 (CV (CV: Kenichi Suzumura), self-proclaimed "Naniwa's speed coaster" (CV: Kenichi Suzumura), unfaithful demonic animal road (CV: Ishikawa Kokitan) (CV: Nobuhiko Okamoto), a daughter like girlfriend of figures, beautiful girls and men (CV: Kenjiro Tsuda), elder brother who runs siscon in excess of seniority (CV: Mitsuaki Midorikawa), individuality Many male characters appeared. In addition, Azio Otsuka serves narration. If anything it is a work for women, it seems to be a feast for dark characters who can also enjoy male fans.

·staff
Original: Maruaki Hiyoshi (Kodansha "ARIA" series)
Director: Takayuki Inagaki
Character design: Mariko Oka
Series composition: Hiroko Kanasugi
Scenario: Oda Small Yuri, Akashima Takashi, Akao Yoko
Art director: Miwa Miyake
Art setting: Tomonori Sano
Color design: Saori Yoshida
Director of Photography: Junko Sakai
Edit: Rie Matsubara
Music: Go Sakabe
Animation Production: Studio Dean
Production: Bamboo elementary school PTA
Copyright light notation: © Maruaki Hiyoshi · Kodansha / Takefu elementary school PTA

Theme Song: Aoi Shota

·cast
Takahashi Takahiro: Takahiro Sakurai
Nikaido summertime: Yui Horie
Sannomiya Ginjiro: Tomokazu Sugita
Kaneko 16: Shotaro Morikubo
Kazuo Noguchi: Ayumi Murase
Kota Shinohara: Nobuhiko Okamoto
Atsushi Taga: Ishikawa Kokitan
Nagasawa Arashi: Kenjiro Tsuda
Joji Takahashi: Kenichi Suzumura
Nikaido Otani: Midorikawa Mikawa
Makurazaki Munehiro: Eguchi Takuya
Renren: Shota Aoi
Chiaki Yokouchi: Mizuki Wada
Hayashi Muyu: Ai Kinano
Shogo Takahashi: Shusuke Takeuchi
Fukaya snow: Iori Nogei
Narration: Akio Otsuka

TV anime 'Hatsukoi Monster' Tiza PV - YouTube



---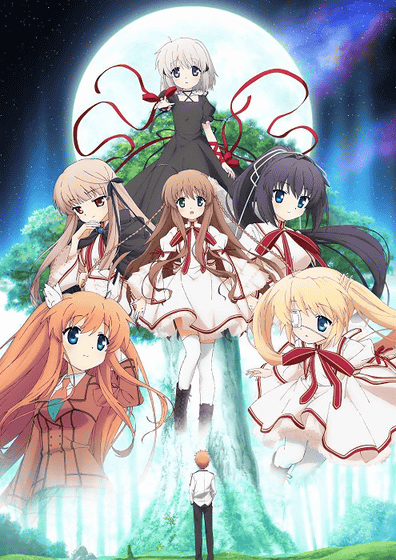 · Broadcast information
TOKYO MX: 7/2 (Sat) 23: 30 ~ (1 hour special for the first time)
Tochigi Television: 7/2 (Saturday) 23: 30 ~ (First time 1 hour Special)
Gunma TV: 7/23 (Sat) 23: 30 ~ (First hour special 1 hour)
BS 11: 7/2 (Sat) 23: 30 ~ (First time special 1 hour)
MBS: 7/2 (Sat) 25: 58 ~ (First hour special 1 hour)

·Overview
"- Would it be possible to rewrite her, its fate?"
Kotaro Tennoji who spends commonly with friends Kobe Bird, Yoshino Haruhiko etc in the festival city. At the harvest festival once a year, information on unidentified creatures and occult rumors are flowing in the town, and from the fact that a strange event has begun to occur in Saitaro, Kentaro is the director of the occult study group · With the help of Senri Akane, involve acquaintances and start investigation. For Kotaro, I was planning a little adventure, but the investigation leads to the quest for "truth" no one knows ... ....

An announcement was made at April Fools in 2008, an original game of Key, which was really made and released in 2011, not a lie, is the original. In addition to what was really made, as a scenario writer, Tanaka Romeo, known for adult game "CROSS † CHANNEL" and novel "Human beings have declined", and Dragon Knight 07 of "Higurashi no naku koro ni" are participating It became a topic.

In addition, in commemoration of animation, scenario censoring and revision by Tanaka Romeo, addition and drawing CG · undelivered CG additions and additional elements of the consumer version were performed and a fan disk "Rewrite Harvest festa!" Was bundled "Rewrite + (Rewrite Plus)"Will be released on July 29, 2016.

·staff
Original: Key / Visual Arts
Director · Series composition: Tianba
Composition · Screenplay Cooperation: Romeo Tanaka, Saki (Visual Arts)
Screenplay: Takashi Aoshima, Tatsuya Takahashi
Character original plan: Mr. Higamori (Key / Visual Arts)
Character design · Total drawing director: Masayuki Nonaka
Art setting: Yoshinori Shiozawa
Art director: Kazuhiro Inoue (Kusanagi Kusanagi)
Color design: Tomomi Murakami
Director of Photography: Kobu Ogawa (Chiptune)
CGI Director: Masato Takahashi (Chiptune)
Edit: Mukumi Mushimiya
Music: Shinji Oriento, Maiko Inoue, Satoshi Hosoi, Tombs of Suigetsu, Akira Makoto
Music Production: Visual Arts
Sound Production: Magic Capsule
Animation production: Eight bit
Copyright light notation: © VisualArt's / Key / Rewrite Project

Twitter:@rewrite_tv
Hashtag: #rewrite_tv

·cast
Tennoji Kotaro: Morita Seiichi
Kobe Bird: Chiwa Saito
Chihayao: Shinomiya Saya
Akine Senri: Eri petit Kitamura
Nakatsu Static current: Suzuki Keiko
Konohana Lucia: Morning tree Risa
篝: Hanazawa Kana

Rewrite / PV 2nd bullet - YouTube



---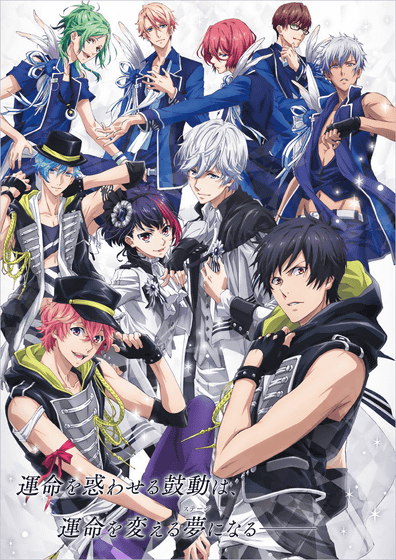 · Broadcast information
TOKYO MX: 7/2 (Sat) 24: 30 ~
Gunma TV: 7/24 (Sat) 24: 30 ~
Tochigi Television: 7/24 (Sat) 24: 30 ~
BS 11: 7/2 (Sat) 24: 30 ~
ABC: 7/2 (Saturday) 26: 30 ~ (26: 15 ~ after the 2nd talk)
CBC: 7/6 (Wednesday) 26: 52 ~

·Overview
"The heartbeat that confounds fate becomes a dream (stage) that changes fate"
Tsubasa Tsubasa who was employed by industry leader Gandhara Music will be in charge of the idol group "B-PROJECT". Because B - PROJECT has three groups "Kitakore", "THRIVE", "MooNs", Tsubasa 's first job is not simple, it suffers from troubles and accidents ... ....

T.M. Revolution 's Takanobu Nishikawa is a comprehensive producer, music producer / composer Idol project which Shirokura Chiyomaru plans and creates as the original "B-PROJECT"Animated.

·staff
Original: "B-PROJECT" (MAGES.)
Total produce: Takashi Nishikawa
Planning · Original: Shikura Chiyomaru
Original illustration: Yukihiro Utako
Director: Eiji Suganuma
Series composition: Yuko Akao, MAGES.
Character design · total drawing director: Toshie Kawamura
Assistant Director: Sato Yo
Art director: Tomohiro Ono
Art setting: Mika Nakashima
Color design: Akiko Inoue
Director of Photography: Kenji Takahashi
Edit: Tomoki Nagasaka
Music: Masanori Nakayama
Sound Director: Yano Satori
Production: A-1 Pictures
Production: Team B-PRO
Copyright notation: © MAGES. / Team B - PRO © B - PROJECT

Twitter:@ Bpro_info
Hashtag: #B pro

OP: B-PROJECT (Kitakore, THRIVE, MooNs) "Beat * Anbious"
ED: Kitakore "Sentences of the stars and the moon"

·cast
Tsubasa Clearlake: Hisako Kanemoto
Kitamon Rin Bisha: Daisuke Ono
Ryozo Kunio: Daisuke Kishio
Takeshi Kaneshiro: Toshiyuki Toyonaga
Atsushi Yuta: Nagi Hanoe
Aizen Akira: Kato Kazuki
Increase Kazunami: Yu Shimamura
Michitaro Okae: Teruya Kakihara
Wang Chae Hui: Shokutaro Morikubo
Nozomi Yurihiro: Okawa Genki
Teijin Shimomura: Toshiki Masuda
Yukimaru Sakutaro: Kosuke Toriumi
Atsushi Oguro: Kazuyuki Okitsu
Shuji Oguro: Namikawa Daisuke

TV animation "B-PROJECT ~ beat * ambish" ~ 1st PV | 2016.7.2 on air !! - YouTube



---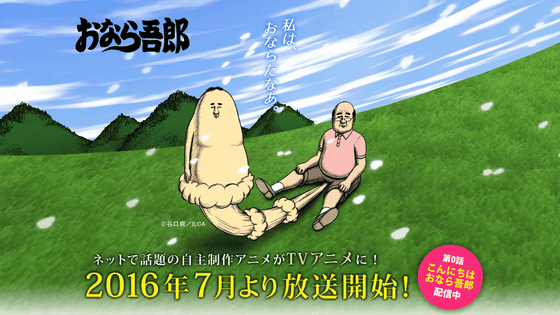 · Broadcast information
KBC: 7/2 (Sat) 25: 57 ~
Tvk: 7/3 (Sun) 23: 55 ~
YouTube, GyaO!

·Overview
"I'm a fart,"
Goroku fart that god farts most farting among farts, warm hearted everyday gag animation that spreads with a little bit juvenile dear husband.

The original is anime writer Takashi Taniguchi'sIndependent production short animation. At the cloud funding site MakuakeSupporting project aiming at making TV animationHas been done, achieving the target amount and achieving television animation.

·staff
Original: Takashi Taniguchi
Copyright notation: © Takashi Taniguchi / ILCA © "grand goro" animation project 2016

Theme Song: And Crazy 'MECHA DESOUNARA ~ All bye fart ~'

·cast
Fart gorou, others: Takashi Taniguchi

Fart goro - YouTube



---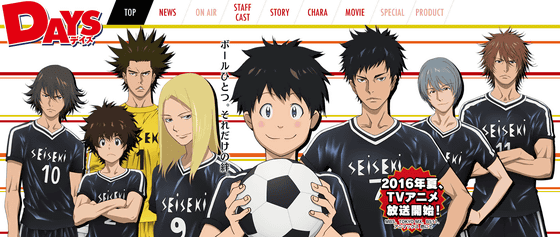 · Broadcast information
MBS: 7/2 (Sat) 26: 58 ~
TOKYO MX: 7/3 (Sun) 23: 30 ~ other
BS 11: 7/3 (Sunday) 25: 00 ~ other
Animax: 8/4 (Thurs) 19: 00 ~ others

·Overview
"One ball and that much bond."
There is nothing special, there is no special skill, but a boy / books made with a hot heart, unknown person. When he entered the prestigious West Seibu prefecture, the sacred high school football club, fate begins to rage intensely. Lonely soccer genius · Kazama team, captain of super high school class players · Mizuki Sushin, cool commander to reign under the top · Kimitoshin Atsushi, Yuigo Liberal system large forwarder · Oshima Kiichi ... .... In the harshly gentle club activities of gentlemen, boys begin to connect irreplaceable bonds. This is a hot story, pure, everywhere, a story of sweat, miracle and friendship of the sacred high school soccer club !!

Beginning in 2013, we will animate the real soccer high school soccer cartoon serialized in Weekly Shonen Magazine. By the way, already published volume 16. While PV is often distributed on YouTube or its own site, this work is tweeted by anime official Twitter.

·staff
Original: Takeshi Yasuda (Kodansha 'Weekly Shonen Magazine')
Director: Uda Shinnosuke
Character design: Kazuto Nakazawa
Acoustic director: Masumi Mima
Sound production: Techno sound
Music: Ikehiro Ike
Music Production: Pony Canyon
Animation Production: MAPPA
Copyright notation: © Takeshi Yasuda, Kodansha / "DAYS" Production Committee

Twitter:@ Days_anime
Hashtag: #days_anime

·cast
Tamukkashi: Takuyo Yoshinaga
Kazama Camp: Matsuoka Sadyojo
Mizuki Susumoto: Namikawa Daisuke
Atsushi Kimita: Daisuke Ono
Kiichi Ohashi: Mamoru Miyano
Yuta Usui: Takahiro Sakurai
Come Susumu Hiroshi: Yoshino Hiroyuki
Tetsuya Shinodome: Ishikawa Toshinin
Shiratori Naoki: Okabe Ryoson
Nakihito Sho: Toshiyuki Toyonaga
Ikuo Chikako: Mariya Ise
Tachibana Sayuri: Ayane Sakura
Nakazawa Victory: Katsuyuki Konishi
Jiro Hirahara: Hiroshi Shimono
Susumu Inohara: Hiroaki Yasumoto

【DAYS】 Number Movie 【Start of Broadcasting in the Summer of 2016】 - YouTube



---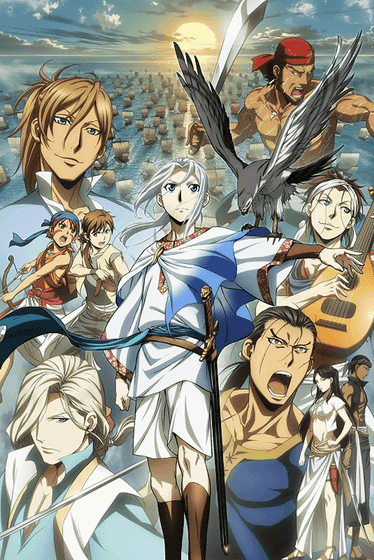 · Broadcast information
MBS · TBS series: 7/3 (Sunday) 17: 00 ~
All 8 episodes

·Overview
Powers · Pulse was defeated to Lusitania of neighboring country at "Atropoten Battle Battle", the kingdom Ekbatana fell into the hands of Rusitania. In the battle King Pulse King Andorra Goras III will also be unknown, Ottoman Arslan will retire to the eastern base · Peshawar with the hundreds of horseshoe Dales aiming to recapture the capital. Among them, Arslan learns Lusitania's guest general "Silver Masked Lady" Hirame and his own origins, but he does not give up on the capture of the Kingdom as Prince King, and first brings Rusitania at the battle of St. Manuel Castle.

In the continuation of "Arslan Battle" which was broadcasted from April to September 2015, broadcasting with a special number of stories "all eight stories" instead of one course (12 to 13 episodes). "Wind dust Ranbu" is the title of the original novel 6 volumes, and the story that Arslan and others challenge the fight with the pirates in port town and Guillain. Since 7 volumes are "the capital recapture", it seems that it will be drawn before that.

·staff
Manga: Hiroshi Arakawa
Original: Yoshiki Tanaka
Director: Akabi Abe
Series composition: Makoto Kamgangsu
Chief Character Design: Shingo Ogiso
Character design: Tazawa Tide, Kazuo Watanabe
Action Director: Satoshi Kimura
Concept design: Daisuke Nisuma
Art director: Kudo However
Background: Studio Pinewood
Color design: Aiko Shinohara
CG Director: Yamashita Cooperation
Modeling Director: Tatsuya Shimano
3DCGI: Felix Film
Director of Photography: Yuiko Masumoto
Photography: Graphica
Edit: Mai Hasegawa
Acoustic director: Kawahito Meida
Acoustic effect: Kayama Oyama
Sound Production: Magic Capsule
Music: Taro Iwashiro
Animation Production: Leiden Film
Production: "Arslan War" Production Committee
Copyright Light Notation: © 2016 Arakawa Hiroshi, Tanaka Yoshiki, Kodansha / "Arslan War" Production Committee · MBS

Twitter:@arslan_anime
Hashtag: #arslan

OP: Aii Eile 'wings'
ED: Kalafina "blaze"

·cast
Arslan: Yusuke Kobayashi
Dalyen: Yoshimasa Hosoya
Narusas: Namikawa Daisuke
Elam: Nagi Hanoe
Give: KENN
Pharin Geese: Maaya Sakamoto
Alf Reed: Ami Numakura
Jaswant: Wataru Hatano
Etoile: Yumi Uchiyama
Hermes: Hiroki Kaji
Il Telesh: Toru Inada
Tocthomis: Teruaki Genda
Jimsa: Makoto Saito
Merlein: Satoshi Hino
Irina: Ai Kinano
Shaghard: Takahiro Sakurai
Gurase: Kenjiro Tsuda

TV anime "Arslan Battle Wind Dance Ranbu" PV - YouTube



---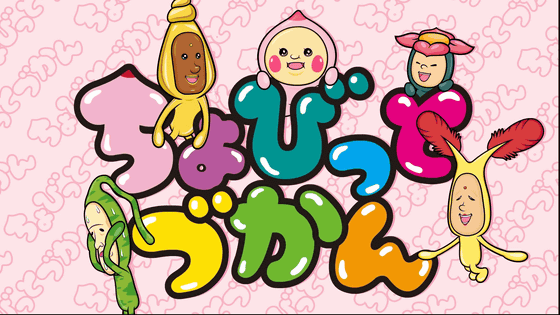 · Broadcast information
Kids Station: 7/3 (Sunday) 20: 55 ~ other
TOKYO MX: 7/7 (Thu) 21: 55 ~
TV Kanazawa: July 11 (Mon) 25: 34 ~
Kansai Television: 7/16 (Sat) Midnight ~ (Sound EmonInner · Time unspecified)

·Overview
Animation into commemoration of the 10th anniversary of "Kotobuki Tsukan". A new character "Chobits" who inherited the world view of "Kobatome Tan Kan" for only "a little", is a slap comedy searching for a legendary peach.

·staff
Character original plan: Tabata tombataka
Supervision: Rocrin Corporation
Project: Kazuhiko Yusa
Director: Kanzaki Jun
Screenplay: Genichi Adachi
Animation Production: Katsu Studio
Sound Director: Satoshi Kashimura
Acoustic effect: Yuji Furuya (Suwara · Pro)
Recording studio: Three studio
Acoustic production manager: Sho Uehara
Acoustic Production: Spellbound
Production: Asmik Ace
Copyright light notation: © Toshitaka Nabata / Chobitsuketsukan Production Committee

Twitter:@ Chobittodukan

OP: TEMPURA KIDZ "I Like It"

·cast
Clown fungus: Sumi Shimamoto
Little Hana Gashira: Nico
Hotokake Akabane: Hirayama Hirumi
Takarakogane: Chiharu Sawashiro
Kusa Madara Ookobito: Natsumi Yanagibashi
Benicokekobito: Watarasaku Aramami
Chevrochia otchi: Tsukui Ayafumi
Other

Drinking spot-out anime "Chobitsutsukan" notice - YouTube



---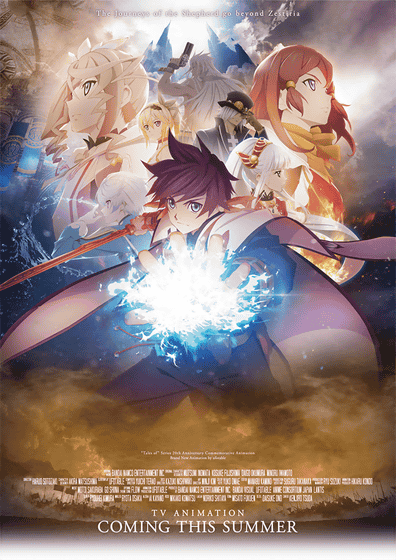 · Broadcast information
TOKYO MX: 7/3 (Sun) 23: 00 ~
KBS Kyoto: July 5 (Tue) 24: 00 ~
Sun TV: 7/5 (Tuesday) 24: 30 ~
BS 11: 7/5 (Tue) 24: 30 ~
TV Aichi: 7/5 (Tue) 26: 05 ~
Okayama Broadcasting: 7/10 (Sunday) 26: 05 ~
Kochi Ladies TV: 7/13 (Wednesday) 25: 55 ~
TV Ehime: July 14 (Thurs) 26: 00 ~

·Overview
A young man and a slave of a human being who grew up surrounded by the spiritual existence "heavenly" invisible to the human eye. He believes in the tradition that "everyone in human beings could see the appearance of heavenly people" he had dreamed of elucidating the ancient mystery and realizing the world where both people and Tianists live together . One day, Surei caught in a strange incident in the city of a human who visited for the first time he was born is a "guiding person" who pulls out the holy sword piercing the stone from Nyuyuki and pays the disaster of the world. The dream of coexistence of people and Tian is increasing in the heart that carve a heavy mission - along with their friends, "guidance" steps one step towards the great adventure journey now.

The original was released on January 22, 2015 Tales series latest work "Tales of Zestiria Tales of Zestria". At the time of game release, the special anime "dawn of the guardian" which is the day before was recorded as a hybrid disc.

In the game versionMr. Matsukichi Ms. Miyuki who served as a lyra died on October 27, 2015Because of that, the role of Lyra is handed down by Mr. Noriko Shimoya, known for his role as "Fate / stay night" amongst others.

·staff
Original: NAMCO BANDAI Entertainment
Character draft: Mutsumi Inanomi, Kousuke Fujishima, Daigo Okumura, Minoru Iwamoto
Director: Haruo Azaki
Character design: Akira Matsushima
Screenplay: ufotable
Director of Photography: Yuichi Terao
3D Director: Kazuki Nishiwaki
Art director: Kim Tae Gi
Color design: Yuko Ohmae
Edit: Kanonagaki
Music: Sakuraba, Shiina Australia
Animation production: ufotable
Copyright light notation: © BNEI / TOZ-X

Twitter:@ TOZtheX
Hashtag: #tozx

OP: FLOW "Kaze no Uta"
ED: fhána

·cast
Sley: Ryohei Kimura
Mikurio: Ryota Osaka
Alysha: Ai Kinano
Rosé: Komatsu Umiko
Laila: Noriko Shimoya
Edna: Misato Fukuneni
Desel: Daisuke Ono
Zabida: Kenjiro Tsuda

TV anime "Tales of Zestilia the Cross" broadcast announcement promotion video - YouTube



---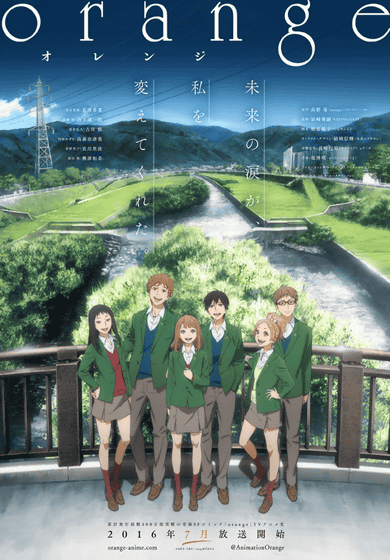 · Broadcast information
TOKYO MX: 7/3 (Sunday) 24: 00 ~
AT-X: 7/3 (Sunday) 24: 00 ~ other
BS 11: 7/3 (Sunday) 24: 30 ~
TV Aichi: 7/3 (Sunday) 25: 05 ~
ABC: 7/6 (Wednesday) 26: 14 ~
TV Shinshu: July 14 (Thurs) 26: 14 ~

·Overview
"The tears of the future have changed me."
In the spring of the second year high school, a letter arrives under Nanaho from "Myself after ten years". Naho who thought that it was a mischievous, but as the content came to believe the content one after another in reality, in letters I like the story of a transfer student and in the winter of 17 years, Sho dies It was spelled that it would be.

The original is a total of 5 volumes Young comics that circulated total circulation of 4 million copies. In December 2015, director: Hashimoto Kanjiro, Takamiya Noriho role: Tsuchiya Taiho, Naruse Shozo: Yamazaki Kenito made a movie, boxing income recorded 3.2 billion yen.

Directed by Hirotsugu Hamasaki of "STEINS; GATE" "Tera Pharmers".

·staff
Original: Takano Strawberry (Futabasha "Monthly Action" Series)
Director: Hirotsugu Hamasaki
Screenplay: Yuko Kakihara
Character design: Nobuhiro Yuuki
Acoustic director: Nagasaki Jun Man
Music: Hiroaki Tsutomu
Animation Production: Telecom · Animation Film
Cooperation in production: TMS ENTERTAINMENT
Copyright light notation: © Strawberry Takano / Futaba / orange Production Committee

Twitter:@ AnimationOrange
Hashtag: #orange_a

·cast
NAGO Takamiya: Hanazawa Kana
Sho Naruse: Seiichiro Yamashita
SUWA Hiroto: FURUKAWA Shinaka
Azusa Murasaka: Natsumi Takamori
Takako Chino: Rika Kinuukawa
Hagita Oshu: Kazuyuki Okitsu

TV animation "orange" 2nd PV - YouTube



---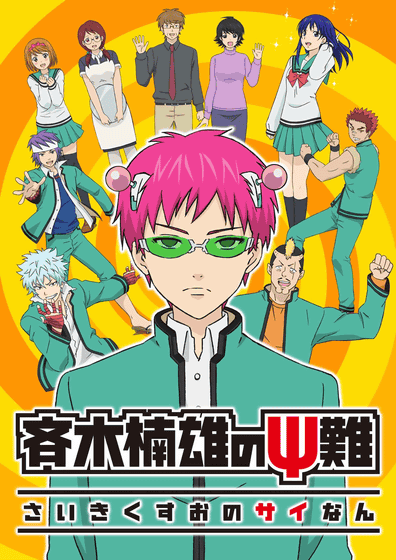 · Broadcast information
TV Tokyo series 【Morning】: 7/4 (Monday) 7: 05 ~ (band program · "Ohashi")
TV Tokyo: 7/10 (Sunday) 25: 35 ~
TV Aichi: 7/10 (Sun) 25: 35 ~
TV Osaka: 7/10 (Sun) 25: 35 ~

·Overview
Naoki Kusuo is an unprecedented ESP who has the ability to use telepathy, psychokinetic, perspective, prediction, instantaneous movement, clairvoyance and other abilities. I usually solve problems of everyday relationships occurring on my own or in the surroundings using secret power so that I do not want to be a supernatural person. However, for those who wish to live quietly, inconveniently mysterious humans and living things gathered, and furthermore the calamity comes down like a storm.

Animation of school psychic gag comic series of Weekly Shonen Jump. In the morning it broadcasts short anime in the band program "Ohashi", and at midnight it broadcasts 5 episodes at once, a little unusual broadcast form.

·staff
Director: Hiroaki Sakurai
Series composition: Michiko Yokote
Character design: sound percussion line
Animation production: EGG FIRM × J.C.STAFF
Production: Shogakkan Shueisha Production
Copyright notation: © Shoichi Aso / Shueisha · PK Gakuen

Twitter:@ Saikikusuo_PR

·cast
Kazuo SATIKI: Hiroshi Kamiya
Firefly power: Daisuke Ono
Naoto Kai: Nobunaga Shimaki
Kizuki SAIKI: Mitsuo IWAWA
Hisaki Saiti: Hanako Aikawa
Teruhisa Terahashi: Ai Kinano
Tomoe Yumehara: Yukari Tamura
Hakuzushi: Hino Satoshi
Noritaki Torika: Nagi Hanoe


---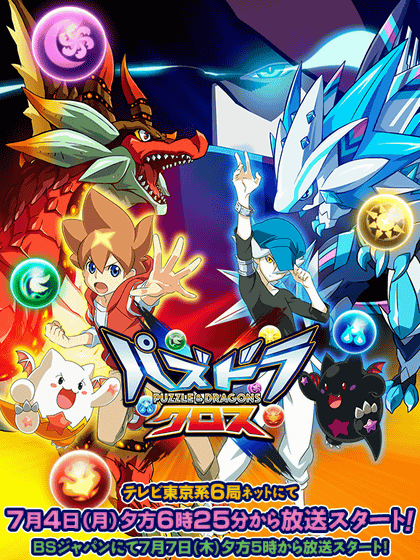 · Broadcast information
TV Tokyo series: July 4 (Monday) 18: 25 ~
BS Japan: 7/7 (Thursday) 17: 00 ~

·Overview
Puzzle RPG for Nintendo 3DS on July 28, 2016Paz dracross"Media mix is ​​advanced according to the release, in addition to this TV animation, cartoons have also started from the comic book CoroCoro comics.

·staff
Copyright notation: © Gung Ho Online Entertainment / Paz Dora Cross Project · TV Tokyo

OP: UVERworld
ED: Tomita Shiori

·cast


---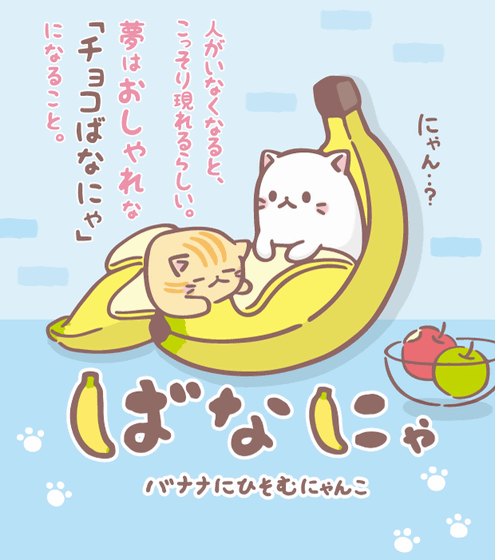 · Broadcast information
Teradami: July 4 (Monday) 20: 55 ~
Sun TV: July 9 (Sat) 14: 55 ~

·Overview
A mysterious creature lurking in a banana. I usually live in real genuine banana, living secretly when I do not have people, mischief ... .... Researchers chasing long-weared mischievous bathers will observe the fancy with a loose feeling anyway. Now we are approaching the cute ecology of our ladies who are neither cats nor bananas!

Nyanko character character in the banana "GrasshopperShort animation. In addition to Bana, there are various companions such as Bana Nyako, Kurobana, Kurabaya, Nagaa Nagaa, Naka Taraba etc, but other people are called " Kaji Hiroki of the role of Ellen Jaeger, Trubana Nakayama and others as "Hi Que !!" Hyuga Shoyo's role, Michitaka Murase, they seem to play various roles together. Narration is a manga artist also active as a talent Hakozo Naka revenue.

·staff
Original: Cooler
Director: Yashita Today
Screenplay / Directing / Storyboard: Yahagi Todoke, Masahiro Takata, Jun Mita
Director of drawing: Jun Mita
Director of Photography: Koichi Yokohama
Acoustic director: Nobuyuki Abe
Animation Production: Gathering
Cooperation in production: TMS ENTERTAINMENT
Production: Bana-nya P-well

Twitter:@ Bananya_anime
Hashtags: # Banaga

·cast
Banana: Hiroki Kaji
Tombaya: Mr. Murase
Narration: Egg pricelist

"Banana" PV / July TV animation start! / Bana-nya Papa-to-sama Official Trailer - YouTube



---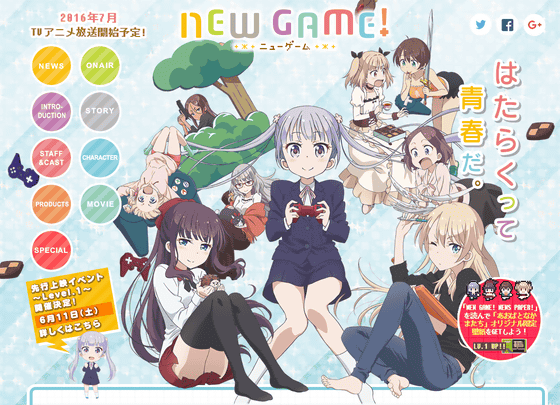 · Broadcast information
AT-X: 7/4 (Monday) 22: 30 ~ other
TOKYO MX: 7/5 (Tue) 24: 30 ~
TV Aichi: 7/5 (Tue) 25: 35 ~
MBS: 7/5 (Tue) 26: 30 ~
BS 11: 7/6 (Wednesday) 24: 00 ~

·Overview
"It's youth to work."
Aoba, who joined the game production company Eagle Jump after graduating from high school, encounters the character designer Yagami Kou who played games that he once fell into love with. While puzzled about work, Aoba grows while being saved by a senior like Kou.

The original manga comes from Aoba's "I will do my best day today!"Is one of the most well known.

·staff
Original: Shotaro Noko (Honbunsha "Manga Time Kirara Carat" series)
Director: Yoshiyuki Fujiwara
Deputy Director: Ryohei Takeshita
Series composition: Shimo Fumihiko
Character design: Ai Kikuchi
Overall director: Ai Kikuchi, Yuichi Oka, Manami Tenazaki, Chisato Kikunaga
Prop Design: Eri Nakajima
Art director: Shunsuke Suzuki
Color design: Ishigu Kei
Director of Photography: Takafumi Kano
Edit: Daisuke Hiraki
Acoustic Director: Masayuki Tsuchiya
Acoustic effect: Kayama Oyama
Acoustic production: Delphi sound
Music: Yu Hakushi
Music production: KADOKAWA
Animation Production: Movie Studio
Production: NEW GAME! Production Committee
Copyrights notation: © Shotaro Nozen · Yoshifusa / NEW GAME! Production Committee

Twitter:@ Nganime
Hashtag: # New game

OP: fourfolium (Takada Maki / Yamaguchi Ai / Toda Megumi / Takeo Atsumi) "SAKURA skip"
ED: fourfolium (Takada Yuki / Yamaguchi Ai / Toda Megumi / Takeo Atsumi) "Now Loading !!!!"

·cast
Cool Air Akahi: Takada Maki
Yagami Kou: Hinaka Yoko
Rin Toyama: Ai Kinano
Hifumi Takimoto: Ai Yamaguchi
Shinoda Hajime: Megumi Toda
Iijima Yun: Atsumi Takeo
Sakurane: Asahina Maruya
Awane Umiko: Morinaga Chiso
Shizuku Hazuki: Eri Kitamura

TV anime "NEW GAME!" PV @ nganime # New game - YouTube



---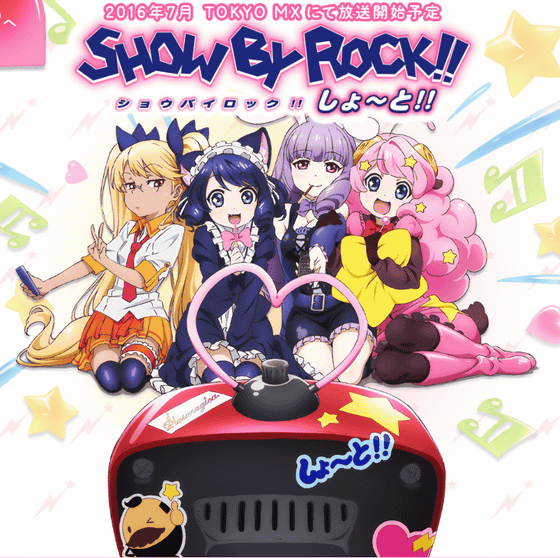 · Broadcast information
TOKYO MX: 7/4 (Monday) 25: 00 ~
Yomiuri Television: 7/4 (Monday) 26: 59 ~
BS Fuji: 7/4 (Monday) 25: 05 ~ (25: 00 ~ after the second episode)

·Overview
Full of off-shot episodes that glimpse the everyday life of each band that appeared in the main animation such as "Plasma Gika" "Sing Gun Crimson's"! Loose, fun "SHOW BY ROCK !!" spin-off ~ and a story.

A spin-off short animation of "SHOW BY ROCK !!" broadcasted from April to June 2015. "SHOW BY ROCK !!" has been decided to produce the sequel.

·staff
Original: Sanrio
Director: Takahiro Ikezoe
Series composition: Wada Todoko
Character design: Masaru Oshiro
Music: Koji Takanashi, Funta 7, Rega Sound
Music Production: Pony Canyon
Production Cooperation: Geeks
Animation Production: Bonds
Copyright light notation: © 2012, 2016 SANRIO CO., LTD. SHOWBYROCK !! Production Committee

Twitter:@ SB69A
Hashtag: # SB69A

·cast
Cyan: Eri Uragawa
Tutu: Sumire Uesaka
Retrie: Ami Nukura
More: Ayane Sakura
Crow: Kisho Taniyama
Ion: Uchiyama Takashi
Yaiba: Teruya Kakihara
Rom: Yoshimasa Hosoya
Aka Saori Hayami
吽: Eriko Matsui
Daruo: Megumi Ban
Shu ☆ Saw: Mamoru Miyano
Riku: Michito Murase
Kai: Ryota Aisaka
Rosia: Rina Hidaka
Tsukino: Ai Kinano
Holmy: Hiromi Igarashi
Jaclynn: Ruri Murakawa
Maple: Ueda Yuji


---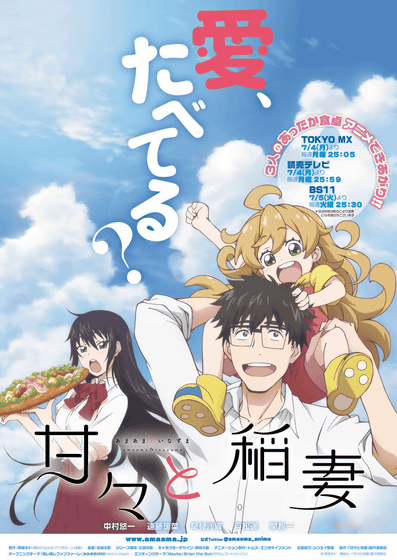 · Broadcast information
TOKYO MX: 7/4 (Monday) 25: 05 ~
Yomiuri Television: July 4 (Mon) 25: 59 ~
BS 11: 7/5 (Tue) 25: 30 ~
All 12 episodes

·Overview
The inuzuka of a high school teacher who is struggling alone with child rearing after losing his wife is to eat with three people, making rice together with the student's little bird from a hint.

The original is "Delicious Triangle Home Drama" of "good! Afternoon" series. Common eating rice with important people was drawn out with emotional brushstroke of rainbow hits and popularity was gathered, and the bookbook exceeded 1 million copies by the cumulative total of 6 volumes.

Directed by Taro Iwasaki of "One Week Friends." Hiroki Hirota of the series composition is "Bakumati Rock". This work is the first work of "Auname Me" project team developed by Toms Entertainment, Shin-Ei Movie, JR East Planning, Sumitomo Corporation, and Asmik Ace as a new anime business. The second bullet is broadcast from October 2016TRICKSTER - Rogo Edogawa "From the Boys Detective Group" -".

·staff
Original:Rainbow giddy
Director: Taro Iwasaki
Series composition: Mitsuhiro Hirota
Character design: Daria Harada
Animation Production: Toms Entertainment
Planning Cooperation: Shin Ai Video
Production: "Sweet and Lightning" Production Committee
Copyright light notation: © Audi Hide Kido / Kodansha / "Girls and Lightning" Production Committee

Twitter:@amaama_anime
Hashtag: # Lightning with lightning

OP: Mimimime MIMI "Sunny Les Fanfare"

·cast
Kuhei Inuzuka: Yuichi Nakamura
Inuzuka Tsumugi: Endo Risa
Iida Odori: Saori Hayami
Shinobu Oka: Haruka Tomatsu
Yagi Yusuke: Seki Tomokazu

Anime "Girls and Lightning" Promotion Movie - YouTube



---


· Broadcast information
TV TOKYO: 7/4 (Monday) 25: 35 ~
TV Osaka: July 4 (Mon) 25: 35 ~
TV Aichi: July 4 (Mon) 25: 35 ~
BS Japan: 7/5 (Tue) 24: 58 ~

·Overview
"Do not stop, keep on walking."
Time is the end of the virtual 19th century. AKUMA, which is created by locking the soul called by a weak heart in a magical body, murder weapon that repeats slaughter, evolving by continuing to produce further fear and tragedy. We manufacture AKUMA, "the family of Noah" led by the Thousand-year County who seeks the end of the world. Exorcists led by the "black cult" the only existence that can destroy that AKUMA. There was the truth of the "back" that the scenario was plotted by someone in the battle between the long ago.

The original series was serialized in the Weekly Shonen Jump from 2004 to 2009 and then continued serializing while jumping to the jump square and jump SQ.CROWN through the red circle jump, the cumulative total of the series Dark fantasy with more than 23.5 million copies Cartoon. 25 volumes already published. Weekly Shonen Jump Truck series since the beginning of October 2006, 103 animated episodes in all 103 episodes, which will be about a decade of new series production. Because of the large blank, all the staff cast has been renovated.

·staff
Original: Kei Hoshino (Shueisha "Jump SQ.CROWN" series)
Director: Yoshiharu Ashino
Screenplay: Michiko Yokote, Tatsuto Higuchi, Kenichi Yamashita
Character design · Total drawing director: Yusuke Ikushima
Design Works: Yasuti Moriki
Art setting: Kazushi Fujii
Art director: Masatoshi Kai
Color design: Ayako Suenaga
Director of Photography: Kim Mitsutoshi
Edit: Tomoki Nagasaka
Acoustic Director: Takeshi Takashi Takeshi
Music: Kaoru Wada
Animation Production: Toms Entertainment
Production: D. Gray-man Production Committee
Copyright notation: © Kei Hoshino / Shueisha · D. Gray-man Production Committee

OP: Lenny code fiction "Key-bring it on, my Destiny-"
ED: Mairo Ayano "Lotus Pain"

Twitter:@ Dgrayman_anime
Hash tag: # dgrayman

·cast
Allen · Walker: Ayumi Murase
Kanda Yu: Takuya Sato
Rabbin: Nagi Hanoe
Linally · Lee: Kaori Makuma
Howard Link: Tachibana Shinnosuke
Earl of the Millennium: Aoyama Eri
Tiki Mick: Masakazu Nishida
Lord Camelot: Yui Kondo
Wisely: Hoshi Soichiro
Alma = Karma: Ryota Asari
Array Star Crowley: Noriaki Sugiyama
Miranda · Rotto: Ami Koshimizu
Bookman: Yoshitada Otsuka
Komui Lee: Go Inoue
Lieber · Wenham: Tomokazu Sugita
Johnny Gill: Mitsuhiro Mitsui
Malcolm = C = Rubellier: Okawa Toru
Cross Marian: Mitsuru Inuzu
Madarao: Takuya Eguchi
Toxa: Makoto Saito
Teiaku: Susumu Takeo

TV Animation New Series "D.Gray-man HALLOW" 2nd PV / July 2016 Broadcasting Started! - YouTube



---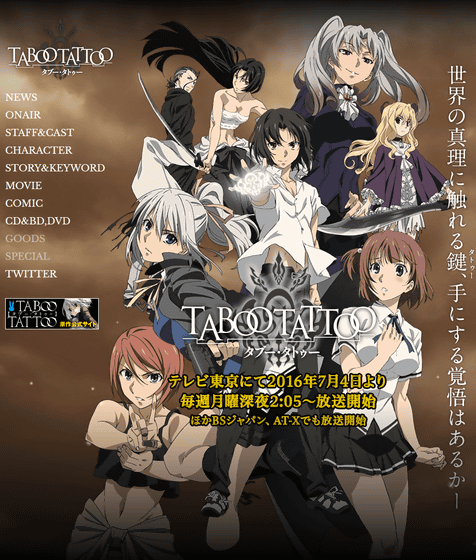 · Broadcast information
TV TOKYO: 7/4 (Monday) 26: 05 ~
AT-X: 7/6 (Wednesday) 24: 30 ~ other
BS Japan: 7/9 (Sat) 24: 00 ~

·Overview
"Key to touch the truth of the world (tattoo), are you ready to get it?"
Akatsuka Masayoshi (Segi) carved a strange tattoo in his palm by the stone he got when he helped the man who was involved in the failure. That tattoo was not mere decoration, in fact it was a super ancient weapon "curse print". For a long time, Segi is getting caught up in a fight over curse.

·staff
Director: Takashi Watanabe
Series composition · Screenplay: Shin Sekijima, Masamits Ohtake (Seven Days War)
Character design: Shinya Hasegawa
Music: Super Sweep Hosoe Shinji
Animation production: J.C.STAFF
Copyright notation: © 2016 Shinjiro, · published by KADOKAWA / taboo · tattoo production committee

Twitter:@ Tabootattoo_ani
Hashtag: # Taboo Tattoo

OP: May'n "Belief"

·cast
Saegi: Shin Furukawa
Issy: Komatsu Umiko
Toco: Takesaka Eisaka
Ariya: Aki Kito
Lisa: Eri Kitamura
Il: Sho Iizawa
Karu: Hitomi Nabatame
Larker: Kenjiro Tsuda
BB: Tomoyuki Morikawa

TV anime "Taboo Tattoo" Tiza PV - YouTube



---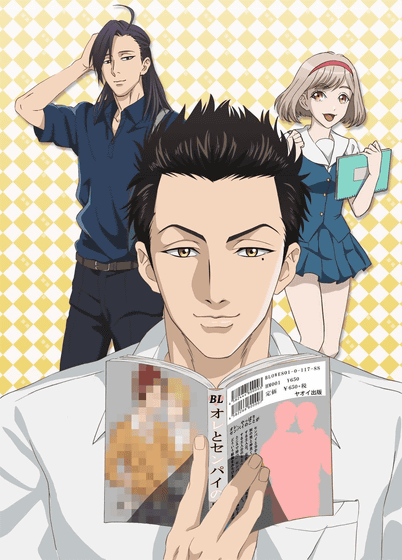 · Broadcast information
AT-X: 7/5 (Tue) 22: 55 ~ other
Terebellum: 7/7 (Thursday) 25: 00 ~
KBS Kyoto: July 8 (Friday) 25: 30 ~
Tvk: 7/10 (Sunday) 26: 30 ~
Sun TV: Monday, July 11, 26: 30 ~
※ live-action special number of cast appearance on the previous week of broadcasting start

·Overview
It seems like anywhere that is mediocre and it looks like a tough boys high school student, Sakaguchi · However, he was a rotten man "I can go for just a cup of only rice with BL".

·staff
Original: Michinoku Atami (Ichinoseki "Zero Sam Online" series)
Director: Jun Toko
Character design: Ishida Chinatsu
Acoustic director: Nobuyuki Abe
Production Production: Dream Creation
Acoustic production: Dachs Productions
Animation Production: EMT Squared
Copyright notation: © Michinoku Atami / Ikusha · Rotting Male Committee 2016

Twitter:@ Anime_fudanshi
Hashtag: # Rotting boys high school life

·cast
Sakaguchi Ryo: Wataru Hatano
Nakamura Toshiaki: Nojima Kenji
Rumi Nishihara: Aya Suzaki
Shiratori Yujiro: Suzuki Tatsuhi
Ueda Akira: Toshiki Masuda
Taichi: Nishiyama Kotaro


---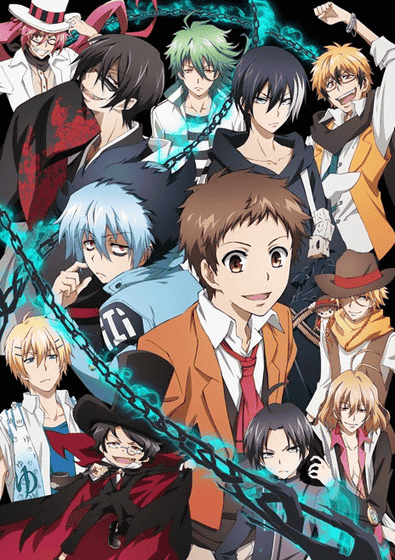 · Broadcast information
AT-X: 7/5 (Tue) 23: 00 ~ other
TOKYO MX: 7/6 (Wednesday) 22: 00 ~
Sun TV: 7/6 (Wednesday) 24: 30 ~
Mételé: 7/6 (Wednesday) 26: 59 ~
BS Niterele: 7/12 (Tuesday) 26: 30 ~

·Overview
Shirota Maki named the black cat he picked up as black. However, Kuro is actually a servant (SERVANT VAMPIRE) to hear what the contractor says, and at noon the contract will be the master of Crocodile by contract and get involved in the vampire fight.

·staff
Original: Tanaka Strike ("Monthly Comic Gene" series)
Overall Director: Extra Lamp
Director: Hideaki Nakano
Series composition: Kenji Konjida
Character design: Junko Yamanaka
Animation Production: Brains Base
Copyright notation: © Tanaka Strike · KADOKAWA / SERVAMP PROJECT

Twitter:@ Anime_servamp
Hashtag: #servamp

OP: OLDCODEX "Deal with"
ED: Takashi Terashima "sunlight avenue"

·cast
Shirota Makoto: Terashima Terashima
Kuro: Kaji Hiroki
Tsubaki: Tatsuo Suzuki
Yurinin-in Garden: Hiroshi Shimono
Snowy Lily: Kazumasa Horie
Arisuin Imperial Country: Teruyuki Kakihara
Jezier: Kenjiro Tsuda
Sendagaya Iron: Yuki Ono
Hugh the Dark Algernon III: Ayumi Murase
Richt Jekyllland · roar: Shimazono Nobunaga
Rowles: Ryohei Kimura
Belkia: Matsuoka Sadyojo
Mr. Watanuki Sakuraya: Hiroto Suzuki

TV animation "SERVAMP - SERVAMP -" PV 3rd - YouTube



---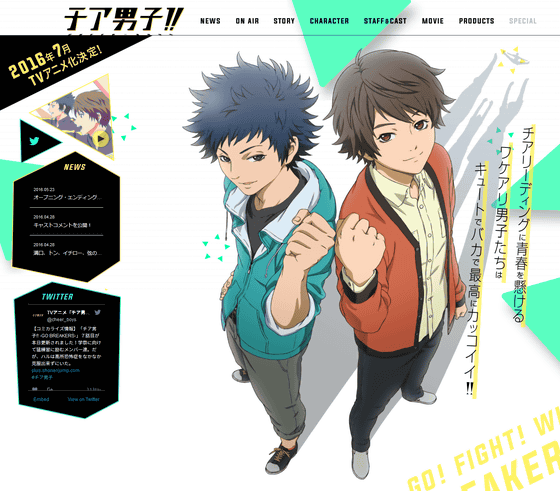 · Broadcast information
TOKYO MX: 7/5 (Tue) 23: 00 ~
Sun TV: 7/5 (Tue) 24: 00 ~
KBS Kyoto: 7/5 (Tue) 24: 30 ~
TV Aichi: 7/5 (Tue) 27: 05 ~
BS 11: 7/6 (Wednesday) 24: 30 ~

·Overview
Bakufumi Haruki who quit Judo as a trigger due to injury is invited to Kazuma Hashimoto who is also a childhood friend who quit Judo to form a men's cheerleading team "BREAKERS". What gathered in the Cheer Department is a reasonable Mizoguchi, big eater giant · t, a trendy Kansai man · string and Ichiro, and experienced beautiful young man. The challenge of the wake-up girls started now.
"Wakeari" who is going to have youth in cheerleading "Boys are cute and foolish, the best is cool !!!!"

Ryo Asai of the original author debuts brilliantly in 2009 "Kirishima, getting off the club". In 2012, "Birth again" came to Naoki prize candidate work, and in the following 2013 "who" is awarded Naoki prize. This award is the youngest as a post-war award winner and as a male. This is the first time for animation of the work.

·staff
Original: Ryo Asai
Director: Ai Yoshimura
Series composition: Reiko Yoshida
Character design draft: Hiroyuki Asada
Character design · total drawing director: Tsuruta
Animation Production: Brains Base
Copyright notation: © Ryo Asuri / Shueisha / Cheia Boys! Production Committee

Twitter:@ Cheer_boys
Hashtags: # Chia men

OP: Rack Life 'First step in the beginning'
ED: BREAKERS (CV: Yuuki U.Suchi), Kazumasa Hashimoto (CV: Nobuhiko Okamoto), Sho Tokugawa (CV: Yuki Ono), Wataru Mizoguchi (CV: Tomokazu Sugita), Koji Tono (CV: , Suzuki Soichiro (CV: Kousuke Kuwano), Hasegawa string (CV: Katsuyuki Konishi) "LIMIT BREAKERS"

·cast
Haruki Bando: Yuki Uonai
Kazuhiro Hashimoto: Nobuhiko Okamoto
Shogun Tokugawa: Yuki Ono
Wataru Mizoguchi: Tomokazu Sugita
Konji Tonno: Ryuga
Suzuki Souichirou: Kousuke Kuwano
Hasegawa string: Konishi Katsuyuki

TV animation "Chia boys !!" PV 1st bullet - YouTube


TV anime "Chea Boys !!" Denge CM (15 seconds) - YouTube



---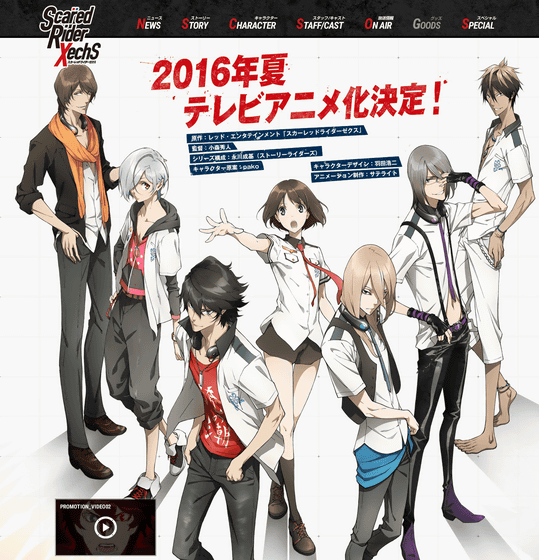 · Broadcast information
TV Tokyo: 7/5 (Tue) 25: 35 ~
TV Osaka: July 6 (Wednesday) 27: 05 -
TV Aichi: 7/11 (Monday) 26: 35 ~
AT-X: 7/12 (Tuesday) 21: 30 ~

·Overview
In the "blue world" threatened by the invader "Knight fly oo notes" from "the world of the crimson" humanity established the anti-phase defense organization "LAG". He formed a pair of Nightfly Ohnou combat unit "Scarred Riders" and continued fighting while repeating five extinctions. At the same time as Akira Asamu arrives at LAG as instructor and commander, the invasion of the Nightfly Ooiou begins again and the battle of the sixth combat unit "Scarred Rider Zex" will start.

The original love adventure game for women released in 2010 was the original, and in 2011 the fan disk "Scarred Rider Zecca - STARDUST LOVERS -" was released. "Scarred Ridder Zex I + FD Portable" which summarizes the main part and the fan disc into one in 2014 is released for PSP, and in 2015 "Scarred Rider Zekus Rev." which ported this main part for PS Vita "Has been released.

·staff
Original: Red Entertainment
Director: Hideto Komori
Assistant Director: Yujiro Moriyama
Series composition: Norikawa Nagawa (Story Riders)
Screenplay: Norikawa Naga, Jun Kumagai (Scenario Studio Mokomitsu), Naoki Fukushima
Character draft: pako
Character design: Koji Hanata
Sub Character Design: Mutsu Karate
Overall director: Koji Haneda, Mutsuto Karate Karate
Effect concept · Effect drawing Director: Takashi Hashimoto
Mechanical design: Noriyuki Yanase
Scarred riders · Night fly ooo notes design: Yuichi Ueda
Color design: Yuko Ohina
Acoustic director: Morishita Hiroto
Music: Takeshi Aso, Nao Harada
Music Production: 5pb. Records
Animation Production: Satellite
Production: SRX PARTNERS
Copyright notation: © RED / Rejet / STORY RIDERS, SRX PARTNERS

Twitter:@ SRX_LAG_PR
Hashtag: #SRX

OP: Komie Christophe Yosuke (CV: Tatsuo Suzuki), Kirisawa Tact (CV: Mamoru Miyano) "Blue and Red Forzert"
ED: Nobuki Hijiri (CV: KENN) "old revelation"

·cast
Arahara Asahara: Ayaka Shimizu
Komie Christoph · Yousuke: Teruyo Suzuki
Kirisawa Tact: Mamoru Miyano
Yuzu Tsuga: Takashi Kondo
Hironori Kurama horse: Hiroshi Shimono
Tin tree Kazuki: Hiroki Takahashi
Nobunagi: KENN
Fernandez: Hideki Takemoto
Les Paul: Namikawa Daisuke
Divider: Koya Oyama
Dussenberg: Naozo Takahashi
Ricken backer: Nobuhiko Okamoto
Epiphone: Fujiwara Yuki
Sweet lee saui chill: Koji Yusa
Ishiji Temple Hayato: Kamishibe Fund
Sakura Salome · Jaco: Satomi Akasaka
Grand Bach: Hiroaki Yasumoto

【PV】 "Scarred Rider Zekus" TV Animation Decision PV2 - YouTube



---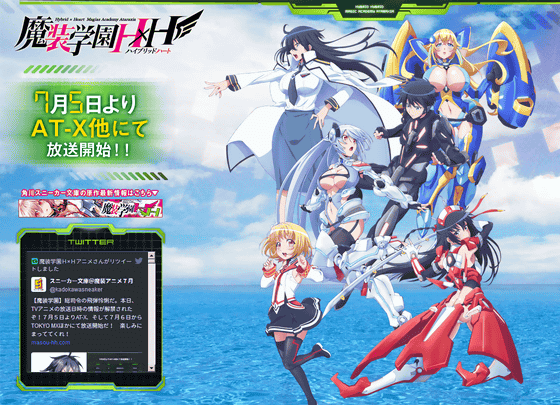 · Broadcast information
AT - X: 7/5 (Tuesday) 24: 30 - others
TOKYO MX: 7/6 (Wednesday) 25: 35 ~
Sun TV: 7/6 (Wednesday) 26: 00 ~
KBS Kyoto: July 8 (Friday) 25: 35 ~
Terebellum: 7/10 (Sunday) 24: 30 ~
Cibatelle: 7/10 (Sun) 24: 30 ~
Tvk: 7/10 (Sunday) 24: 30 ~
BS 11: 7/11 (Monday) 27: 00 ~
TVQ: 7/12 (Tue) 27: 05 ~

·Overview
Human beings were aggressively invaded from the other world twice, evacuated to the offshore float and escaped. Only troops equipped with powered suit called Heart · Hybrid · Gear (Magic Armor) can fight armies of other worlds. No flare injuries will be transferred to Ataraxia at Strategic Defense Academy in Nippon Float, and will be appointed as a new captain of special troops "Amaterasu". In fact, there was a power called "connection refurbishment (Heart Hybrid)" that recovers the remaining energy (hybrid count) of other heart, hybrid and gear that has been consumed in the uninjured Heart · Hybrid · Gear. However, it is necessary to share pleasure through sexual contact, and the woundlessness is "to protect the future of humanity", to engage in acts of H with girls ... ....

For AT-XThere is a viewing age limitSo, in terrestrial waves it is certain that there will be considerable regulation in acts and depictions. Author, Kuji Masamune "I also made an AT-X contract!I tweeted it.

·staff
Original: Kuji Masamune (KADOKAWA Corporation / Kadokawa Shoes Paperback)
Original illustration: Hisasi
Original Mechanical Design: Black Silver, Kuji Masamune
Director: Hiroyuki Furukawa
Series composition · Screenplay: Yasuda Yasutomu
Character design: Kazuya Morie, Kana Nao Miyai
Total drawing director: Yosuke Ito, Kazuya Morie, Kana Nao Miya, Keita Hagino
Design Works: Hara Kochi, Watanabe Yoshihiro
Action · effect animator: Sakai Saki
Art: Studio Chulip
Art director: Takeshi Tateishi
Art setting: Tsuji Ohira
Color design: Tomoki Murakami
2D design · Special effects: Ryohei Matsuda
Director of Photography: Kosuke Tanaka
3DCG Director: Tetsuya Watanabe
Edit: Shoaki Kimura (IMAGICA)
Acoustic director: Masaru Omuro
Music: Hanihoheni Man, Jerkyboy & Timteng
Music Producer: Masakazu Sato
Music Production: Flying Dog
Producer: Junichiro Tamura, Takashi Tatsuzaki
Production Producer: Naoto Awano
Animation Production: Production I'ms
Production: Magical School Production Committee
Copyright notation: © 2015 Kuji Masamune · Hisasi / KADOKAWA / Magical school production committee

Twitter:@ Masouhhanime
Hashtag: # Masuko Gakuen

OP: Iori Nosui "miele paradiso"
ED: Iori Nosui "Chit"

·cast
No flare wound: Kenji Akabane
Chidorigafuchi Aichi: Kageyama Lamp
Yuricia · Farandole: Akasaki Chinatsu
Himekawa Hayuru: Joong long wife Jim
Silvia · Silk Cut: Nikko Nikka
Rebel Aviation: Rika Kinuugawa
Ikko Nogami
Momo Homomizawa: Kazuyoshi Aramami

【Masuko Gakuen H × H】 Anime PV 2016 July broadcast starts! - YouTube


【Masen Gakuen H × H】 Advertisement CM 15 seconds Start broadcasting on AT-X and others from July 5, 2016! - YouTube



---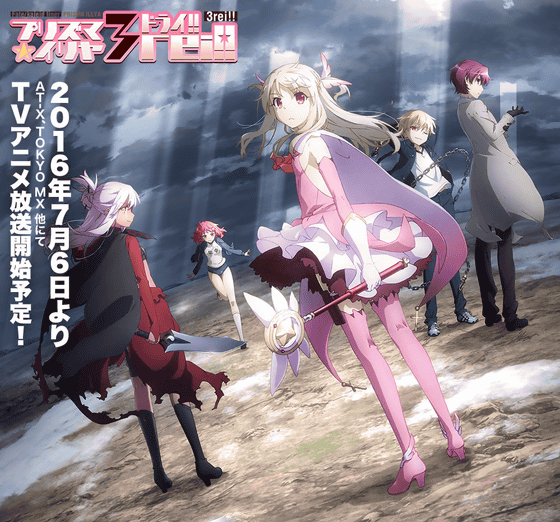 · Broadcast information
AT-X: 7/6 (Wednesday) 23: 00 ~ others
TOKYO MX: 7/6 (Wednesday) 25: 05 ~
Sun TV: 7/6 (Wednesday) 25: 30 ~
TVQ: 7/6 (Wednesday) 26: 35 ~
Terebellum: 7/7 (Thursday) 25: 05 ~
Cibatelle: 7/7 (Thursday) 25: 00 ~
Tvk: 7/7 (Thursday) 25: 00 ~
BS 11: 7/8 (Friday) 27: 00 ~

·Overview
"The fate of the girls who move on" -
A mysterious figure appears before the Ilya who finished the fight with Gilgamesh. When I noticed, Ilya was in a parallel world worldwide Fuyuki-shi, the world where originally Miyuki was born and raised. Battle begins to make magical girls ordinary and grant grand wishes.

Animated cartoon of the same name of Monthly Compress Ace series. Manga is followed by no mark · "Zwei!" · "Dry !!", but animation is unmarked · "Zwei!" · "Zwei Hertz!" · "Dry !!" with one piece and this is the fourth work .

In addition, because Mr. Matsuki Miuzu who was in charge of the role of the spirit / magical sapphire of Miyakeki died, Mr. Yuki Kakazu who is known as "Doraemon" Shizuka chan and "Yu Gi-Oh king" as an ape role succeeded There.

·staff
Original: Hiroyama Hiroshi · TYPE-MOON (KADOKAWA Monthly Compress Ace Series · Kadokawa Comics · Ace)
Overall director: Onuma Mind
Director: Ken Takahashi, Masato Jimbo
Series composition: Kenji Inoue
Screenplay: Mizuser Hazuki
Character design: Kazuya Hirata
Music: TECHNOBOYS PULCRAFT GREEN-FUND
Music production: Lantis
Animation production: SILVER LINK.
Production: "Prisma ☆ Ilya Dry !!" Production Committee
Copyright notation: © 2016 Hiroyama Hiroshi · TYPE-MOON / KADOKAWA / "Prisma ☆ Ilya Dry !!" Production Committee

Twitter:@prisma_illya
Hashtag: #prisma_illya

OP: ChouCho "Asterism"
ED: TECHNOBOYS PULCRAFT GREEN-FUND feat. Koda Yumeba

·cast
Ilya Schief · von · Einzbern: Mai Kadowaki
Miyoshi · Edelfeld: Kaori Natsuka
Chloe · von · Einzbern: Chiwa Saito
Tanaka: Misato Furuen
Gill: Aya Endo
Beatrice: Rie Kugimiya
Angelica: Shiraishi Ryoko
Erika: The Venus Sumire
Rin Tohsaka: Kana Ueda
Ruviaselita Adelfeld: Shizuka Ito
Bazette · Flaga · McLaumits: Hitomi Nabatame
Magical Ruby: Naoko Takano
Magical Sapphire: Kazari Yumi

"Fate / kaleid liner Prisma ☆ Ilya Dry !!" 2nd PV - YouTube



---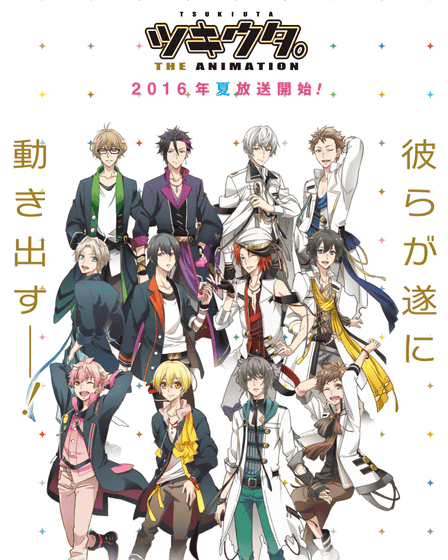 · Broadcast information
TOKYO MX: 7/6 (Wednesday) 23: 00 ~
BS SKY PerfecTV! : July 6 (Wednesday) 23: 00 ~
Sun TV: 7/6 (Wednesday) 24: 00 ~
KBS Kyoto: July 6 (Wednesday) 25: 00 ~
BS 11: 7/6 (Wednesday) 26: 00 ~
TV Aichi: 7/6 (Wednesday) 26: 35 ~

·Overview
A series CD composed of songs and stories by characters who imaged from January to December "Tsukita."Is the original animation.

·staff
Original: Fuji-ni (Movic)
Character draft: Jike
Director: Isao Kawasaki
Screenplay: Harada Sayaka
Character design: Yukiko number
Animation Production: studio Pierrot
Production Cooperation: studio Pierrot +

Copyright notation: © TSUKIANI

Twitter:@tsukiani_info
Hashtag: # Tskiani

·cast
Shiwasuke: Hiroki Kaji
Mutsuki Kazuyuki Toriumi Kosuke
Kisaragi Koi: Toshiki Masuda
Yayoi Spring: Tomoaki Maeno
Uzuki Shin: Yoshimasa Hosorya
Aoi Tsukizuki: KENN
Shizuta Aoi
Fumizuki Sea: Wataru Nagano
Yo Hazuki: Teruya Kakihara
Long Moon Night: Takashi Kondo
Kannazuki Iku: Onno Kenji
Hayabusa Shimotsuki: Ryohei Kimura
Tsukishiro: Masaki Yamanaka
Kuro Mon Feature: Yasuhiro Mamiya

"Tsukita. THE ANIMATION" Tiza movie - YouTube


"Tsukita. THE ANIMATION" CM 15 seconds - YouTube



---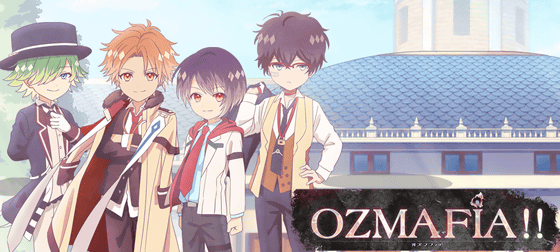 · Broadcast information
TOKYO MX: 7/6 (Wednesday) 24: 00 ~
Sun TV: Monday, July 11, 25: 30 ~

·Overview
Scarlet who has moved to Ozu Gakuen gets caught in a trouble. It was there that they appeared there and helped three people, Karamia, Kyrie, and Axel.

The original is released in 2013PC games for womenIn 2015, "OZMAFIA !! - vivace-PS Vita version has also been released as. The story of the game loses its memory and a girl Fuka who wanders in a strange town is helped by one of the mafia dominating the town - Oz family, and will deepen relationships with its members and people of other families ... . Animation "Because it can not fit on the scale, so to the school girls".

Incidentally, the point where the character which made fairy tales motif such as OZ family, Grimm family, boots family etc appear many times.

·staff
Original: Poni-Pachet SY / HOBIBOX
Supervision: SATOITO
Overall Director: Hisasa Hirasawa
Series composition: Yu
Original animation character draft: Natsumi humps
Animation character design · total drawing director: Kuroiwa addition
Music: project lights
Advertisement: AQUA ARIS
Animation Production: Creators in Pack
Copyright light notation: © OZMAFIA !! Production Committee

Twitter:@ OZMAFIAanime
Hashtag: # ozmafia

·cast
Karamia: Aragaki Taruke
Kyrie: Kazuyuki Okitsu
Axel: Kusatsuji
Scarlet: Mitsuhiro Mitsui
Caesar: Takuya Kirimoto
Saw: Yuichi Iguchi
Bercy: Minegishi Yoshi
Haydee: Hidenori Takahashi


---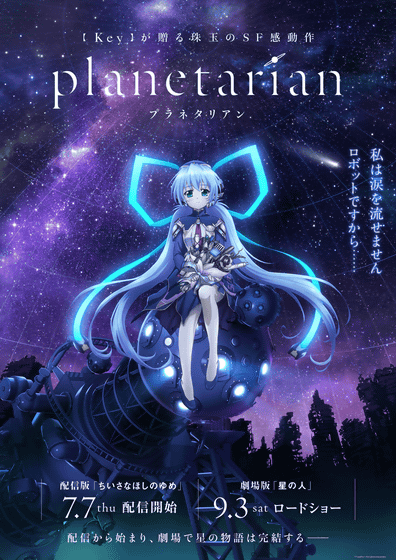 · Broadcast information
Nico Nico Douga other: 7/7 (Thur) ~

·Overview
"I can not shed tears Because it's a robot ..."
The world of rain falling after World War II. In the influence of bacterial weapons, the most dangerous city abandoned by people 【sealed city】. That planetarium at the department store had a robot girl. Her name is "Hoshino Yume". She was a planetarium commentator and was a broken robot that can only run for only seven days in a year. So she believed that someone would visit someday for 30 years and kept waiting in this world where no one was there. And one day a man appeared in front of her on the day she woke up in the thirtieth year.
"Congratulations! You are just a 2.5 million visitor!"
A man who warns the sudden appearing robot · "Waste store". Living as collecting valuable supplies He was entering the [sealed city] and faced the assault of a fighting machine (Menshen Yeager) who wanders around the city, and he was lost in this planetarium.
"How about a planetarium, beautiful indefinable sparkle that never disappears at all times .... full stars are waiting for you"
What does he see there in this world that will not be visible even in the ruinous world? A girl of a robot who can only operate for 7 days in a year, happened to be the very day that he woke up. What a miracle happened there.

Animation based on the Kinetic Novel produced by Key in 2004, July 7 delivered "Planetarian ~ Chiisana Hoshino's Dream ~" composed of all 5 episodes, and on September 3 theatrical version "planetarian ~ star People ~ "are released. The content is not something like "I do not know the theater version unless I see the distribution version"A distribution version is a story nestled closely with Yume, the theatrical version becomes a story nestled in a waste shopAnd that.

·staff
Original: Key "planetarian ~ Dream of Chisaona Hoshi ~"
Original scenario: Yuichi Ryoto
Original music: Togoshi Magome
Director: Naoto Tsuda
Screenplay: Yaskawa Shougo, Naoki Tsuda
Series director: Katsuichi Nakayama, Shunsuke Machidani
Original collaboration: Key / visual arts
Character draft: Komatsu E じ じ
Character design: Hitomi Takenaka
Mechanic design: Ebihikawa Kanetake
Prop Design: Uchida Shinya
Art setting: Izumi Hiroshi
Color design: Yuko Sato
Art director: Yusuke Takeda, Yuko Sugiyama
3D Director: Yoji Nagasawa
Director of Photography: Yasumasa Watanabe
Edit: Kiyoshi Hirose
Acoustic director: Takayuki Yamaguchi, Naoki Tsuda
Acoustic effect: Kayama Oyama
Music: Visual Arts Shinto Origotto, Donmaru, Tomohiro Takeshita
Animation Production: david production
Production: planetarian project
Copyright light notation: © VisualArt 's / Key / planetarian project

Twitter:@planetarian_pj

Image Song: Ceui "Worlds Pain"
"Planetarian ~ dream of little god dream" ending theme: Saki Saki "Twinkle Starlight"
"Planetarian ~ People of Stars" Theme Song: Lia "Star Boat"

·cast
Hoshino Yume: Keiko Suzuki
Scrap store: Daisuke Ono
Takeshi Kushida, Takashi Takinobu, Rina Sato, Masaru Shinozuka, Megumi Fukasa, Yoko Higakasa, Minami Tsuda, Shizuka Ishigami, Yuki Kuwabara, Akiko Takeuchi, Tamio Oki

Distribution · Theater animation "planetarian" trailer - YouTube



---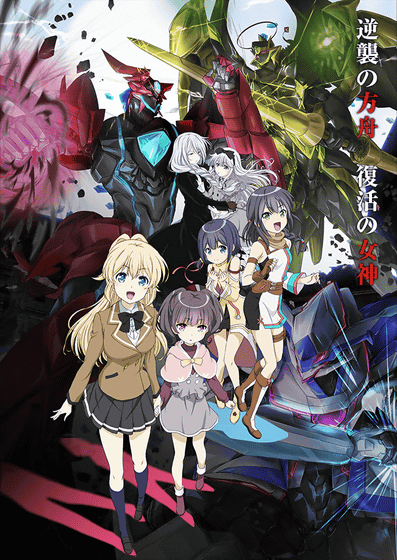 · Broadcast information
AT-X: 7/7 (Thursday) 22: 00 ~ other
TOKYO MX: 7/7 (Thursday) 22: 30 ~
Sun TV: 7/7 (Thursday) 25: 30 ~
BS Fuji: 7/10 (Sun) 24: 30 ~

·Overview
The incident that occurred in Kingdom of Rimgard was trying to be forgotten from the memory of the people leaving a mystery. In the 12 years since then, Yui and Lena 's sisters had a calm everyday in the Enastria empire. However, as one gigantic robot attacking Ena striker one day, girls get caught up in the fate of fate.

·staff
Director: Susumu Asuka
Series composition: Koyanagi Keizo
Character draft: QP: flapper
Character design · total drawing director: Kimi Nishio
Mechanical design: Yuta Suzuki
Sub Character Design: Kentaro Tokiwa
Art Director: Shinji Katahira
Color design: Yukiko Harada
Director of Photography: Tanaka Tanaka
Acoustic director: Miwa Iwami
Acoustic effect: Kayama Oyama
Recording adjustment: Yamaguchi Takayuki
Music: Rika Takahashi
Music production: Lantis
Produce: Infinite
Animation Production: Actus

Twitter:@ Regalia_anime
Hashtag: # Regalia _ Anime

OP: TRUE "Divine Spell"
ED: Minami

·cast
Yui: Honma Kaede
Rena: Ayane Sakura
Sarah: Yuki Kubo
Tier: Yui Ogura
Ingrid: Seto Masami
Kay: Nao Higashiyama
Retsu: Konumoto Hoshiko
Johann: Emi Ogata
Aoi: Asukura Anni
Naru: Iguchi Yuka
Margaret: Masako Masaru
Marshall: Hiroshi Inoue
Theodore: Hidenari Ukaki

Regalia PV 2nd bullet - YouTube



---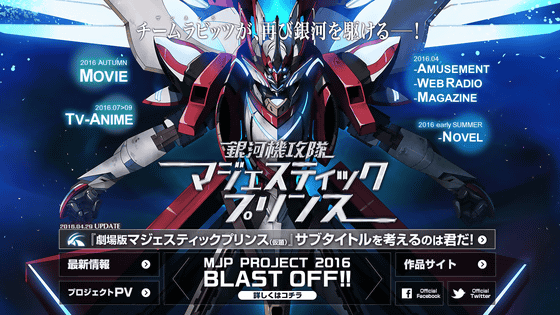 · Broadcast information
Nico Nico Live Broadcasting: 7/7 (Thu) 22: 00 ~
BS 11: 7/7 (Thursday) 26: 00 ~

·Overview
"Team Rabbits again runs the galaxy -!"
Earth calendar 2110. Mankind who fulfilled the advance into space seemed to have kept numerous resource asteroids in hand, and their future and prosperity were promised. However, in the Jupiter area where the bridge to the outer space is preserved, a mysterious power "Urgal" who claims the Pan - Galaxy Unified Empire strikes. The Earth crisis of its existence. Meanwhile, there were boys and girls belonging to the special agency MJP born by a project trying to create human beings adaptable to the universe by genetic manipulation on the earth.
"Team Rabbits" consisting of five people, Isisle, Asagi, Kei, Tamaki and Sulga was also called "Zannen 5" with the training results also being the lowest falling group. However, suddenly ordered to board the state-of-the-art combat device "AHSMB (Ash)", it will be sent to the front as a shield of the withdrawal of the Global Defense Force · GDF. Would Urgal boast of overwhelming strength, they could survive ...?

"Ginga machine gun Majestic Prince" broadcasted in 2013 will broadcast 24 episodes every week as "Majestic Hour" every week and finally the 25th episode of the original new work connecting the 24th episode and the movie version will be broadcast . And in autumn, a completely new work "The Movie Majestic Prince" will be released.

·staff
Director: Keimitaro Motonaga
Character design: Hisashi Kuji
Series composition: Reiko Yoshida
Screenplay: Reiko Yoshida, Fumihiko Shimo
Military · SF consideration: Takaaki Suzuki
Deputy Director:
MAP Mechanical Design: Yuji Tani
GDF Mechanical Design: Yasuti Moriki
Urgal Mechanical Design: Koji Watanabe
Art director: Minoru Maeda
Set design: Goshiki Iwata
Total drawing director: Sachi Yukie, Takaoka Junichi, Maki Takao
CG Producer: Eiji Ino
Music: Toshiyuki Watanabe
Animation Production: Movie Studio × Orange
Copyright notation: © 2016 Setsu · Fields / MJP Production Committee

·cast
Hitachi · Izu: Hiroki Aiba
Asagi · Toshikazu: Shintaro Asanuma
Kugimiya Kay: Yoko Higasaki
Irie and Tamaki: Iguchi Yuka
Suruga · Ataru: Junya Ikeda
Suzukase · Rin: Miyuki Sawashiro
Giuliano: Kosuke Toriumi
Siegfried: Hirofumi Nojima
Theoria: Shizuka Ito
Zieat: Midorikawa Mikawa

"Ginga machine gang Majestic Prince" 2016 project PV - YouTube


"Theater Majestic Prince" special information - YouTube



---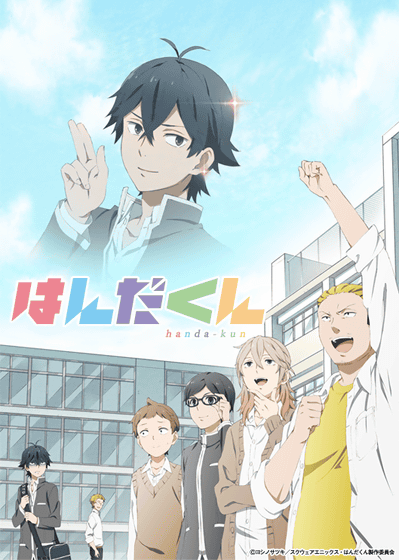 · Broadcast information
TBS: 7/7 (Thursday) 25: 58 ~
CBC: 7/7 (Thursday) 26: 54 ~
MBS: 7/8 (Friday) 27: 10 ~
BS-TBS: 7/9 (Sat) 25: 00 ~
TBS Channel 1: 7/17 (Sunday) 25: 00 ~

·Overview
The son of a calligraphy landlord and acting as a high school student calligrapher Kiyoshi Handa is distrust of human beings that is superior. Therefore, he believes himself "being disliked by classmates", but in reality it is placed as an unapproachable entity at a glance, and if you misunderstand its behavior without permission, it is loved as "a charismatic aloof" It was.

Gangan ONLINE · Spin-off work of "Bakumon" which was also animated in the monthly boy's gungan series. The time axis corresponds to six years ago of the main part.

·staff
Original: Yoshinosatsuki (Square Enix 'Shonen Ganggan' Series)
Director: Sho Takashi Kageyama
Series composition: Michiko Yokote
Character design: Makoto Matsumoto
Screenplay: Michiko Yokote, Mariko Kunisawa, Taira Hiramune
Prop Design: Henew
Art Director: Kikuna Kana
Color design: Yoko Matsubara
Director of Photography: Yasuyuki Ito
Edit: Yuji Oka
Music: Ken Ito
Music production: Lantis
Acoustic director: Kawamoe Kenji
Animation Production: Diomedia
Copyright notation: © Yoshinosatsuki / Square Enix / Soldering Production Committee

Twitter:@ Handaanime
Hashtag: # handaanime

OP: Fo'xTails "The LiBERTY"
ED: Kenichi Suzumura "HIDE-AND-SEEK"

·cast
Kiyoshi Handa: Nobunaga Shimaki
Kawarau Takuo: Kazuyuki Okitsu
Junichi Aizawa: Hirose Yuya
Nikaido ceremony: Teruya Kakihara
Tsutsui Akane: Yoshimasa Hosoya
Kondo Yukio: Yamashita Daiki

【Honda Kun】 TV Animation PV 1st - YouTube



---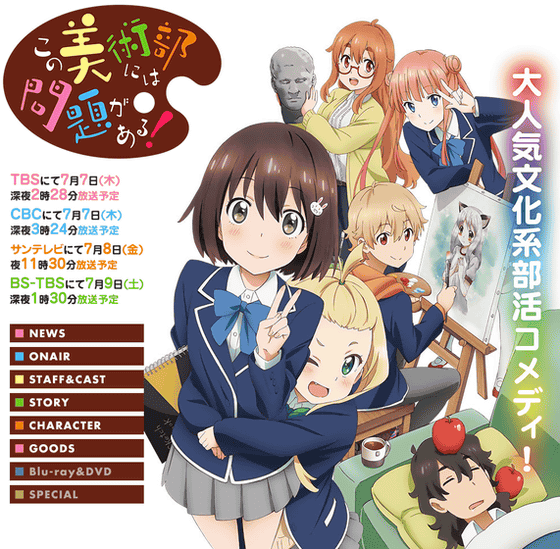 · Broadcast information
TBS: 7/7 (Thu) 26: 28 ~
CBC: 7/7 (Thurs) 27: 24 ~
Sun TV: 7/8 (Fri) 23: 30 ~
BS-TBS: 7/9 (Sat) 25: 30 ~

·Overview
At Tsukiori Junior High School Art Department is gathered about Subaru intimidate who spends painting talent to realize the ideal 2D wrestler, Usami Mizuki who is worried about such a terrible Subaru, I care about the two people Director who does not care and seems to be doing only signs, Mr. Colette who is a mysterious person who only seems to be feeling, a few disappointing people ... ....

·staff
Director: Hiroshi Oikawa
Series composition · Screenplay: Toshihisa Arakawa
Character design: Mai Otsuka
Prop Design: Kenji Fujisaki
Overall director: Mai Otsuka, Kenji Fujisaki, Kuniaki Masuda
Art director: Yoshimi Mine
Art setting: Kanedo Tomono, Shuichi Okubo
Color design: Hiroshi Iwata
Director of Photography: Yuta Nakamura
Edit: Daisuke Hiraki
Acoustic director: Satoshi Motoyama
Music: Gin (BUSTED ROSE)
Animation production: feel.
Copyright notation: © 2016 Mimikimu / KADOKAWA ASCII · Media Works / This beauty production committee

Twitter:@ Konobi_anime
Hashtag: # this beauty

OP: Mizuki Nana "STARTING NOW!"
ED: Sumire Uesaka "cubic futurismo"

·cast
Usami Mizuki: Ozawa Abe
Inbound Spiral: Yusuke Kobayashi
Colette: Sumire Uesaka
Maria Inari 11: Nao Higashiyama
Director: Kentaro Tone
Tachibana Yumeko: Mizuki Nana
Professor Oyama: Yukihiko Kakegawa
Kaori Ayase: Tokui Aozora
Honda Sayaka: Sagami Chiaki
Riko Kogawa: Kana Marukatsu
Megau: Ai Mi Tanaka
Shizuka: Komatsu Umiko
Magical ribbon: Ayane Sakura

July 2016 New program "This art department has problems!" 【TBS】 - YouTube



---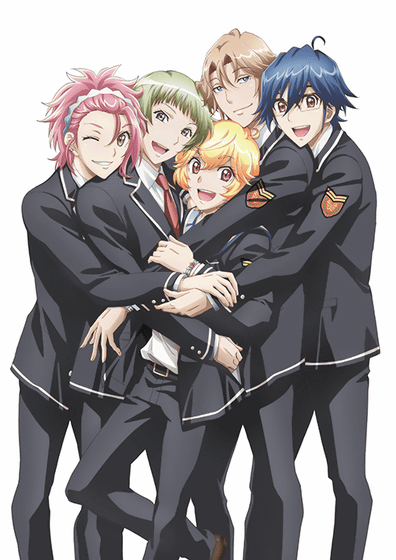 · Broadcast information
TV Tokyo: 7/7 (Thurs) 27: 05 ~ (From the second episode onwards, from 26: 35 ~)
TV Osaka: Saturday, July 9 26: 30 ~
BS Japan: 7/10 (Sunday) 24: 35 ~
TV Aichi: July 11 (Mon) 26: 05 ~
AT-X: 7/13 (Wednesday) 23: 30 ~ other

·Overview
Eyebrow Difficulty High School "Earth Defense Division" people, from day to day Lovemaking (transformation) into Battle Lovers and fighting the Phantom of the Earth Conquest Department. However, as we continued our activities, it turned out that this fight had been done as a program plan for the television universe. The Defense Department, together with the Conquest Department, beat the director of the program and forced the program to abort. With this I no longer need to fight anymore ... ... should have been ... ....

Continuation of "Miho High School Earth Defense Department LOVE!" Broadcasted from January to March 2015. Some of the staff has changed, and animation production has been replaced by DioMedia from Studio Comet.

·staff
Original: Yurako Kurari
Director: Shinji Takamatsu
Series composition: Michiko Yokote
Design Concept: Chizuru Miyawaki
Character design: Yumiko Hara
Sub Character & Prop Design: Tomoko Miyakawa
Total drawing director: Tomoko Miyakawa, Atsuko Takahashi
Art director: Masatoshi Mutoh
Color design: Yuko Tsumori
Director of Photography: Hiroaki Tanaka
CG Director: Hayato Numanjiri
Edit: Toshihiko Kojima
Music: yamazo
Music Production: Pony Canyon
Acoustic director: Shinji Takamatsu
Production: Studio Comet

Copyright notation: © Shiratani Kuraray / Kodobotani preservation party

Twitter:@ Boueibu

OP: Earth Defense Department (CV: Yasumoto Yasunori), Yufuin smoke (CV: Yuichiro Umehara), Kinugawa Therma (CV: Kotaro Nishiyama), Naruko Sulfur (CV: Yurusuke Shirai), Zao (CV: Toshiki Masuda)) "Boiling Point Breakthrough ☆ LOVE IS POWER ☆"
ED: VEPPer (Tsukuba Beppu (CV: Keisuke Kawamoto), Beppu Hirohiko (CV: Yuki Murakami) "You are far from the star"

·cast
Yuki Hakone: Kazuomi Yamamoto
Yufuin smoke: Yuichiro Umehara
Kinugawa Thermal history: Kotaro Nishiyama
Naruko Sulfur: Yusuke Shirai
Zao Tatsuya: Toshiki Masuda
Wombat: Wheat
Hakone Gora: Tomokazu Sugita
Kusatsu Kinjiro: Kamiya Hiroshi
Arima Kim: Fukuyama Jun
Gero Ako Yuya: Teruaki Terashima
Tsukuba Beppu: Keisuke Kawamoto
Beppu Hirohiko: Yuki Murakami

TV anime "Miho High School Earth Defense Department LOVE! LOVE!" PV - YouTube



---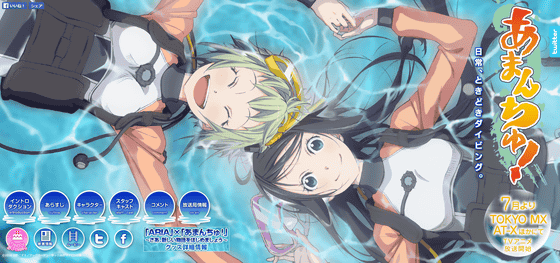 · Broadcast information
AT-X: 7/8 (Friday) 23: 00 ~ others
TOKYO MX: 7/10 (Sun) 24: 30 ~
Sun TV: Monday, July 11, 23: 30 ~
BS 11: 7/11 (Monday) 24: 00 ~
KBS Kyoto: July 11 (Mon) 25: 00 ~
Shizuoka Broadcasting: 7/12 (Tuesday) 26: 30 ~

·Overview
"Everyday, sometimes diving."
Ikuan born Kojimako and Oki Futaba, who moved from Tokyo, fateful encounters at Yumekaoka High School. Futaba is invited by light and begins scuba diving and eventually builds a relationship like buddy in daily life as well as diving.

The original is Kozue Amano, "ARIA". After the end of "ARIA", I got a license for diving to set up another work and experienced it when I actually experienced it, I got a big impression and this work was born with diving as the main.

Junichi Sato of the "ARIA" series will serve as the director. There was an offer to the place where I thought that it might be made by someone other than myself, and animation was announced in a form adapted to the 10th anniversary of ARIA.

·staff
Original: Kozue Amano
Overall director: Junichi Sato
Director: Kasa Ikenichi
Screenplay: Aka Oko
Character design: Ito Yoko
Art director: Chikako Shibata (Studio Canon)
Color design: Miyuki Ishida
Director of Photography: Hidenori Amaganaka, Shingo Fukuyo
Edit: Hitomi Sudou (REAL-T)
Music: GONTITI
Music Production: Flying Dog
Animation production: J.C.STAFF
Production: Yumeogaoka High School Diving Department
Copyright notation: © 2016 Kozue Amano / Mag Garden · Yumeogaoka High School Diving Department

Twitter:@ Amanchu_anime
Hashtag: # Amachusu

OP: Maaya Sakamoto "Million Clouds"

·cast
Minorito Hikaru: Eri Suzuki
Futaba Oki: Ai Kinano
Ai Ninomiya: Saori Ohnishi
Makoto Ninomiya: Yuichiro Umehara
Makoto Hirato: Shizuka Ito
Chachi adviser: Kure Urika
Konno Kiyono: Kikuko Inoue

TV animation "Amachu"! 2nd PV - YouTube



---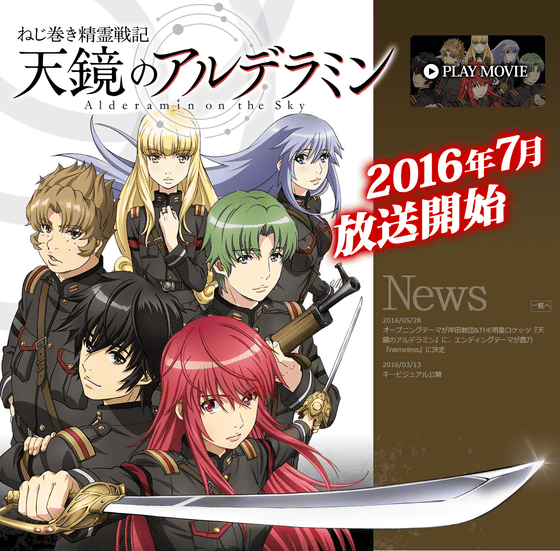 · Broadcast information
TOKYO MX: 7/8 (Friday) 25: 05 ~
KBS Kyoto: 7/10 (Sun) 23: 00 ~
Sun TV: 7/10 (Sun) 24: 30 ~
TV Aichi: 7/10 (Sunday) 26: 05 ~
BS Fuji: 7/10 (Sunday) 26: 30 ~
AT-X: 7/11 (Monday) 24: 00 ~ other

·Overview
Ikuta who hates war and is lazy and women who likes to watch is going through a high officer's test at the Katowana Empire while warring with the neighboring country · Kyoca Republic and passionately passing through the high officer tests, and a half-life of wild ranging until becoming a soldier who is called a generic name with outstanding talent Fantasy Senki to draw.

·staff
Original: Uno Parkman (Dengeki Bunko)
Original illustration: Ryurotō
Original Original Proposal: Saba Insert
Director: Tetsuo Ichimura
Character design: Kunio Kosugi
Series composition: Yaskawa Shopping
Acoustic director: Miwa Iwami
Production: Madhouse
Copyright notation: © 2015 Uno Parkman / KADOKAWA Published by ASCII · Media Works / "Alderamin of Tianjin Mirror" Production Committee

Twitter:@ Alderamin_anime
Hashtag: #alderamin

OP: Kishida Shingen & THE Megan Rockets "Alderamin of Heavenly Mirror"
ED: Kanno "nameless"

·cast
Ikta · Soroc: Okamoto Nobuhiko
Yatricino · XExem: Risa Taneda
Shamille, Kitra, Katvin Maninik: Mizuno Inori
Toruway · Remi: Kanemoto Ryozuke
Matthew Tetjirici: Junji Majima
Haroma Beckel: Haruka Chisugu

TV anime "Screwed Spiritual Warfare Warrior Tenka no Alderamin" PV - YouTube



---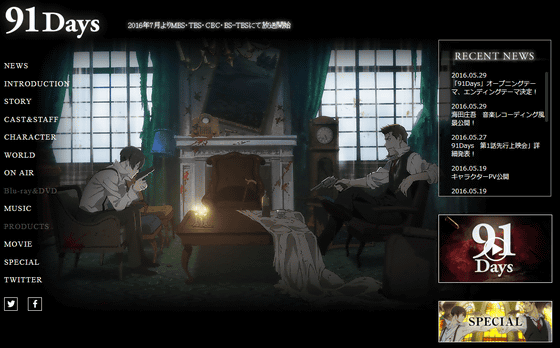 · Broadcast information
TBS: 7/8 (Friday) 25: 55 ~
MBS: 7/8 (Friday) 26: 10 ~
CBC: 7/8 (Friday) 26: 46 ~
BS-TBS: 7/9 (Sat) 24: 00 ~

·Overview
In the age of abstinence prohibition laws, the town of Lawless was crowded with harsh dealing with smoke sake. A man who came there - Avillio, there was a past where the family was killed by the conflict of Mafia in this place. Aviglio infiltrates the enemy Vanetti family for revenge and approaches Don Vanetti's son Nero. What is the ending of the 91-day story of men led by sorrowful fate ...?

·staff
Director: Hiro Toriki
Series composition: Takashi Kishimoto
Total drawing director · Character design: Tomohiro Kishi
Music: Shogo Kaita
Animation Production: Zhu Xia
Copyright light notation: © 91 Days

Twitter:@ TV 91 Days
Hashtag: # 91 Days

OP: TK from Dinin and the rain "Signal"
ED: ELISA "Rain or Shine"

·cast
Aviglio: Takashi Kondo
Nero: Eguchi Takuya
Vanno: Daisuke Ono
Corteo: Makoto Saito
Fango: Kenjiro Tsuda
Furte: Kotaro Nishiyama
Ronald: Yuichi Nakamura
Barbero: Takahiro Sakurai
Vincent: Kazuhiro Yamaji

"91 Days" Tizor PV 2nd bullet - YouTube



---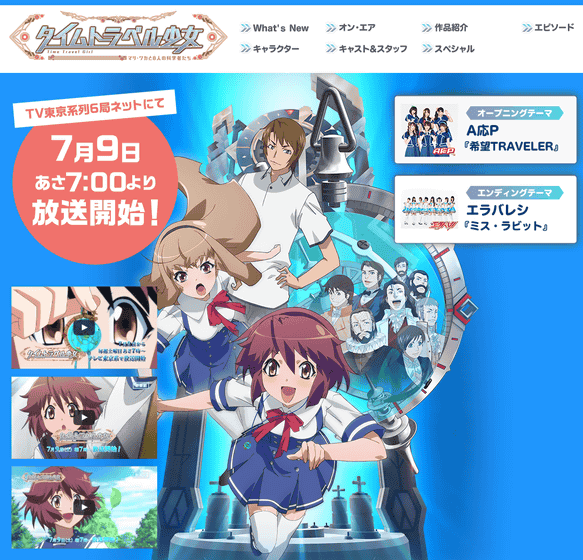 · Broadcast information
TV Tokyo line: 7/9 (Sat) 7: 00 ~
AT-X: 7/9 (Sat) 21: 00 ~ other

·Overview
Is it fate to open up the future, or is it my own action?
What is the encounter with time slips and unique and attractive scientists bringing to the girls?
A missing father for three years. A mysterious person who follows that father. A longing man who entrusted a book from his father. The pendant my father gave me ....
Science adventure with a bit mysterious element, tearful tears, laughter.
【Dengeki time slip experience to be smarter a bit! I made the concept, animation that has never existed -.
That is "time travel girl ~ Mari · Waka and 8 scientists ~".

·staff
Director · Series composition: Yamasaki Osamu
Screenplay: Mitsuhiro Hirota, Yoshiko Nakamura, Yuko Kubo, Yamasaki Osamu
Character design · total drawing director: Masashi Kobayashi
Assistant Director: Rion Hisashiro
Sub Character Design: Toshiko Sasaki
Prop Design: Mamiya Mamiko
Mechanical display design: Yoshinori Sayama
Drawing Director: Toshiko Sasaki, Takahiro Miura, Akiko Nakamura, Akio Uchino, Mamiko Mizutani, Shota Ueno, Yoichi Onishi
Director: Hisashi Rion, Hiroshi Kubo, Yoshiyuki Kaneko, Yamasaki Osamu
Color design: Kunio Tsujita
Art director: Yukari Yasuda
Art setting: Takeshi Asaki, Mika Nakashima
Director of Photography: Terumasa Teramoto
Edit: Satoshi Aihara
CG Director: Hiroyuki Hatada
CG designer: Yi Yi Ming
Acoustic director: Nagasaki Jun Man
Music: Hitomi Kuroishi
Acoustic effect: Kiyotaka Kawada
Recording adjustment: Yuriko Kiyomoto
Acoustic production: Studio mouse
Music cooperation: TV TOKYO music
Original: Seiji Itakura "The invention discovery story of magnets and electricity"
Progress of Production: Lee Yuan, Masaya Zengawa, Naoki Miki, Taichi Kuroiwa
Acoustic Production Manager: Yuji Goto
Setting Production: Ai Moriuchi
Production Desk: Katsu Matsuzawa
CG Producer: Masumi Koizumi
Assistant Producer: Tomoko Okimoto
Animation Producer: Akira Aoki
Producer: Yoshinobu, Masahiro Murakami
Planning and cooperation: Hamada Keiji, Kashiwagi Yutaka
Planning: Akio Nishizawa, Naoki Nakamura
Music: Hitomi Kuroishi
Animation Production: Wow World
Production: TV Tokyo, Wow Corporation

Twitter:@ Mariwaka_anime
Hashtag: # Mariwaka, # time travel girl

OP: A response P "Hope TRAVELER"
ED: Elabalesi "Miss Rabbit"

·cast
Maki Hayase: Aki Toyosaki
Mizuki Wakana: Mitsuko Suto
Mizuho Shun: Ryuichi Kijima
Hayase Nagashi: Tomoyuki Morikawa
Akira Hayase: Haruka Tomatsu
Rika Hayase: Fukuno Yu
Rei Mizuki: Kikuko Inoue
Ichikawa Kazuo: Yamashita Daisuke
Mikageji: Tsuboi Tomohiro
Satsuki Kuroki: Takagaki Ayano
Gilbert: Teru Okawa
Franklin: Shinichiro Miki
Volta: Daiki Nakamura
Faraday: Shotaro Morikubo
Morse: Koji Yusa
Bell: Tomoaki Maeno
Hertz: Akira Ishida
Edison: Wataru Hatano


---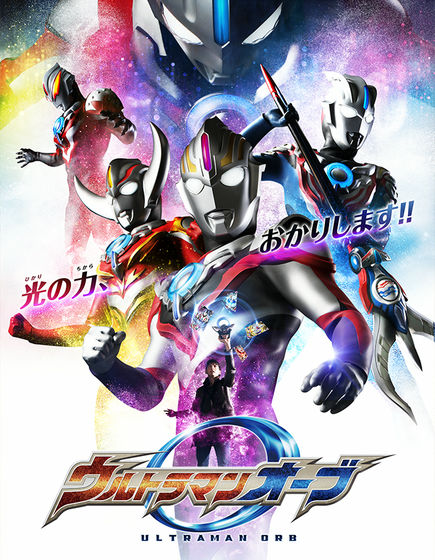 · Broadcast information
TV Tokyo series: 7/9 (Sat) 9: 00 ~
BS Japan: 7/19 (Tue) 17: 00 ~
Shizuoka Daiichi Television: 7/24 (Sunday) 5: 45 ~
TVU: 7/24 (Sunday) 6: 15 ~
Miyazaki Broadcasting: July 29 (Fri) 4: 30 ~
Hiroshima home TV: 7/31 (Sunday) 5: 20 ~
Ishikawa Television: 7/31 (Sunday) 6: 30 ~
Tohoku Broadcasting: 8/13 (Sat) 5: 30 ~
All 25 episodes

·Overview
Yumeomi Naomi launched a strange information tracking site "Something Search People (SSP)" with his friends Jetta and Shin, triggered by the dream of "the giant light of light fighting huge monsters" that he saw from a young age. Three people encountered the cause of abnormal weather and UMA for one day. In the pursuit, it is saved by the windfall cray-eye. The identity of Guy is Ultraman Orb, from which the battle between Orb and "Devil 's beast" opens.

Following "Ultraman X" broadcasted in "New Ultraman Sekiden", the latest Ultraman series. The combination of the main director - Kiyotaka Taguchi and the series composition - Takao Nakano & Yuji Kobayashi is the same as the previous work 'Ultraman X'. Director Taguchi said, "Last year's" Ultraman X "pursued" anyway fun Ultraman "while sloganizing . This year's new work "Ultraman Orb" will draw this flow but go to "diagonally upper" instead of "more up"! Together with you, I used the slogan. It is a declaration that "Choose funny people who thought" rather than "as usual" is issued.

·staff
Director: Kiyotaka Taguchi, Aveuichi, Ryuichi Ichino, Taku Tomita, Masanori Takei
Series composition: Takao Nakano, Yuji Kobayashi
Production: Tsuburaya Productions, TV TOKYO, Dentsu
Copyright notation: © Tsuburaya Pro © Ultraman Orb Production Committee · TV Tokyo

OP: Ichiro Mizuki with Voyager "Orb's Prayer"
ED: Voyager feat. Kurenai Gai & SSP "Shine your ORB"

·cast
Ultraman Orb / Kurenaigai: Hideo Ishiguro
Yumen Naomi: Masaura Ya

First presentation of main part video first! New program "Ultraman Orb" Special Movie - YouTube


"Ultraman Orb" in Tokyo Toy Show Production Presentation · Long version! - YouTube



---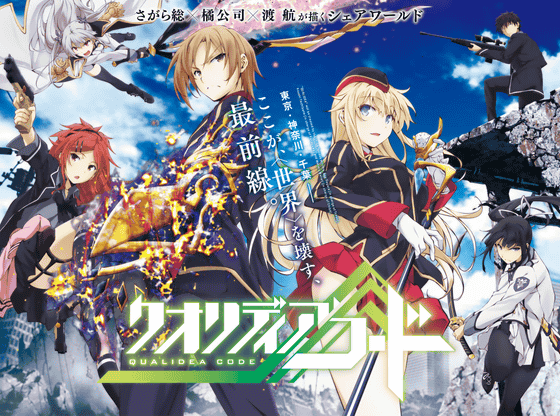 · Broadcast information
TOKYO MX: 7/9 (Sat) 24: 00 ~
Tochigi Television: 7/9 (Sat) 24: 00 ~
Gumma TV: July 9 (Sat) 24: 00 ~
BS 11: 7/9 (Sat) 24: 00 ~
Cibatelle: 7/9 (Sat) 24: 30 ~
Tvk: 7/9 (Sat) 24: 30 ~
ABC: 7/13 (Wednesday) 26: 59 - (From the second episode onwards, 26: 44 ~)

·Overview
Approximately thirty years ago, the first type disaster designation alien species (Unknown) attacked the earth. Although humanity gets a hard win over the result of all-out warfare, it is still suffering from sporadic invasion. In order to counter this threat, boys and girls who acquired the inherent ability belonged to defense cities in Tokyo, Kanagawa, Chiba belonged and belonged, while protecting the area of ​​mankind at the forefront while making full use of .

According to the writer unit "Speakeasy" composed by three people composed of Saga total of "Hentai Prince and No Laughing Cat", Tachibana Koji of "Date A Live", "My Youth Lovecomber is Incorrect" Shared world project animated. Both of the novelization versions are the day before the animation, Saga Total is Tokyo, Tachibana Koji is Kanagawa, and traveling is Chiba.

·staff
Original: Speakeasy (Saga total × Tachibana Koji × traveling) / Marvelous
Director: Kawamura Keiichi
Screenplay: Speakeasy
Character draft: Matsuzuru
Character design: Toshiyuki Tabata
Music: Taku Iwasaki
Production: A-1 Pictures
Production: Qualia Code Production Committee

Twitter:@ QUALIDEACODE
Hashtag: # Qualia

OP: LiSA
ED1: ClariS
ED2: GARNiDELiA

·cast
Tianhe Maihime: Yuki Aki
Hotaru Rinpota: Ayaka Fukuhara
Suzaku Ichiya: Makoto Saito
Utara Good Canary: Yui Ishikawa
Tensai Asuka Leave: Takesaka Yasushi
Chika Kasumi: Yusuda Uchida

【Quality Code】 Kanagawa Campaign PV - YouTube


【Quality Code】 Tokyo Campaign PV - YouTube


【Quality Code】 Chiba Campaign PV - YouTube



---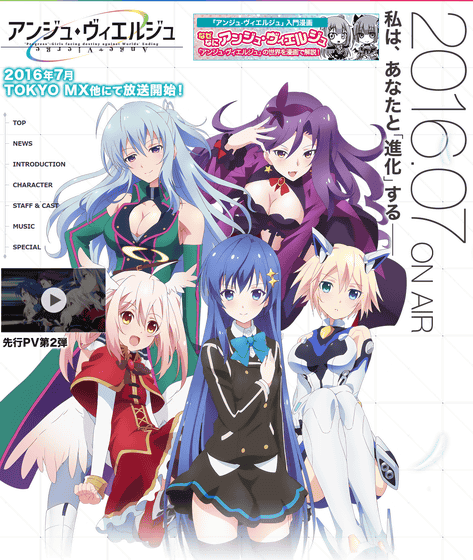 · Broadcast information
TOKYO MX: 7/9 (Sat) 25: 30 ~
KBS Kyoto: 7/9 (Sat) 25: 30 ~
TV Aichi: 7/9 (Sat) 26: 20 ~
BS Fuji: 7/10 (Sunday) 25: 00 ~
Sun TV: 7/10 (Sunday) 25: 30 ~
AT-X: 7/14 (Thursday) 24: 00 ~ other

·Overview
The world of our blue "Earth", the black world dominated by night and magic "Darkness · Embrace", red world protected by prayers and gods "Terra Rubili Aurora", White managed by science and cerebrum The world of 'System = White = Egma', the world of weapons and the green world 'ruled by armed forces' Grüneshilt' connected one day, the existence in fairy tales such as angels and demons began to appear in reality. At the same time, the girls who woke up to the special ability "Exceed" appeared in their respective worlds. Those called "progress" are gathered in a giant school city "Aokan school" and fight to protect the world from the five world enemies "uroboros".

Media mix project centering on TCG "Ange-ViergesTV animation born from. In addition to animation game application for smartphone "Ange-Vierges - 2nd Morning Commissioner Girls Battle ~",Cartoon"Anju · Vierges Linkage, Voice actor unit "L.I.N.K.sThe expansion theme is developed by L.I.N.K.s.

·staff
Original: KADOKAWA, Sega
Director · Character design: Masafumi Tamura
Series composition · Screenplay: Katsuhiko Takayama
Character original plan: 涼 香, ぽ よ う ん ♥ rock, Mishima Kuroun, Tsunoko, Tomoseshunsaku, Sasagi
Music: Wakabayashi Takatsugu
Music production: KADOKAWA
Animation production: SILVER LINK.
Production: Anju · Vierges · Film Partners
Copyright notation: © KADOKAWA · SEGA / Anju · Vierges · Film Partners

Twiter:@ange_anime
Hashtag: # Ange_animation

OP: Konomi Suzuki "Love is MY RAIL"
ED: L.I.N.K.s (Yuza Sosaka, Mai Ishihara, Yi Yi Kei Takahashi, Yoshiko Ikuta, Hope Yamamoto) "Link with U"

·cast
Sōtsuki Saya: Misako Sumisu
Almalia: Yumemi Hara
LL: Toyosaki Aki
Code Ω 77 Stella: Rika Tachibana
Niia · Lapusae: Bridcut Sarah Emi
Ayase Tenshin: Yukari Tamura
Mika Hinata: Yuuka Aisaka
Sofina: Mai Ishihara
Ruby: Yoshiko Ikuta
Code Ω 00 Youfiria: Takahashi Yi
Mayuka · Sanagi: Yamamoto hope

Anime "Anju Vierges" PV - YouTube



---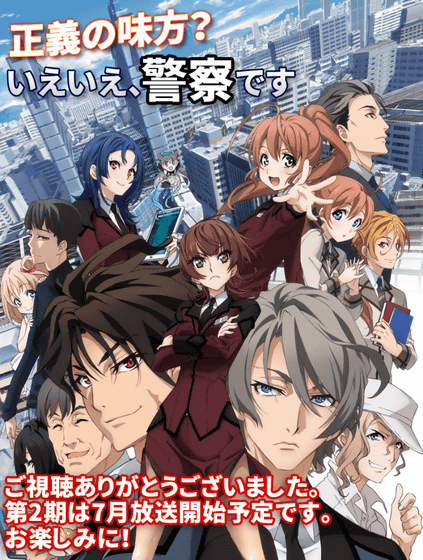 · Broadcast information
BS Niterele: 7/10 (Sunday) 24: 30 ~
TOKYO MX: 7/11 (Monday) 24: 30 ~
Sun TV: Monday, July 11, 25: 00 ~
KBS Kyoto: July 11 (Mon) 25: 30 ~
TV Aichi: 7/11 (Monday) 27: 05 ~

·Overview
The Police Department Security Bureau Fifth Special Public Safety Division Third Movement Attack Division Eighth Annual, commonly known as "Daihachi" is a department that challenges a violent case by wearing reinforced exoskeleton "Wilwear". While processing a number of incidents, Daihachi uncovers the existence of the criminal group logos that was behind it. Temporarily, Musos of a super genius hacker belonging to Logos, the majority of the National Public Intelligence Information Infrastructure is grasped, but Miros was arrested by the activity of Daihachi, the crisis was avoided. However, Bird, who had been working with Mitos, was released under super legal measures and was escaping overseas.

Original animation which will be directed by Goro Taniguchi who is known for "Scryd" "Planetes" "Code Geass: Lelouch of the Rebellion". The first series is broadcasting from January 2016 to March, this is the 2nd series. According to Taniguchi General Director, "Part 1 series and 2nd series" rather than divided 2 courses. Originally planned was a cool one, but it was changed to 2 cool on the way, and some items moved to the 2nd cool for the 1st cool will not fit.

·staff
Overall director: Gorō Taniguchi
Director: Noriaki Akitaniya
Character draft: Shun Saeki
Animation character design: Ayako Nishida
Series composition: Toshihisa Arakawa
Music: Kotaro Nakagawa
3DCG Production: Orange
Animation Production: Production I'ms
Copyright light notation: © Suzumi · Fields · Flying dog / ACTIVERAID PARTNERS

Twitter:@ Activeraid
Hashtag: #activeraid

OP: Yuuki Aisaka "Cerulean Squash"
ED: Liko (CV: Tomoyo Kurosawa) "Field Trip !!"

·cast
Black Kuki Takeshi: Nobunaga Shimaki
Kenichiro Sena: Takahiro Sakurai
Asami Hanasaki: Ozawa Abe
Rin Yamabuki: Yasuyo Kurata
Yasuharu Fosaka: Teru Okawa
Haruka Hoshimiya: Shizuka Ishigami
Amano yen: Saori Ohnishi
Association: Kosuke Toriumi
Yamabuki ya: Aika Sosaka
Kotaro Inagi: Midorikawa Mikawa
Eriko Kominato: Sayaka Ohara
Mutos: Nagi Hanoe
Dock: Daiki Yamashita
Bird: Taiji Murata
Liko: Kurosawa Tomoyo
Emilia Edelman: Yukari Tamura
Marimo Sakaki: Ai Mi Tanaka
Abigail Martinez: Satomi Arai
Association: Hayami Award

"Activ Raid - Mobile Assault Room No. 8 -" Promotional Video 2nd - YouTube



---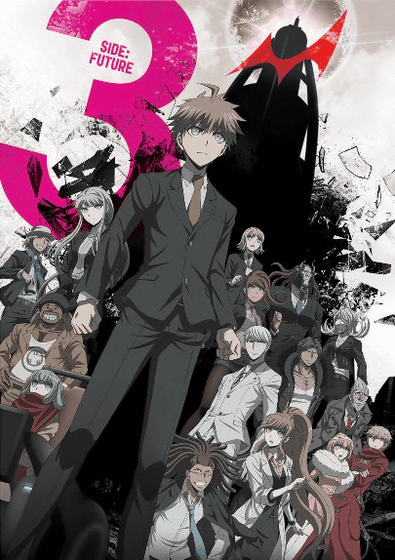 · Broadcast information
TOKYO MX: 7/11 (Monday) 23: 00 ~
AT-X: 7/11 (Mon) 23: 00 ~ other
BS 11: 7/11 (Monday) 24: 30 ~

·Overview
"A story of despair that hope kills hope begins."
The greatest worst hopeless incident in the history of human beings caused by "desperation of ultra high school grade" once was destroyed until the collapse of the world. In order to save the world filled with such despair, the "future institution" was formed, and the 78th graders from the private hope Mogamine Academy, such as Makoto Saplings, will belong to the institution. However, the seedlings are said to be charged with treason as "protecting the remnants of despair". However, all future organizations gathered for the disposal of seedlings are confined to monokuma, and are confronted with "last colossiay" without "class trials".

Game that redesigned everything as "Dangan Rompa 5th anniversary project"New Dangan Rompa V3 Everyone's Colossey New semester"Was announced in December 2015 that it will be produced as the final chapter of the Hope Momamine Gakuen series linked from" School of Dangan Rompa and High School Students of Despair ".

·staff
Original: Spike Chunsoft
Draft Scenario / Total Command: Kazutaka Odaka
Overall director: Seiji Kishi
Director: Masao Fukuoka
Series composition: Kaito Kaikyo
Character original plan: Komatsuzaki kind
Character design: Ryoko Amisaki
Background plan: Danganronompa staff
Acoustic Director: Furuki Iida
Music: Masashi Takada
Animation Producer: Yuji Higa
Otasuke Producer: Yoshinori Terasawa
Animation Production: Lerche

OP: Kurosaki Mamon feat. TRUSTRICK "DEAD OR LIE"
ED: TRUSTRICK "Recall THE END"

·cast
Makoto Sabbie: Emi Ogata
Kirikiri Kyoko: Hinakazu Yoko
Shizuko Nakamura: Saki Fujita
Ando tribute song: Mizuno Inose
Sounosuke 16th: Takuya Eguchi
Kazuo Amenai: Shibata Hidekatsu
Kuichi Huangura: Keiji Fujiwara
Mitarai Ryota: Hongo Kota
Ritsumeikan episode: Rie Kugimiya
Great Goz: Kenta Miyake
Aoi Asahina: Chiwa Saito
Leaves Hirayoshi Hiroshi: Masanari Matsukaze
Monomy: Kishidōko
Muneko Toshiyuki Muneko Takayuki
Snow Dye Chisa: Mai Nakahara
Kotobuki Juzo: Junichi Suwabe
Mono bear: TARAKO


---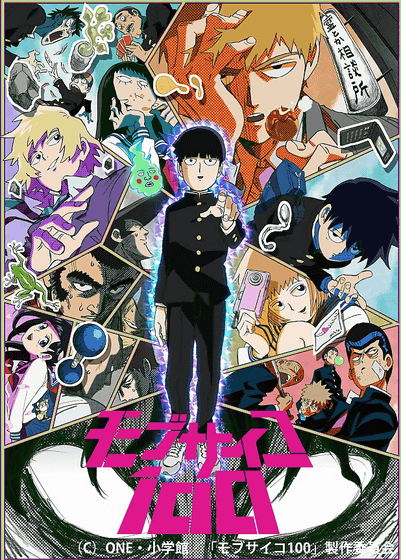 · Broadcast information
TOKYO MX: 7/11 (Monday) 24: 00 ~
Yomiuri Television: 7/11 (Monday) 26: 29 ~
BS Fuji: 7/12 (Tue) 24: 30 ~
Tele Drama Channel 1: 7/20 (Wednesday) 24: 30 ~

·Overview
Episode boy · Shigeo Kageyama (common name: Mobu) sticks to living normally, usually seals the supernatural ability, but when the feeling exceeds the allowable range 100%, the ability becomes full open mode with full opening. Spiritual Shin Takashi runs a spiritual and consultation office operated by "spirit and consultation center", but the spirit self-term spirit ability person, but in reality there is absolutely no ability, so that the assistant mob is driven out ... ....

BONS, known for ONE's work, also the original of "Wanpanman", known as "My Hero Accademia", "STAR DRIVER Shining Tact".

·staff
Original: ONE (Shogakukan "Manga One" series in progress)
Director: Jun Tachikawa
Series composition · Screenplay: Koji Seko
Character design: Yoshimori Kameda
Art director: Kono
Color design: Shigeko Nakayama
Director of Photography: Kozumi Mayuko
Sound Director: Kazuhiro Wakabayashi
Music: Kenji Kawai
Animation Production: Bonds
Copyright light notation: © 2016 ONE · Shogakkan / "Mobusaiko 100" production committee

Twitter:@ Mobiosycho_anime
Hashtag: # Mobsaiko 100

·cast
Shigeo Kageyama (Mob): Kinoshi Ito
Terao Shiraishi: Takahiro Sakurai
Ekbo: Akio Otsuka
Kageyama Rule: IRIGA Freedom
Teruhiro Hanazawa: Matsuoka Sadyojo
Onigiri Tangya: Yoshimasa Hosoya
Yonezawa: Ayumu Fujimura
Akemi Akemi: Atsumi Tanezaki
Tsubomi: Sakita Uchi

TV animation "Mobusaiko 100" PV - YouTube



---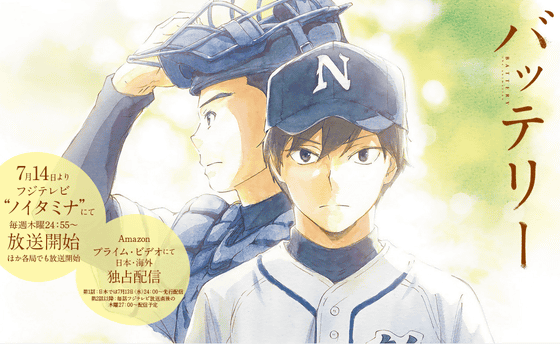 · Broadcast information
Amazon Prime Video: July 13 (Wednesday) 24: 00 - (From the second episode on Thursday 27: 00-)
Fuji TV: July 14 (Thursday) 24: 55 ~

·Overview
"In the spring of next year, can we stay as us?"
Takumi Harada, who has an outstanding sense as a pitcher, moves to Nitta city when entering junior high school, where he encounters a catcher, Nagakura Ryo who can accept his full power. They join the same middle school baseball club and grow as a battery.

The original is a novel by Asano Atsuko, converted into a radio drama with Miyano Miyano & Futami Furudoru in 2000, filmed by Lin Chengdu & Yamada Kenta in 2007, TV drama by Nakayama Yuma & Takada Sho in 2008 There. The animation of Asano's work is the third work following "telepathy girl orchid" "NO.6". Commemarkize by Yuzuya Chikage is serialized in Asuka Monthly, and a new version is published in 3 volumes.

·staff
Original: Asano Atsuko (Kadokawa Bunko)
Director / Screenplay: Tomomi Mochizuki
Character draft: Shimura Takako
Animation character design · total drawing director: Hidekazu Kusama
Music: Akira Senju
Animation production: ZERZY
Copyright Light Notation: © 2016 Asano Asako / Kadokawa Bunko / Animation "Battery" Production Committee

·cast
Takumi Harada: Teruyuki Uchiyama
Akira Nagakura: Yu Hatanaka
Harada Akinori: Fujimaki Yuui
Kadowaki Hideo: Yuki Ono
Shunji Mizukaki: Ryohei Kimura
Kaori Temple Kazuki: Umehara Yuichiro
Sawaguchi Watanabe: Ayumi Murase
Kei Ito: Teru Ishikawa

Battery Long PV - YouTube



---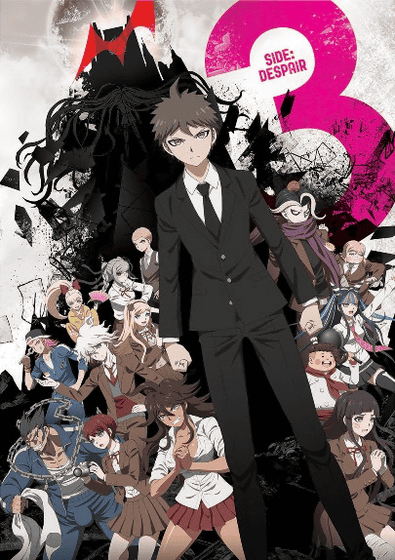 · Broadcast information
TOKYO MX: 7/14 (Thursday) 23: 30 ~
AT-X: 7/14 (Thursday) 23: 30 ~ other
BS 11: 7/14 (Thursday) 24: 30 ~

·Overview
"This is the story of the greatest worst hopeless incident in human history, a story of hope that ends with despair."
The Private Hope Momamine Academy aiming to collect and cultivate the top classes in all fields has "Honma" where talent of ultra high school grade gathers and "Preliminary course" anyone can pay if paid tuition. Not only talent but also personality 77 persons who studied in character are learned that "What is important to life is not only talent but also personal relationships with people, making memories", ordinary high school students He liked school life that he liked. However under the water the mysterious project advanced, school discrimination was also rampant. Because the fateful encounter with the preliminary department student who is thirsting for talent · Hyuga creation, the school will be led to a direction which can not be predicted.

At the time of the announcement in December 2015, although the animation of "Danganronompa 3" was only the present "future edition", according to AnimeJapan 2016 of March 2016, the game "Super Dangan Rompa 2 Goodbye Despair Gakuen" character Production of "Despair Edition" was drawn announcing why they were desperate, and why it reached "the greatest worst desperate case in human history". Regarding broadcasting, although it was revealed that the future edition will begin in July at the beginning, it was decided to proceed with the two series simultaneously at the same time.

·staff
Original: Spike Chunsoft
Draft Scenario / Total Command: Kazutaka Odaka
Overall director: Seiji Kishi
Director: Masao Fukuoka
Series composition: Kaito Kaikyo
Character original plan: Komatsuzaki kind
Character design: Kazuaki Morita
Background plan: Danganronompa staff
Acoustic Director: Furuki Iida
Music: Masashi Takada
Animation Producer: Yuji Higa
Otasuke Producer: Yoshinori Terasawa
Animation Production: Lerche

OP: binaria "Kamiiro awase"
ED: Kaeda Kanedo (CV: Emi Ogata) "Absolutely Hope Birthday"

·cast
Kagita Nagi: Emma Ogata
Kazuichi Oshida: Yoshimasa Hosoya
Yui Motoya: Ami Koshimizu
Shinkin no Mikoto: Ai Kinano
Koizumi Maki: Yu Kobayashi
Saionji Hinako: Mikami Suzuko
Mamoru Hanamura: Jun Fukuyama
Enduri Akane: Park Yumi
大 大 猫 丸: Yousuke Yasumoto
Nine head Dragon Fumihiko: Kishio Daisuke
Edge Kozan Peko: Kotono Mitsuishi
Mitarai Ryota: Hongo Kota
Tanaka is sealed Tomokazu Sugita
Sonia · Nevermind: Miho Arakawa
Hinata Hideo: Takayama Minami

"Dangan Rompa 3 - The End of Hope Gogen" - PV - YouTube



---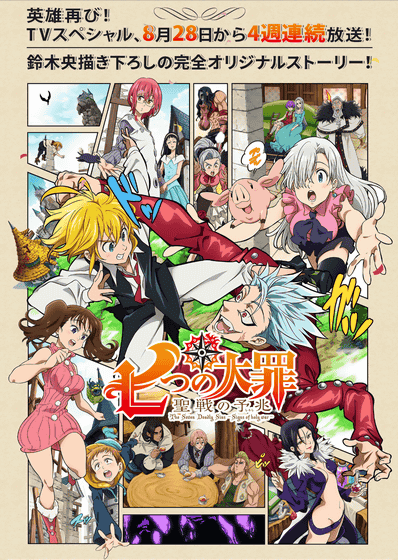 · Broadcast information
MBS · TBS series: 8/28 (Sunday) 17: 00 ~
All 4 episodes

·Overview
TV special of "seven deadly sins" broadcasted from October 2014 to March 2015. The original episode by the original author, Suzuki Ma is broadcasted in the frame after the end of the broadcast of all 8 episodes of "Arslan Battle Wanderer Ranbu".

·staff
Original: Mr. Suzuki (Kodansha "Weekly Shonen Magazine" series)
Director: Friday
Series composition: Ayano Yuniko
Screenplay: Yuni Aya, Yuichiro Kido
Character design: Keisuke Sasaki
Total drawing director: Tomoko Sudo
Music: Hiroyuki Sawano, Takashi Wada
Production: A-1 Pictures
Copyright notation: © Suzuki Mao · Kodansha / "Seven Daigens TVSP" Production Committee · MBS

·cast
Melio Dus: Yuuki Kaji
Elizabeth: Amamiya Tian
Hawk: Misaki Kuno
Dianne: Yuki Aki
Van: Tatsuo Suzuki
King: Jun Fukuyama
Gosel: Yuhei Takagi
Merlin: Maaya Sakamoto
Gil Thunder: Mamoru Miyano
Hauser: Ryohei Kimura
Glia Mall: Takahiro Sakurai

TV animation "The prognostic of the seven major sins of the Holy War" announcement CM From August 2016 to the fourth consecutive broadcasting! - YouTube



---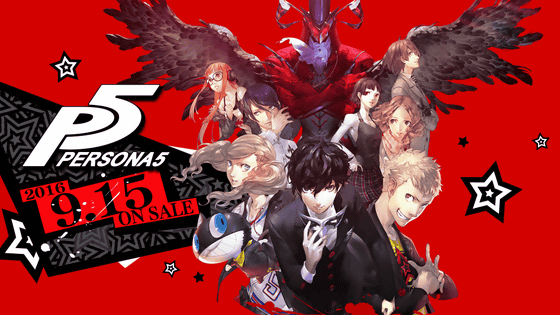 · Broadcast information
BS 11: 9/5 (Monday) 22: 00 ~

·Overview
RPG released on September 15 "P5 - Persona 5-In the story linked with the sub episode that appears in the prologue story where the activity of young Kaiten Group is drawn based on a mission. The length is equivalent to 30 minutes, it will be broadcast as a special number in September according to game release.

·staff
Original: Atlas "P5 - Persona 5 -"
Producer: K. Adachi
Director: Takaharu Ozaki
Story draft: Kei Hashino
Character original plan: Shiki Soejima
Demon design original draft: Kazuko Kaneko
Screenplay: Shinichi Inoguri
Character design: Toshiyuki Yagi, Keita Matsumoto
Music: Shogi Meguro
Animation Production: A-1 Pictures

·cast(Game version reference)
Hero: Jun Fukuyama
Ryuji Sakamoto: Mamoru Miyano
Takakiaki: Mizuki Nana
Morgana: Ikue Otani
Yusuke Kitagawa: Tomokazu Sugita
Makoto Niijima: Rina Sato
Sakura Futaba: Yuki Aki
Haru Okumura: Haruka Tomatsu

Persona 5 PV # 04 - YouTube