Celebrity's Twitter account can experience what timeline is visible "Antipersona"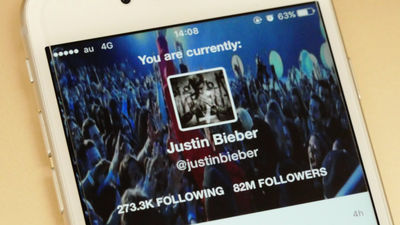 "SMAP × SMAP" server is down on live broadcastFor example, Twitter boasts high popularity in Japan. One of the indicators showing the popularity of the account is "follower number". With a famous Twitter account with many followers, what kind of timeline is visible and where you are concerned about how replies and mentions will fly. A free application that can simulate such Twitter account of others is "AntipersonaSo you can feel the tremendous power of a famous account.

Antipersona
http://antipersona.co/

Antipersona is an application for iOS devices and can be installed from the following.

Antipersona - Become Any Twitter User on the App Store
https://itunes.apple.com/jp/app/id1059194929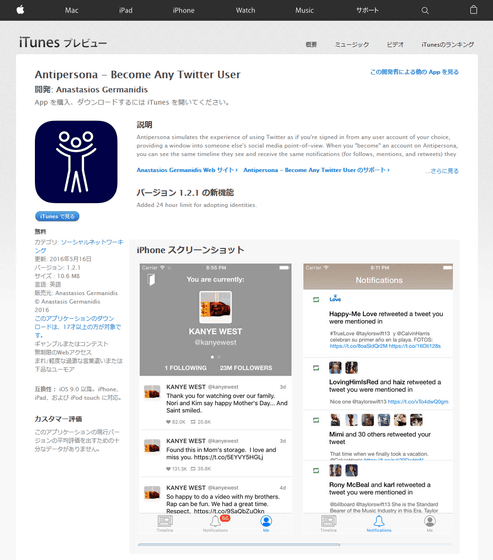 To install the application, click on the above URL and tap "Get".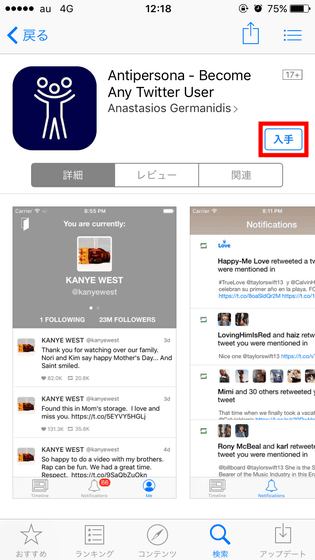 Tap "Install".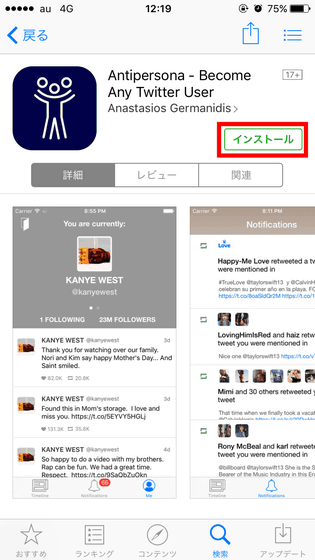 Tap "Open" when installation is completed.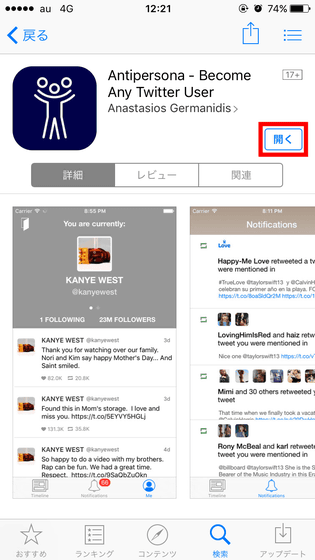 The application will then start up. First, tap "Sign in with Twitter" ......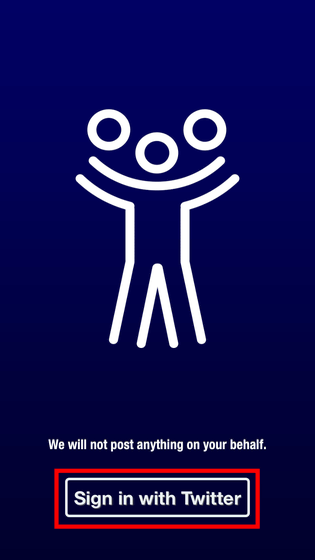 You need to work with Antipersona and your own Twitter account. Enter your user name or e-mail address and password and tap "Authenticate cooperative application".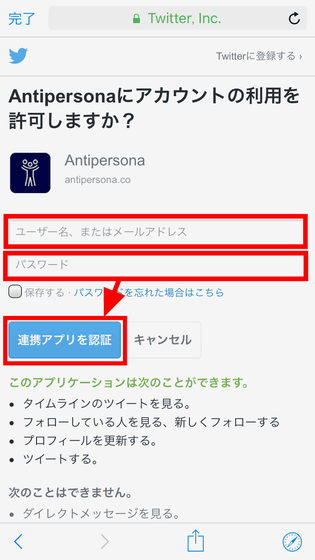 You will be able to use Antipersona. In the red frame at the bottom of 'Following' you will see the account you are following with your Twitter account.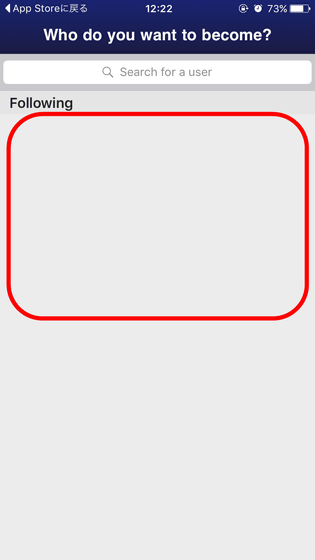 That's why I started simulation. Simulation To enter the information of the Twitter account you want to experience in the text box and tap this when the desired account appears in the candidate. This time Justin Bieber's official Twitter account that boasts over 80 million followers and one of the world's most followers@ JustinbieberLet's simulate what kind of timeline is visible, what reply and mentions are like.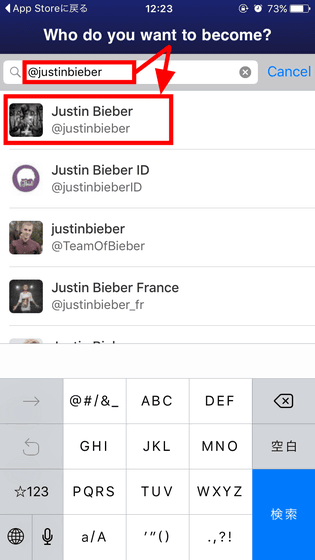 Simply tap "Become (account name, @ justinbieber in this case)" displayed at the bottom of the screen to start the simulation. As a precaution, this application does not have an account switching function. Therefore, once you start the simulation, simulation of the same account will be displayed even if the application is closed and restarted. If you want to change your account, you need to restart the device and then re-link Antipersona and Twitter account.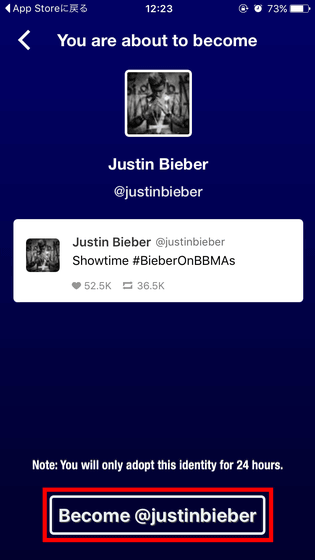 The simulation screen looks something like this. "Me" is displayed at the start, and you can see the tweet of the simulated account. In addition, Antipersona can only "see", it can not fly to the link affixed to the tweet, "like" to tweet, or retweet.



However, from "FOLLOWONG" and "FOLLOWERS" ......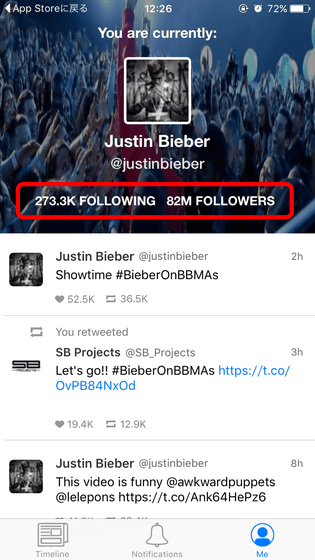 The account that the simulated account is following and ...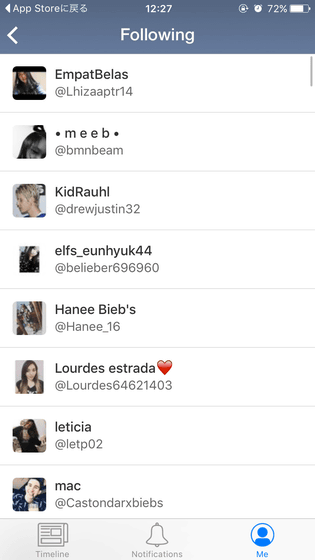 You can check that follower.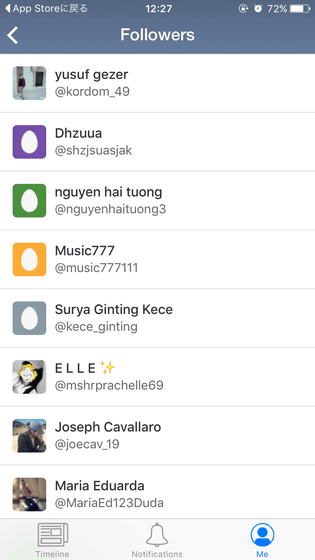 You can check the timeline by tapping "Timeline" at the bottom left of the screen. However, because of the large number of accounts I follow, I only retweet the timeline.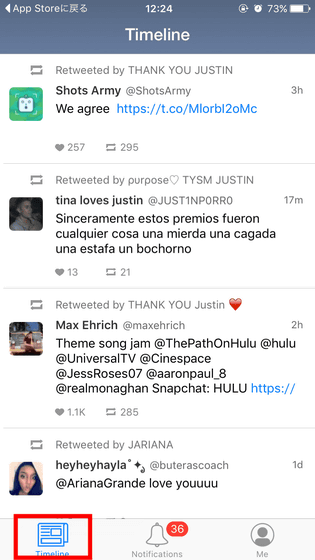 Then tap "Notifications". It is only retweet notice screen. Every time Justin Bieber tweets, everything is done several tens of thousands of times for every content, so this notification seems to be pushing endlessly.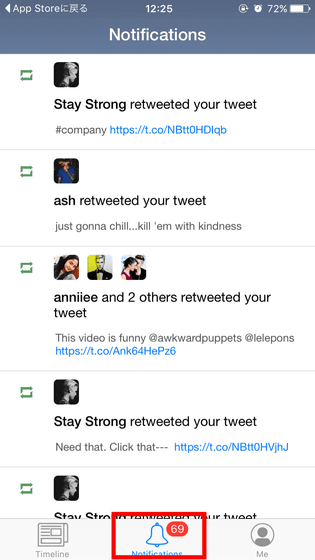 You can update tweets and notifications by swiping the screen downwards, but each time you update it, you will receive a notification that "a new follower has increased" and you can see the height of its popularity.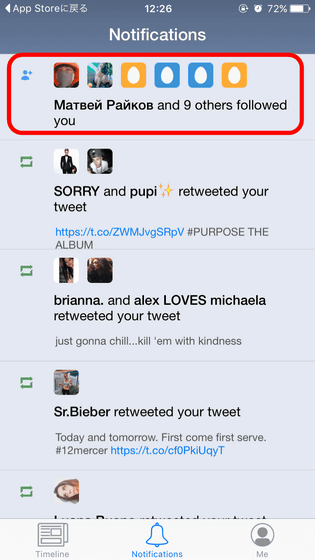 You can see the actual simulation experience of Justin Bieber's Twitter account in the following movie.

Justin Bieber's Twitter account simulation experience with "Antipersona" - YouTube


As mentioned above, Antipersona does not have a button to change the account to be simulated. So, if you want to simulate other Twitter accounts, you need to press the Home button twice and exit by swiping up Antipersona up and reboot the terminal.

After that, if you start Antipersona again, you need to re-establish Twitter again, but you can switch accounts to be simulated.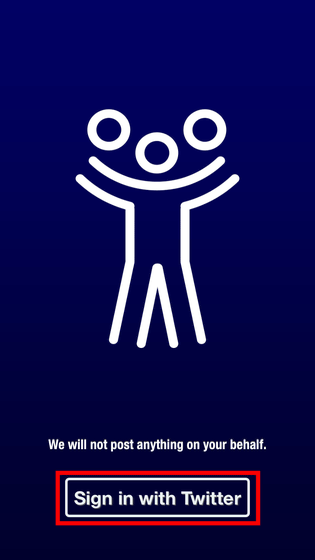 So, this time Twitter account of Hiroyuki Ariyoshi boasting one of the most followers in the Japanese Twitter account "@ariyoshihiroikiLet's simulate it.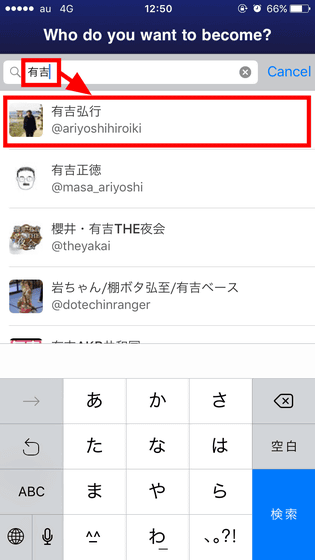 Tap 'Become @ariyoshihiroiki'.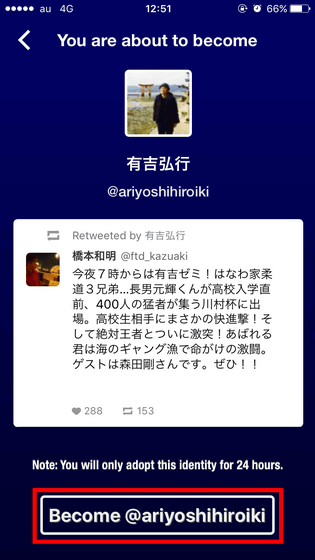 Then it looks like this. The actual owner may be a more easy-to-see timeline by making use of notification setting, mute, list etc. features, but since Antipersona does not reflect any such settings, the timeline and notification screen are retweet It was a storm.