Review of English words by simply enjoying games for free Android version application "mikan" review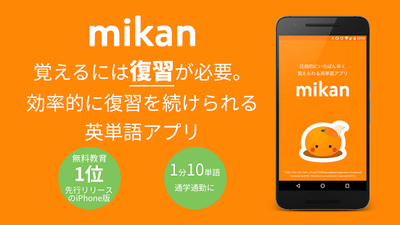 Based on the concept "English word application that can be remembered as quickly as the fastest", a total of 10,000 words, including 2500 words in the Center Exam / University test, TOEFL 3000 words, TOEIC 2500 words, GRE 1500 words, frequent center test 500 words, play the game You can master it just by being "MikanAndroid version of "has appeared. As with the iOS version, you can now play on Android smartphones, so I actually installed and tried it.

Mikan Fastest English word Free of charge to take a university entrance exam and TOEIC - Google Play Android application
https://play.google.com/store/apps/details?id=link.mikan.mikanandroid

First, install from Google Play.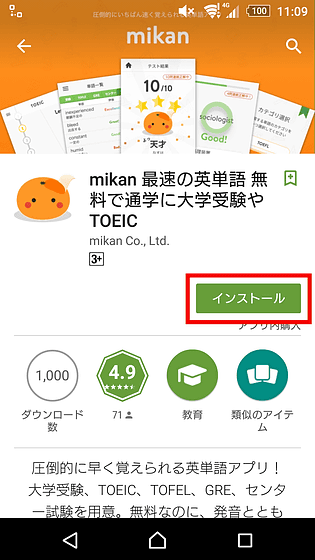 Tap "I agree"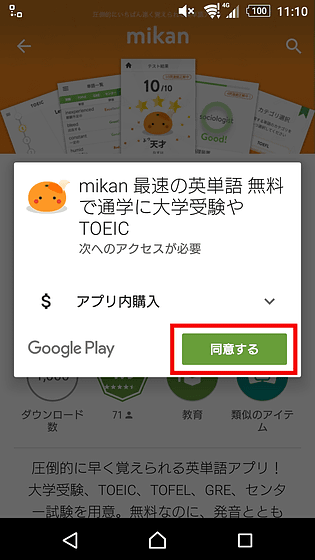 Tap the mikan icon to start it.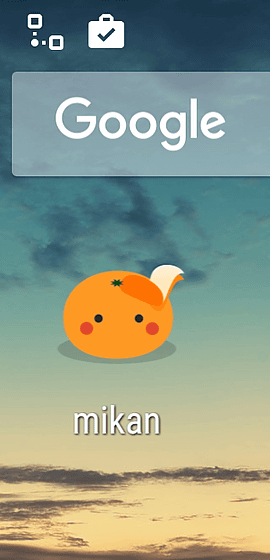 Enter your nickname and tap "Register"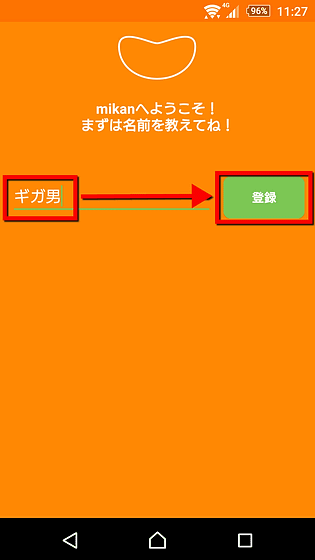 Let's learn unlearned words ", so tap the button labeled" Not learned (100) ". As the native speaker reads the problem, you need to keep sound on or wear earphones. Depending on the terminal, the game sound is quite large, so be careful.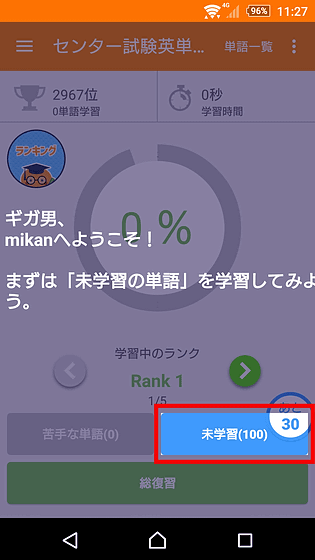 That's why the game started. The words are read aloud, the upper green bar decreases rapidly. If you choose what you think is correct with 4 choices before the bar is gone OK.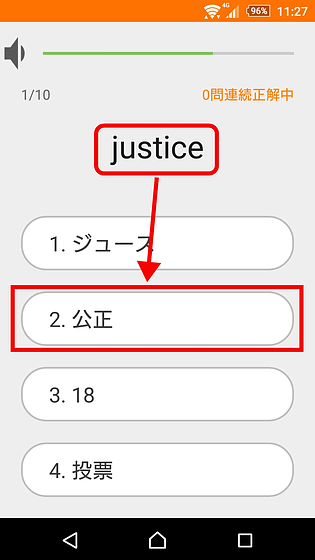 You can see how you actually play mikan from the following movie.

The Android version of the English learning application "mikan" looks something like this - YouTube


If you choose the answer from the 4 option and mistake it, think too much and time out it will be rated "Bad ...".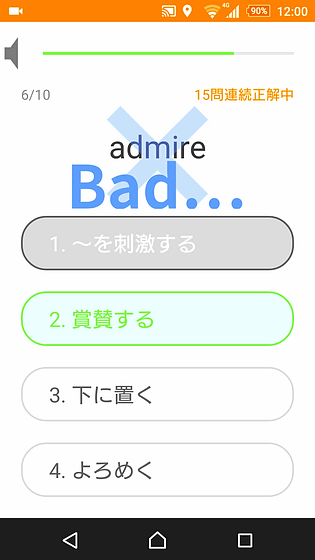 Evaluation changes according to the speed until answering it answers correctly. "Good!" If you answered correctly on the expiration of time.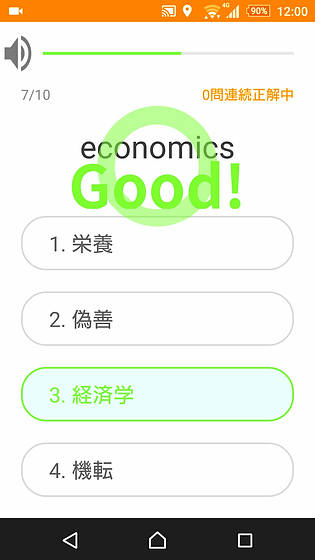 If you can answer in seconds, "Great!"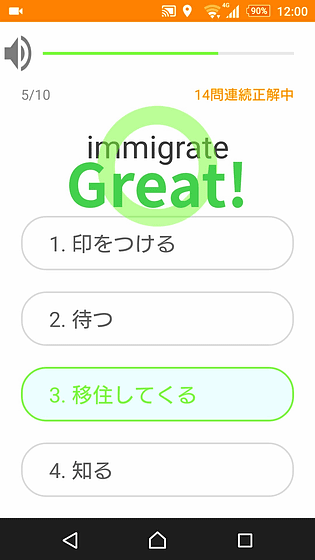 You can remember English words in a system like sound gauge that you get "Excellent!" If you answer in a moment.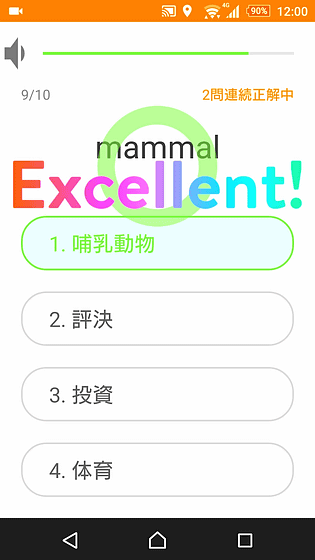 When we finish 10 tests, the accuracy rate will be announced. Pressing "To next learning" starts 10 new words tests.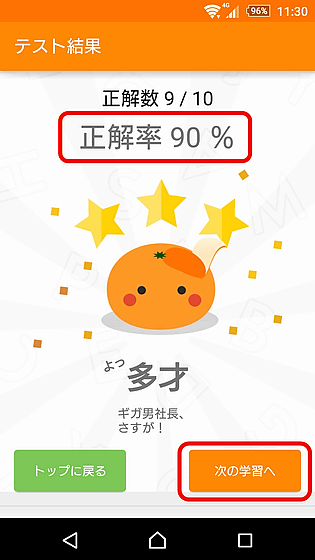 When you repeat the game in this way, the progress of the rank currently being learned is displayed on the top page as a percentage. I can understand how I was able to study at a glance, so I should be able to use it to maintain motivation such as "Today δ△%!"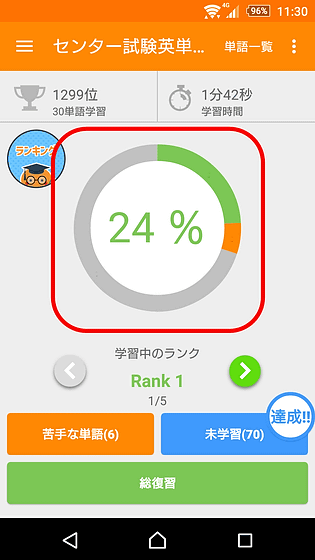 Wrong words gather in "difficult words" during the test. If you press this, the test starts with only the wrong word, so you can review it many times until you remember it.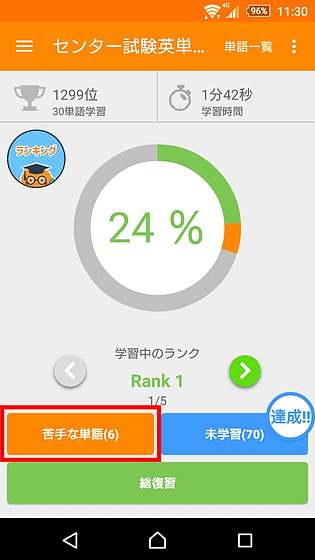 The learning level begins with the easiest "Rank 1", 100 words are set for each rank, and after completing 100 words of tests, "total review" can be performed.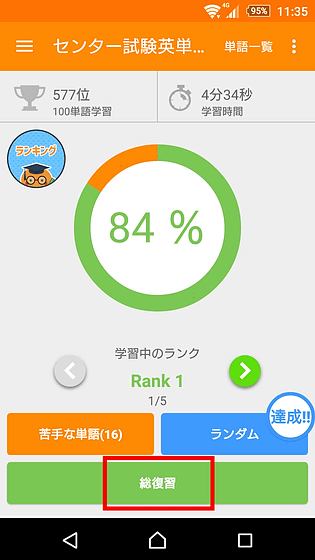 Total review is a function that you can review all the answered English words in previous tests. Each word is categorized as "perfectly remembered words = Excellent", "almost remembered words = Great", "worried words = Good" and "poor words = Bad". If you review many times and make it all "perfectly remembered words", you should be able to understand the meaning at the moment you see English words in the exam.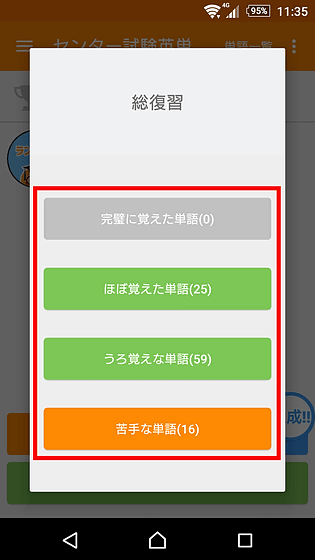 It is quite difficult to answer as many as 100 words as Excellent, but if you can even make "bad words" zero, you will have learned 100 English words. Tap 'Arrow icon' to move to the next rank.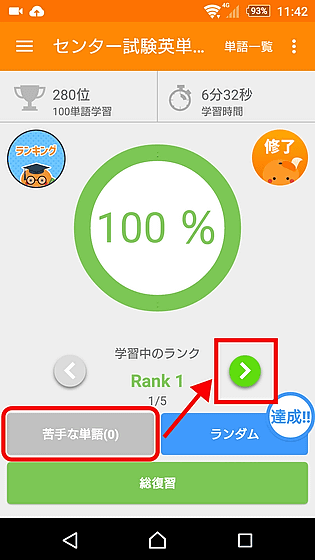 Tap "Receive rank up test" ... ...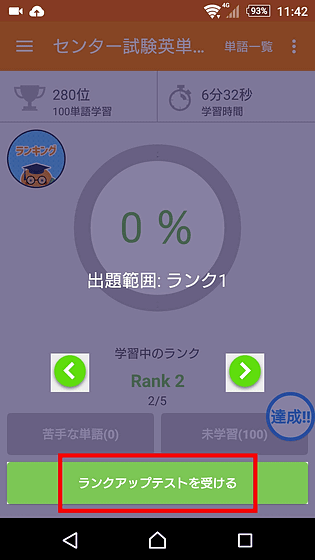 Ten questions are randomly given from 100 English words we learned last time.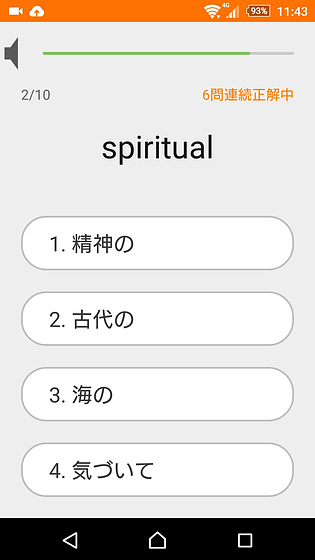 If you can clearably clear it, tap "Return to top".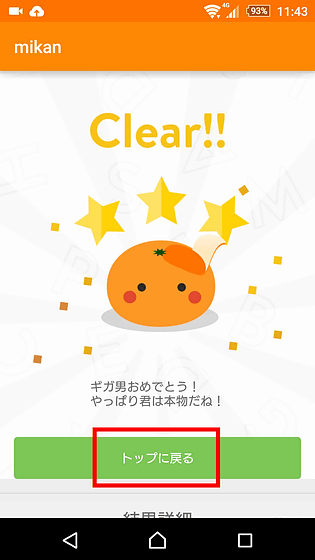 Then the ranking during the learning changed to "Rank 2", and it became possible to receive 100 English word tests with higher difficulty.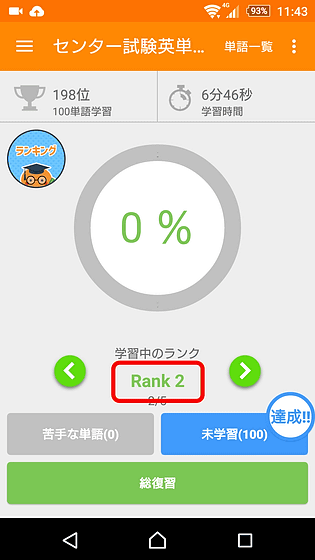 When starting the application, categories of English words frequently appearing in "Center exam English words" are set up. To change to a learning category according to purpose, such as TOEIC or TOEFL, tap "Menu bar" on the upper left.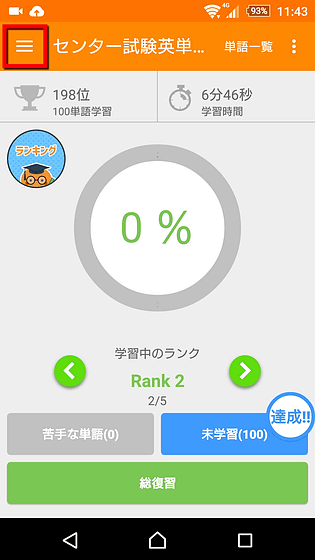 Tap "Change category"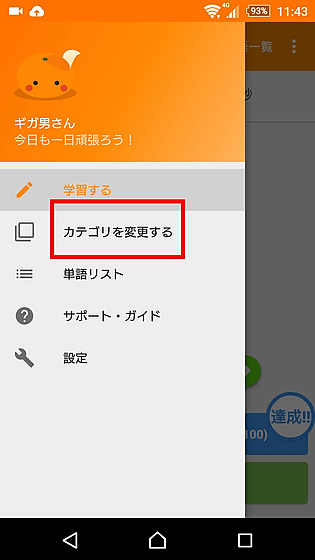 You can switch to your favorite category from "TOEFL English word 3000", "TOEIC English word 2500", "University Exam English word 2500", "GRE English word 1500", "Center exam English 500 words".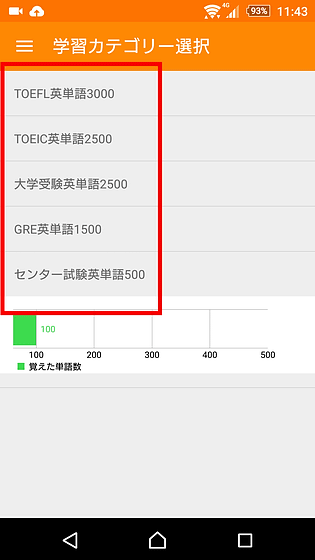 Try selecting "TOEFL English word 3000" as a test, you can now learn English words for TOEFL from Rank 1.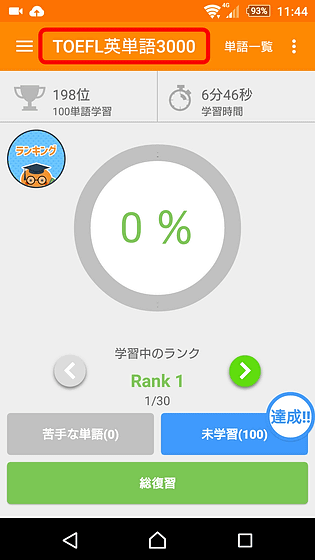 Also, when you tap "word list" from menu ......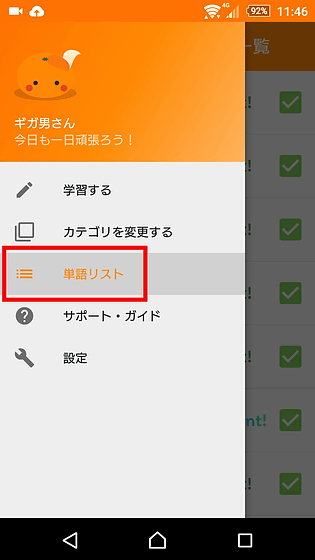 You can check the answer result of the word tested so far in the list, and you can check the pronunciation by tapping it. Further tap "example sentence" ...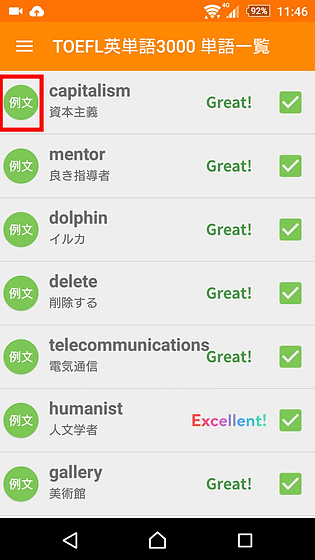 It is also possible to find out how English words of the Weblio dictionary are opened by searching for English example sentences in the browser and learned English words are used.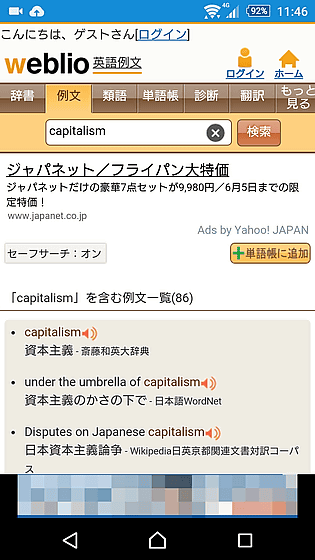 By the way, icons written as "ranking" are always displayed on the top page.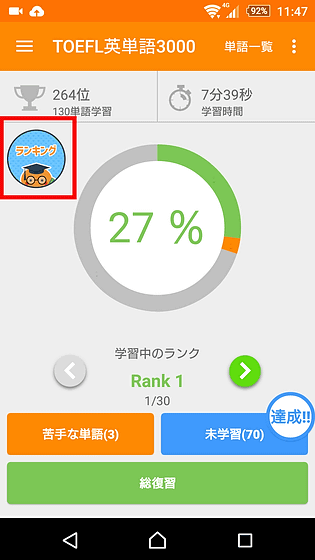 After tapping it, the period limited event that is being held from 0:00 on May 16, 2016 (Monday)Mikan High School Fight"was. If you are a high school student, you can register your own high school, and the high school who studied the most in mikan can get a winning prize of 1 million yen.