"Billboard's Hot 100, 1958 - 2016" that can play "Billboard Top 5" one after another from 1958 to 2016 in total over 20,000 songs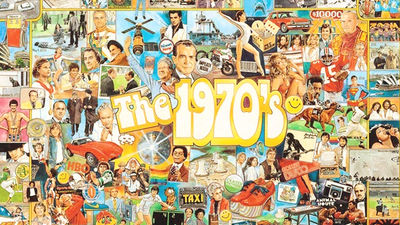 ByPaul Townsend

"Billboard", known as the most authoritative music chart in the United States, is a collection of "100 top singles"Billboard Hot 100"And aggregate the top 200 songs of the album and single"Billboard 200"We provide content such as. From the Billboard Hot 100 to the top 5 songs that gained popularity from 1958 to 2016 are swapped and the web application that is switched on and played is called "Billboard's Hot 100, 1958 - 2016"is.

How Music Evolved: Billboard's Hot 100, 1958 - 2016
http://polygraph.cool/history/

Click the play button to play Billboard songs. For some reason I started every year in 1997.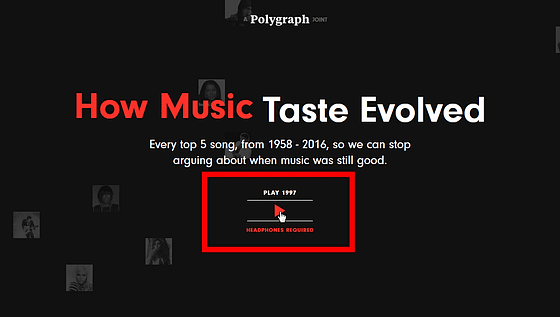 Then, as of July 23, 1997, Puff Daddy / Faith Evans's "I'll Be Missing You" which was Billboard 1st place began to flow. A line extending from the jacket represents a change in sales.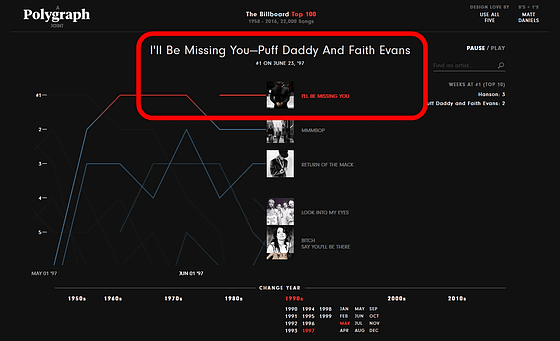 Although it is only the song of the 1st place which is played, it is graduallyNoorius · B.I.G."Mo Money Mo Problems" won first place, the songs were replaced and played.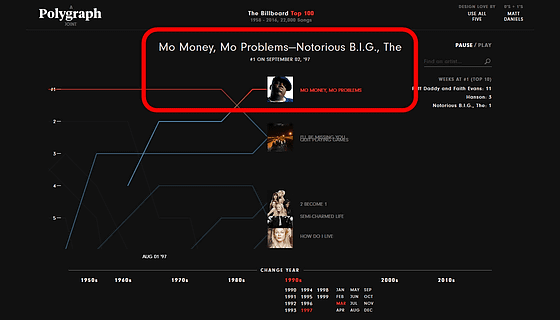 Although songs change steadily without particularly manipulating it, it is possible to check the song title etc. by matching the mouse to the jacket of songs of 2nd and 3rd place which are not played.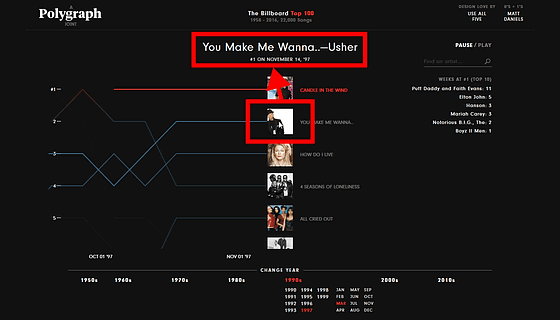 It is also possible to play Billboard popular songs of your favorite year from the age below the screen. In old days since August 1958 ......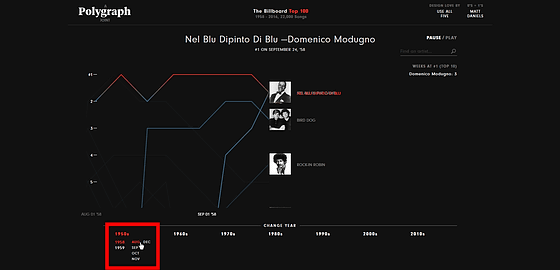 You can know about the history of music that declared the leadership of Billboard by October 2015. It is likely that even when people of the same age are gathering, only a certain year is left to go on.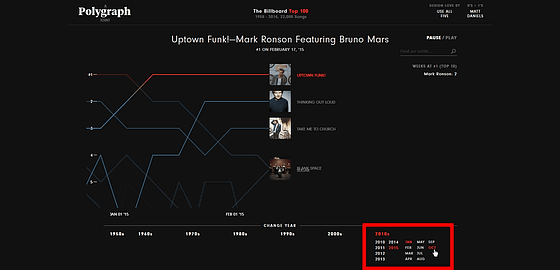 It is also possible to play arbitrary songs by entering artist name and song title from the search box in the upper right.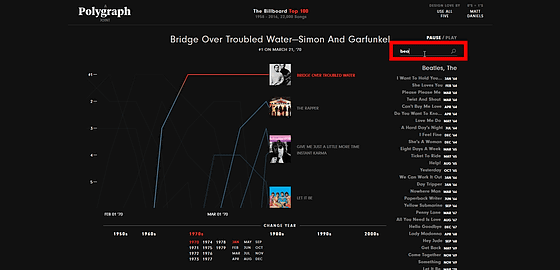 Since it corresponds also to the browser of the smart phone, it may be useful instead of a music player.