Taste sweet potato wrapped in white rice wrapped in "Rice gruel Nakatsu karu drip" Taste Review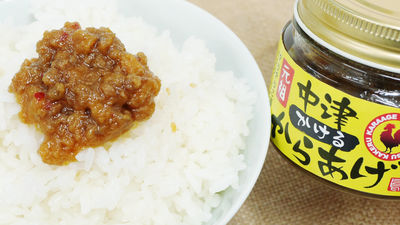 "Nakatsu raise" to pickle chicken with seasoning such as garlic, ginger, green onions etc. added to soy sauce sauce as a local gourmet in Oita prefecture as there are many specialty shops in Nakatsu cityKarugi mapIt is as much as it is created. Tailoring such Nakatsu Narcotics, Tailoring it as a type to eat from a usual unusual riceFamiliar Nakatsu Kagami TadashiSince it appeared, I actually tried eating it with rice and noodles.

Kuroshio nakatsu kara fukaeda | Maruken-do
http://maruendo.com/1380

From the original Nakatsu Kakushu design, the handwritten style logo is prominent in the yellow package.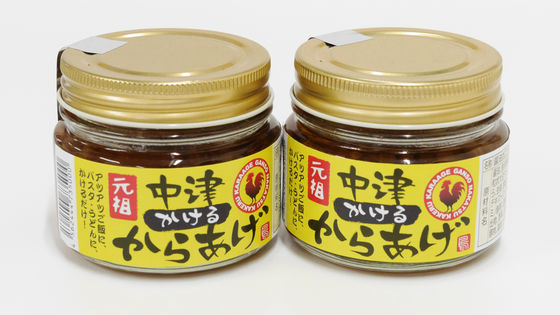 Looking from the side, the fat portion floats and it is divided into two layers.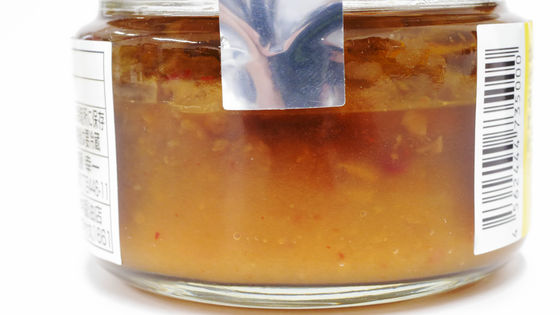 Although the name of the product is "Karaoke rice fish", the material is not meat, it is finished in soybean protein and okara with healthy. It is not a deep-fried shop but a product made by a Japanese sweet shop in Nakatsu city.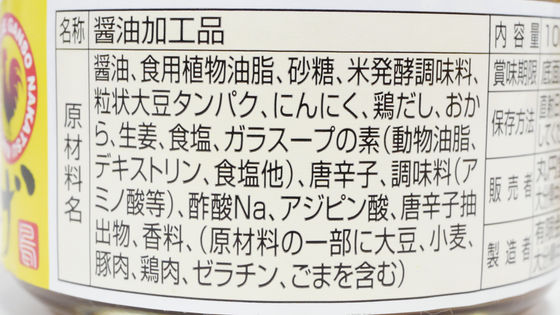 The expiration date is about six months from purchase.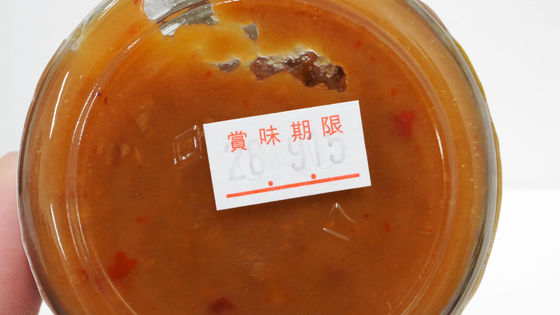 At the moment of opening the lid, the fragrance of garlic crushes over and it smells a level that unexpectedly will fall out in the room.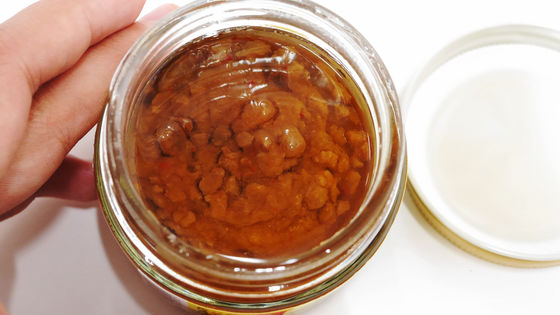 It is said to be "all-purpose like a lot of ingredients in dressing", when scooped with a spoon, soy bean sprouts simulating meat are entangled.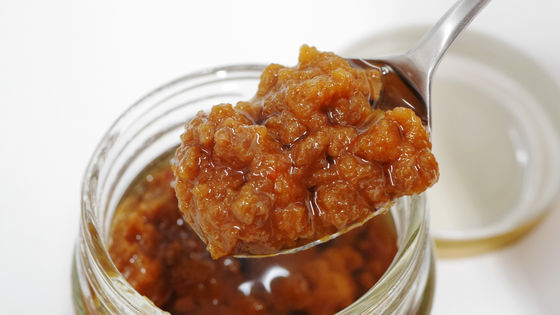 When stirring from the bottom of the bottle, finely chopped red pepper is also discovered.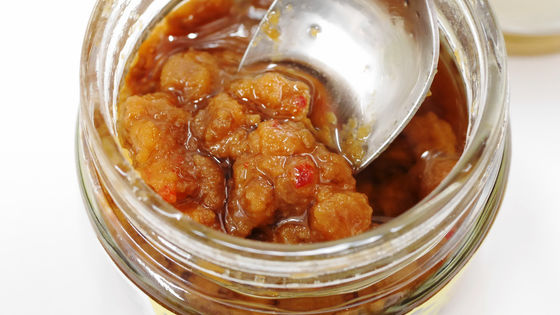 Prepare a white rice with funkhopper at once ... ...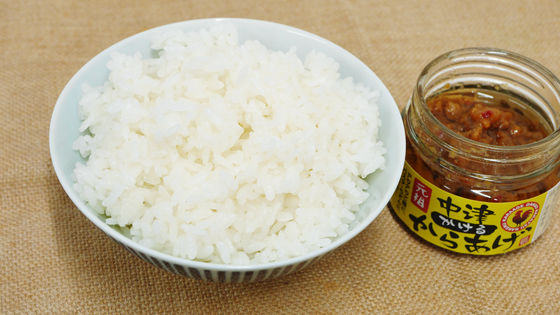 I will put aside the original kidatsu kakushi on white rice.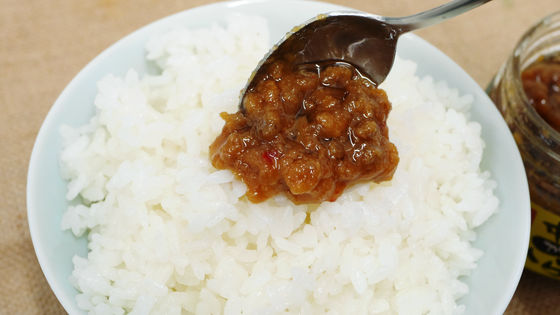 Although the fragrance of garlic is strong, when you eat it the taste of garlic is not so strong, it is characterized by the sweet taste of soy sauce and sugar. The salty taste becomes effective as we advance the eating, and it seems to be compatible with white rice, but if the taste with punch of garlic and pepper is stronger, white rice seems to go further. The soy beans are eaten enough to eat meat that they do not use meat, the sauce is soaked well, the atmosphere is like "meat miso" which simmered rice meat sweetly.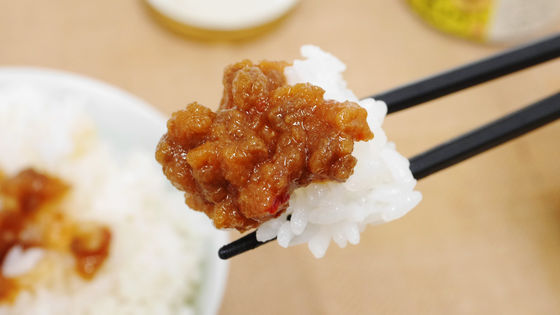 In the way of eating that was written on the label, in addition to white rice, it is written as "pasta / udon", and "I am sorry for preparing somen for being good for noodles".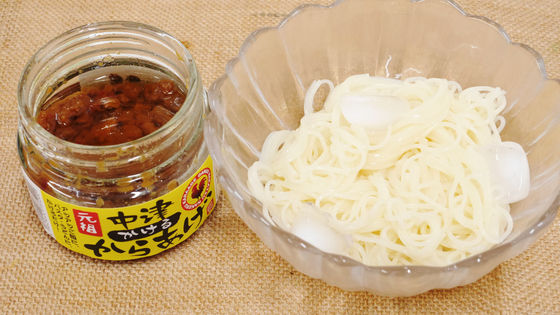 Origin Nakatsu Kagami soup with miso soup, sauce will stain with noodles.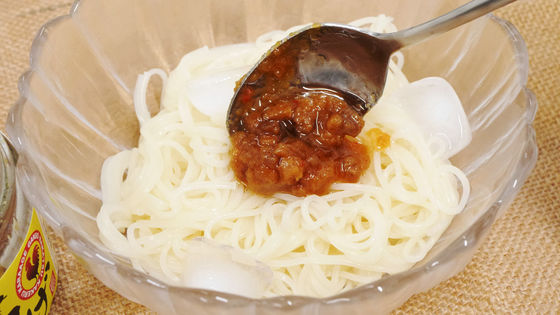 As in the case of putting on white rice, although it is slightly impressive impression of punch, soybean squirrel with rough and roughy is involved in noodles, somen's eating response is up. It seems to be possible to use it which combines condiments and savory taste.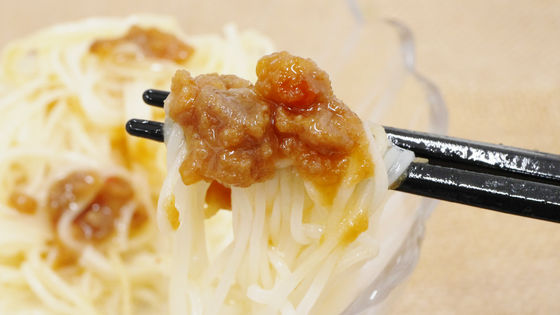 In addition, the original Nakatsu Kakushu karuage, there is handling at TOKINET 540 yen including tax (shipping fee).

[Maruhodo] Original grandchild Nakatsu Kakusu Kagaya: Internet department store | Tokiha Online Shop TOKINET (Tokinet)
http://www.tokiwa-portal.com/shop/g/g945005/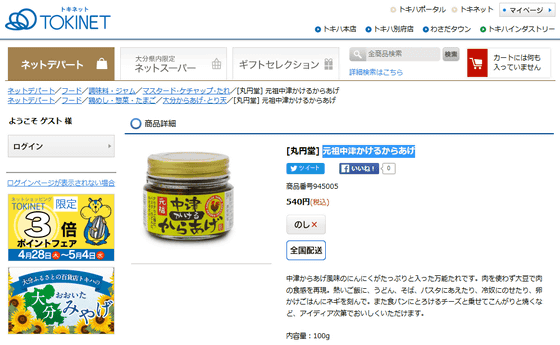 On Amazon, 3 pieces entered are 2440 yen including tax (shipping fee basis).

Amazon.co.jp: Original Genkan Nakatsu "Kaku" from Koage 100 g × 3 Food Drinks Seasoning Other Seasonings [Parallel import goods]: Home & amp; Kitchen
http://www.amazon.co.jp/dp/B01D1TCC0W