It is not true that Apple got nearly 1 ton of gold from the iPhone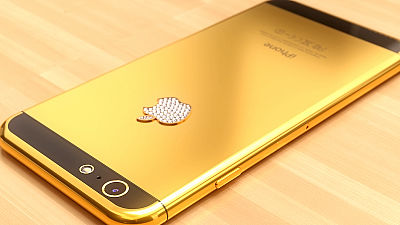 ByMartin Hajek

According to Apple's announcement on the environmental report, reports were reported that "Apple got about 1 ton of gold through the collection program", but IT news mediaMotherboardAccording to its own investigation, "This is not a fact" is denying the contents.

Almost Nothing About the 'Apple Harvests Gold From iPhones' Story Is True | Motherboard
http://motherboard.vice.com/read/apple-does-not-melt-iphones-into-gold

Local time on April 15, 2016,CNNYaTelegraphMedia reported that they collected 2204 pounds (about 1 ton) of gold in 2015 by collecting and disassembling old Apple products through a collection program Apple accepts at the Apple Store. did.

Clearly Apple recycled the old iPhone and got about 1 ton of "gold" - GIGAZINE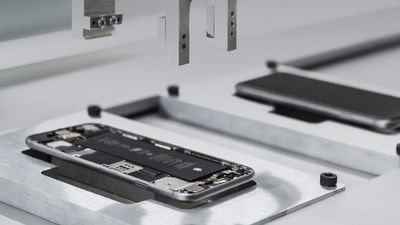 About this, "There is a possibility that the numerical value of Apple's environmental responsibility report converted to the approximate number in 1 ton unit may be further converted into pounds, so is there a gap from the actual figures? "It was confusing that" Apple actually collected 1 ton of gold actually? ", But according to Motherboard's investigation, the facts are a little different.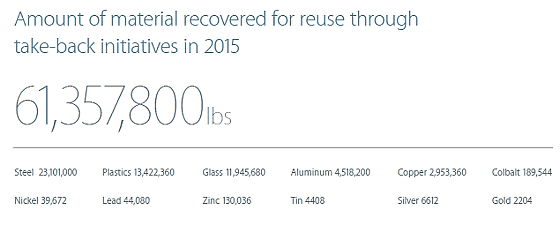 The actual wording that was written in Apple's report was "In 2015, we generated nearly 90 million pounds of e-waste through our recycling programs. That's 71 percent of the total weight of the products we sold seven years earlier (2015, We have nearly 90 million pounds through the recycling programElectrical and electronic equipment waste(E-waste) collected. This is 71% of the total weight of the products we sold over the past seven years. And what matters is that it was written that "We are working with over 160 recyclers around the world" (cooperating with 160 recycling companies around the world) ".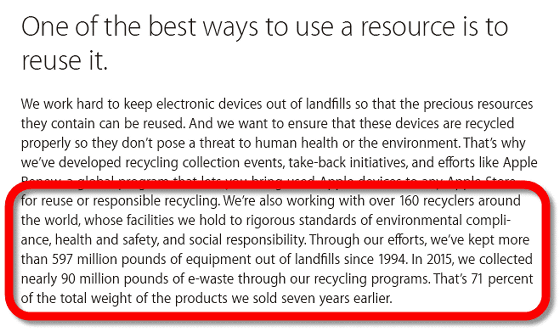 Manufacturers of electronic devices that sell products in the US are obliged to recycle e-waste in 25 states. At this time, the content of the law varies from state to state, Apple is obliged to recycle not only "Apple products" but also "e-waste" meets the requirement of recycling obligation. Many of the laws also impose recycling to manufacturers against "total weight" of products sold by manufacturers in the past and market share. Therefore, the words written in Apple's report are "71% of the total weight of the products we sold in the past seven years".

National Center for Electronics RecyclingMr. Jason Linnell, representative, said, "Twenty-four US states have" manufacturer's obligations "stipulated by law, and manufacturers must recycle amounts of electronic equipment based on market share etc. Therefore, somewhat Although there are exceptions, many manufacturers contract with an individual recycling company and ask the contractor "I need to recycle 1 million pounds of electronic equipment at Minnesota, is it possible?" I will ask. "

The work of the recycling company is dangerous, it is not a tremendously profitable work. Nevertheless individual recycling contractors can continue to work because companies like Apple ask jobs and recycling companies can sell the collected metals on their own.

In other words, in this case, "Apple recalled its own money through a recycling program and got $ 40 million worth of equivalent (about 4.3 billion yen)," instead of "Apple registers to the supplier for recycling according to the law I paid a lot of money "is the correct understanding. However, since confidentiality agreements are usually established between manufacturers and recycling contractors, it is considered difficult for outsiders to grasp the evidence of this.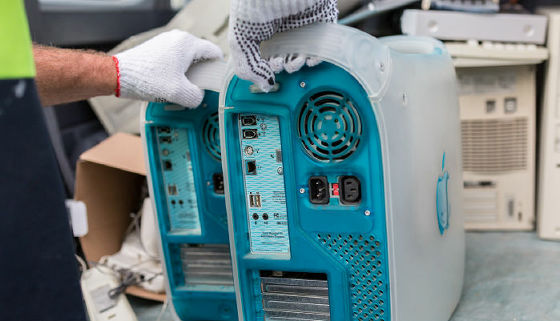 As a matter of fact, among the e-wastes that are being recycled in the United States, the proportion of mobile terminals including Apple's main products, iPhone and iPad, is small. Most of the recycling done today is for large electronic devices such as televisions, servers, PC monitors, etc. The largest amount recycled is cathode ray tube TV, about 80% of the total recycling amount. There are not many recycling companies tracking the flow of smartphones and tablets, but in most cases, the collected mobile terminals are said to be completely renewed and sold. Also, because it is the old PC and the server that contains the most money among e-waste, it is not right to think that Apple collects money from the terminal and gets a lot of money The state of Motherboard's view.

However, as you saw in the report, it is certain that Apple is conscious of the environment. According to Mr. Linel, Apple is very cooperative in recycling in many states and has contracts with recyclers even in non-recycling states.