Key original "planetarian ~ little dog's dream" really animated, production is Jojo's david production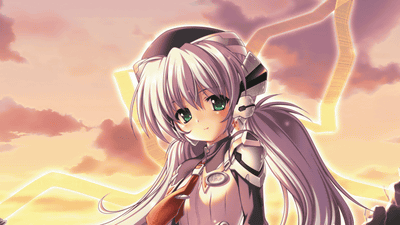 In Key game known as "AIR" "CLANNAD" "Kanon" "Angel Beats!", Released in 2004 "Planetarian ~ dream of little boss ~"ofAnimationWas announced. On April 1, 2016, it was shown simultaneous screening with the movie version "Magical Third Lotus Creamy ☆ Kagin"April Fool's NetaThere was, but this "planetarian" animation has not been April Fool's, it was true.

Anime "planetarian" official website
http://planetarian-project.com/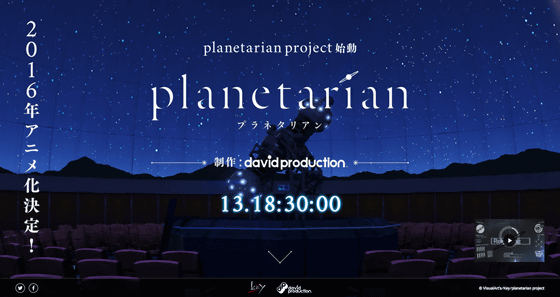 © VisualArt's / Key / planetarian project

PV on April 1 was like this.

"Planetarian ~ little dream of Yume" PV - YouTube


The original picture package picture was like this.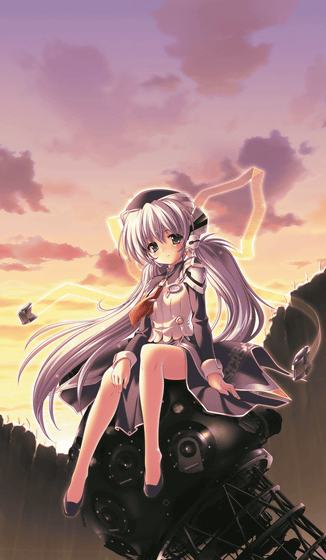 © VisualArt's / Key

Initially released in 2004, download version for PC, package version for PC, PS version · mobile terminal version released in 2006. It was also released for PSP, iOS, Android, and in 2014 Steam sales also began.

Synopsis of the work

Forgotten of the sealed city 【Planetarium】.
A man who strayed there met 【girl of robot】, led by stars 【story of miracle】

World after World War II. There was a robot girl in the planetarium of the department store of the town that was abandoned by people [sealed city]. Her name is "Hoshino Yume". She was a planetarium commentator and was a broken robot that can only run for only seven days in a year. So she believed that someone would visit someday for 30 years, and kept on waiting in this world without any one. And one day a man appeared in front of her on the day she woke up in the thirtieth year. He was attacked by the fighting machine that wanders around the city [Menshen Yaeger], and he was lost in this planetarium.

"How about a planetarium, beautiful indefinable sparkle that never disappears at all times .... full stars are waiting for you"
With the influence of the Great War, even the stars disappeared, in this world that is going to ruin, is the miracle that happened ... ...
something like.

At the moment, only animation production is handled by david production of "JoJo's Bizarre Adventure" series.

In addition, "platenarian project production presentation" will be held at the event space on the 10th floor of Akihabara Radio Center from 18:30 on Friday, April 15. Production staff, composers, artists' presentations, new releases of the new video will be released for the first time, and Minoru Shiraishi is in charge of the host. The speaker was Tomoya Takano of Visual Art's and Norihiko Ikeda, Hiroyuki Aoya of Asmic Ace. AlreadySeats are fully occupiedAlthough it is, simultaneous relay will be done by Nico Nico Live Broadcasting.

By the way, in Key's work "Rewrite" is decided to be animated in July 2016, and on April 2 new PV is released.

Rewrite / PV 2nd bullet - YouTube


·2016/04/15 20:13 postscript
A production presentation was held on April 15, and the distribution version "from July 7"Planetarian ~ dream of little boss ~"(5 episodes total), and released on September 3 theatrical version"Planetarian ~ Stars people ~"It was revealed that it is a structure to be completed with.

Poster visuals look like this.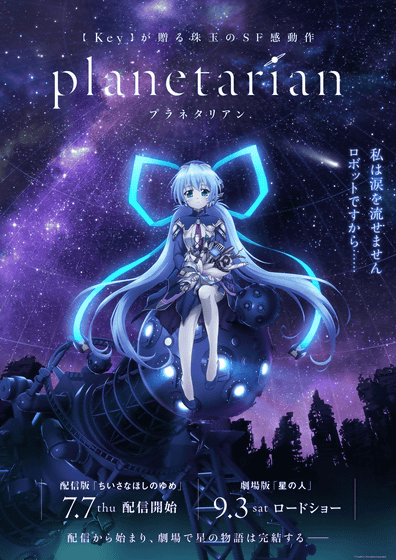 A broken robot "Hoshino Yumemi" (CV: Keiko Suzuki) in the planetarium that can only be operated for 7 days in a year.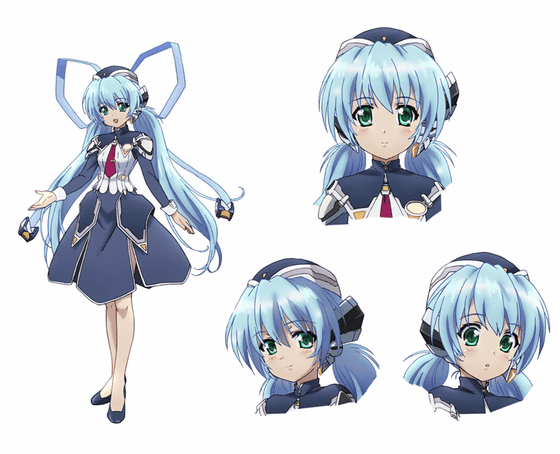 I met Yumemi, a waste shop (CV: Daisuke Ono) who was attacked by a battle machine in a sealed city and strayed into the planetarium.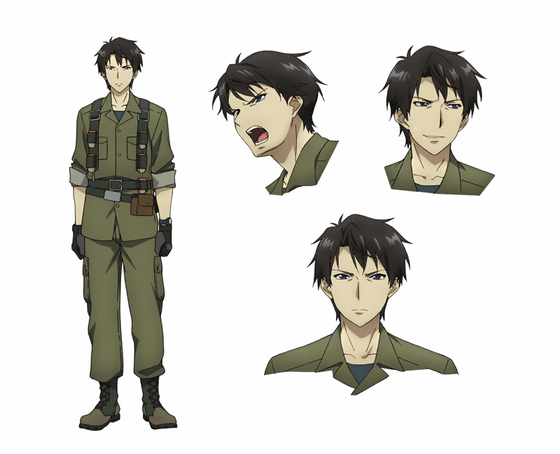 The following comments are gathered from Staff & Cast.

·Director: Naoto Tsuda
It is Tsuda Naozaki who will serve as the director of the animation "planetarian". Key The title has been playing on PC from about the same time as high school graduation from long ago, although it is a little cheap for being a keeper, it is not once or twice that I cried by playing a work. This time, I can not hide the tension in the supervisor who is such a key title director.
"Planetarian" is a title that had long been awaited for animation, even in Key works. There are circumstances of the scale, and there are people who thought that everyone of fans might not have animation in alive already? And now, when it became an animation, what kind of animation would it be? I think that I am interested. Music? What is the scenario? What is the visual? Whether it is only the content of the game, the contents of the novel, etc.
In order to be able to delve into the meaning of "animation" as the title "planetarian" as much as possible, we express well the "original landscape" common to Key titles and work to think that we can deliver it to everyone.
Humbly, please wait for a long head. When I've finished watching the animation "planetarian", I hope that this title is a small light of your life in this unseen world.
Takada Takatsuki April, 2006

·Character draft: Komatsu E じ じ
Congratulations on making animation this time. It has been a long time since the work came out, but I think thanks to the many people who supported Yumemi who is moving thanks to all of you. I am looking forward to the completed work as to what kind of image it will be.

·Character design: Hitomi Takenaka
A dream of waiting for a customer with a planetarium in a ruined department store. I designed it as a heroine that wanted to be cheerful and cheerful, I thought I could paint it cute.
Another scrap shop that is the leading role. He has no illustration in the original. For that reason, we made it based on the image of the director, so we became one of the characters with a strong feeling. I think that you can see how he will change when meeting with Yume.

·Music: Shinji Oriento
As a kinetic novel, "planetarian" was released about ten years ago from now. At that time, I did not see anything going to be an animation in the future, but if you let me see what I actually became animated, it will be deeply impressed with "Oh, it's really moving ...". This time, I wrote the theme song of BGM in the play and the theatrical version for the animation. Because we also worked with our best to fit the world view of the work, we would be pleased if you enjoyed watching the work by all means.
VisualArt's / Shinji Origodo

·Hoshino Yumemi role: Suzuki Keiko
It is already 12 years since the original announcement. Robot technology advanced, it became very familiar. The future that I had imagined at the time is feeling now.
It was such a time, and at the time of recording, I got the plan "from a robot that feels more human-like than the original" from the director. In the original work, it is awkward to express breath that expresses emotions that we did not dare put as "because it is a robot," but it is a little. As the recording progressed, I also noticed that in 12 years my voice and how to put out the voice, the expression was rounded off, I became gentle ... ....
The only thing that has changed is not the voice play! Sounds, movements, and places where only original sentences were drawn are expressed in various ways. There are many things that can only be seen in animation. I've just seen a glance at some places, but my heart beat does not stop!
I am very happy that both Yumemi and I would be glad if you got a new stage called Animation, and those who already knew the original in the world of "planetarian" evolved in 2016, and those who did not.

·Daisuya role: Daisuke Ono
I am really pleased to have delivered "planetarian" to the world after a long time. Here is our favorite Key. An immortal masterpiece without fading. Please show me that infinite glow.

·"Planetarian ~ dream of little god" ending theme "Twinkle Starlight": Sasaki Sasaki
In the ending song "Twinkle Starlight" is Mr. Mr. & Mr. Masaru and is the third tag. This time I sang with positive, glittery pretty songs conscious of Yumemi 's transparency. At the time of recording, there was a request to pronounce the English word "Dare to be katakana! Forget the pronunciation of English!", Which was the hardest fight there. Please join us for a twinkle touched loop.

·"Planetarian" image song "Worlds Pain": Ceui
Hello, it is Ceui. I sang "planetarian waste shop theme" "Worlds Pain". As the title of the song "Worlds Pain", it is a song in which the powerfulness and transience interwoven, such as going towards hope while feeling pain. I was attracted to the world view like the intense beauty that the song has, sympathizing, singing in crazy. I think that it was very nice finished, so I'm very happy if you can enjoy the planetarian world more deeply with songs by all means. Please look forward to it !!

·"Planetarian ~ Star People ~" Theme Song "Star's Boat": Lia
Hello everyone. This time, I will be in charge of the ending theme song "star's boat" at theatrical version "planetarian ~ star man ~" Lia. I'm honored to be able to sing "Star Boat" this way this time. Planetarian I'm happy if you can listen to lots of fans and become one song that you can have familiar with. Since "CLANNAD ~ AFTER STORY ~" that we can sing the composition of composed folded songs. I am pleased if my song got together with that gentle and comfortable good melody-like song, and Mr. Mikino's planetarian world view full of my songs, and everyone is fully immersed in planetarian fantasy ♪

·Original scenario: Yuichi Ryoto
What is yo-visualization! It is also surprisingly amazing! It is a false feeling to say. "Planetarian ~ Chiisa no Hoshi no yume", which started modestly and is confounded for a long period of time, as a person who made an opportunity, it is a feelinglessness. I am excited from now on how the "living" things will move to the world where rain falls, including stopworm shops, whose rough appearance has been unknown though it is the hero, including a dream of a rough heroine,

·Original music: Togoshi Magome
Congratulations, this time you made "planetarian" theater animation. "Planetarian" is a very intriguing work, but I first worked on BGM 12 years ago, at that time it was downloading sales for Novell for PC, making it with trial and error while there are many restrictions on capacity etc I remember it well. It is said that the songs used in this animation are arranged wonderfully as it is with the atmosphere of the original song, so I am very much looking forward to having a day to enjoy with the big screen of the theater.

Distribution is done in Nico Nico Douga, J: COM on Demand, milplus, au Video Pass, d Anime Store, Bandai Channel, PlayStation Store, U - NEXT, Animation All - You GYAO!

The theater version is said to be released nationwide sequentially TOHO Cinemas Shinjuku and others.

◆ Staff
Original: "planetarian ~ little dream of Yume" (Key)
Director: Naoto Tsuda
Screenplay: Yaskawa Shougo, Naoki Tsuda
Series director: Katsuichi Nakayama, Shunsuke Machidani
Original collaboration: Key / visual arts
Character draft: Komatsu E じ じ
Character design: Hitomi Takenaka
Mechanic design: Ebihikawa Kanetake
Prop Design: Uchida Shinya
Art setting: Izumi Hiroshi
Color design: Yuko Sato
Art director: Yusuke Takeda, Yuko Sugiyama
3D Director: Yoji Nagasawa
Director of Photography: Yasumasa Watanabe
Edit: Kiyoshi Hirose
Acoustic director: Takayuki Yamaguchi, Naoki Tsuda
Acoustic effect: Kayama Oyama
Music: Shinji Oriento, Donmaru, Tomohiro Takeshita (Visual Arts)
Animation Production: david production
Production: planetarian project

"Planetarian ~ Star People ~" Theme Song "Star's Boat": Lia
"Planetarian ~ dream of little god" ending theme "Twinkle Starlight": Sasaki Sasaki
Image Song "Worlds Pain": Ceui

◆ Cast
Suzuki Keiko
Ono Daisuke
Takeshi Kushida
Taki Taki
Rina Sato
Masaru Shinozuka
Megumi Fukasa
Yoko Higasaki
Miho Tsuda
Shizuka Ishibei
Kuwabara Yuki
Akiko Takeguchi
Tamio Oki
© VisualArt's / Key / planetarian project
in Anime, Posted by logc_nt