Intel announces specifications of NUC "Skull Canyon" which will also be the strongest compact gaming PC ever in history, released date and price


New type NUC boasts the highest performance of IntelNext Unit of Computing), "Skull CanyonWe announced the details and price of. At the heart is equipped with Core i7-6770 HQ Skylake and it seems that it has performance that can also be used as a high end game machine by adding the external GPU module "Razer Core" as well as business use.

Change the game with the Intel® NUC Kit NUC 6i 7 KYK
http://www.intel.com/content/www/us/en/nuc/change-the-game-with-nuc.html

Intel's Skull Canyon NUC is Official: $ 650, Shipping In May
http://www.anandtech.com/show/10152/intels-skull-canyon-nuc-is-official

The new NUC "NUC 6i 7 KYK" announced by Intel is a model equipped with Skylake-H processor integrating Iris Pro 580 with 128 MB eDRAM. The design of the skull carved on the top draws an eye.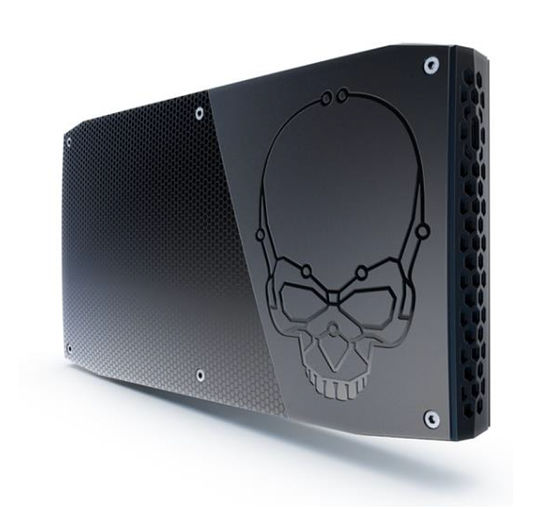 Equipped with SD card slot, USB terminal, earphone terminal etc. on the front of the main unit.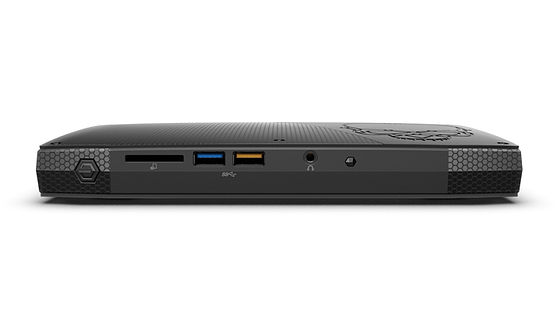 I / O related is gathered on the back.



The main body dimension is 211 mm in width × 116 mm in length × 28 mm in thickness, the volume is 0.69 l, slightly larger than the conventional model.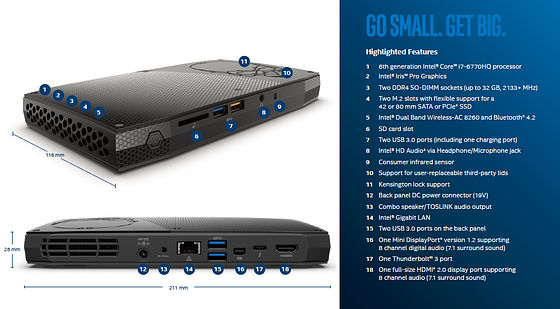 Main specifications are as follows.

processor:6 th generation quad core Intel Core i 7 - 6770 HQ Skylake (2.6 to 3.5 GHz Turbo, 6 MB cache, 45 W TDP)
memory:Dual Channel DDR 4-2133 + SODIMM, 1.2 / 1.35 V (up to 32 GB)
Graphics:Intel Iris Pro Graphics 580, (Skylake-H GT 4 + 4 e 128 MB eDRAM)
audio:3.5mm audio jack (headphone / microphone), 5.1ch / 7.1ch digital out correspondence (HD audio bit stream: HDMI or DisplayPort output)
Terminals:Thunderbolt 3 × 1, USB 3.1 Gen 2 Type-C, USB 3.0 × 4 (one for charge), SDXC (UHS-I) × 1, HDMI 2.0 × 1 (4K 60 Hz), Mini DisplayPort 1.2 × 1 (4K 60 Hz), infrared sensor
Storage I / O:M.2 × 2 slot (SATA 3 / PCIe 3.0 × 4 NVMe / AHCI SSDs), SDXC slot × 1 (UHS-I compatible)
network:Intel Dual Band Wireless - AC 8260 (2 × 2 802.11ac - 867 Mbps + Bluetooth 4.2), Intel I - 219 V Gigabit Ethernet
Casing material:Metal and plastic (top board can be replaced by third party)
Casing dimensions:211 × 116 × 28 mm
Power adapter:19V / 120W AC Adapter
OS:None (Barebones)
price:$ 650 (about 72,000 yen: barebone price), $ 999 (about 110,000 yen: 16GB DDR 4, 256GB SSD, Windows 10)

A review of PCWorld which reviewed Skull Canyon immediately is posted.

Hands-on with Intel's Skull Canyon NUC, the most powerful game-ready mini-PC | PCWorld
http://www.pcworld.com/article/3045374/hardware/hands-on-with-intels-skull-canyon-nuc-the-most-powerful-game-ready-mini-pc.html

PCWorld to review Skull Canyon's review game "Just Cause 3(Just Causes 3) ". It is the best for seeing the power of a machine because it is a game that requires high-specic processing ability to reproduce the real world by physical calculation.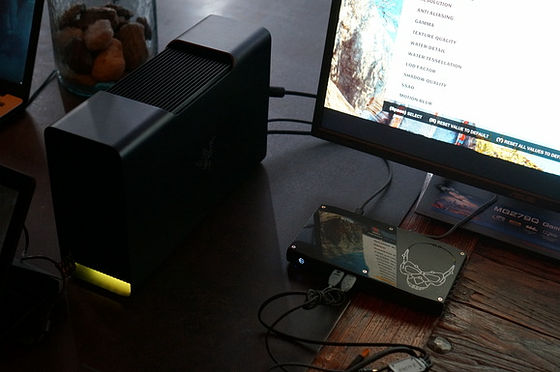 In actual play, the resolution was set to 1920 × 1080, and it seems that the frame rate was "Low" and the mid 30 fps range was the most appropriate environment. Although it is somewhat unsatisfactory content to call "high end" as a game machine, the evaluation is said to be generally good.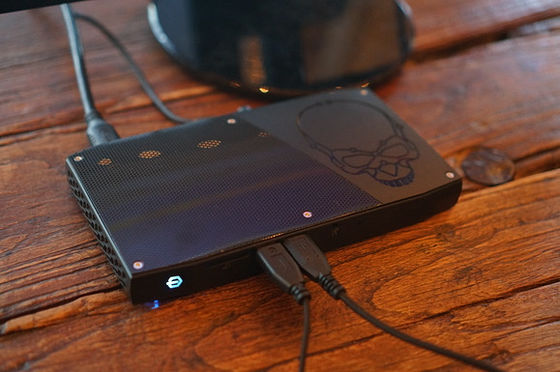 Although it was Skull Canyon that seems to have limits on the performance by itself, the external GPU module that can be added with Thunderbolt 3 terminal "Razer Core"There is room left to dramatically increase its ability by using it.