Price and release time of Sony's PS4 VR headset "PlayStation VR" officially decided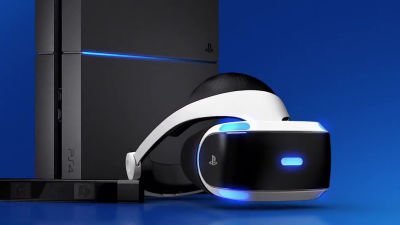 Finally at the venue of GDC 2016, "PlayStation VR(CUH-ZVR 1)The release time and price of "was announced. Of course, Japan is included in the first shipping country.

PlayStation®VR | PlayStation® Official Site
http://www.jp.playstation.com/psvr/

Even in the YouTube movie below, the price and release date of PlayStation VR are clearly stated.

Announcing the price and release date for PlayStation VR - YouTube


The price of PlayStation VR was 40,980 yen (tax not included), and the release date was decided in October 2016.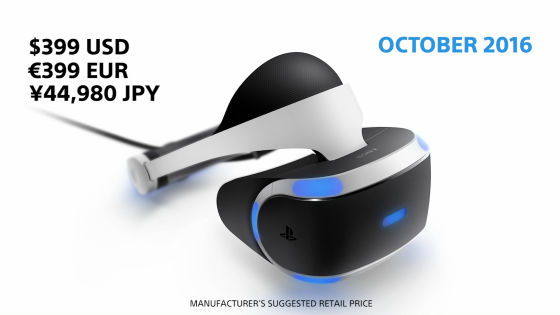 The following movie will tell you what kind of hardware the PlayStation VR that was decided to release is finally.

PlayStation®VR Features | GDC 2016 - YouTube


PlayStation VR is a VR headset for PlayStation 4. The size is width 187 × height 185 × depth 277 mm, weighs about 365 g.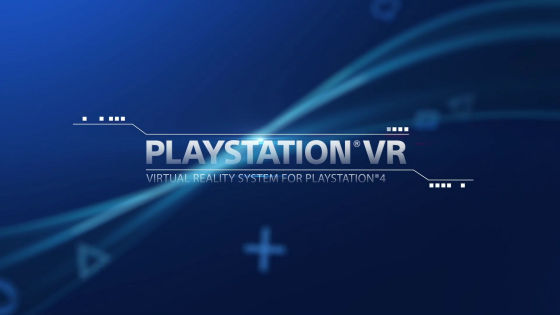 Equipped with 5.7 inch organic EL display.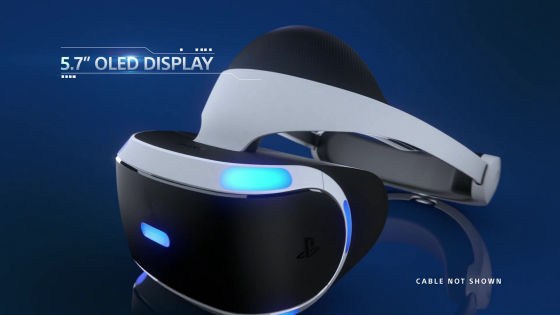 The resolution of the display is 1920 × RGB × 1080 with one eye of 960 × RGB × 1080 respectively.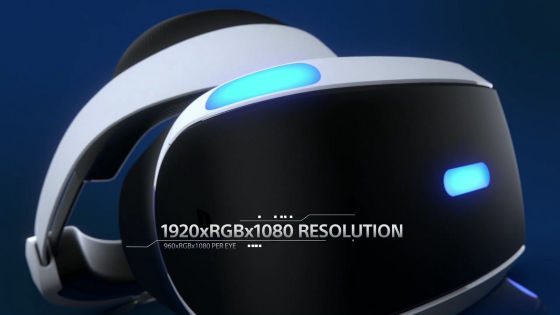 Fresh rate corresponds to 120 Hz and is latency of 18 ms or less.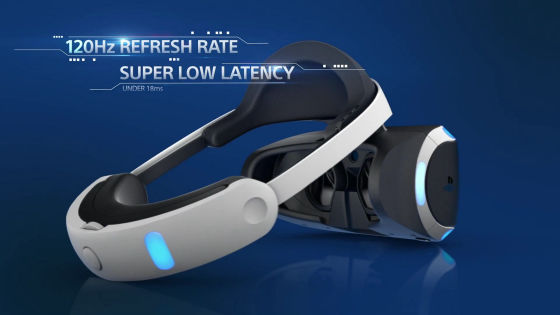 Viewing angle is 100 degrees. Three axis acceleration sensor and three axis gyro sensor are carried and VR video can be drawn according to the movement of the face.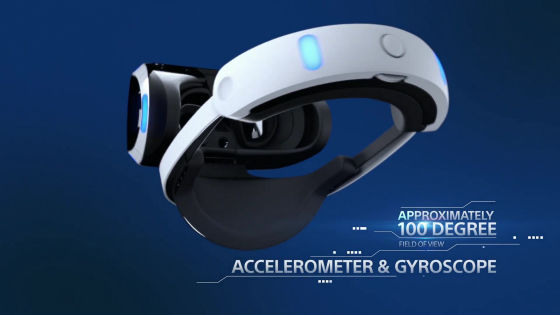 Position tracking with nine LED lights, built-in headphone for 3D audio.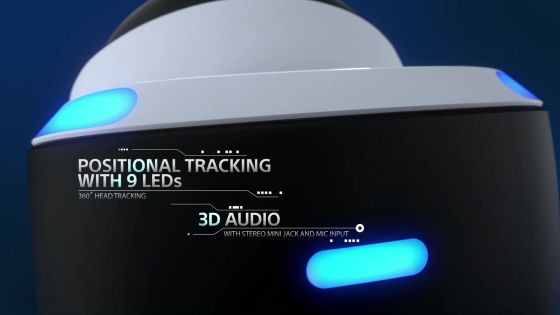 External terminals are HDMI and USB.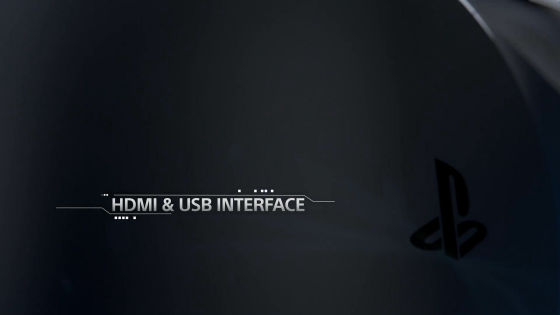 VR video of PlayStation VR can also be output to TV.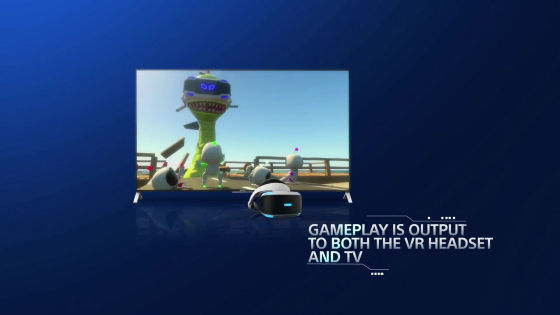 PlayStation VR greatly changes the game world of PlayStation 4.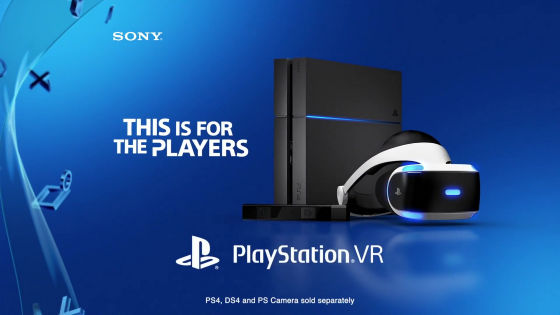 The VergeHas released photos of real machines exhibited at the venue of GDC 2016.

It seems that PlayStation VR and PlayStation 4 will connect with this feeling.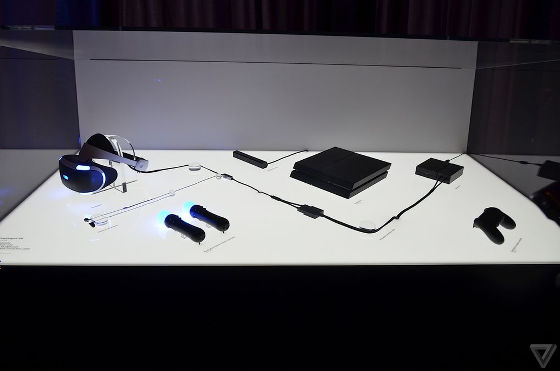 Small boxes connect to PlayStation VR "Processor Unit"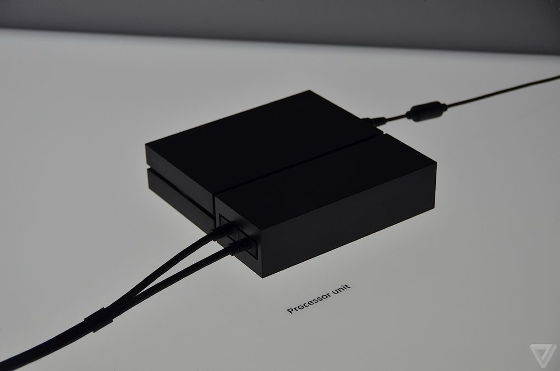 Motion controller uses PlayStation Move.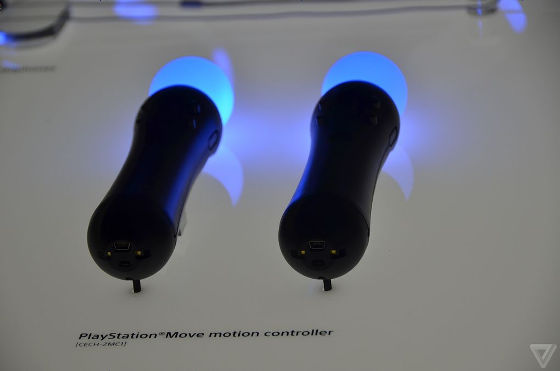 PlayStation camera



And PlayStation VR body.



The impression of the person who experienced PlayStation VR can be confirmed in the following movie.

PlayStation® VR latest trailer "Voice of experiences" - YouTube


Of course GIGAZINE has already experienced the power of PlayStation VR.

Sony's serious VR headset "PlayStation VR" has escaped from real world to virtual reality of dreams - GIGAZINE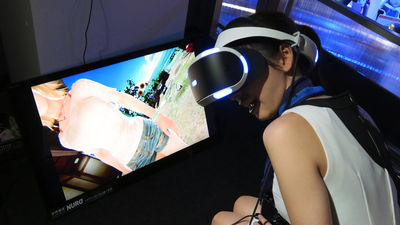 I went to "PlayStation LIVE Circuit 2015" to enjoy the virtual space with the VR headset "PlayStation VR" which has a tremendous possibility - GIGAZINE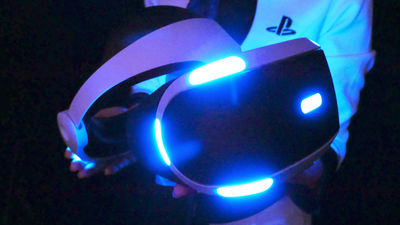 Oculus RiftYaHTC ViveUnlike PlayStation VR is hardware exclusively for PlayStation 4, not PC, the operation guarantee is perfect. If there is only PlayStation 4, there is a sense of security that you can play immediately. According to Sony Computer Entertainment (SCE), more than 230 software makers and indie developers are already participating in the development of PlayStation VR software, and by the end of 2016 "Eagle Flight" "EVE: Valkyrie" "Headmaster" More than 50 game titles including Rez Infinite, Wayward Sky, RIGS: Machine Combat League, Tsumiki BLOQ VR, Until Dawn: Rush of Blood and PlayStation VR WORLDS will be released.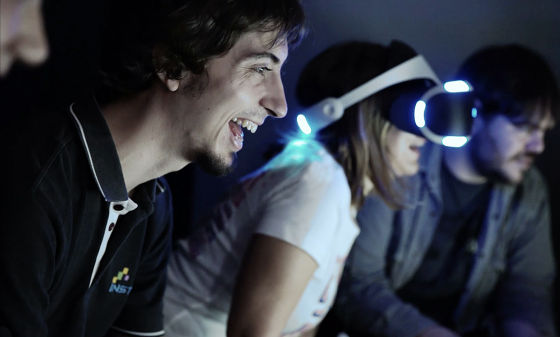 Incidentally,GameSpotAccording to, PlayStation VR is required to play PlayStation camera, and in some games PlayStation Move motion controller is required. However, since PlayStation VR of 49,980 yen does not include PlayStation camera and PlayStation Move, it is necessary to purchase separately. For each recommended retail price, the PlayStation camera is 6458 yen including tax, and the motion controller of PlayStation Move is 4094 yen including tax.

With Oculus Rift, HTC Vive and so on, PlayStation VR will be all-out and 2016 will finally become the year of full-scale VR deployment.