If the successive rock stars were interacting with SNS, this would be "History of Rock"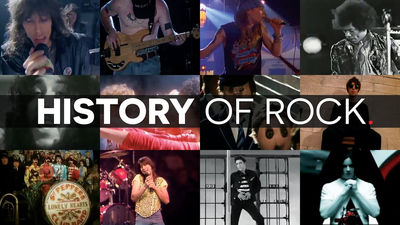 With smartphones becoming popular all over the world and using SNS such as Facebook, I can easily check the recent status of friends far away. If such SNS existed from the 1950's,the beatlesWho is to press "Like?"EaglesThe movie that realized the situation of who can give a comment from who "History of Rock"is. You can see "Rock's History" which did not exist with the famous classics remixed in mashup style, and if you like rock it is a content that makes you feel like being "this era nostalgic!"

History of Rock on Vimeo


In 1957Elvis PresleyHistory of Rock starts from posting the movie "Prison Rock". ImmediatelyQueenWhenJeff Beck GroupIt is good! It is attached.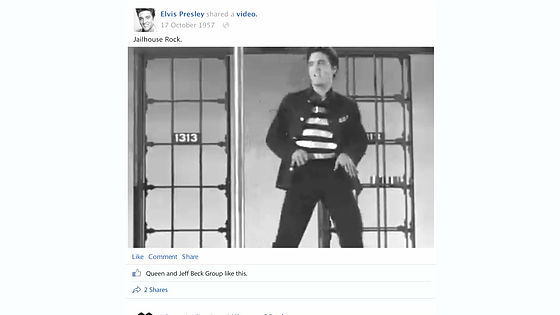 In 1968creamWhen posting a video of "Sunshine of your Love", it is a member of the member 20 years laterEric · Clapton"This riff is Jimi (Jimi Hendrix) It was a comment.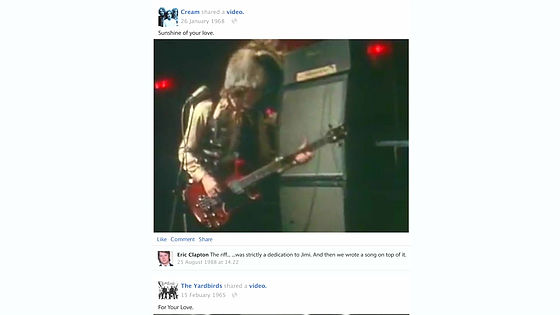 A tremendous timeline flows one after another with such a feeling. The BeatlesRingo StarWhenRolling StonesofCharlie WattsMake friends among drummers, Rolling Stones uploading live scenery of Madison Square Garden in 1969 ... ....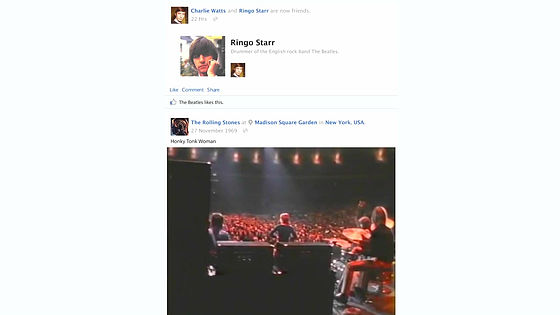 In 1970Red Led ZeppelinIs posting a movie of "Love full of chest", it is a timeline that you want to scroll around.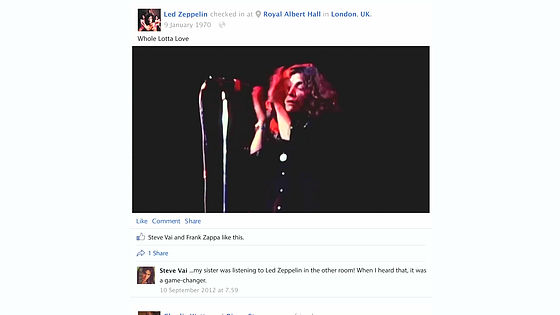 In 1979 Queen posted a video of "Do not Stop Me Now", and Led Zeppelin is good! I am pushing. Under it is quietlyKinksShare videos too.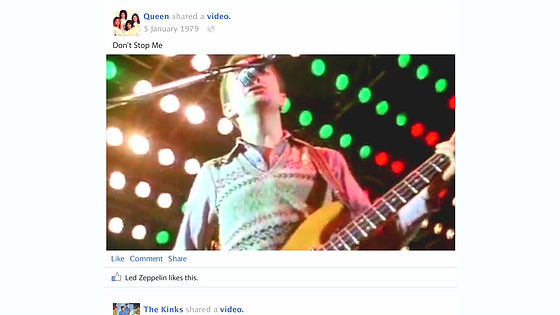 It is said to be the Britain's three biggest rock bands line up with Beatles and Rolling StonesThe WhoSharing "Baba O'Riley"Sex · PistolsI like it! We are pushing, in 2010SlashSaid, "My father was listening to The Who," or said to be the Queen of Punk in 2016Patty Smith"There are those who have not heard The Who in the 1960s?", And exchange beyond the times has been realized.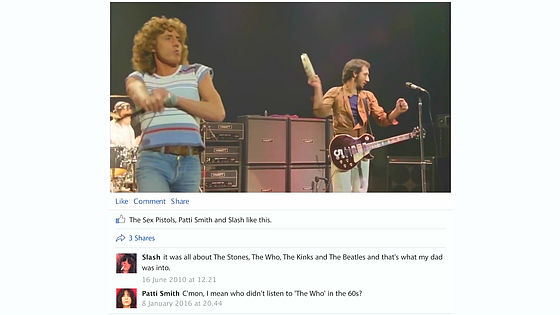 In addition, in 1967 the Beatles "Sargent · Peppers · Lonely · Hearts · Club · BandPost a video of ... ....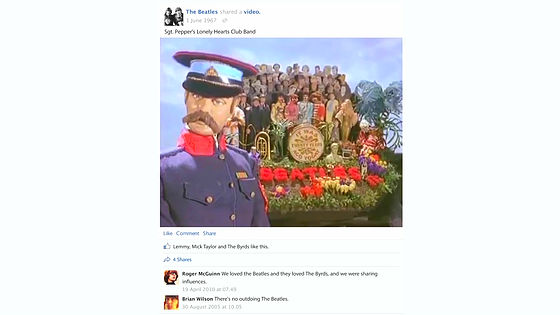 In 1977, Eagles shares "the life of the rush". Then Sex Pistols' bassist Sid Vicious said "We are the best band, but I think the eagles are cooler than us," a good compliment.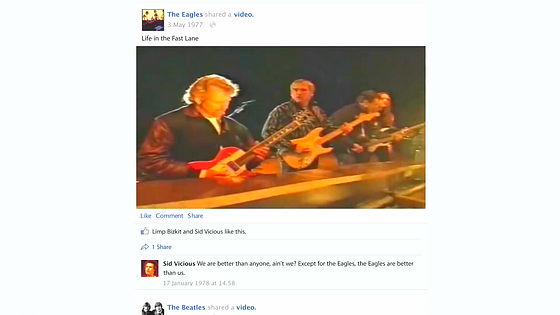 deep PurplePosted "Smoke on the Water" in 1973.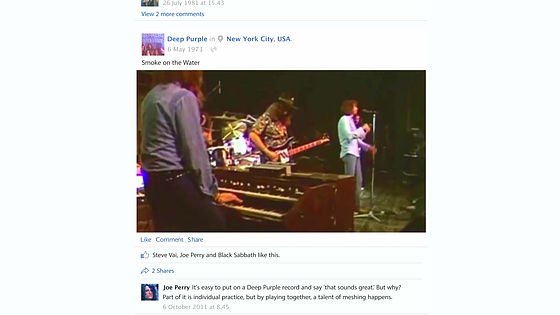 In 1980crashPosted a video of "Train in Vain", in 2002U2Bono commented, "Crash was the best rock band, they sang U2 's way of making it."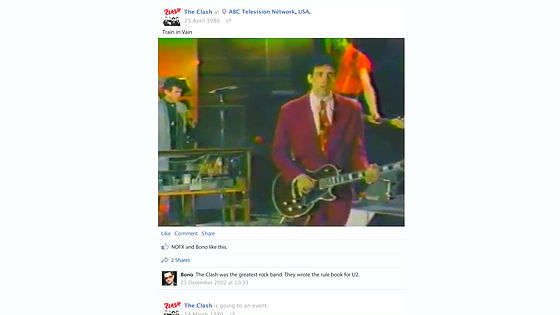 I will serve as a bird in the 2014 HerfestAs active, activeBlack SabbathEven share the live scenery performed in France.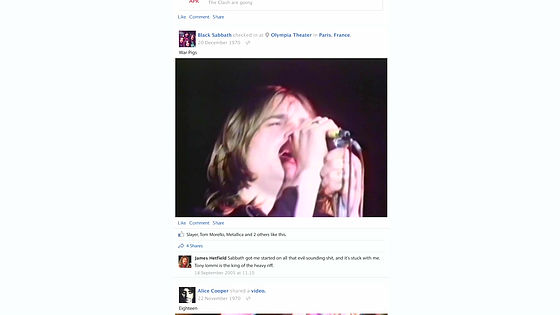 At the time of ejection in 1994oasisPosted "Supersonic" to be a debut song.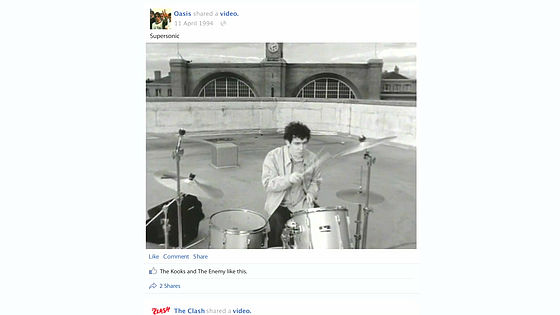 When I thought it was shared in 1979Pink Floyd"Another Brick in the Wall" video flowing ...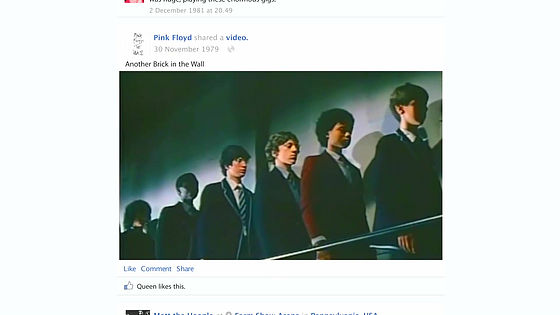 David Bowie who died in 2016Comments and novels gathered from many rock bands on "Let's Dance" postings.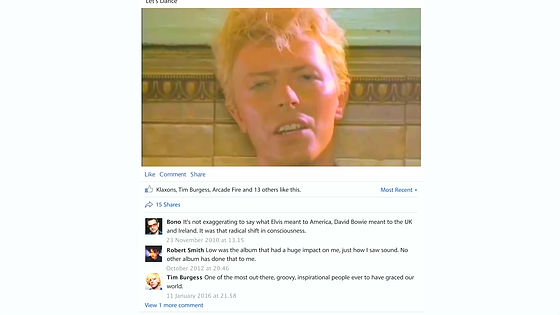 OtherGuns and Roses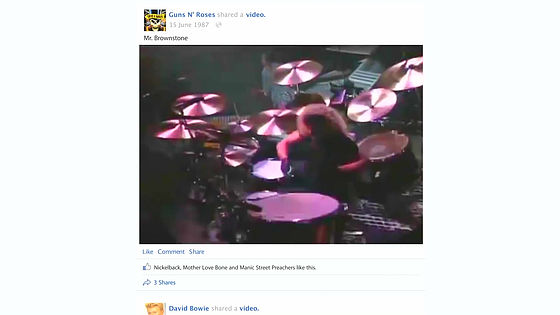 Queen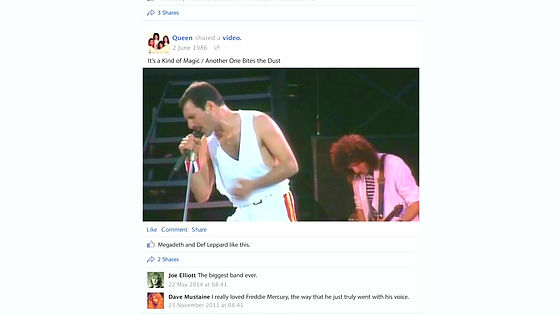 AC / DCAs live images posted by rock bands representing 70s and 80s, etc. flow through the timeline.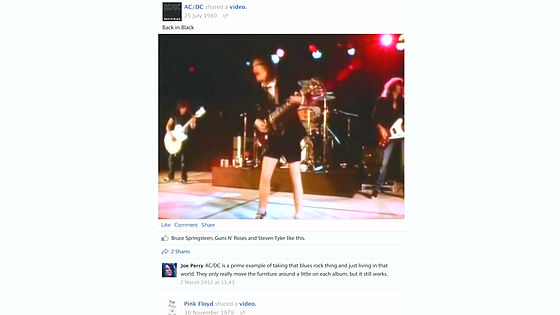 Then Facebook's 2015 new feature "This past in the pastWas it used,DoorsIs re-posting the video of "Riders On the Storm" in 1971, and the history of fantasy spelled by rock stars who have already passed away from this world flows through rock stars active in modern times.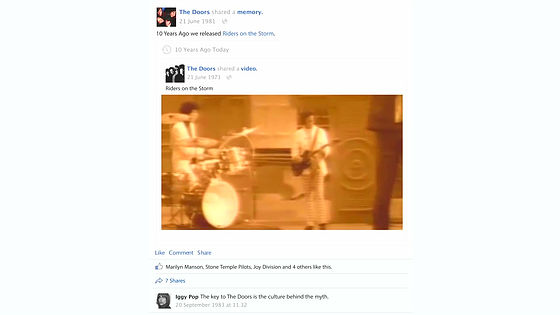 In addition to the rock band, there is a scene where Fuji Rock Festival's official flavor account will post the holding information which will be the first in 1997. Although this year should have been held at the foot of Mt. Fuji in Yamanashi Prefecture, it was checked in Niigata Prefecture, which is the current venue.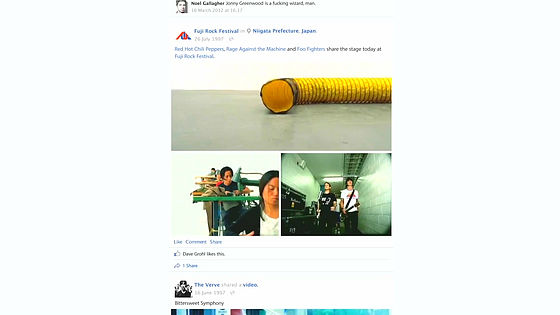 Fuji Rock in 1997 was sometimes described as "hell", although it was a year when we had a bad weather like happy that the dead did not come out, but Fu Fighters who was appearingDave Grohl"A typhoon struck directly on the first day and I could not open my eyes .... I thought that I had an electric guitar running 60 million watt of electricity and it was completely dead ... ... It was impossible It was perfectly the best, "commenting on the day.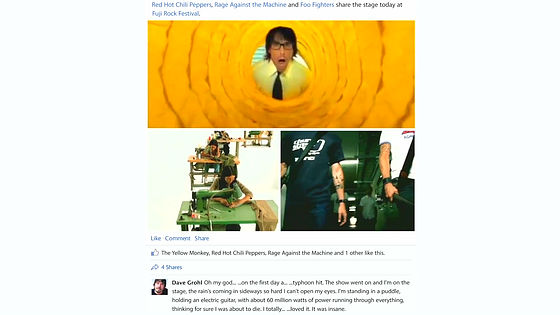 Even after this, to the present ageWhite StripesYaGorillazContributions such as continue. In addition, the music in the movie has become a mashup that seamlessly combines multiple songs, and even music alone has become a work worthy of reproduction sufficiently.