"Mini chocolate churo" with chocolate on mini size churo fabric, colorful and small missed "cute pop" all 6 types of taste review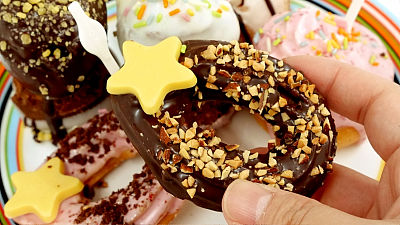 It is one size smaller than ordinary Mr. Donut's product, and it has colorful coating & toppingCute pop"Has appeared on March 9, 2016 (Wednesday). While using the classic old fashion fabric, tulo fabric, yeast fabric, it has become a donut with a slightly different atmosphere from usual, and it was supposed to be able to enjoy various kinds in the future excursion season, so actually purchase Then I ate it.

Cute Pop | New Item | Mister Donut
https://www.misterdonut.jp/m_menu/new/160308_001/index.html

Arrived at Mr. Donut.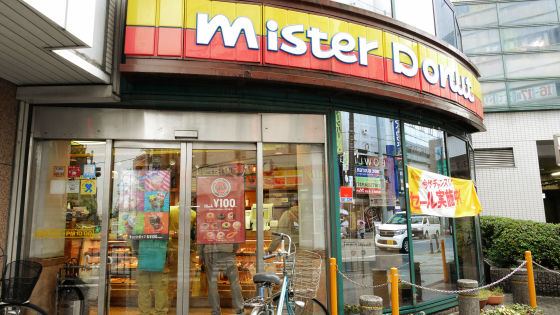 The cute pop is alone in the store and it is lined with the slur ... ...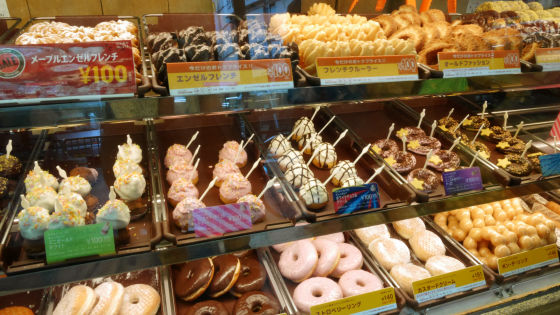 This time I purchased 6 pieces in a colorful original box. I can buy cute pops in the box freely, so I purchased all six types one by one this time.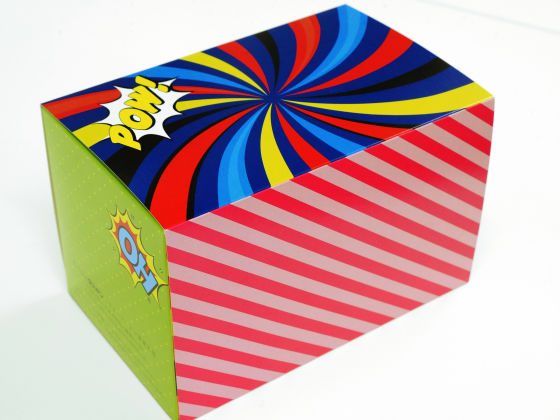 This is the size of the box. The lines such as "POW!" "OH!" Are also written, and it has an American atmosphere.



When I tried sliding the box, all six kinds of cute pops appeared.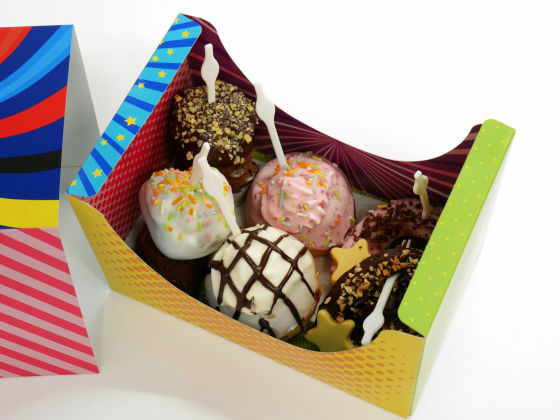 Looking like this when you try it on a plate. Cute pop is chocolate coated mini sized churo fabric "Mini Chocolate Turo"Mini Strawberry Turo"Coated fluffy fabric and whipped cream with chocolate"White chocolate & cream"Strawberry chocolate & cream"Coated dumpling-like old fashion fabric with chocolate"Mini Old White"Mini Old ChocolateAll six types are available.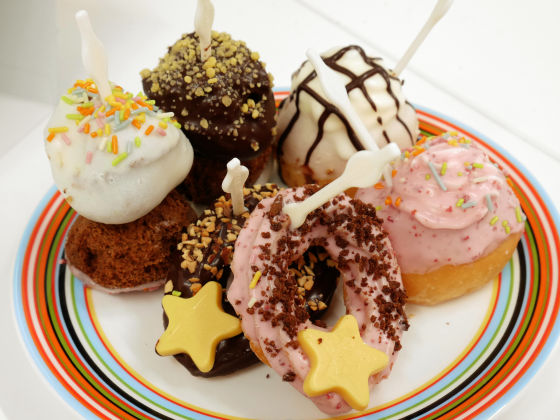 Mini Old White · Strawberry Chocolate & Cream · Mini Choco Chulo compared with Old fashion, each one is small size more than one size.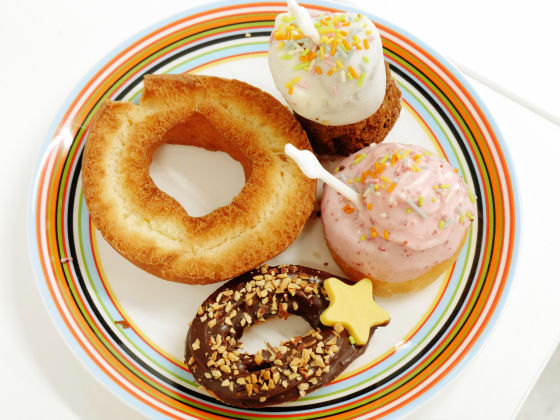 So, first of all from Mini Strawberry Turo. Mini forks are stuck in all kinds of cute pops, and it is easy to pinch.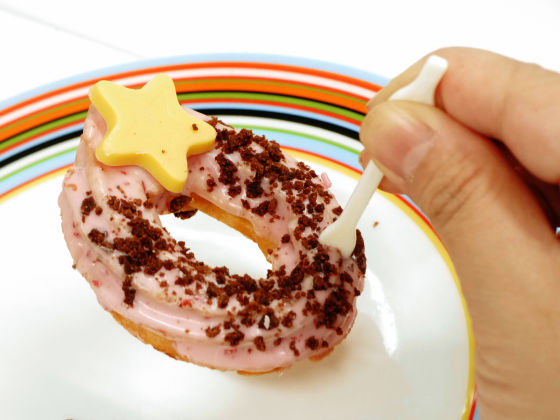 Looking from the side like this. A chocolate crunch is sprinkled over the coated fabric with strawberry chocolate.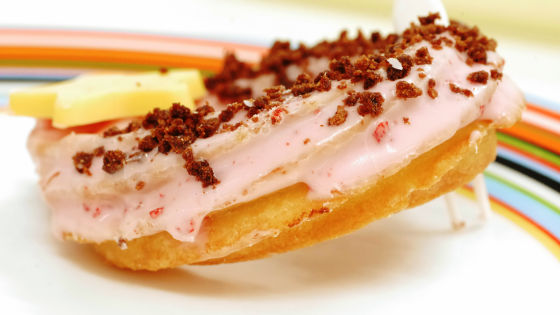 What is coated with chocolate is the upper half of the fabric, and the lower half is not particularly covered.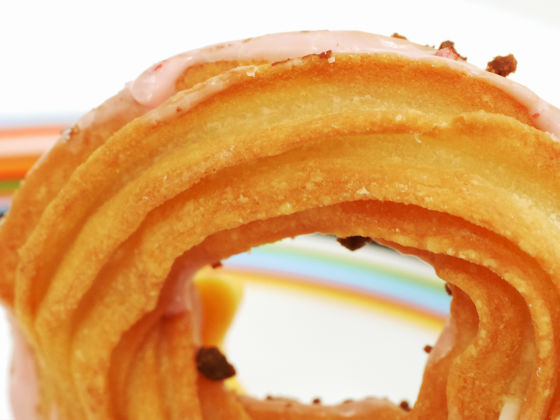 Regular Hanichulo is a crispy cloth fabric with honey-glazed glaze, but Mini Strawberry Turo has no glaze. With a little different atmosphere than usual Hanichurro, you can enjoy the taste of the crisp fabric itself. While enjoying the sweet and sour taste of strawberry and the crunchy crunchy texture, it is mini size so you can go eat pacaku and finish it in no time.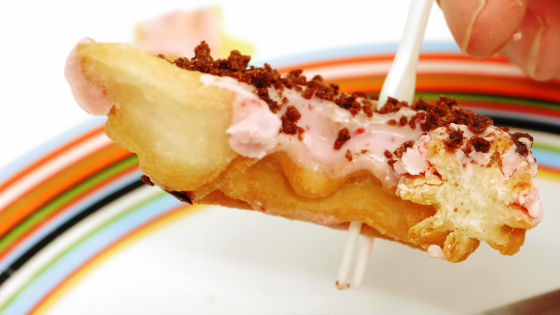 Mini chocolate churo basically has the same structure as mini strawberry turo, but milk chocolate is used instead of strawberry chocolate.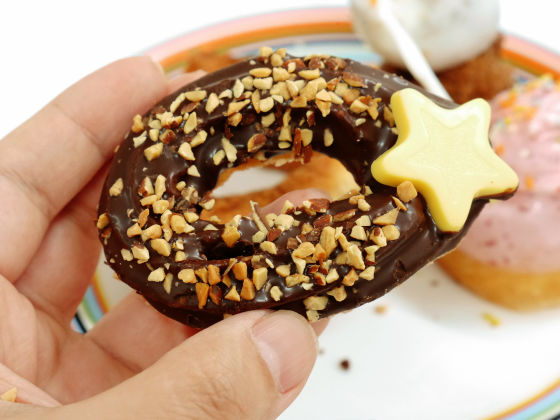 Toppings are not chocolate crunch but almonds.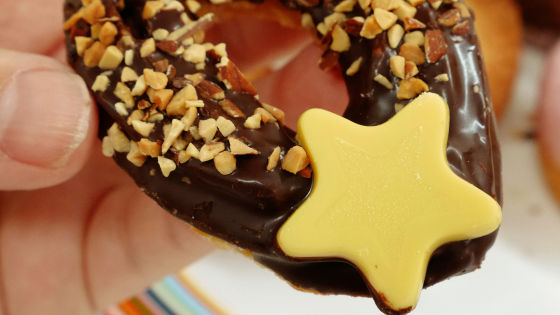 Items that you can enjoy texture such as crispy dough and polyporized almonds. This is also a mini size, so it's the second one, but I ate it easily.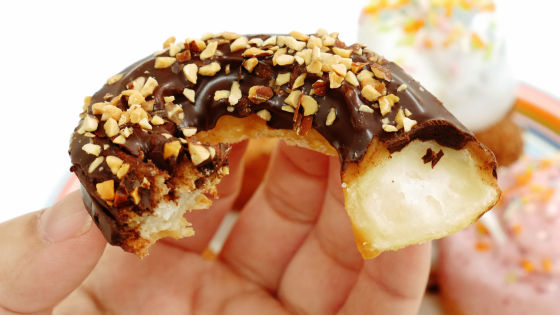 This time the two round donuts are skewered like dumplings Mini Old White. One of the tip is coated with strawberry chocolate about half of the whole, and the whole is coated with white chocolate.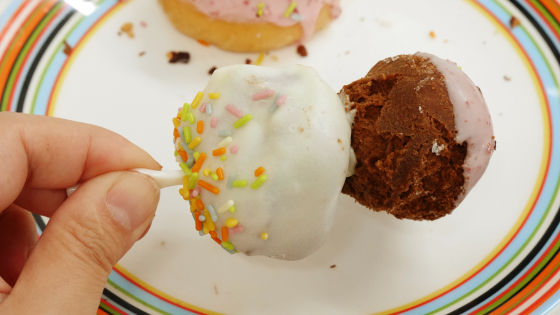 About half the donuts coated with strawberry chocolate, the sweetness of the dough and the sweetness of the chocolate were moderate, but ...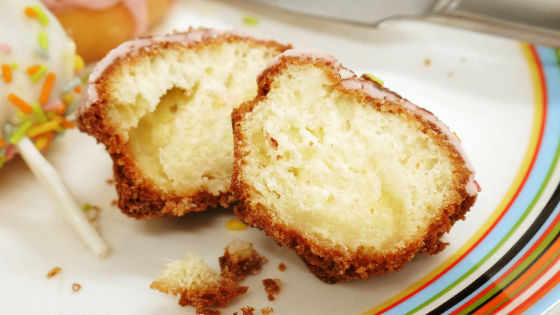 The dough which the whole fabric was coated with white chocolate is considerably sweet. The crispy texture of the color spray and the texture peculiar to the old fashions are good, but it seems that the white chocolate milky thrusts as much as it is, feeling that they want coffee and tea.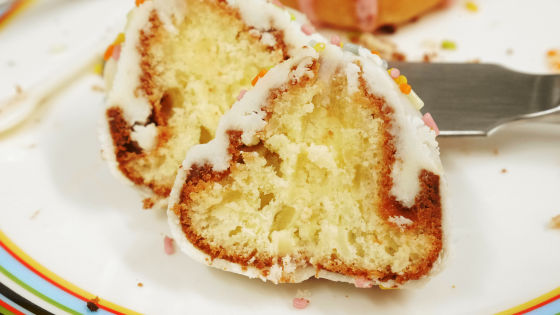 Mini old chocolate skewered a donut coated with white chocolate as a whole and a donut coated with whole milk chocolate. Again, because plenty of chocolate is used, we were able to satisfactorily satisfy even the sweet tooth.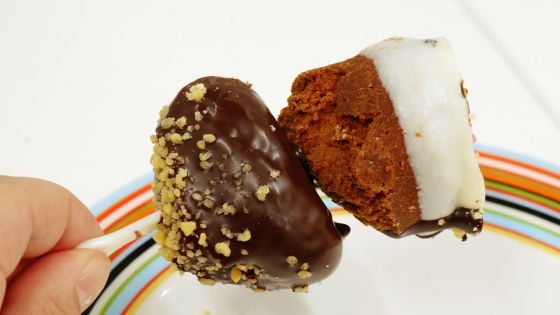 White chocolate and cream that looks like a mountain.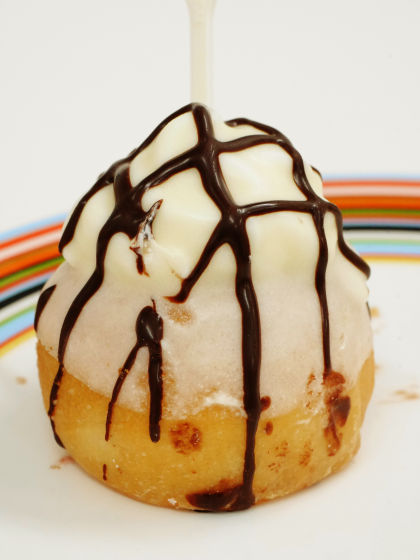 This is also the size that I can say Pakuri stabbing the fork.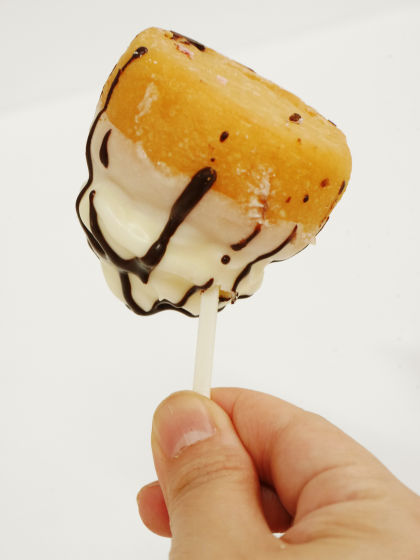 It is coated with white chocolate or milk chocolate ... ...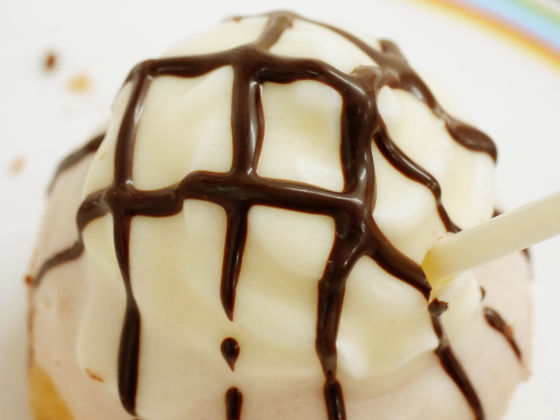 Some fluffy yeast fabric and whipped cream as used in angel cream. Overall lightly finished donuts, sweetness is also sufficient as milky white chocolate & whipped cream is used.



Strawberry chocolate & cream is a strawberry chocolate coating and topping a color spray.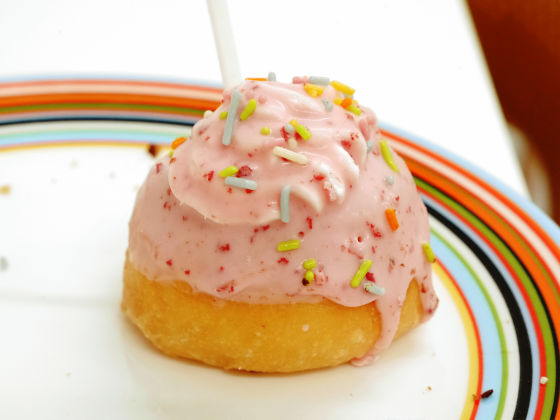 I was able to enjoy the springy taste of sweet and sour strawberries and fluffy fabric & whipped cream.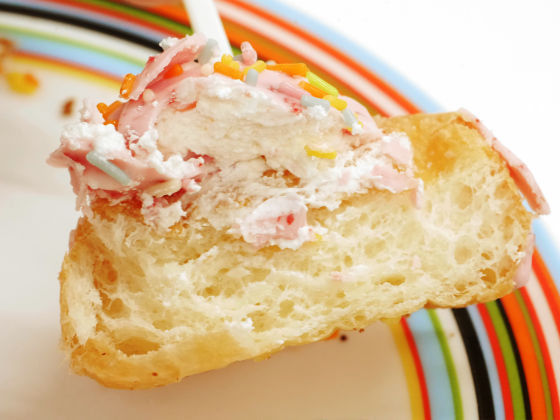 Both cute pops are 100 yen including tax.