【Dreadful】 Apple's computer triggered to display "beautiful font" Robert Paradino father died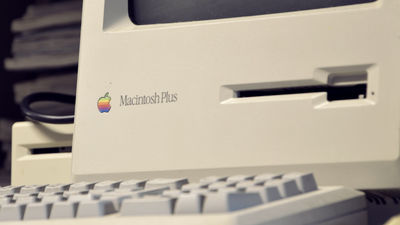 ByChristine

Roman Catholic clergy,calligraphyAs an authority of MactypographyFather Robert Paradino, who also had a great influence, died on February 26, 2016 at his home in Oregon, USA. He was 83 years old.

Rev. Robert Palladino, Scribe Who Shaped Apple's Fonts, Dies at 83 - The New York Times
http://www.nytimes.com/2016/03/06/arts/design/rev-robert-palladino-83-scribe-who-shaped-apples-fonts.html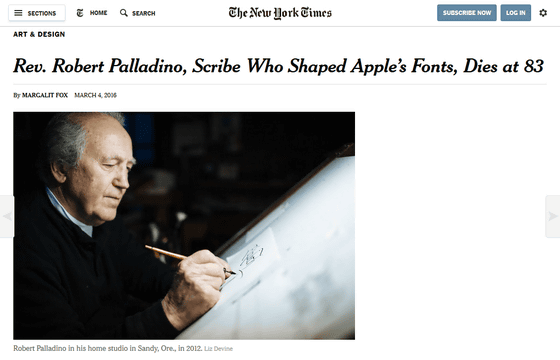 RIP Father Palladino, Master of Letter Forms | Sallyportal | Reed Magazine
http://www.reed.edu/reed_magazine/sallyportal/posts/2016/rip-father-palladino-master-of-letter-forms.html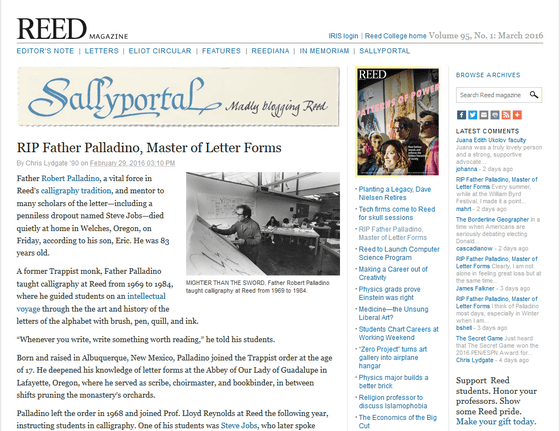 Father Paraddino, who has a different history of "being a clergy and a caligraphist", he said that he was particularly proficient in Renaissance and italics. He was born and raised in Albuquerque, New Mexico, USA, and at the age of 17Trapist CouncilI will call you. And Father Paradino is a monastery in Lafayette, OregonOur Lady of Guadalupe Trappist AbbeySo, in dealing with secretaries, conductor of choirs, bookbinding, etc., we deepened knowledge about the shape of letters.

In 1968 the caligrapherLloyd ReynoldsHe studied under a professor, and in 1969 the following yearLead CollegeI will teach students calligraphy with. And at this lead college Father Paradino will meet Steve Jobs, one of Apple's founder, and will have a tremendous impact on his thinking on typography.

The following picture shows Father Paladino who carries calligraphy class at Lead College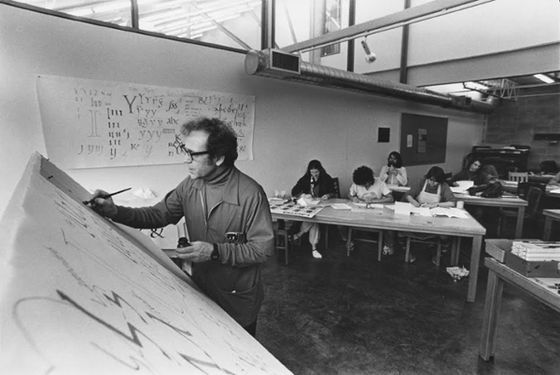 Jobs leaves Lead College soon, but he seems to have been looking at Father Paladino's class after that, and I will learn the importance of typography in that class.

In fact, Jobs wentGraduation celebration speech by Stanford University"At that time Lead College was probably doing the best calligraphy classes in this country and every character was beautifully handwritten to every poster on the campus and to the label of the drawer. Because I did not need to drop out and take an ordinary course, I took a calligraphy class and learned that method.SerifWhenSans serifI learned that wonderful typography will be more wonderful by changing the margins born between different letters from the font. At that time these knowledge was unlikely to be useful in my life, but when I was designing the first Macintosh in ten years, the content of the class revived among me. And by incorporating them all into the Macintosh design, Macintosh became the first computer to display and print characters beautifully. If I had dropped out of college and did not take that class, I think that Mac never had multiple typefaces or proportional fonts. And since Windows only copied the Mac, none of the personal computers would have such beautiful letters. "Father Paradino calligraphy teaches the commitment to Jobs' font You can understand that it is a trigger to form.

In the interview conducted by Catholic Sentinel in 2013, Father Paradino said about Jobs "He was a very pleasant student."

Father Paradino who had great influence on Macintosh's font, but it seems that he never used a computer, not having possessed it.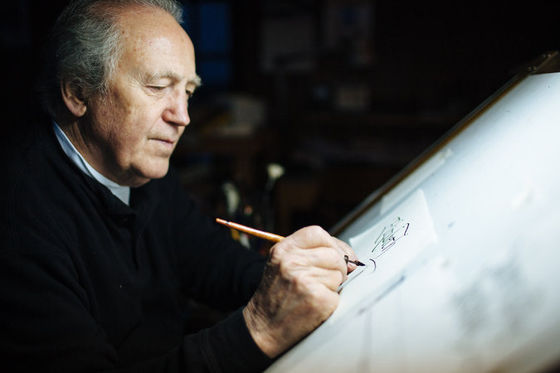 Furthermore, Father Paladino's funeral Mass is scheduled to be held on Friday, March 11, 2016.
in Note, Posted by logu_ii