【Dreadful】 Ray · Tomlinson, a parent of mail & '@' use died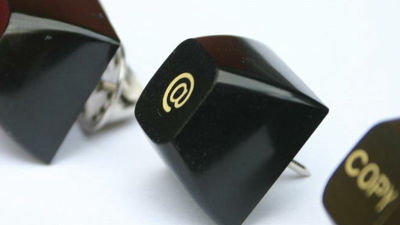 ByBarney Livingston

He is a developer of e-mail and is also known as a person who used "@ (at mark)" for the first time as a symbol for e-mailRay TomlinsonI realized that "Raymond Samuel Tomlinson" had died on March 5, 2016. I was 74 years old.

Official Biography: Raymond Tomlinson | Internet Hall of Fame
http://www.internethalloffame.org/official-biography-raymond-tomlinson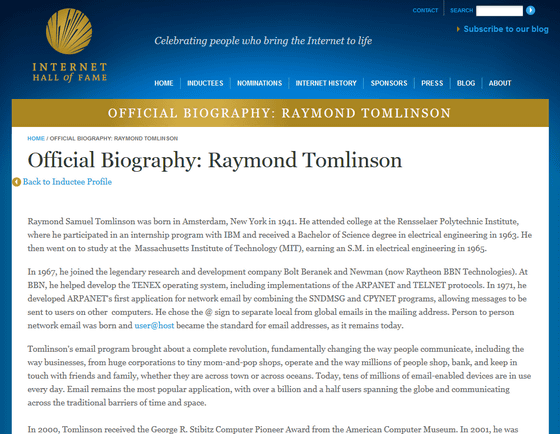 Ray Tomlinson, the inventor of email and @ usage, dies at 74
http://www.neowin.net/news/ray-tomlinson-the-inventor-of-email-and--usage-dies-at-74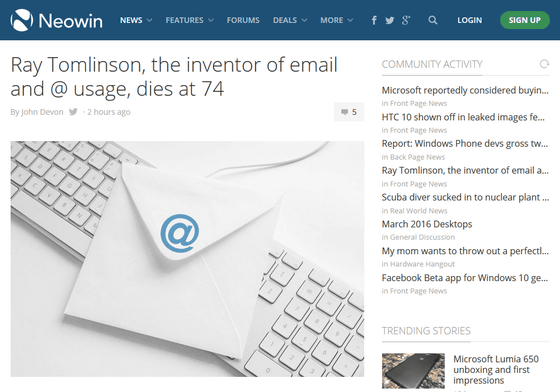 Email inventor Ray Tomlinson dies
http://www.engadget.com/2016/03/06/email-inventor-ray-tomlinson-dies/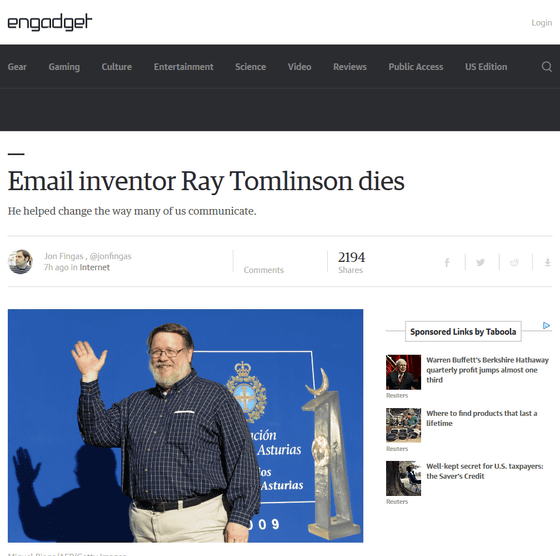 Very sad news: Ray Tomlinson has passed away.https://t.co/Ghi8B2m3IX

- vinton g cerf (@ vgcerf)March 5, 2016

Tomlinson was born in the city of Amsterdam in New York State, USA in 1941.Rensselaer University of TechnologyWhile participating in IBM internship, in 1963 acquired a bachelor of science degree in electrical engineering. After that, I entered the Massachusetts Institute of Technology (MIT) and in 1965 I will also acquire a master's degree in electrical engineering.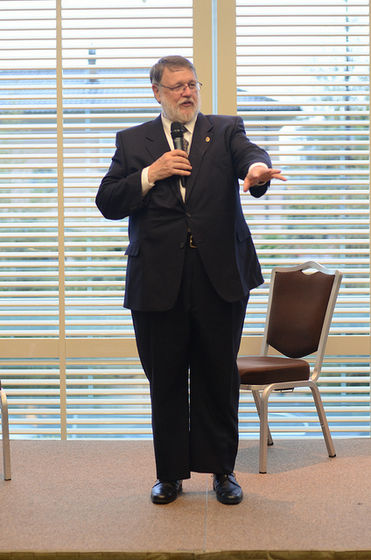 ByElon University

And in 1967, Mr. Tomlinson was a famous R & D company "Bolt Beranek and NewmanBBN Technologies) "I will join the company. Tomlinson said at BBN "TENEX"Engaged in the development of an operating system called"ARPANETYaTelnetTo the implementation of.

In 1971 ARPANET was the first application to be "SNDMSGNetwork E-Mail Combined with CPYNET "and succeed in sending a message from the computer to another computer. At that time, Mr. Tomlinson used the symbol "@" to separate the local part and the domain part of the e-mail address, but from then on, it is common to use "@" for e-mail addresses for similar purposes It will become more and more. In addition, the contents of the first e-mail sent by Mr. Tomlinson seems to be a character string which is not particularly meaningful as "QWERTYUIOP".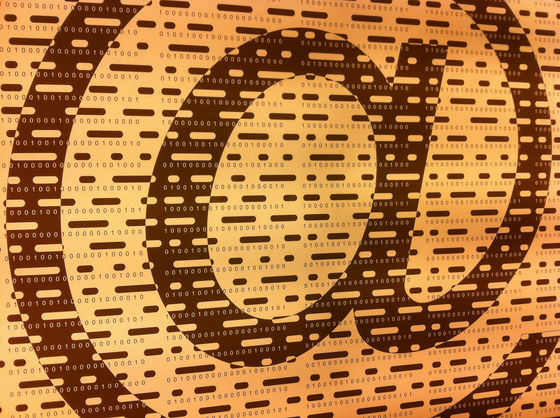 ByHoward Lake

Tomlinson said in April 2000American Computer & Robotics MuseumWins the George · Stibitz · Computer · Pioneer Award. In 2001 he won the Webby Award from the International Academy of Digital Arts and Sciences and will be able to enter the Hall of Fame where only those who have made outstanding achievements among Rensselaer Institute of Technology graduates are possible. Furthermore, in 2002Discover MagazineFrom the Innovation Award, in 2004IEEEInternet award from 2009, in 2009Asturias Crown Prince AwardIn 2011, we have earned the Eduard Rhein Award and numerous glory.

The technology news mediaTechRepublicIt is believed that the cause of death is a heart attack.
in Note, Posted by logu_ii