The name of the new 4 inch iPhone is "iPhone SE"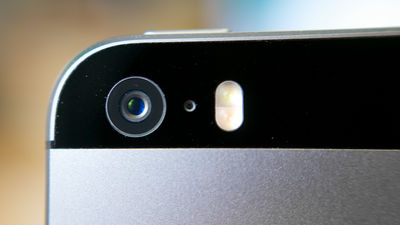 ByKārlis Dambrāns

From the fall of 2015 "A new iPhone will be released in early 2016"The rumor that it is likely to become the truth by the announcement of a new type iPhone at the event held in March 2016. However, the model name is not "iPhone 5SE" which appeared in rumors, but "IPhone SEIt is likely to become ".

Apple likely to drop the '5', call new 4-inch model the 'iPhone SE' | 9to5Mac
http://9to5mac.com/2016/02/26/apple-iphone-se-4-inch-2016/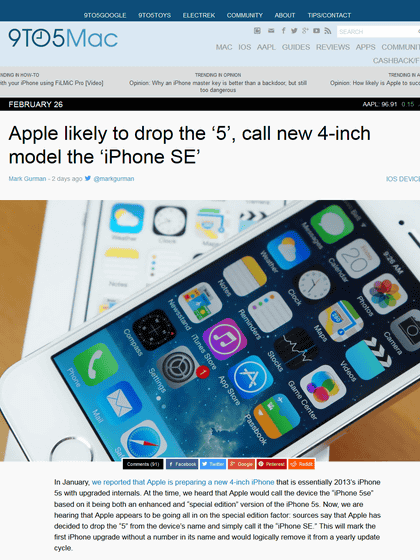 This is a news site 9 to 5 reported by Mac. This new iPhone is not a successor to the 4.7-inch iPhone 6 or 5.5-inch iPhone 6S, but it is still made as a terminal that upgraded the popular iPhone 5s. From its establishment, it is said that the name will not become "iPhone 7" going ahead 6, "iPhone 5SE" (Special Edition) to clarify that it is different from "iPhone 6c" or 6 series Although it is inside Apple, there is no numeric "IPhone SEIt is said that it is called.

In the comment section, it is pointed out that it is not sincerely that expressing this new terminal as "5SE" inside Apple internally but expressing it as "improved version of 5s", but that Truth is unknown.

Steve Hemmerstoffer got photos of iPhone SE under development from information sources in China and is publishing it.

# IPhone 5S# IPhone 5SEPic.twitter.com/vOR5s8paSq

- Steve Hemmerstoffer (@ stagueve)February 27, 2016
Compared with iPhone 6s, you can see that "3D Touch" is not installed.

No 3D Touch in sight ...# I Phone SE# IPhone 5SEVS# IPhone 6Shttps://t.co/sOnH74EoIrPic.twitter.com/SLoOahmRXm

- Steve Hemmerstoffer (@ stagueve)February 27, 2016
There was rumor that this terminal announced event "week from March 14", but the news site · Re / code said "It is scheduled to be held on March 21, originally, there is no change" I report it.

Apple Product Event Will Be Held March 22 | Re / code
http://recode.net/2016/02/27/remark-your-calendars-apples-product-event-will-week-of-march-21/