The way Apple responds and restores it because of the "error 53" problem that the iPhone writes out


By exchanging the Touch ID with a third party, the iPhone will become sentences (it will not be able to start up)"Error 53" problemIsDevelop into class actionsAlthough it has reached, Apple carried out an update to solve this problem. If the handheld iPhone is documented, it seems to be able to resurrect if you try the following procedure.

If error 53 is displayed or if iPhone or iPad can not be updated or restored - Apple support
https://support.apple.com/ja-jp/HT205628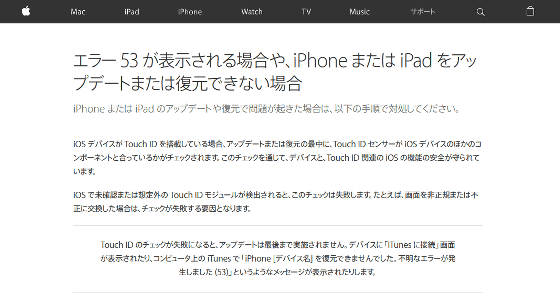 The cause of "error 53" is that it is a match check between the Touch ID sensor and the other components of the iOS device that the iOS device carrying the Touch ID performs during the update or restoration. At this time, if an unconfirmed or unexpected Touch ID module was detected, this check failed and "error 53" was displayed.

If the iOS device has a Touch ID, it checks whether the Touch ID sensor matches other components of the iOS device during the update or restore. Through this check, the safety of the device and iOS functions related to Touch ID is protected.

This check will fail if an unverified or unexpected Touch ID module is detected on iOS. For example, if the screen is exchanged illegally or illegally, the check fails.
In order to solve this problem Apple's announcement is as follows. You can revive it by connecting the iOS terminal to the PC or Mac with the latest version of iTunes installed, forcibly restarting the terminal and then trying "Restore Device". If you still get an error, you are asked to contact Apple Support.




According to TechCrunch, this method is not necessary for users who are updating iOS via Wi-Fi (OTA: Over-The-Air) or via iCloud.Error 53 occurs only when updating via iTunes, and in principle, when updating via OTA or iCloud, error 53 does not occurIt seems to be in the situation that it is.

Apple Fixes iPhones Disabled By Error 53 Caused By Unofficial Repairs
http://techcrunch.com/2016/02/18/apple-apologizes-and-updates-ios-to-restore-iphones-disabled-by-error-53/

According to what Apple responded to TechCrunch, "Error 53" is displayed when the terminal fails the security test, but this check shows whether the Touch ID is working properly It is said that it is done to check before factory shipment. Among the responses, Apple apologized for the trouble, and this error message has been used for factory inspection, it is announcing that it was unrelated to general users. In other words, it seems that the truth is that the function that should not be related to the general user has leaked out.

This reports was designed to designed as to error in this device as it failed to test this product as an error 53 in iTunes and appears when some customers' devices are showing 'Connect to iTunes' after attempting an iOS update or a restore from iTunes on a Mac or PC. Check whether Touch ID works properly before the device leaves the factory.

Today, Apple released a software update that customers We have encountered this error message to successfully restore their device using iTunes on a Mac or PC.

Customers who paid for an out-of-warranty replacement of their devices based on this issue should contact AppleCare about a reimbursement.
Since Touch ID that authenticates fingerprints is attached to Apple Pay with payment settlement function, it plays a crucial part of terminal security, so a strict checking system is adopted to maintain high security That is a part that can be relieved as a user. However, since it is a serious error that the terminal itself can not be used in an unexpected form, it is unavoidable to evaluate that it was a regrettable event.

In addition, if the Touch ID sensor exchanged other than Apple's regular shop is installed, the Touch ID function will remain unusable even if the terminal is restored by the above method. In addition to this error 53, there is a problem that the terminal can not be restarted due to the setting of the date in the iOS-related situation, too and we will wait for early response here as well.

A bug of fear that makes iPhone / iPad impossible to reoccur has been found out so I actually tried it - GIGAZINE