Complaints rushing & reputation A terrible reason that the worst online shop can survive and a self-defense measure not to catch on fraud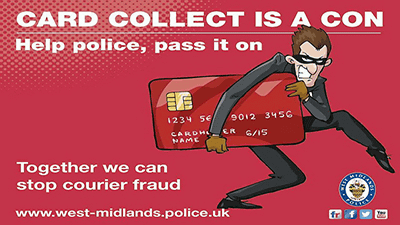 ByWest Midlands Police

Online shopping, where you can purchase items with one fingertip anywhere in the world, is convenient, but sometimes you may encounter unexpected troubles. One American outdoor specialty online shop has caused various troubles, and it is said that it is suing a lawsuit from users and business partners all over the world. Still, the mystery that sales are continued and the secret for not suffering the damage are introduced.

The Husband-and-Wife Team Behind the Internet's Most Infuriating Outdoor Retailer | Outside Online
http://www.outsideonline.com/2051821/123-mountain-infuriating-gear-retailer

This problem is announced because of the outdoor specialty mediaOutside Onlineis. According to the article, the online shop based in Colorado, USA123 Mountain"I'm incredibly" having caused a lot of trouble, despite being badly evaluated by users, I am continuing to operate.

Leigh Attwood of a British man living in New York / Manhattan in November 2015, Moose Knuckles3Q jacketI was searching on the net searching for it. Attwood, who had searched for a mens jacket of 895 dollars (about 100,000 yen) with a fur hood, was posted on the list as "available (Available)" at the shop of 123 Mountain with SS size jacket I found out that there was.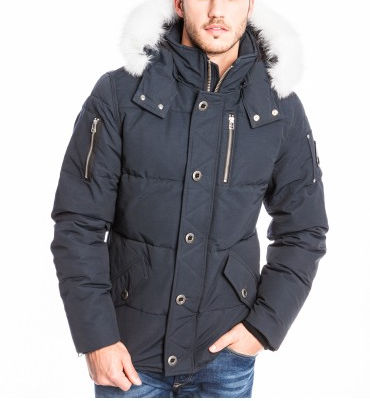 123 Mountain is a shop operated by Mr. Olivier Goumas of French and Swedish wife Anna Sofia Goumas, which shows that the banner was written as "bargain" or "unconditionally returnable" and various brands It seems like it was a very ordinary online shop because she seems to have an affordable online shop. Attwood, who was watching the site, received a discount of 5% when it became a member at 50 dollars (about 6000 yen), and found that the product was delivered in 2 days from the order. On November 7, Attwood settled $ 50 for the membership fee and ordered a jacket for a commodity price of $ 894 (about 94,000 yen) which received a 5% discount.

After a week, Attwood who does not reach jacket lives waiting for late will contact 123 Mountain's customer support through chat. A woman named Peggy who got out to the window reply to Mr. Attwood that she sent an e-mail twice that the arrival of goods will be between November 9 and November 29. Mr. Attwood who thought that the item would arrive soon felt irritated in this reply and returned to Mr. Peggy as saying "The item was inventory and I thought it would be shipped soon," Mr. Peggy said " "Available" does not mean "in stock" but means "I can order," and that most items will be shipped within 9 business days. Attwood said "It is extremely dishonest" about this policy, but he has already paid membership fee, and he decided to wait for the arrival of the item without any help. About the situation at that time Attwood tells Outdoor Online, "I am addicted to the bogs."

Then on December 8th, Attwood received an email requesting 123.60 dollars (about 14,000 yen), which is 15% of the price from 123 Mountain as reservation money for the jacket. And there was written that the arrival date of the product was "November 9 - November 29" as before, but this time it means that the word "2017" was written. In other words, the content of the surprise that the arrival of goods will extend for another year.

Attwood tried to cancel the order but 123 MountainTerms of serviceAccording to the provision of the said that the deposit of 123.60 dollars will be charged as a cancellation fee. On top of that, 123 Mountain's staff told Attwood "In other words, since the customer accepted the rule of Uchi, we will let that rule be done with that rule (In another word you have an accept rule of the game now we stick to Theses rules) "It seems to have told by the words of appearance that it was weird.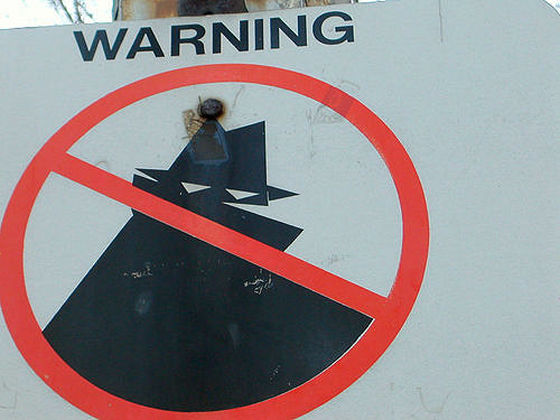 ByFortune cookie

Mr. Attwood, angry heart, searches for ratings on the net about 123 Mountain. Then, it seems that the initial 123 Mountain users were able to receive the goods properly, but in the following two years SNS and the non-profit organization of the United States "Better Business Bureau(Commercial Improvement Association) ", and in mountain system forums, etc., we found that complaints were being followed one after another. In a Facebook page, "Writing 123 Mountain Absolutely Avoided", and in the fraud information site "Rippoff Report", "I've bought many items online so far, but it is doubtful as 123 Mountain based in Colorado I have never encountered a case of sincerity once, "Write critiquesThere are one after another.

Also at Yelp on the business review site, 123 Mountain's rating is one star, complaints are gathered that the incorrect product arrived or did not respond to returned goods or exchanges. Some users said that refunds are made with bit coins and users who brought back the refund check received at last barely to the bank said that the check is cashing as "transactions are restricted due to suspected fraud" There were cases that the bank refused to do. When this user dissatisfied dissatisfaction on Twitter and announced 123 Mountain's wrong, from 123 Mountain's account "This is a proper check issued by a proper website with proper deposit in a proper bank (This is a legit check "That by a legit website from a legit bank account with legit fund on", and the reply which can not say is come back. After that, this user seems to have been denied access from 123 Mountain's account.

@indie_travelerThis is a legit check issue by a legit website from a legit bank account with legit fund on

- 123mountain.com (@ 123mountaincom)2015, October 29

It is a deal with 123 Mountain, which is like a contiguous sequence of events, but there are cases in which users who actually suffered damage consult a lawyer. According to Ana Brun, an economic crime of the Lakewood Police Department in Colorado State, in the last few years we have received nine consultations on 123 Mountains,In reality the fact that it is impossible to conclude a crime due to the contents of the terms of service which is supposed to be acknowledged at the time of purchaseThere seems to be.

The following image captures the 123Mountain terms of service page. Although it is a very long content, this is a state that can be found in other services, so it's temporarily no problem.




Looking through the contents, "123Mountain INC provides access to the 123mountain website operated at www.123mountain.com. Users' use of the site is deemed to have been agreed to by the user on the website usage agreement It is considered as a user by accessing, viewing, and linking a website ... ... "starting with the description such as" I get the impression that it is quite normal as a terms of use ... ....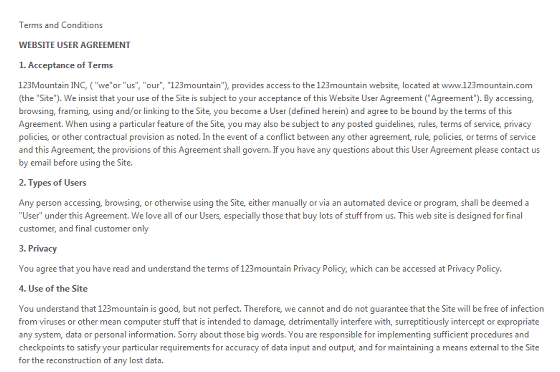 Section 7 "No Warranties" states "Unfortunately due to things we can not control, 123 Mountain will not be able to comply with the requirements of the site and service, or that the site and service will not be interrupted, , Or it will not guarantee that the problem at the site will be fixed ". Although it is a clause that thinks that it is "okay if it is OK" if it is a general user, it is still content which can be convinced if it thinks whether it is a description for risk avoidance.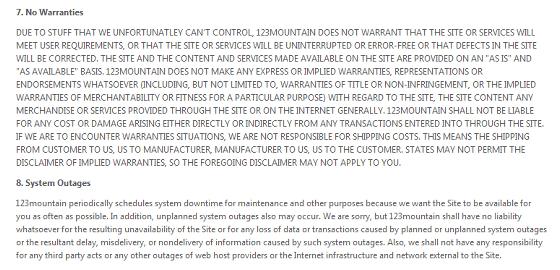 Section 8 "Site Outages" states that the site will be suspended for maintenance etc., but here it is written that this sentence "We are sorry," Then a passage that does not have much to be seen appears. It seems that worry increases with the content that started to be tougher.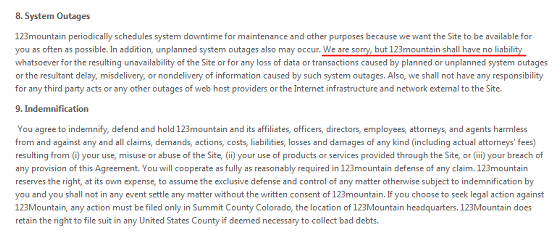 Section 14 "Returns and Exchanges" "I was not excited about the item I bought? Are you thinking about exchanging returns? No problem, weAs long as it is available for resaleReturnable is possibleUnlimited Return PolicyThere is a guarantee of complete satisfaction and unlimited return policy. If you are not satisfied 100% now, next month, or even after 30 years now, please send back the item and receive a full refund of the amount of money at the time of purchase. I do not ask why. Please be aware that you will be responsible for shipping fees for returns, even if the shipping fee at the time of purchase is free. The shipping fee to you may have been free, but we are paying for it. " Although it can not be understood as contents, it seems that you will remember a sense of uneasiness not being compelled by the fact that it is included in the terms of the Terms of Service.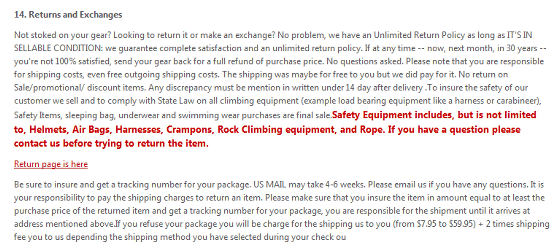 Not only consumers are listening to 123 Mountain's complaints, but problems such as unpaid payments have been filed by product manufacturers and experts. In September 2015 the apparel maker'sCanada GooseWas appealed to the Colorado District Court and was ordered to pay compensation of 100,2981 dollars (about 12.5 million yen) in 123 Mountain absent, besides being a $ 10,000 (about 1.2 million It is expected that a similar judgment will be made in the near future, as judgment of the class is given.

In May 2015, a Korean buyer Duk Sang Yu ordered and a ruling that pays 316003 dollars (about 36 million yen) for the highland sleeping bag that was not shipped even though the money was deposited was absent It is just a fraud trading company, saying it was issued in court. Mr. Yu said in an appeal that "123 Mountain running Goumas is using the company to execute the fraud", and ski apparel maker ArcticaRace is a Facebook entry "123 Mountain is a site and We are trying to trash consumers by advertising to cheaply sell Arctica's products at Google.The company is not a dealer of Arctica and we can not purchase merchandise from our company.If 123 Mountain orders Arctica's goods It is impossible for us to receive products actually, no matter how they describe it, "123 Mountain has announced that it is acting as a fraud.

(1740) Arctica Race - We are sorry to have to post this and apologize to ...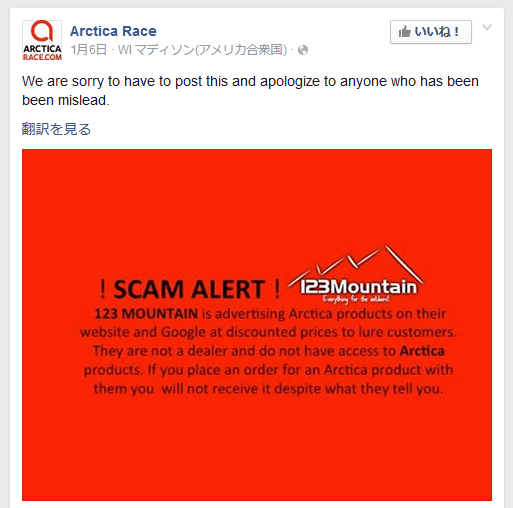 In response to this problem, Outdoor Online said that he tried contact with 123 Mountain by e-mail or telephone, but none reply. When I contacted "Mr. Peggy" with a chat-type customer service, Mr. Goumas, who is the representative of the company, replied that he was not actually working and he did not receive appeal from the user. And, "It does not appear to be correctly understood," he told that the chat was for customer service only, and "I am sorry, I have to deal with other customers," I ended the chat That's right.

According to Outdoor Online's survey, 123 Mountain is not a business that Mr. and Mrs. Goumas first started up. According to Facebook, in 2000, Olivier Goumas, then age 20, married Sofia and opened the first ski shop "Tignes and Temptation (TNT) Mountain Shop" in France Tignes (Tigne). We launched online sales in 7 years, but in 2009 TNT bankrupted and Goumas moved to Colorado. In addition to having been filed an appeal that the item did not reach even during the TNT era, similar troubles were repeated in the many businesses that subsequently started. The following image is a two-shot photograph that is seen as Outdoor Online's Goumas and his wife found on Facebook.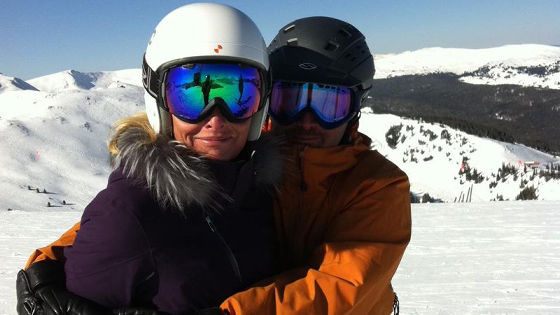 After that, on December 24, 2010, his wife Sofia registered 123 Mountain in Colorado and started the project. A trouble occurred with the merchant who requested the website creation and Mr. Goumas gave the designer an appeal calling for compensation for 500,000 dollars (about 60 million yen at the time at that rate) with gathering evidence On the contrary, on the contrary, in the reverse result that orders the designer to pay 16,564 dollars (about 2 million yen). The designer has not received payment of 1 cent yet. This designer says, "The hope of receiving payment from this guy is unlimitedly zero, and my hope now is that this guy will never put a fraud on anyone."

By 2012, Mr. and Mrs. Goumas opened two actual shops, but it seems that the kind of trouble did not run out. Former employees have also revealed that they repeatedly acted on store ratings on Google and Facebook. Employees also leave the company with disappointment about various situations, they are also being filed an appeal regarding payment unpaid.

Also, the couple have two daughters, but it seems that 123 Mountain was sponsored by the ski team to which the two belong. In 2014, 123 Mountain's logo was printed on teamwear, but it was said that the sponsorship fee and the daughter's participation fee had to be paid. Nevertheless 123 Mountain consulted with sponsorship of their sponsorship on their Facebook, so that two daughters were kicked out of the team.

◆ In order not to suffer similar damage
123 Mountain that has caused many troubles, Outdoor Online should learn from this series of events that "When you do business with an unfamiliar shop, be sure to check credit quality before teaching credit card information Notice the very basic contents of "to check not only the information of a specific review site but also the information gathered widely by search engines to cause trouble with users" I am citing things.

Also, in case of such a trouble the protection service accompanying the credit card is useful. Therefore, payment with check which can not expect user protection, payment with bit coin etc. should be avoided.